Posted by DecoArt on Nov 9th 2017
I love painting snowmen, they bring me back to a time when playing in the snow for hours, brought us so much joy.
"It's only cold if you stand still."

In this lesson, we will build color and add fun textures to enhance the painting. 
Items Needed:
8 X 10 Canson Watercolor Board
White Rice Paper
Archival Dye Ink Pad - Grey
Water, Brushes And Palette Knife, And Paper Towels.
Palette Knife
Scissors
Graphite Paper
Stampers Anonymous - Grunge Flakes
Lettering Cut From A Book Or Magazine
White Gel Pen
Instructions:
Print your pattern.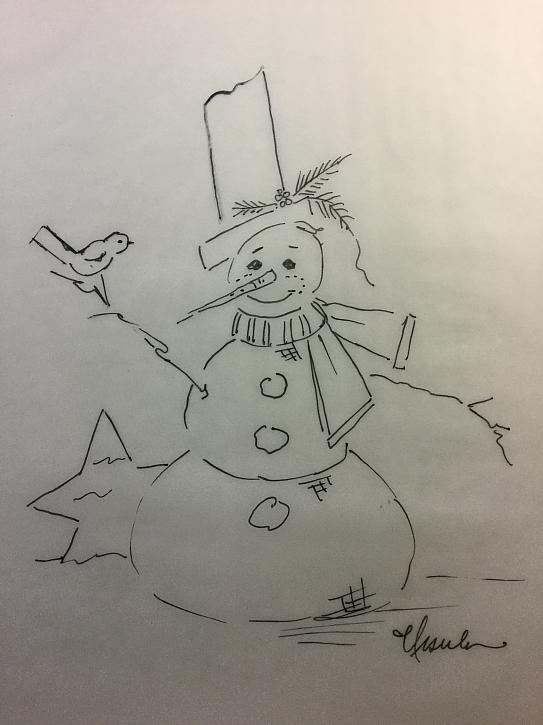 Apply Pattern to board with Graphite Paper. Apply a strip of Rice Paper to the base of the board, overlapping onto the snowman. Add a few torn pieces to the two larger portions of the Snowman. Begin to slip-slap base coat, using Titan Buff throughout. Apply Titan Buff to the foreground, underneath snowman as well. While moist, generously apply Titanium White to highlight these same areas with a palette knife. Allow to dry.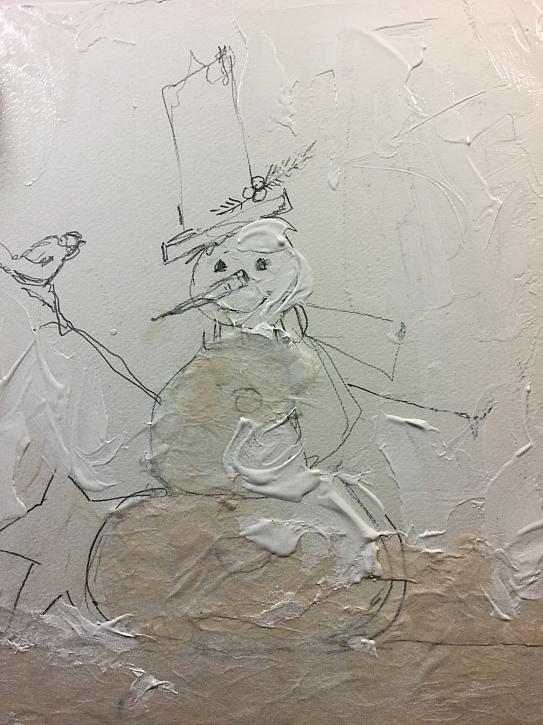 Apply "Joy" letters with Matte Medium where desired. Fill in Star with Raw Sienna. Wash Raw Sienna around letters, and underneath showman. Shade snowman with Raw Sienna at this stage. Splatter with same.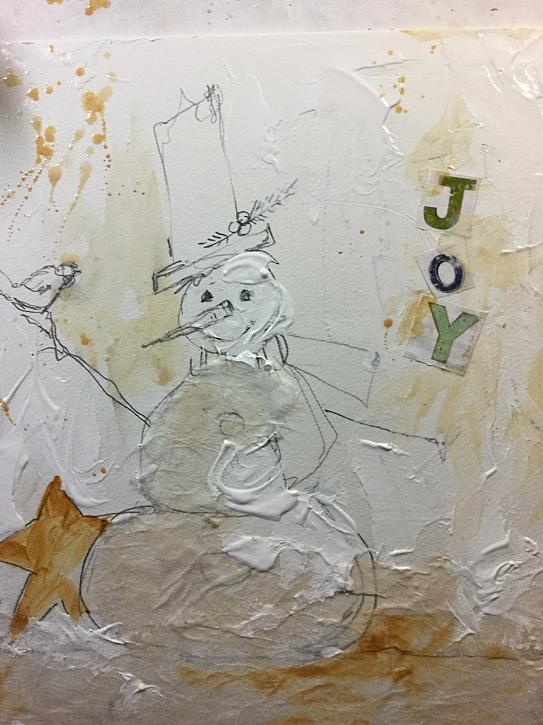 Apply Paynes Grey to fill in features, buttons and hat on Snowman. Eye of the bird. Shade Paynes Grey underneath, onto the foreground. (over Raw Sienna),
Fill in bird, berries, and cheeks with Cadmium Red Hue. Mix a small amount of Cadmium Red Hue and Raw Sienna to apply carrot. Shade star with Cadmium Red Hue.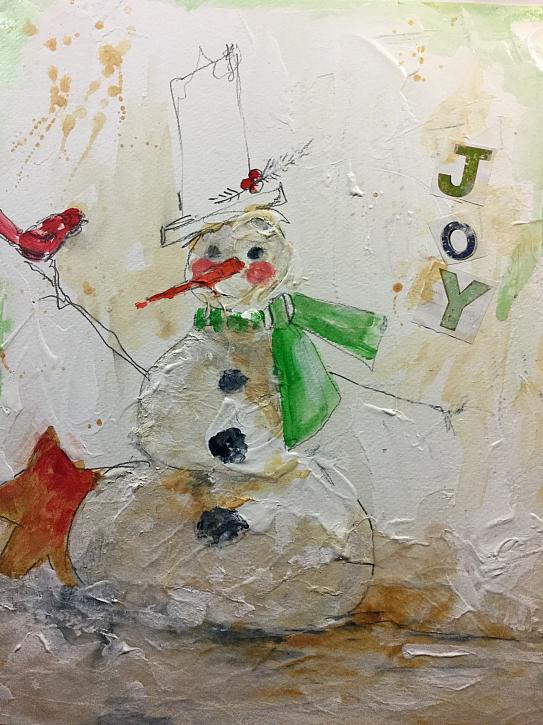 Apply Burnt Umber stick arms. Shade with Paynes Grey. Add more shading to the snowman with Burnt Umber. See Photo.

Wash in the scarf with Yellow Green Light and Stripes with Cadmium Red Hue.
Shade red areas of scarf and bird with Quinacridone Red. Shade green areas of the scarf with Sap Green.

Apply greenery to his hat with a brush mix of Yellow Green Light and Sap Green.
Brush on a small amount of Prussian Blue Hue to Brighten Paynes Grey areas. Building color on top of what is already there.
Continue shading with Prussian Blue Hue.
I like to go back and forth, between shading and highlights. Dark and light, until satisfied.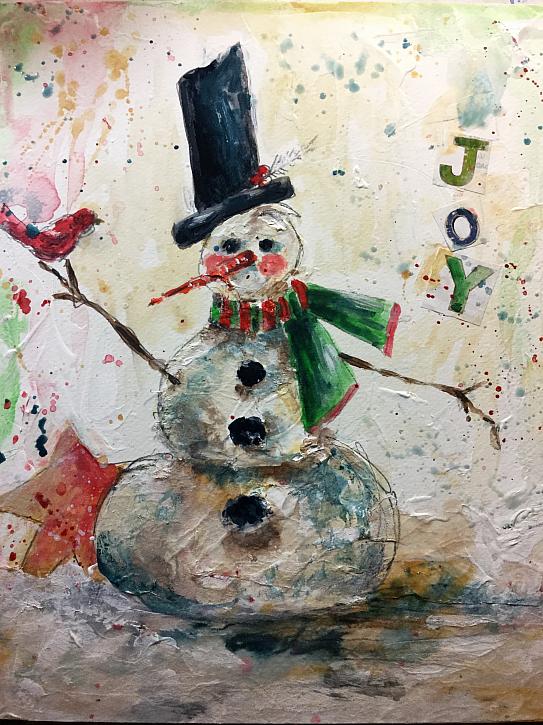 At this stage, it is time to stamp snowflakes into the background. As you can see, they are very subtle.

Apply washes of Yellow Green Light to Edges of the board. Splatter with colors left on the palette. Using some Titanium White.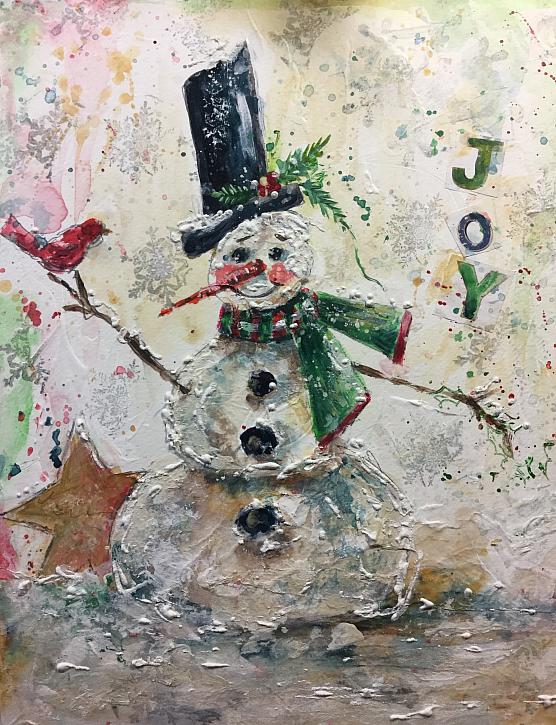 Apply desired scroll design above the lettering. Or, just paint your own!
Have fun with the DecoArt Snow Writer and apply it to outline snowman, and anywhere else you chose to add more snow! See photo.
Using the white gel pen, write your own message inside the star. Sign and display on an easel.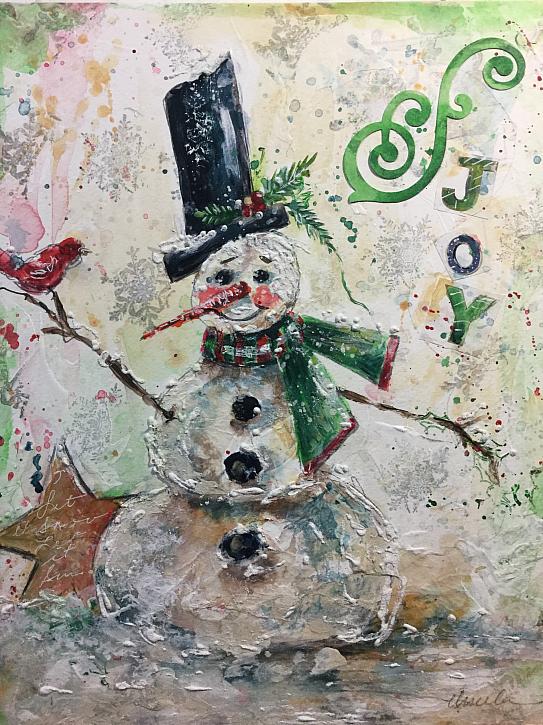 Don't you love all the texture in this piece?