Posted by DecoArt on Sep 14th 2015
Create a work of art that celebrates the one and only Kentucky Derby!
Items Needed:
Assorted Brushes
Scrapbook Paper
24" By 30" Canvas
Palette Knife
Printed Images (Horse And Jockey)
Instructions:
Directly from the paint bottles dab dots of Pyrrole Red, Cobalt Teal Hue, Green Gold, Primary Magenta, Pyrrole Orange, and Primary Yellow on the canvas. Use a palette knife to drag the paint horizontally across your canvas.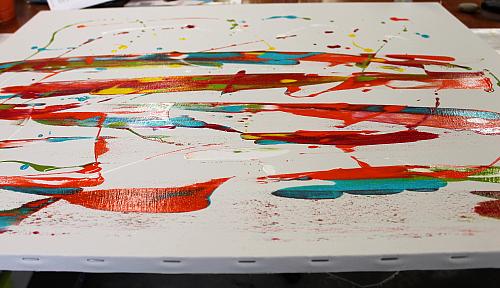 Add more paint as needed and continue dragging. It will look something like this once the entire canvas is covered.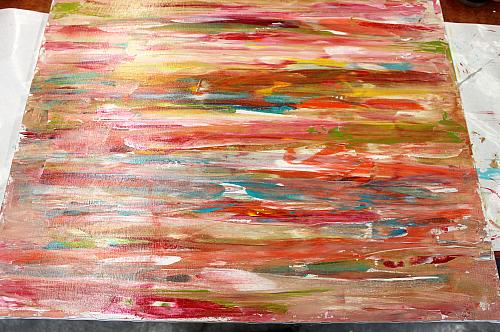 Use a 1" flat brush to paint the bottom half of the canvas in Green Gold. Mix 1: Primary Magenta with 2: Matte Medium. Also mix 1: Pyrrole Red with 2: Matte Medium. Use both of these mixtures to paint the top half of the canvas.
Use the "Distressed Numbers" stencil to randomly stencil numbers throughout the top portion of the canvas in Prussian Blue Hue and Cobalt Blue Hue. Cut strips of the scrapbook paper (approximately 1/4 inch wide) to make the fence and use a 3/4 flat brush to adhere with Matte Medium.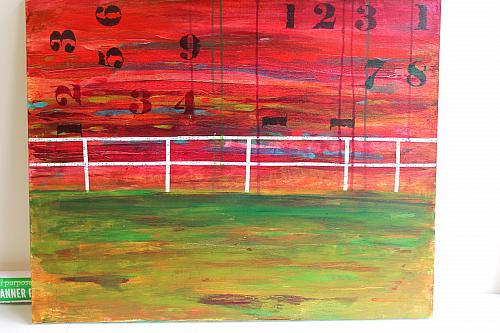 Find images of racehorses and jockeys online and print. Using a #8 round brush paint over the horses using all three blues . . .Cobalt Blue Hue, Prussian Blue Hue, and Cobalt Teal Hue. Use a #8 round brush to add highlights in Titanium White. Paint over the jockeys using colors of you choice. Once dry, cut out with scissors.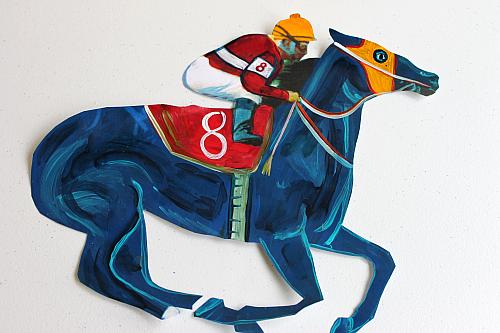 Place racehorses and jockeys on canvas and adhere in place using a 1" flat brush and Matte Medium.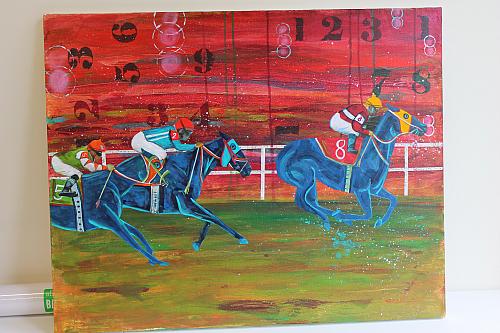 Using a #8 round brush outline the horses and jockeys in Prussian Blue Hue and blend outward. Using a 3/4 flat brush, loosely paint a border around the perimeter of the canvas and blend inward.