Posted by DecoArt on Jan 17th 2017
Hi, my name is Claudia and I am a painted paper scrap hoarder! 
Do you hoard scraps of old monoprints too and need some inspiration on what to possibly create with them? Then this might be the perfect project for you!
I love the texture and random patterns the DecoArt media fluid acrylic or DecoArt Americana acrylic paints create when being used on a monoprinting plate and how they mix so beautifully on the pulls!
It's such a different look from the one being created by using a brush!
So on my project today I used old scraps of monoprints alongside some die cutting and happy messing around with DecoArt media products to create this little winter scenery!
Items Needed:
Monoprints
Die Cutting Machine
Winter Scenery Dies Set
Black And White Cardstock
Old Dictionary Page
Dark Brown Archival Stamping Ink
Blending Foam
Wood Panel
Palette Knife
Styrofoam Tray
Assorted Brushes
Splatter Brush
Soft Cloth
Water Spray Bottle
Sticky Foam Pads
Instructions:
Pick some of your monoprints and die cut the shapes needed. Die cut the backgrounds for the doors and window openings from an old dictionary page to add more interest. Die cut the bases for the houses and mountains from black and white cardstock as shown in the picture. Ink the edges of the coloured pieces (mountains, house fronts, trees) using blending foam and dark brown archival stamping ink.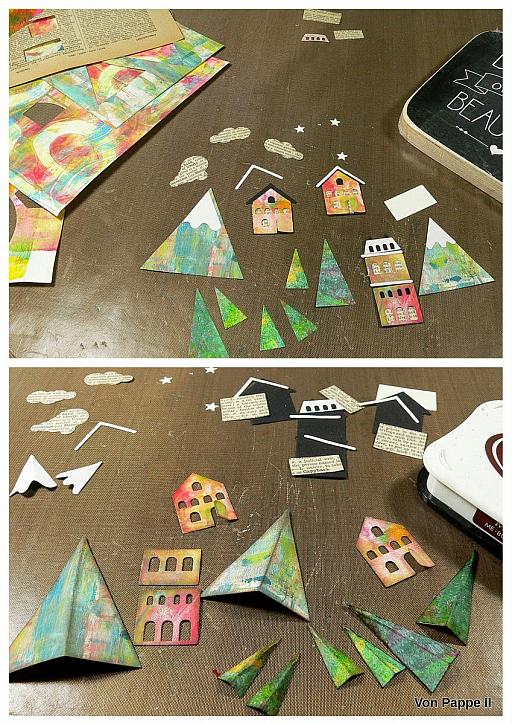 Pick a yellow or orange media fluid acrylic paint that says "Transparent" or "Semi-Transparent" on the bottle's label (see image) to paint the die cut dictionary page pieces. I used Diarylide Yellow as it is such a beautiful vibrant colour!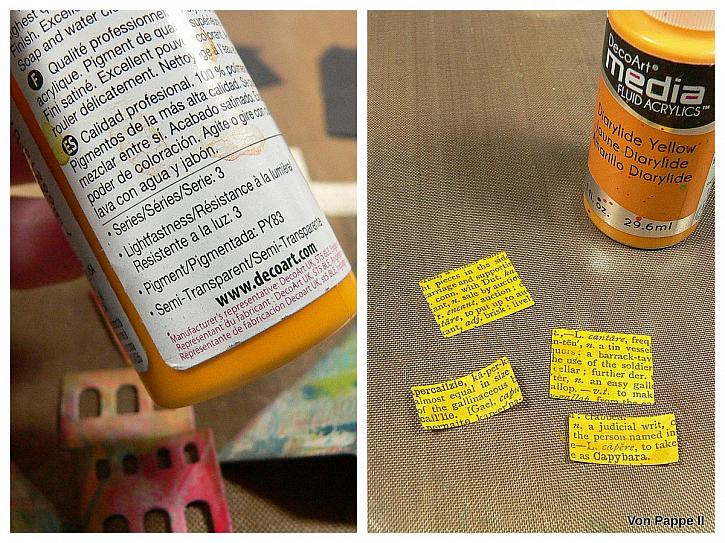 Paint the roof parts and mountain tops that you die cut from white cardstock with Titan Buff for a warmer white. Ink their edges with the brown stamping ink too after all has dried.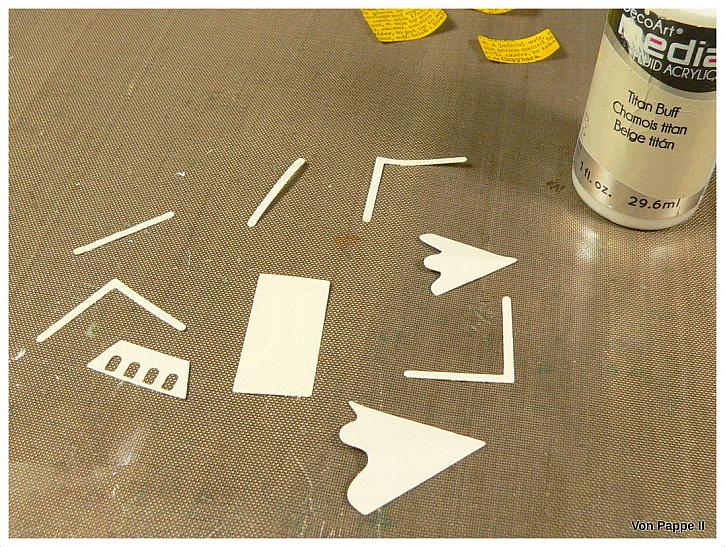 Apply clear Crackle Glaze to the mountains using a wide soft brush. Let air dry! Then add a layer of Carbon Black media Antiquing Cream and let that dry too. Afterwards go in with a soft damp cloth and wipe off most of it so that only the black cracks are highlighted.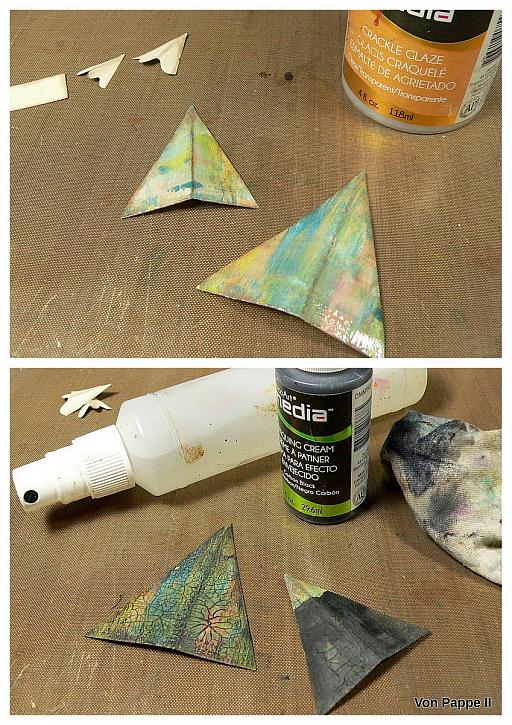 Assemble the layers of the houses and mountains using matte Decou-Page and a fine tip brush.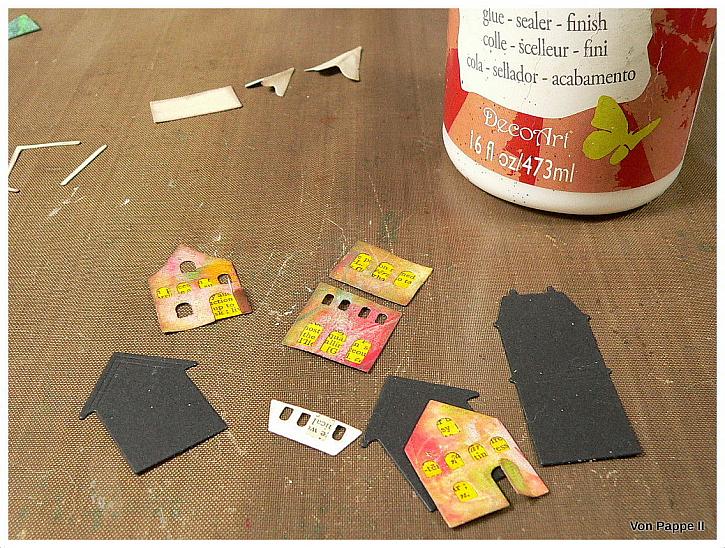 Mix a bit of Snow-Tex with two to three drops of media Tiran Buff using a palette knife and scrape the mix onto the mountain tops. Let air dry! Then paint a layer of Glamour Dust Ice Crystal to the mountain tops and roofs to add that typical snow sparkle.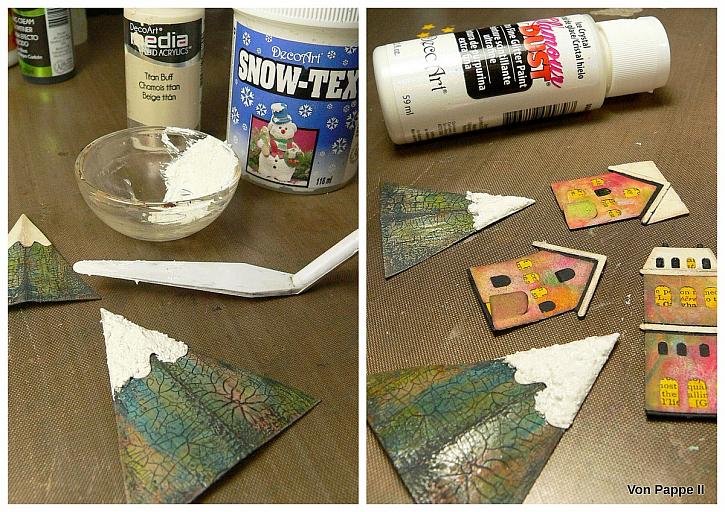 Paint the wooden panel with two layers of Lace Chalky Finish Paint and let dry. Then take a palette and a palette knife and mix some white Tinting Base and some drops of Prussian Blue Hue fluid acrylic. Create a second mix of white Tinting Base and Turquoise Sparkle so you have three different tones: plain white, light turquoise and light blue. Scrape all three tones onto the primed wood panel to create the background for the winter scenery. Move the palette knife in horizontal lines only and layer your cloudy winter sky by adding layers of the different tones and letting them dry in between. The more layers the more depth and the more cloudy the look! To finish off the background add some speckles of Turquoise Sparkle and Ice Crystal Glamour Dust using a splatter brush to let it snow.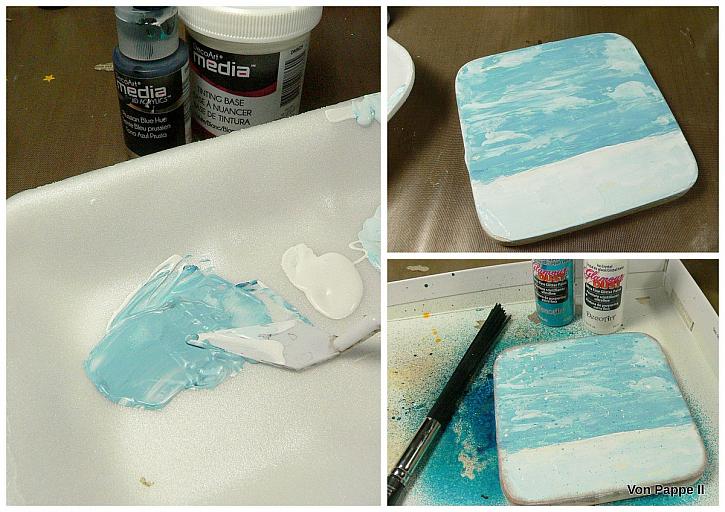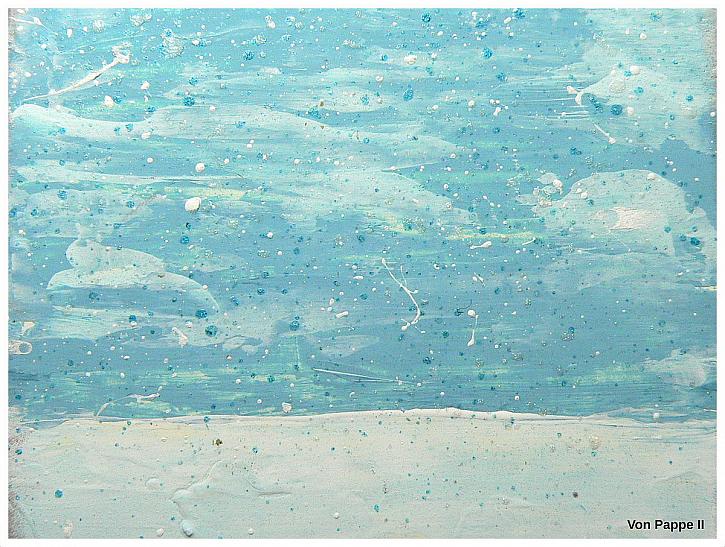 Using sticky foam pads layer the finished mountains, trees and houses onto the dry background. If you want you can add a stamped quote to your scenery too. You're done!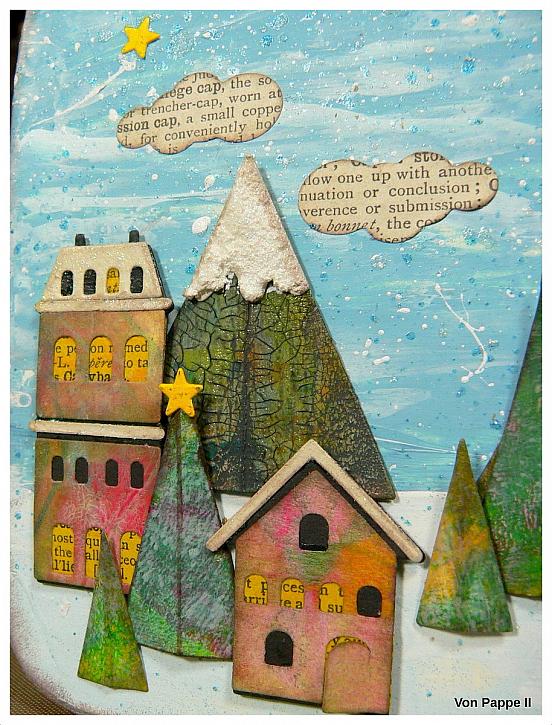 I hope this project has inspired you to look at and use your monoprints in different ways and to make most out of your pulls! Thank you so much for stopping by!