Posted by DecoArt on Mar 1st 2017
Spring is just around the corner and the warmer weather has me itching to spruce things up around our home.  Spring symbolizes a fresh start, and I think it's the perfect time to freshen up your home decor.  You don't have to completely overhaul a room to make an impact. Something as simple as a fresh and colorful gallery wall can instantly add new life to your space.  Try adding a pop of color with a custom painted word art canvas.
Items Needed:
11 X 14 Canvas
Heidi Swapp Wooden Word
Paint Brushes
Glue Gun
Instructions:
My daughter has been begging me to redecorate her room and I'm finally ready to tackle this project. Her room is really a blank canvas with boring white walls. Like me, she loves color so we wanted to add lots of it to her new room, but I didn't want to paint the walls. I decided the best way to add color would be to create beautiful artwork.
It's easy to create your own personal art work with the new bright and bold DecoArt Americana acrylic paint. I am in love with the new colors for 2017, but then again how can you not love a paint color named "cotton candy?" This painted canvas was a simple project, but add it to a gallery wall and you have a bold statement that will transform a room. This word art is easy to make, here is what you'll need to create your own masterpiece.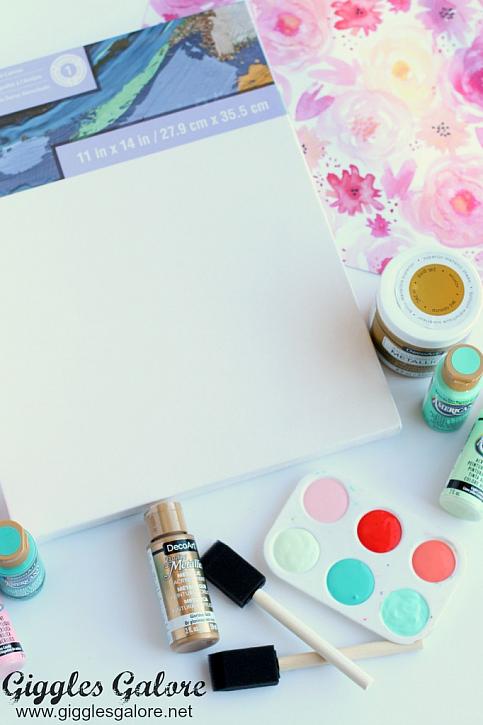 Pour your paint colors of choice into a paint pallet and decide on a pattern for your design. I thought the colors I picked looked like a gorgeous sunset on the beach so I decided to paint my pattern to reflect that.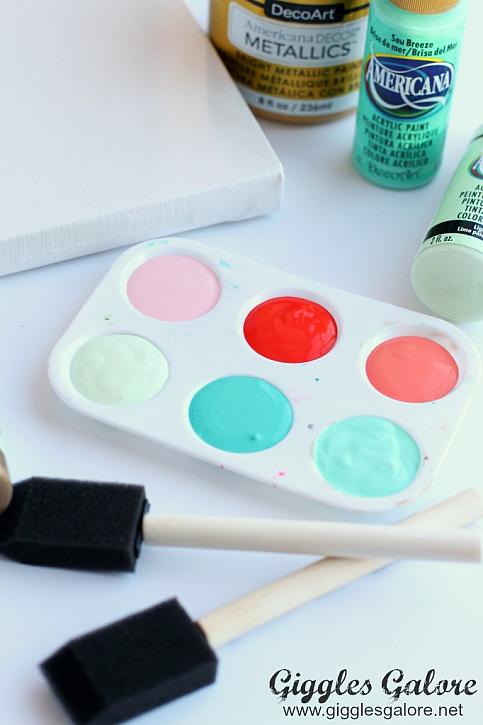 Start painting horizontal brush strokes across the length of the canvas. Continue painting each color in your desired pattern.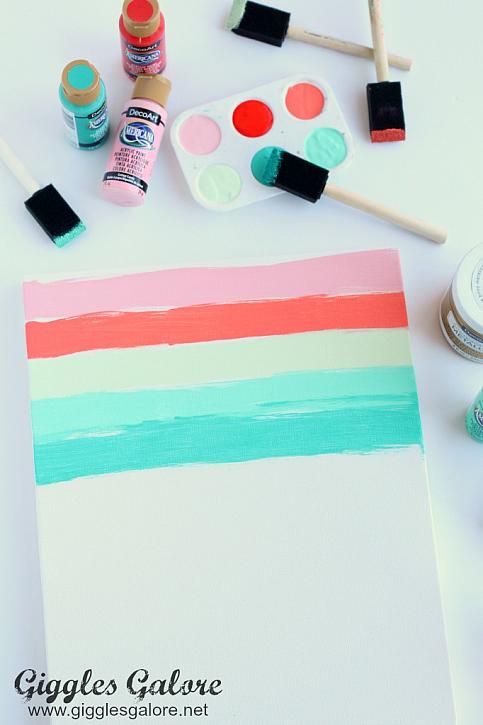 Once you have finished painting all of the canvas, go back and add depth by lightly layering colors over each other. Once you have finished set aside and let the paint dry on the canvas.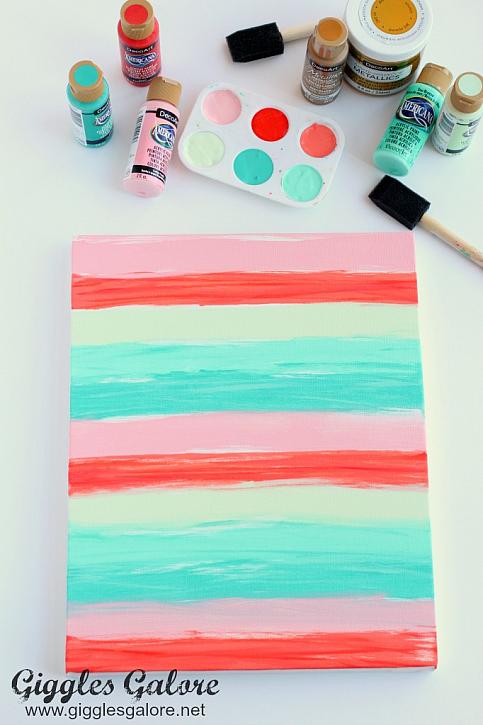 Once you have finished set aside and let the paint dry on the canvas.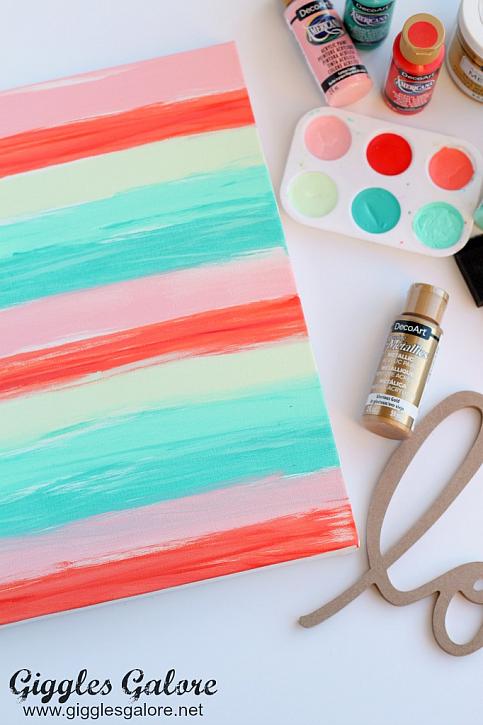 While the canvas is drying paint the wooden word, I used the word "love", with the Dazzling Metallics glorious gold paint.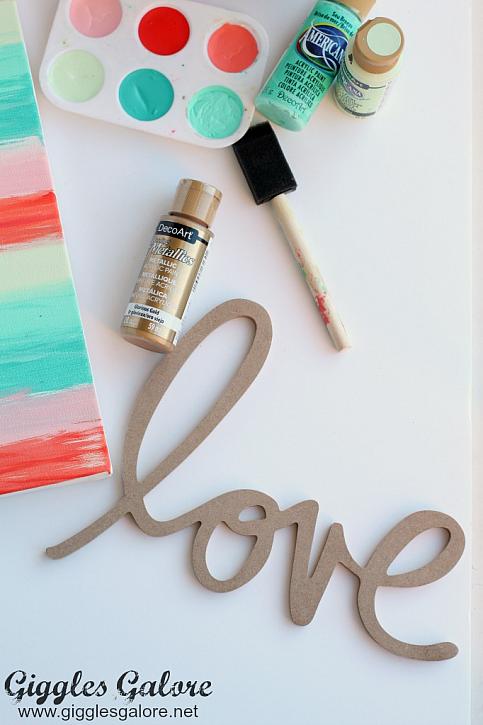 Once the paint is dry, use a glue gun to attach the wooden letter to the canvas.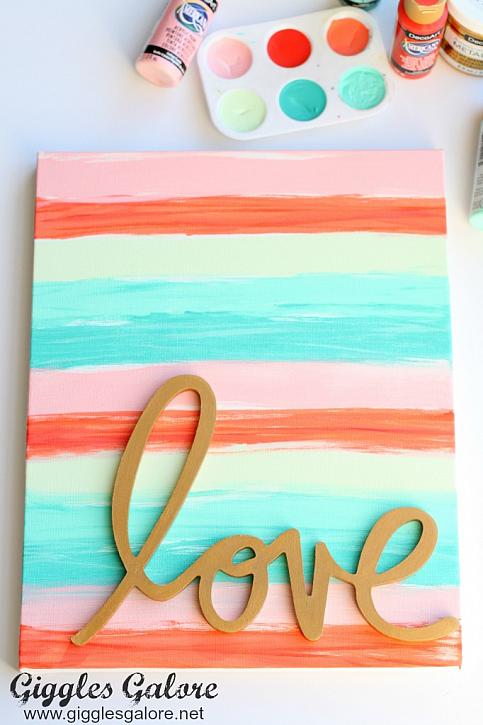 Pair your bright and bold painted canvas with other artwork and frames to create a stunning gallery wall.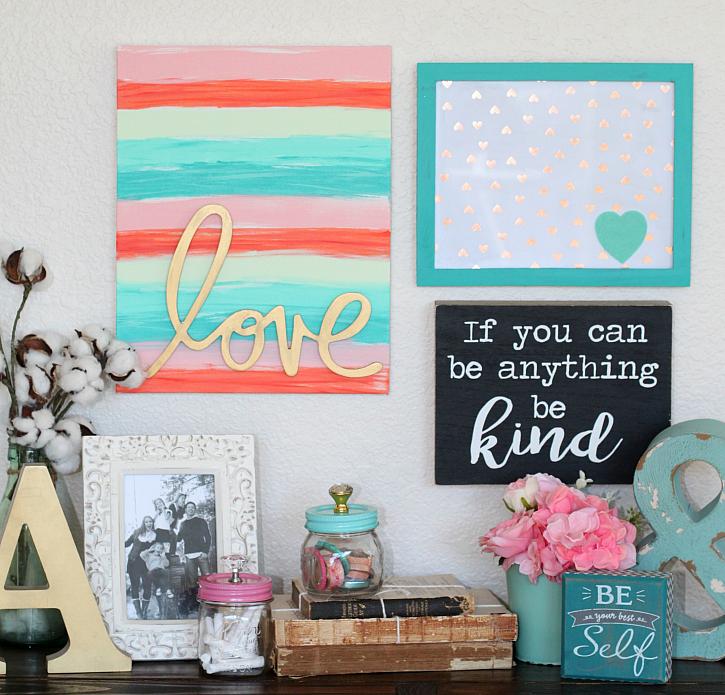 I love how this painted canvas adds the perfect pop of color above my daughter's book shelf. She is excited to see her room makeover in progress and can't wait to see how the finished project will turn out. Make sure you pop on over to Giggles Galore so you can see how we are incorporating this beautiful new custom painted canvas into her room makeover.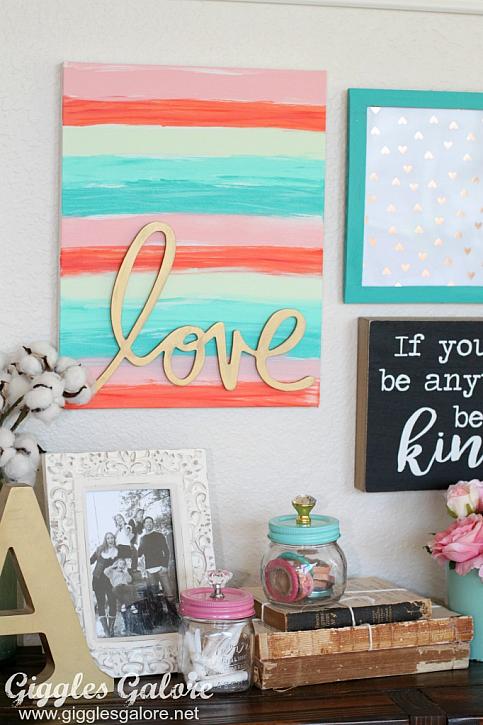 This spring don't be intimidated to makeover your space. It really is as simple as creating a new piece of colorful art to freshen up the space and inspire you.