Posted by DecoArt on Apr 24th 2018
I have to be honest here, I was not super intrigued by the paint pouring trend to begin with. It looked challenging, messy, and it just didn't really match my style. Boy, was I wrong! I have kind of... Fallen in love with
Paint Pouring
, especially when it comes to sign making. How cool are these canvases that have been turned into signs with the gold vinyl cut with my Cricut Maker? They have that fun geode look that is so popular right now and they look perfect in my daughter's room! Want to learn how to make them? Scroll on down for a supply list and a quick video tutorial.
Items Needed:
DecoArt Americana Acrylics 2oz - White
DecoArt Americana Acrylics 2oz - Kelly Green
DecoArt Americana Acrylics 2oz - Leaf Green
DecoArt Americana Acrylics 2oz - Black
DecoArt Pouring Medium 16oz
DecoArt Clear Pouring TopCoat 16oz
12x12 Canvases
Plastic Cups
Stir Sticks
Disposable Gloves
Large Pan (I used an old bus boy tub that I purchased at Sam's Club a while back and lined it with foil) 
Cricut Maker
Cricut Gold Adhesive Foil
Transfer Paper
Vinyl Scrapper (or credit card)
This is a great project to do together with your kiddos. Let them pick out the colors they love, and watch how they enjoy how the colors become magical on the canvas. Here is a quick video of my process: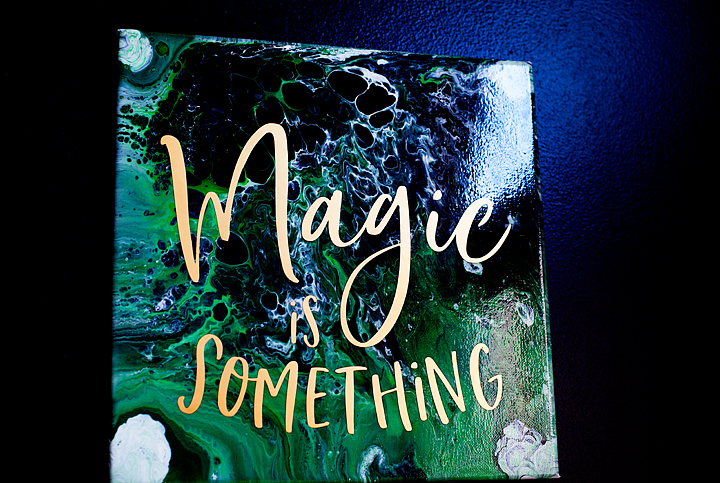 Have I peaked your curiosity? You guys have to try this! It's fun, it's magical... I am convinced that you're going to also fall in love with paint pouring.