Posted by DecoArt on Nov 7th 2019
I was thinking about the fall season while deciding what I wanted to make. I am so inspired by the gorgeous Autumn colors and have truly loved watching the changing palette. This has been one of the most beautiful falls in a long time, and I've been soaking it in daily. I knew I wanted to pull out my orange, yellow and green paints to play with. At the same time, one of my favorite family holidays is this month - Thanksgiving, and it's harvest season. So how to pull all of these ideas together? That's when I thought about making some ears of corn for my front door. Maize, or as it is also known, Indian corn is so colorful, I wanted to try to catch that variety of color in each ear.
Items Needed:
DecoArt Traditions Artist Acrylics - Ultramarine Blue
Watercolor Paper
Flat Mailing Envelope (cardboard)
Bubble Wrap
3/4 Inch Flat Brush
1/2 Inch Flat Brush
Pencil
Carbon Ink Pen
Black Marker
Scissors
Hole Punch
Skewer
Thread
White Tacky Glue
Cosmetic Sponge
Heat Tool
Ribbon
Instructions:
Step 1: Draw an ear of corn for your pattern, then sketch it onto cardboard and cut out. I recycled some flat mailing envelopes for this.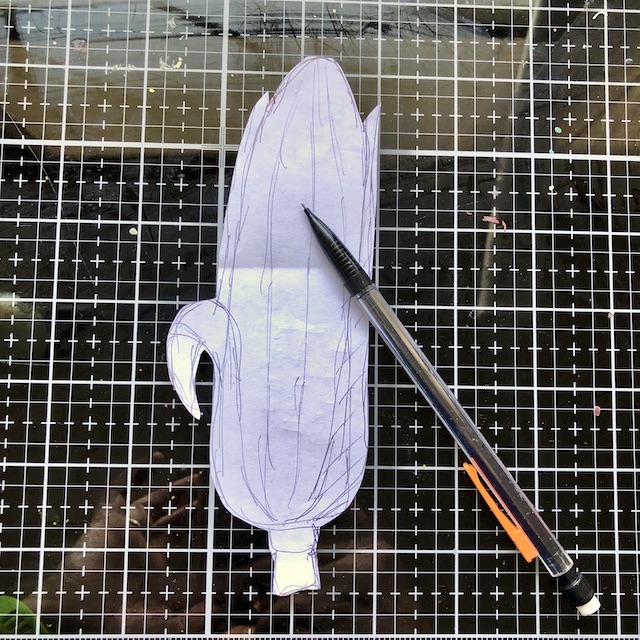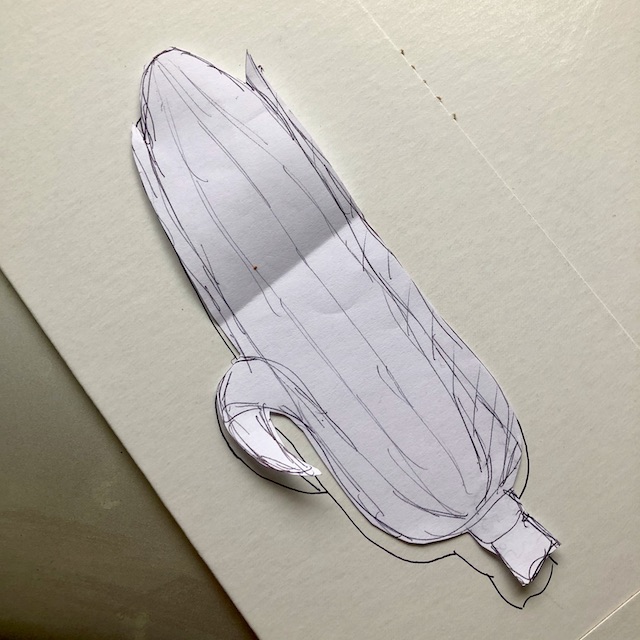 Step 2: Cover both sides of the cardboard with Grey DecoArt Chalky Gesso (I love this stuff!) and let dry.
Step 3: Paint both sides with the DecoArt Traditions Artist Acrylics in Hansa Yellow. Let dry, or speed up the drying with a heat tool (yep, that would be the impatient me!)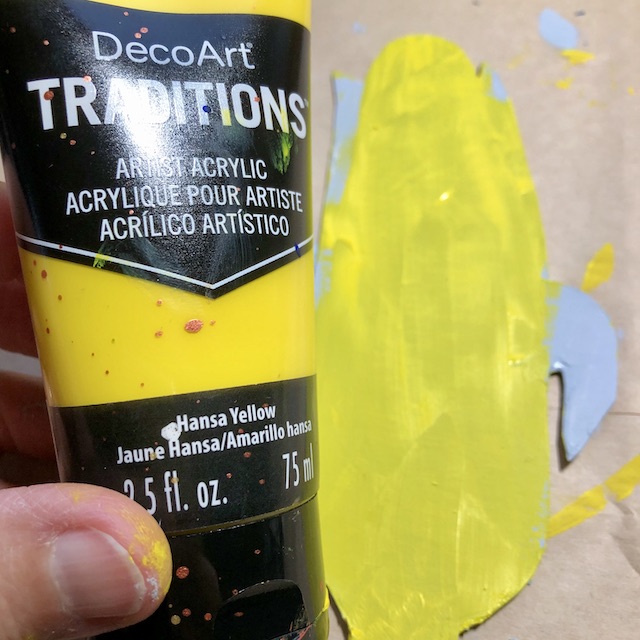 Step 4: Lay bubble wrap over your pattern and draw the kernel part on the bubble wrap and cut out. Glue the cut bubble wrap onto the corn with tacky glue. Cut some threads to use as the corn tassels and tuck these in between the bubble wrap and the cardboard, adding an extra bit of glue to hold it in place. Let dry completely.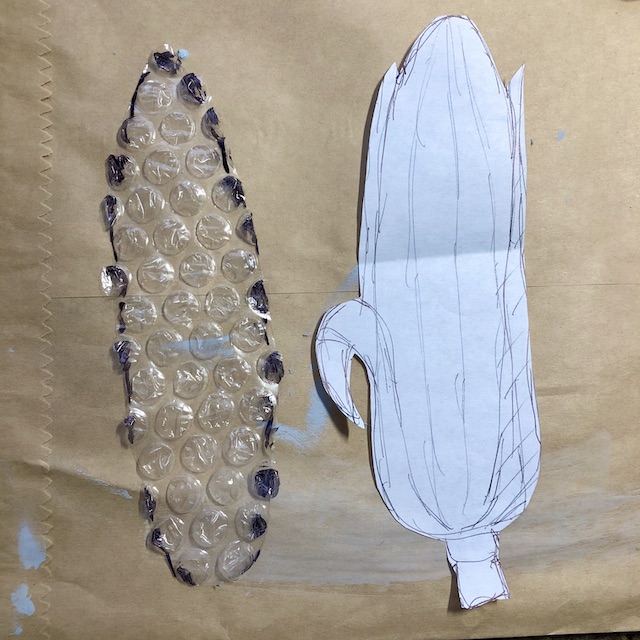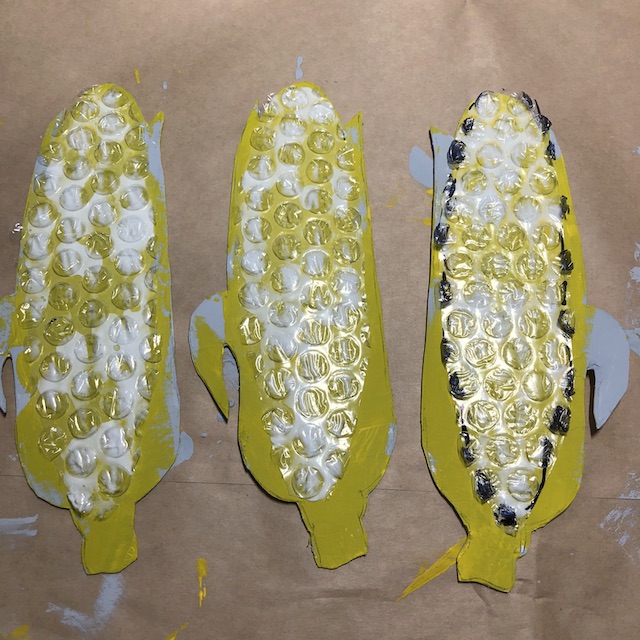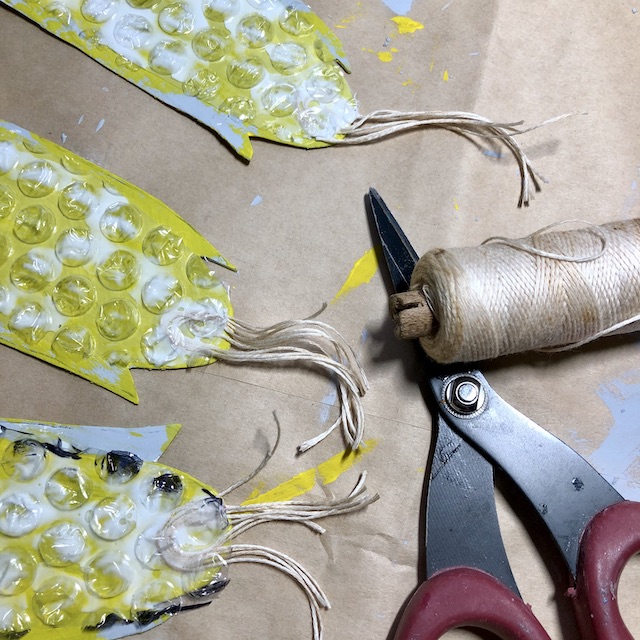 Step 5: Now on to the fun part of painting the "bubble wrap" kernels. I started by painting a layer of Hansa Yellow, using the Traditions paint, then started to blend in a mix of Diarylide Yellow, Cadmium Orange Hue and Quinacridone Gold, using the Americana Premium Acrylics. Dry (if you use a heat tool with the bubble wrap, be careful to not overheat and melt it).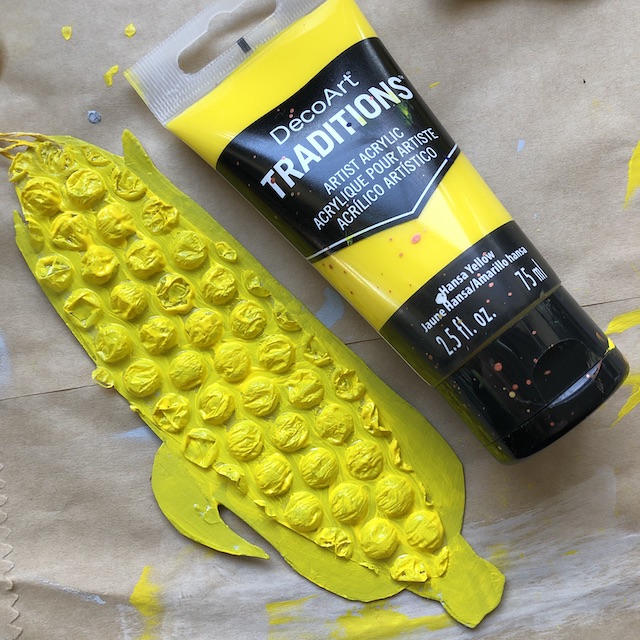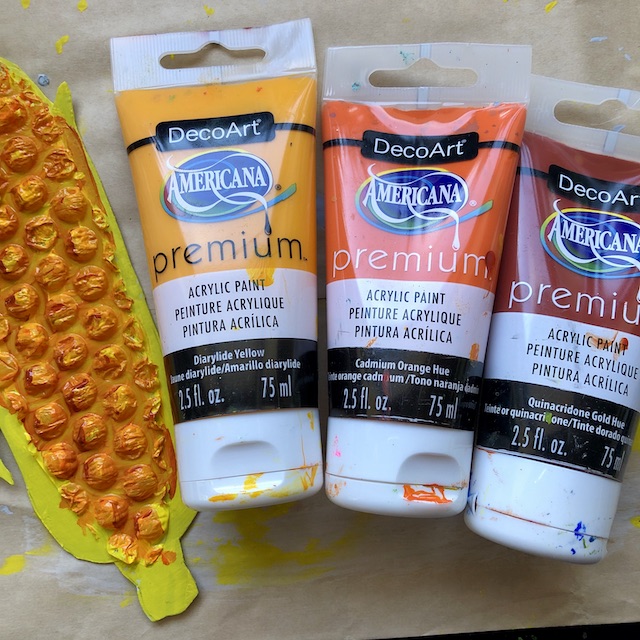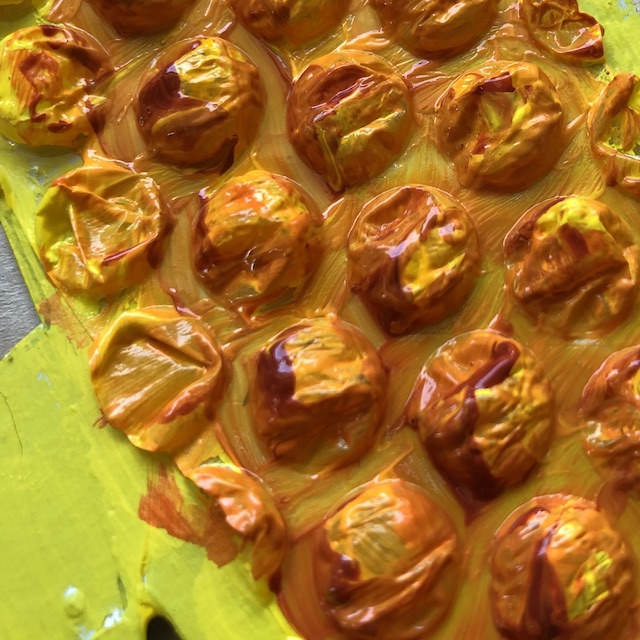 Step 6: Next, I added in some different color kernels using Dioxazine Purple, Ultramarine Blue, and Burnt Sienna. After that dried, I touched up around areas where I had painted a bit too much.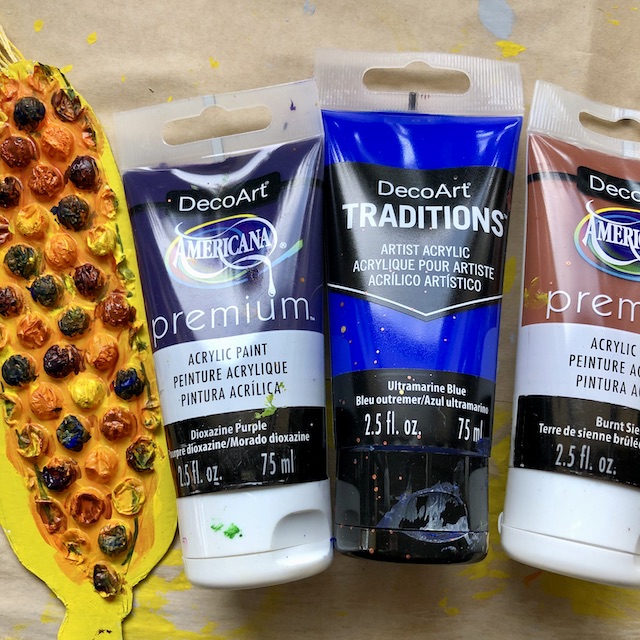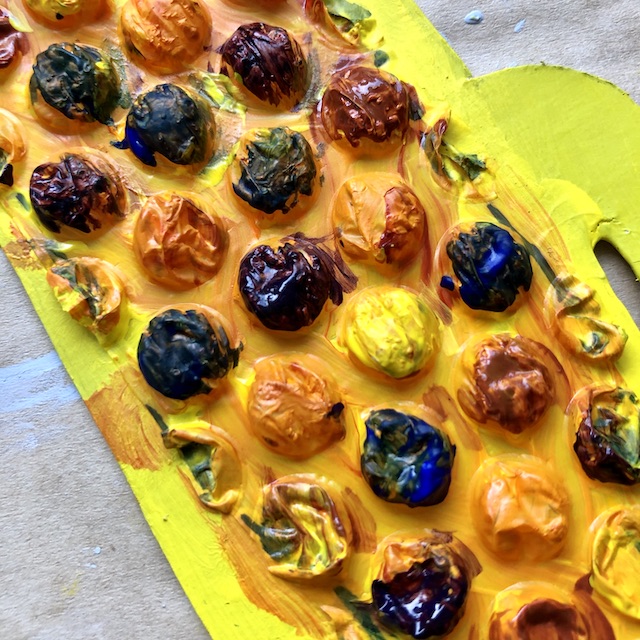 Step 7: Paint the leaves and stalk around the kernels with the Americana Premium Yellow Green Light, and Phthalo Green Yellow. While the paint is still wet, scratch in a bit of a design using a skewer.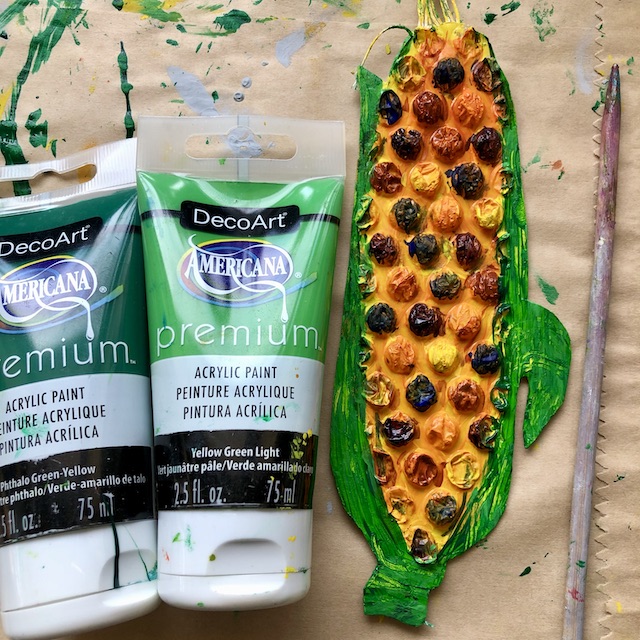 Step 8: Add a bit of detail to the stalk and leaves using the DecoArt Aztec Pattern mixed media stencil. Apply Dioxazine Purple with a cosmetic sponge. When using acrylic paint with a stencil, always tap off most of the paint on the sponge first. This will keep your image nice and crisp.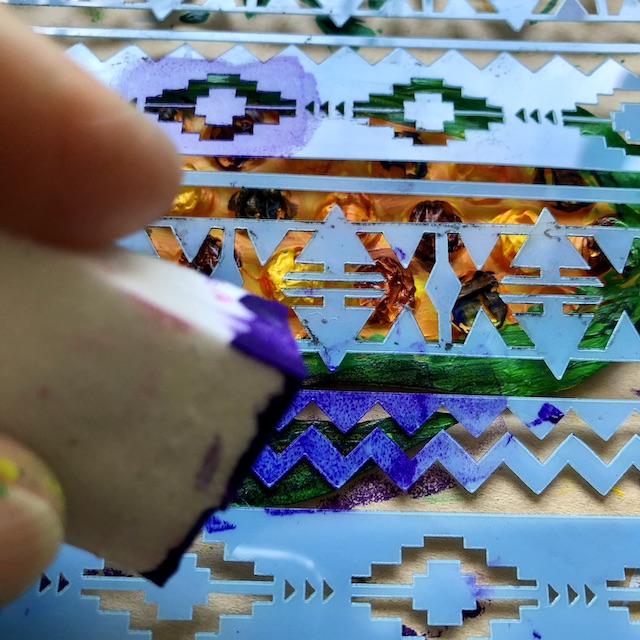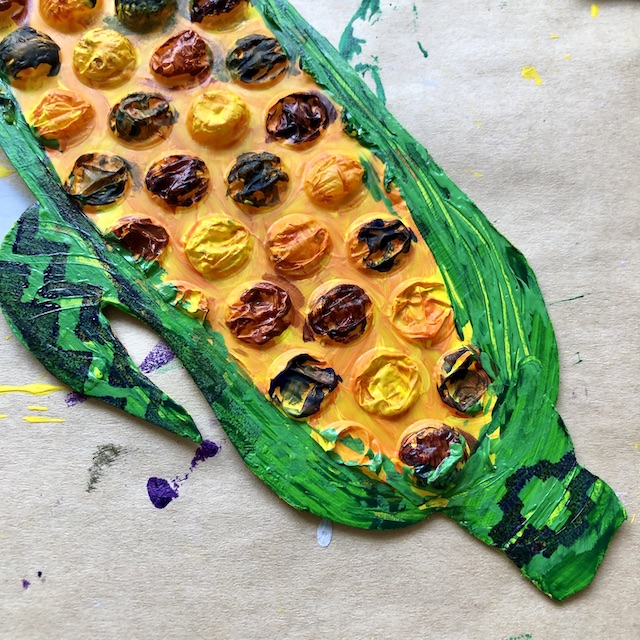 Step 9: Sketch three circles on watercolor paper, and hand letter the words Grateful, Thankful and Blessed onto each circle with a carbon ink pen (or any black waterproof pen). Edge it with a black marker after you cut them out. Punch a small hole into the top of each circle and the stalk of the corn ears. Attach the ears of corn and words together using ribbon. I like to use hand-dyed ribbon that I make and keep on hand.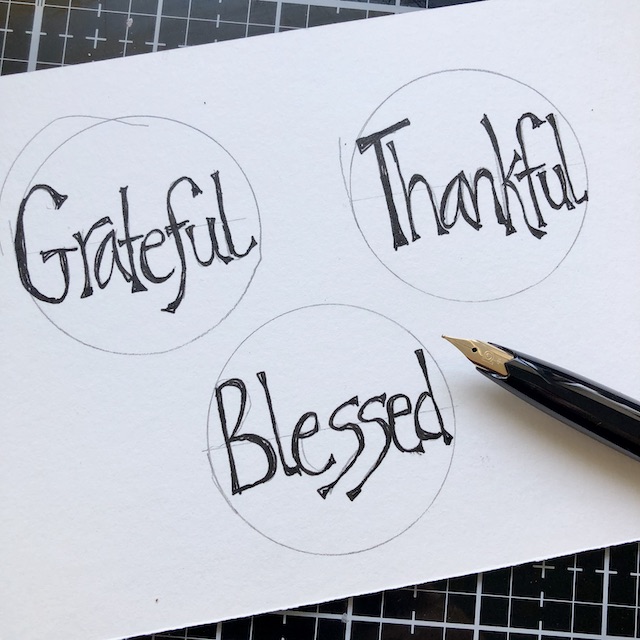 Details: I have to say, I love my sweet corn in the summer and look forward to finding it at the farm stand. I could make a meal out of fresh corn in the summer. Popcorn is my favorite snack and sometimes it's my dinner too. Cornbread, grits, tortillas…just think of all the foods we eat using corn! I may have to add a few more corn dishes to my Thanksgiving menu this year. Wishing you all a wonderful holiday season, and my heartfelt thanks to each of you!
Maura