Posted by DecoArt on Mar 3rd 2016
I've always been attracted to the bold look of mosaics, and admire its art form. I'm not a mosaic glass artist--I'm a mixed media artist--which means anything goes. My favorite play time is when I take a pile of plain papers (any kind), get out my paint, stencils, mark-making tools, etc., and just have some fun. So this is my version of a mosaic piece of art.......the paper collage way. The paint colors that I've listed are what I used for painting my papers, but you can choose any color that you favor--whatever appeals to you.
Items Needed:
Assorted Brushes
Mark Making Tools I.e.: Bottle Caps, Foam Stamps, Texture Tools, Etc.
White Cardstock
8 X 8 Wood Cradle Board With Deep Edges
Book Pages
Brayer
Black Permanent Marker
E6000
Eco Art Board
Embellishments - New And Found, I.e.: Buttons, Watch Parts, Jewelry Findings
Instructions:
Start warming up by painting plain cardstock papers with colors that appeal to you--I added layers using the Andy Skinner and Americana Décor stencils, and other mark-making tools. The 110lb paper is great for adding lots of layers--it will hold up to pretty much anything that you may want to do to it.
To start, adhere book pages or any paper of your choice to the front of the 8 x 8 cradle board with DecoArt matte medium and the brayer to get any of the air bubbles out. Most of this will be covered up, but some of it will peak through--the text of the book pages adds great visual texture.
Next, start adhering your chosen papers to the sides and the front for borders with the matte medium. Tip: if your paper is thick from layers of paint, use gel medium instead, and it helps to wet the back of the papers first, which makes them more pliable and easier to work with. Apply the matte medium over the top and sides to seal--let dry.
Set aside your cradle board, and start making your tiles using the Eco Art Board--they come in assorted sizes, so you have a choice of how you can arrange them on your surface, depending on the size tiles you choose. It's not necessary to use these--you can cut out thick foam pieces or chipboard--anything that will give a higher dimension. Once you've chosen what tiles that you'll be using, start adhering your papers to them with matte medium in the same manner as before--being sure to seal the tops with the matte medium.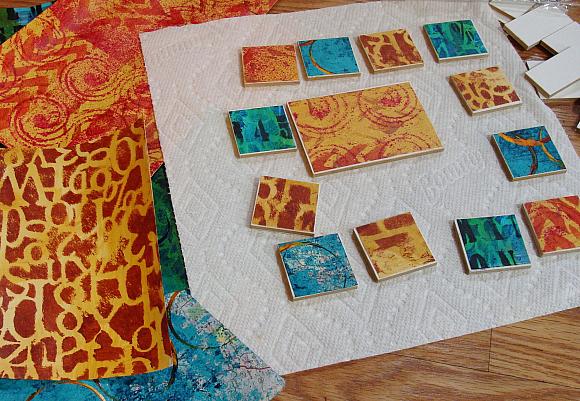 When everything is dry, edge the tiles with the permanent black brush tip pen, and also the edges and sides of the cradle board with Carbon Black paint. Next, spray everything with the Americana gloss varnish spray--the gloss gives the mosaic effect look to the piece. Start gathering all of your chosen embellishments and anything that has significance to you. (I had a wood cut out house that I covered my paper with--see photo)
Now--more fun--putting it all together...using the E6000 and any other glue of your choice--depending on what you're gluing down. (some of the items I wired down by drilling small holes into the tiles) I glued all of the tiles down on the cradle board with the E6000.
To finish, I added these old knobs that I found at a garage sale last year--don't discard those older pieces that have a history to them--give them a new story.
Thank you everyone for stopping by--I hope you try this project--it was very fun creating it from beginning to end.