Posted by DecoArt on Oct 11th 2015
I have always wanted to go to a masquerade party. Wouldn't it be fun to put on a sparkly mask and costume and spend a night being someone other than yourself?
Why not throw your own masquerade ball for Halloween?
Items Needed:
Glamour Dust - Gold
Assorted Brushes
8.5 X 11 Card Stock
Decorative Ribbon
Printable Labels (I Used Silver Foil Labels From Online Labels)
Masquerade Party Printable
Double Sided Tape
Instructions:
You'll need some cool invitations, like this, to cue your guests to the party theme.
These are really fun and easy to make using metallic and glittery paint and glitter.
Paint the mask with two coats of Dazzling Metallics paint in Amethyst. Allow to dry.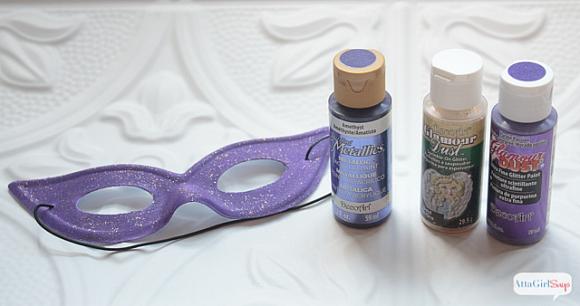 Brush mask lightly with a coat of Glamour Dust Ultra Fine Glitter Paint in Purple Passion. While the paint is still wet, dip your paintbrush into the gold Glamour Dust and brush lightly over the mask.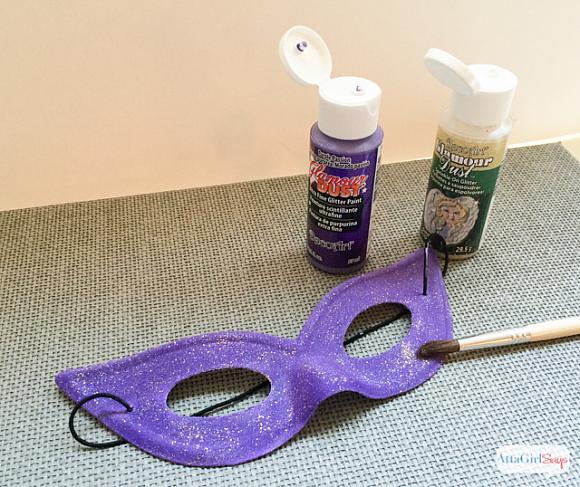 Allow to dry completely.
Meanwhile, fold a piece of black cardstock in half. Use double stick tape to attach a ribbon band around the folded card. Fold over the cut edges of the ribbon about a half-inch on the inside of the card and secure with double stick tape.
Using the masquerade party printable of your choice, use your computer to print labels. Add one to the center of each card, centering over the ribbon.
Halloween Masquerade Party Printable
Anytime Masquerade Party Printable
Add the party mask to the invitation.