Posted by DecoArt on Sep 2nd 2015
I love using image transfer, it opens up a world of possibilities for your work and can really make the most of your mixed media backgrounds.
Items Needed:
Assorted Brushes
Laser Printed Image
Canvas
Instructions:
I have chosen a 6x4 inch box canvas for my substrate. Due to the texture of the canvas I thinly applied a couple of coats of DecoArt Media gesso and worked into the texture. Between coats I gave a light sanding with a piece of fine grade sandpaper just to smooth the surface. I did this because I want my image to make good contact with the surface when I come to glue it down.
The sanded surface was given a coat of titanium white and the background was created using washes of DecoArt fluid acrylics. As my image is a green man/ earthy style image I used earthy colours.
When using washes I like to mix on my craft mat (for small amounts). As the fluid acrylics are so pure you only need to use a tiny amount of paint.
Use a mop brush to pick up some clean water and mix the paint to get the required strength of colour. I always mix on the strong side but keep a mini mister of water close by, if the colour is too strong when applied just mist to dilute the paint.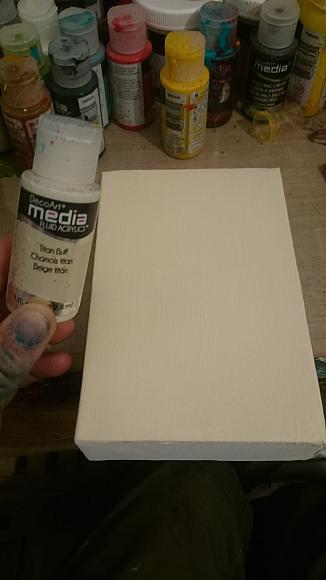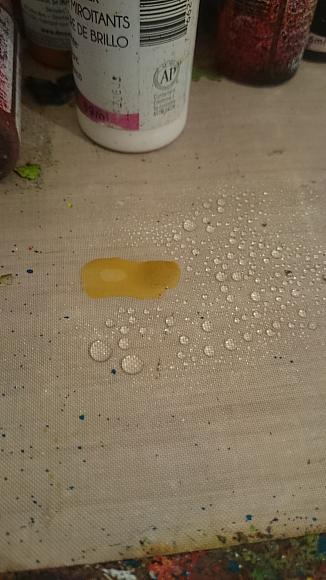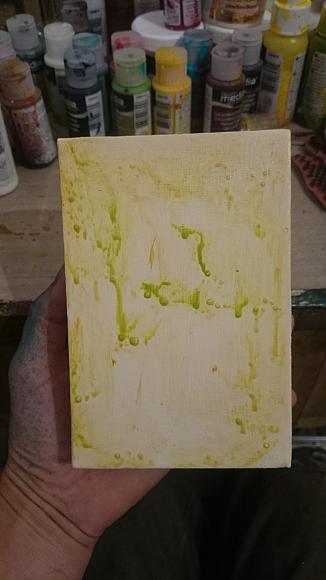 Several layers of wash were added and left to dry between colours.
A light spritz of the red media mister added some texture just to finish off.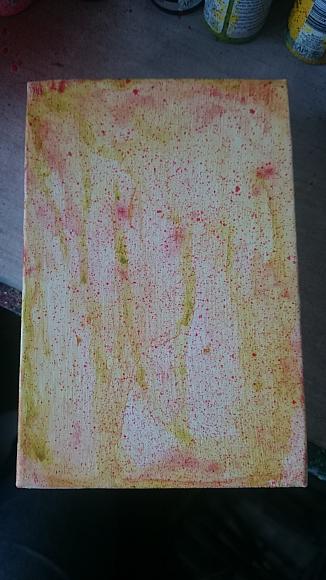 I selected an image from Smearedink from their digital set "Specimen Jar"
The image has been sized to fit and printed using a laser printer. Laser printed images give you the best results.You can use an ink jet printer but there may be a little smudging of the ink as you seal the image. It's also important to remember that you may need to flip the image on your computer if it contains text or numbers etc.
Both the canvas and the image have been given a coat of DecoArt Matte Medium, this seals the surfaces and gives a good base for the image transfer.
Leave to dry and then apply a second coat. Carefully glue down your image (printed side down) really burnish the image, it's very important to get the entire surface area stuck down so there are no misses or air pockets, also make sure the image has stuck all the way to the edges of the canvas.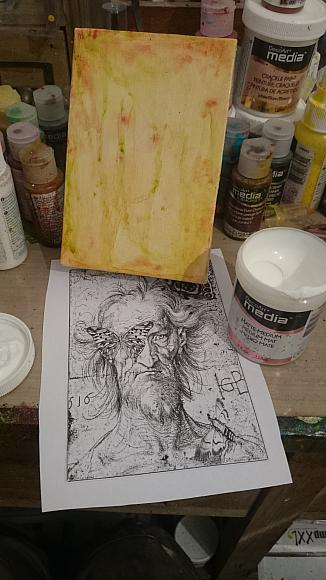 Leave to dry for a few hours, overnight if you can, but allow enough time for the Matte Medium to dry fully.
I have found the best way to remove the paper from the back of the image is to wet a piece of craft sponge, wring it out and gently start rubbing in small circular motions, the paper will bobble up, keep wiping and drying the surface, work on small areas at a time until all the paper has been removed. Give it a blast with a heat gun to dry, if the image still looks cloudy and a little wooly go back with the damp sponge and remove more paper.
The edges were then distressed using black archival ink and the outside edge of the box canvas was painted black.
Once you are happy and the canvas is dry apply a coat of DecoArt Ultra-Matte Varnish, this helps eliminate any trace of cloudiness from the paper. At this stage if you want a satin or gloss finish apply your choice.
I have decided to leave mine matte for now as I am thinking of using him on part of another project and I'm not sure what finish I want yet.