Posted by DecoArt on Nov 16th 2017
Gone are the days of traditional red and green holiday decor.  While these colors are still a big part of the holidays we are seeing more and more holiday decor that now runs the color scheme spectrum from black and white to bright colors.  This holiday my mantra is Merry & Bright and I'm infusing lots of color into my holiday decor, including this Merry & Bright table setting.  
This year I've teamed up with both Cricut and DecoArt to show you how you can dress up any table setting with DIY projects that are big on impact and easy on execution!
During this busy time of year I do lots of entertaining.  From hosting Thanksgiving to annual holiday parties, I look forward to setting a warm and welcoming table for our guest to enjoy delicious food, great conversation and create extraordinary memories.  This colorful tablescape is perfect for a girls-night in or your annual Christmas Eve dinner with a bright and bold twist.  To get this merry & bright look I created 4 simple projects using my Cricut Maker and DecoArt paint.  Here's what you will need to recreate your own merry & bright table setting.
Items Needed:
Assorted Brushes
Cricut Felt Sky Sampler
Cricut Felt Carousel Sampler
Twine
Chargers
2 X 10" Woods
Saw
Sandpaper
Hot Glue Gun And Glue
Cricut Maker
Instructions:
DIY Chargers
Use the multi-surface white cotton ball paint to add a base coat of primer paint the the plastic chargers.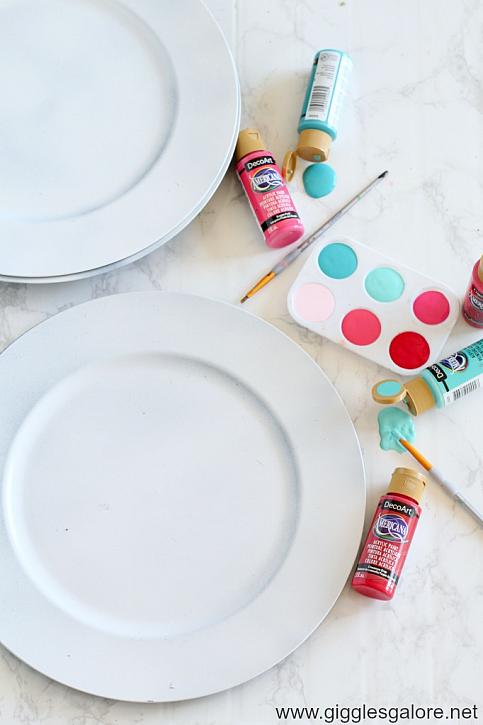 Drop a pea size amount of the Americana acrylic paint on the charger.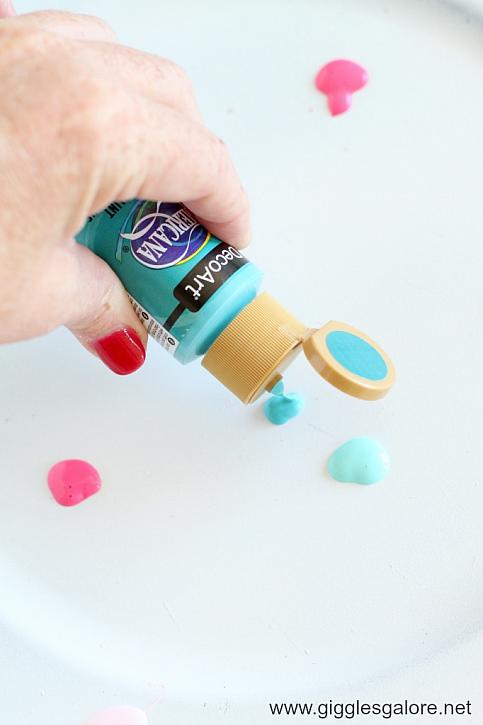 I wanted my chargers to have an ombre effect so I used colors in the same color family.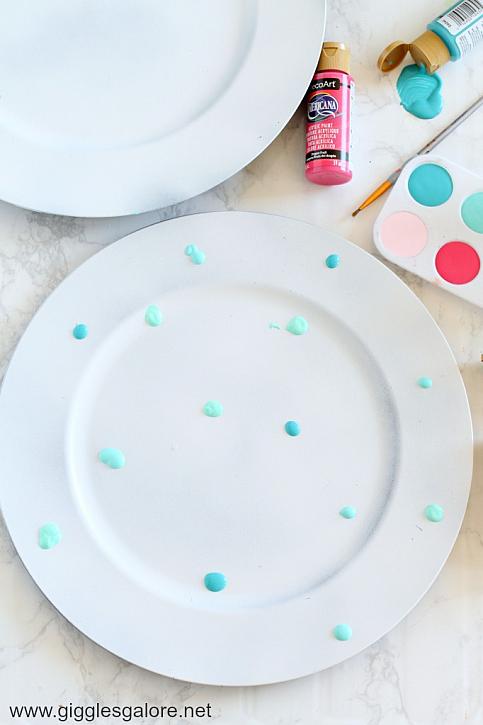 Use a paint brush to begin blending the colors together creating an ombre effect. Add more paint as necessary to get the desired look.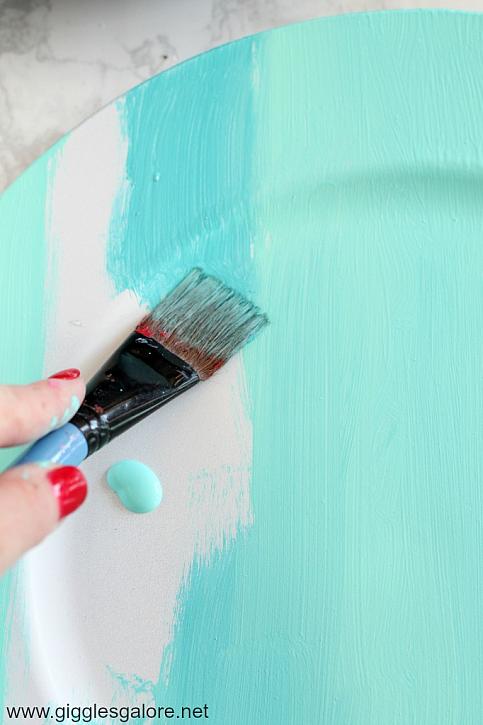 Once the paint is dry spray a protective coat of Americana Gloss Sealer on the chargers to help protect them.
Set the chargers aside and let them dry completely before using. Meanwhile, it's time to get crafty with the new Cricut Maker. This is one of my favorite new craft tools, because there are so many possibilities for creating personalized home decor, party favors and more.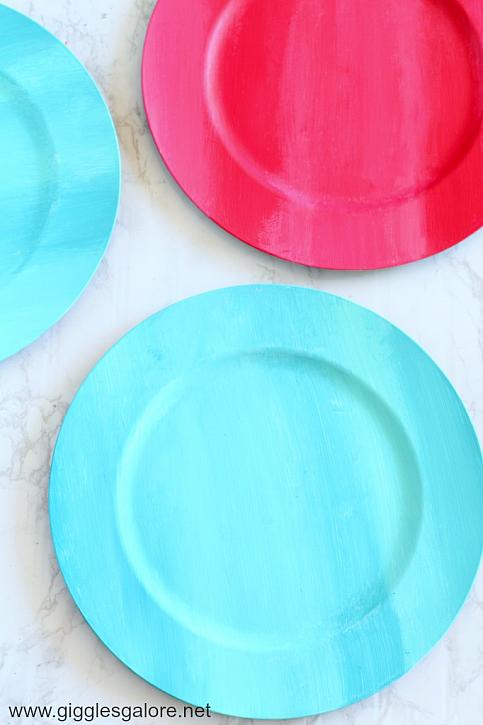 DIY Felt Leaf Garland
Open up Cricut Design Space and use the search bar to search for a leaf. I ended up using the leaf from the Mother's Day Bouquet cartridge. I resized my leaf to 2.5 x 3."
Use the bright colors from the Cricut felt sampler packs to cut out your leaves. I used 1 sheet of the pink, green, turquoise, white, light blue, mint and light pink.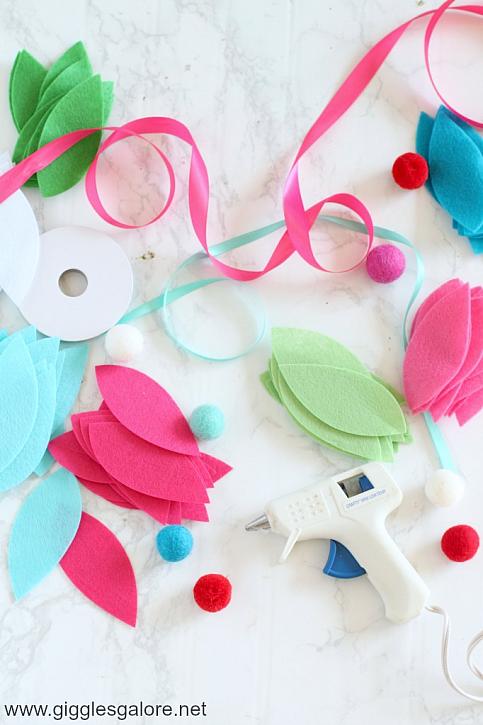 Once you have all your leaves cut out use a hot glue gun to shape the leaf. Add a tiny drop of glue at the bottom of the leaf and pinch the sides together. Continue gluing all your leaves together.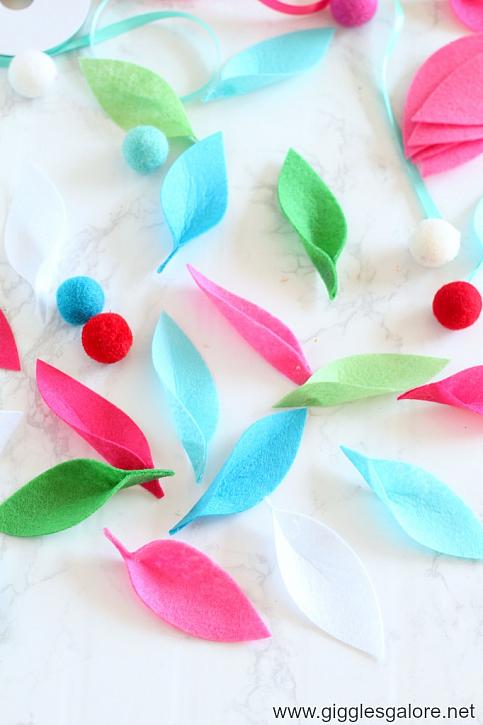 Once you have all of your leaves put together it's time to create your garland. Use a piece of twine (or ribbon) and measure the length of your table so you know how long you will need to make your garland, remember to leave a little bit of slack so you can twist and wind it through your table decor. Glue the leaves in alternating colors and sides to the twine.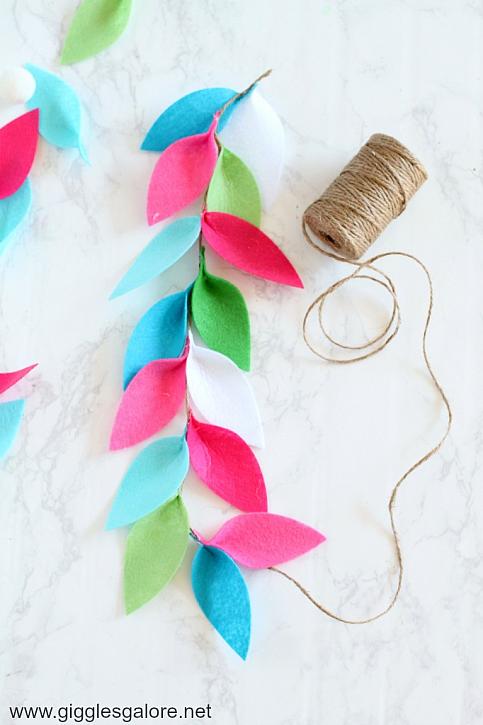 Run your colorful leaf garland along the table to create a cheerful table runner for your holiday dinner party.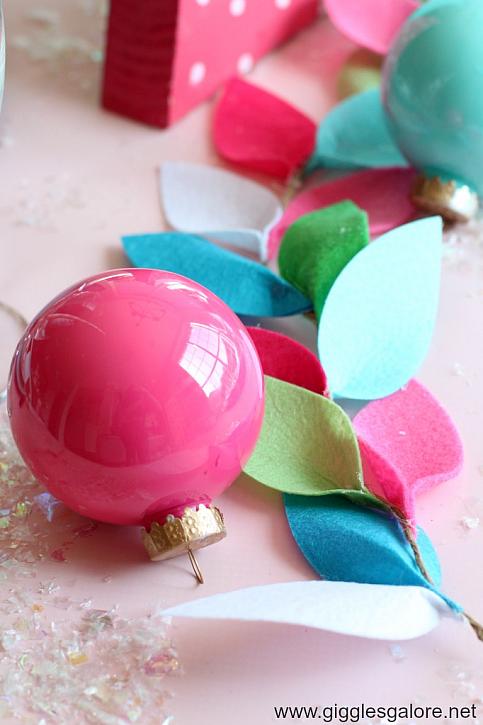 In addition to these two projects I also created some colorful and modern Christmas trees using the same basic tutorial for the painted wood mountain blocks I made a while back. I used the same bright American acrylic paint to paint these as the ones I used to paint the chargers. I created a few ombre style trees and added simple polkadot "ornament" decorations to others.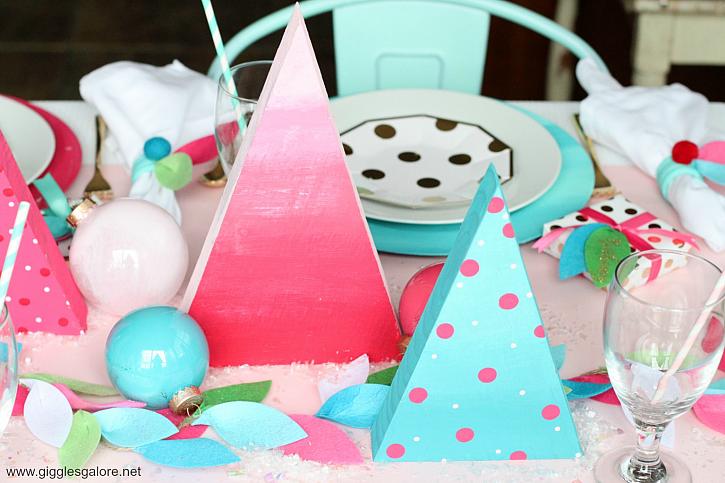 Combined with the DIY colorful Christmas ornaments and the DIY colorful felt leaf garland this table is bursting with fun.
To finish out our bright and merry table setting I made colorful leaf napkin holders with the felt leaves and pom poms.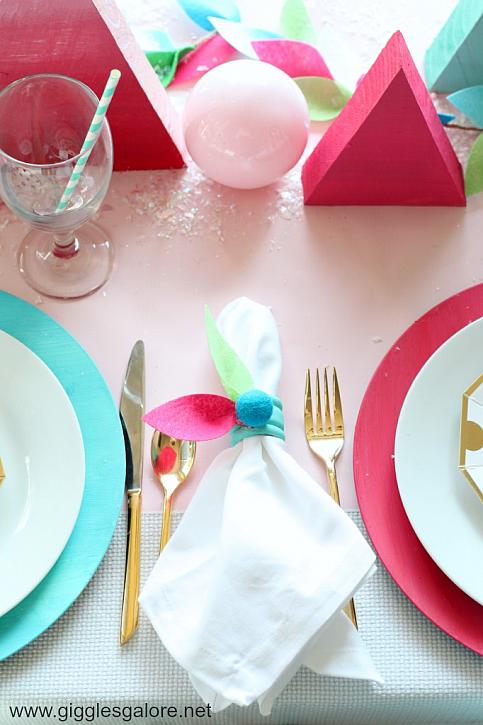 I love sending my guest home with a little gift to remind them of all the fun memories we made. These simple party favors also served as place cards for our guest. I used my Cricut Maker to cut out the names of each of our guest in gold glitter iron-on vinyl. I used my EasyPress to iron on the names to a leaf and then attached the leaves to the wrapped gifts.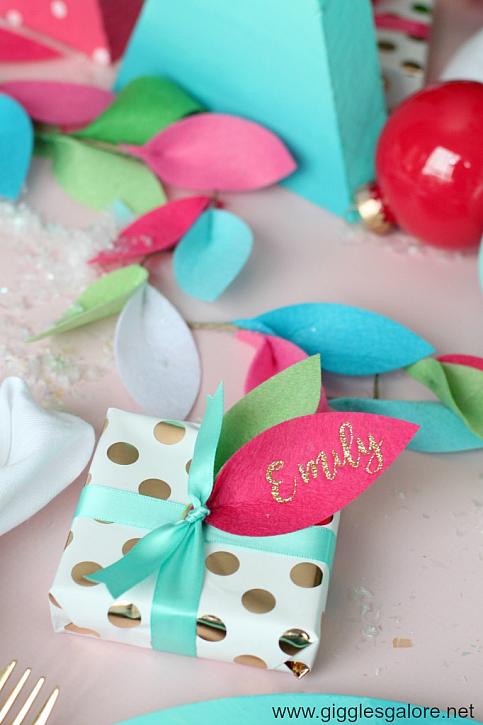 I love filling my home with family and friends, especially this time of year, and creating beautiful memories. With the help of Cricut and DecoArt I am able to add lots of pizzaz to our celebrations with ease!