Posted by DecoArt on Oct 27th 2016
I love setting a pretty table, and with the holidays upon us, there will soon be plenty of opportunities for setting a special table! I find that small details like a pretty pom pom trim or a personalized metallic can make any gathering feel extra special.
I'm looking forward to celebrating Thanksgiving with family and friends this year, and I have used Decoart Dazzling Metallics to add some special details to our tablescape by personalizing some napkin rings and name cards.
Items Needed:
Wooden Napkin Rings
Pom Pom Trim
Hot Glue Gun
Wood Veneer Tape
Brush
Masking Tape
DecoArt Ultra-Fine Writer Tip
Instructions:
I found some wooden napkin rings at a local store, and while I liked them a lot (they have a nice faceted, geometric shape), I knew they could be even more fun with a few small additions.
I started by taping off two – three sides on each napkin ring, and painting those sides with the rose gold or white pearl Dazzling Metallics paint.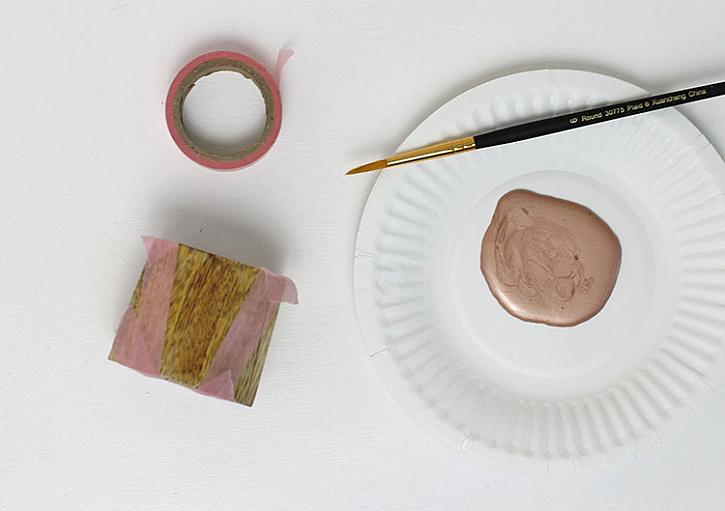 The Dazzling Metallics paint will give you a really beautifully shiny, opaque finish, but you might need a couple of coats to accomplish that look. Luckily, the paint dries quickly, so I was able to get a few good coats and the opaque look without too much waiting.
After removing the tape and allowing the paint to dry completely, I added pom pom trim to each end of the napkin rings. I just lined the inside of the ring with a bit of hot glue and carefully applied the trim.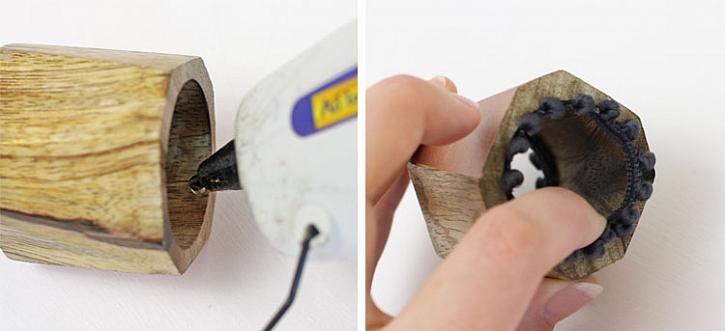 Once I had added trim to each ring, my napkin rings were all done! I love the way the pom pom, wood grain, and metallic finish all look together.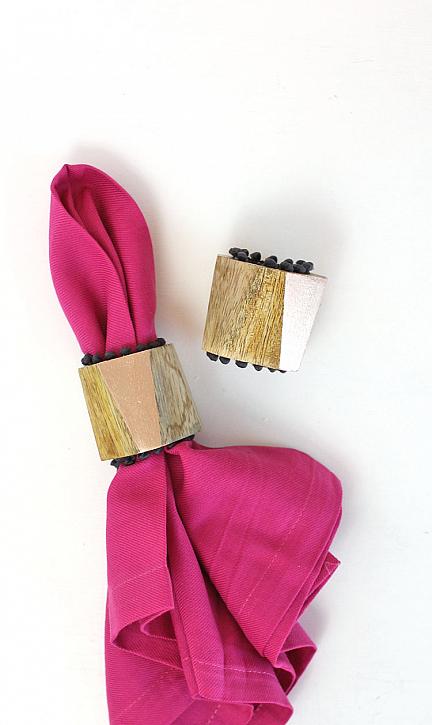 I also made some simple name cards to complement my napkin rings. I wanted to keep going with the wood grain look, so I used wood veneer tape as the base for my cards.
I simply cut a piece about four inches long, cut out a little triangle from one end to give it a ribbon look, and then wrote the names of our guests on each card.
The Ultra-Fine Writer Tip is perfect for this kind of project, and I love using it. Just screw the tip onto any 2 oz. bottle of paint and turn it into a paint pen!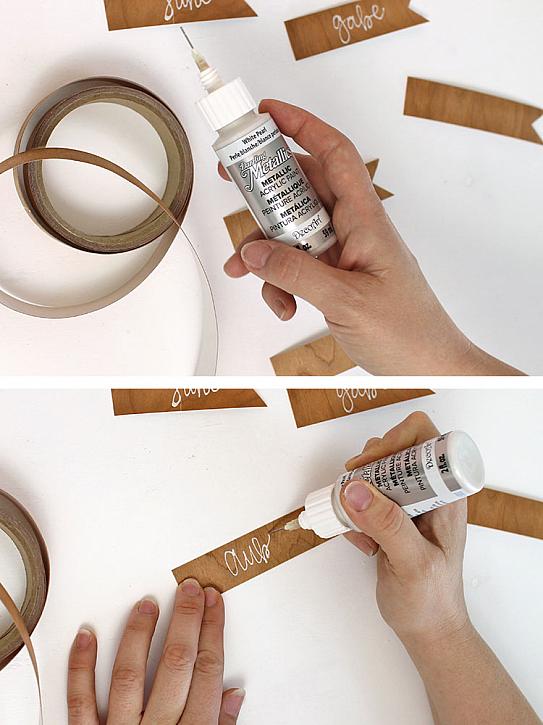 To set our table, I simply placed the napkin ring on the name card centered on the plates. I love they way they look together!