Posted by DecoArt on May 21st 2019
Hi friends! I'm back with another paint pour project… I'm not sure if you have tried using the DecoArt Pouring Medium yet, but it is so much fun to work with.

There's a thrill to swirling paint colors together into a random pattern. Paint pouring is sure to conquer boredom and get your creative juices flowing… quite literally. You must give it a try!

For this project, I added the paint pouring medium to DecoArt Extreme Sheen colors for a psychedelic twist on this vintage metal cart - making it a perfect place to store vinyl records for your favorite music lover.

**Note from DecoArt: Use promo code USA50 to receive 50% off these products and more in our online store until 5/31/19 plus FREE shipping over $50. 
Items Needed:
DecoArt Extreme Sheen - Rose Quartz
DecoArt Extreme Sheen - Sky Blue Topaz
DecoArt Extreme Sheen - Emerald
DecoArt Extreme Sheen - Deep Sapphire
DecoArt Extreme Sheen - Jadeite
Plastic Cups And Mixing Sticks/straws
Instructions:
I found this affordable vintage metal cart and thought it would be the perfect surface for metallic paint pour art. I taped off the edges that I didn't want the paint to run on.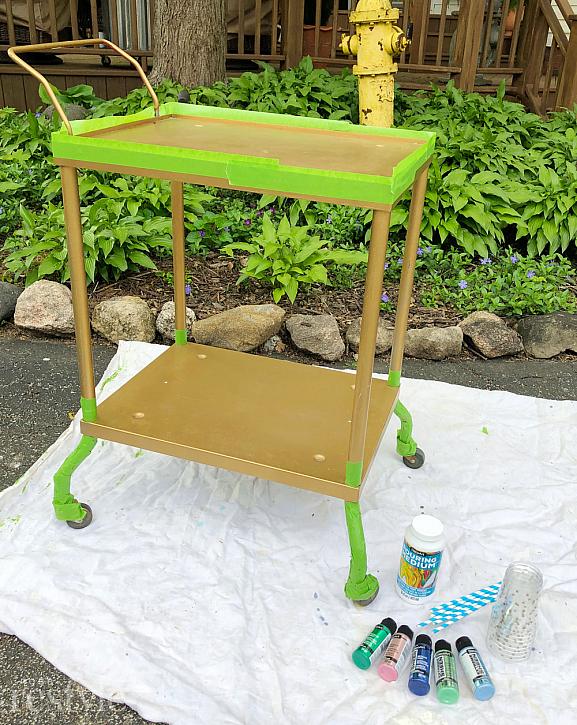 Grab some plastic cups and decide which colors you want to use. Remember, the paint pouring medium loosens your paint so it swirls nicely, without losing its vibrant color.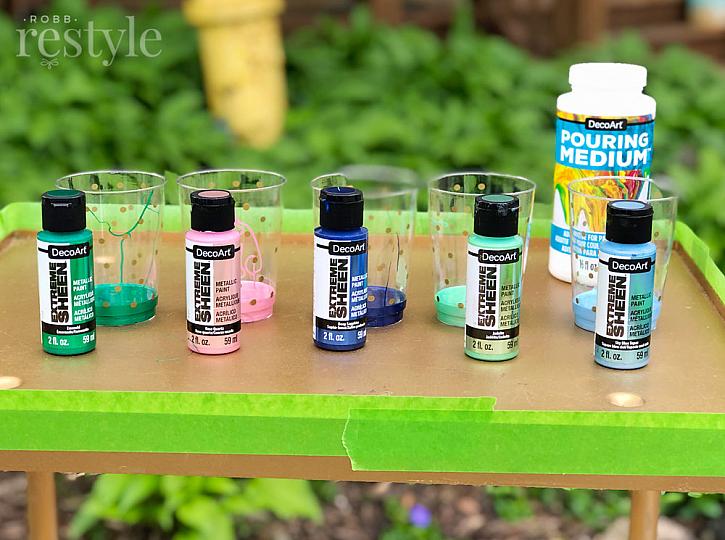 Then add the pouring medium. I used a 1:1 ratio here. Stir until blended. Then layer the colors together in one cup by pouring random amounts on top of each other. Don't mix the layered colors.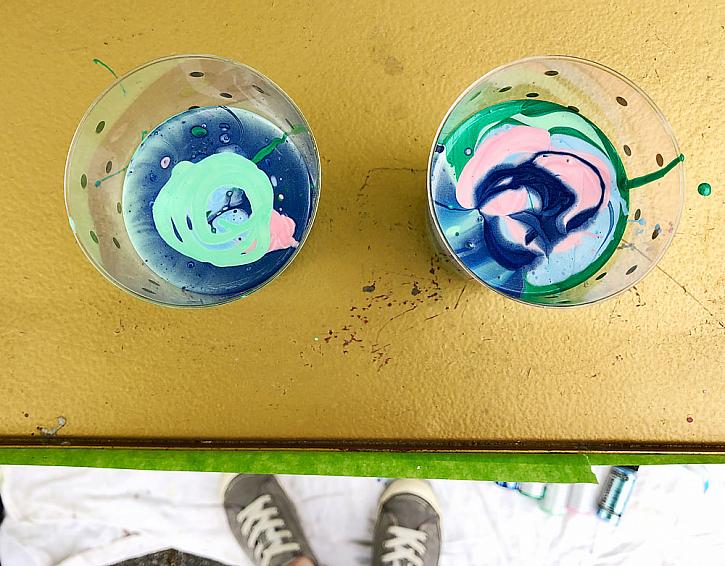 Next, pour onto your surface in any pattern you choose.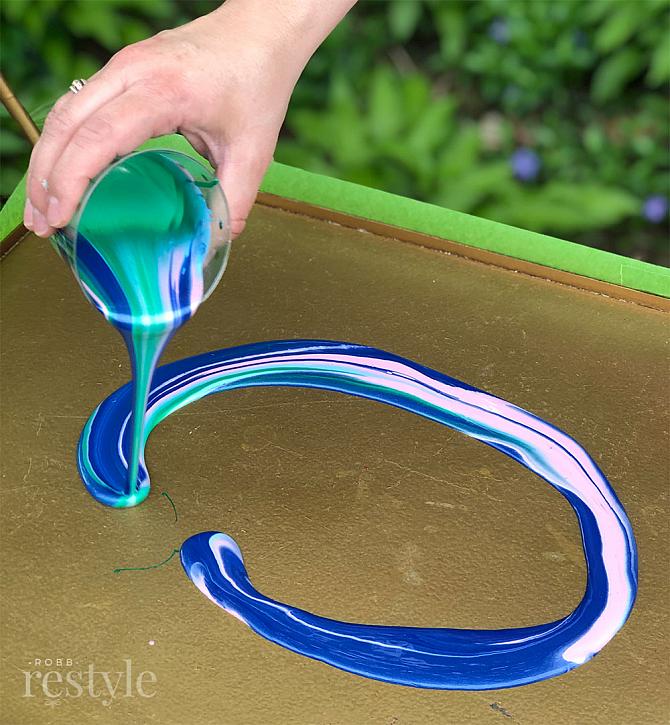 Then you will tip the area in different directions to swirl the paint while also coating your entire surface.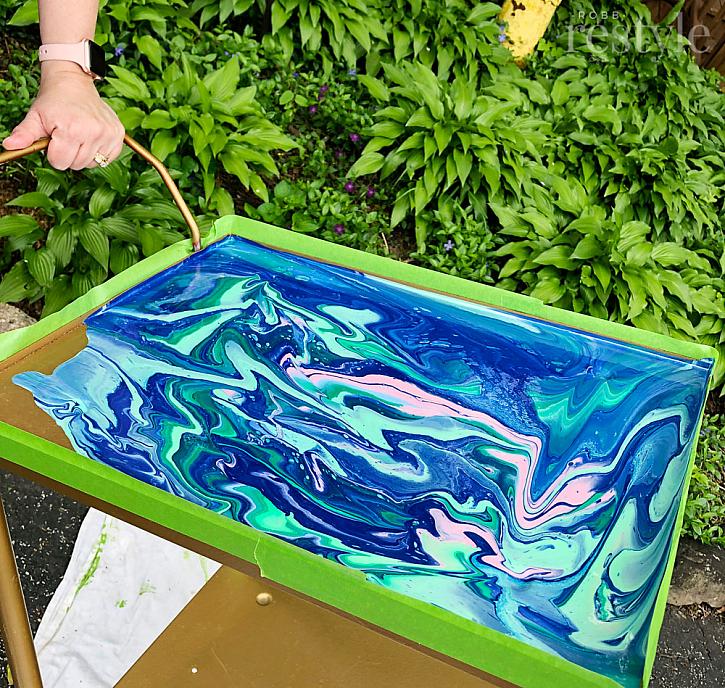 With this cart, I allowed the top shelf to dry before starting the paint pour on the bottom shelf (that way the top swirl didn't move around with the bottom one).

Once both shelves were completely dry, I added DecoArt Clear Pouring Topcoat over the entire paint poured surfaces. This last step really enhances the entire surface - making it glossy and reflective!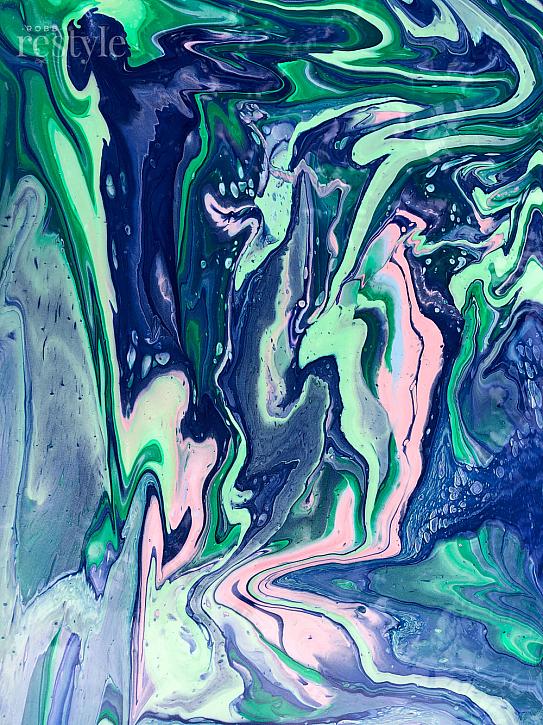 Once the shelves were dry, I decided to boost the metallic contrast by painting the rest of the cart a dark navy blue with American Decor Chalky Finish in Honor (leftover from another project).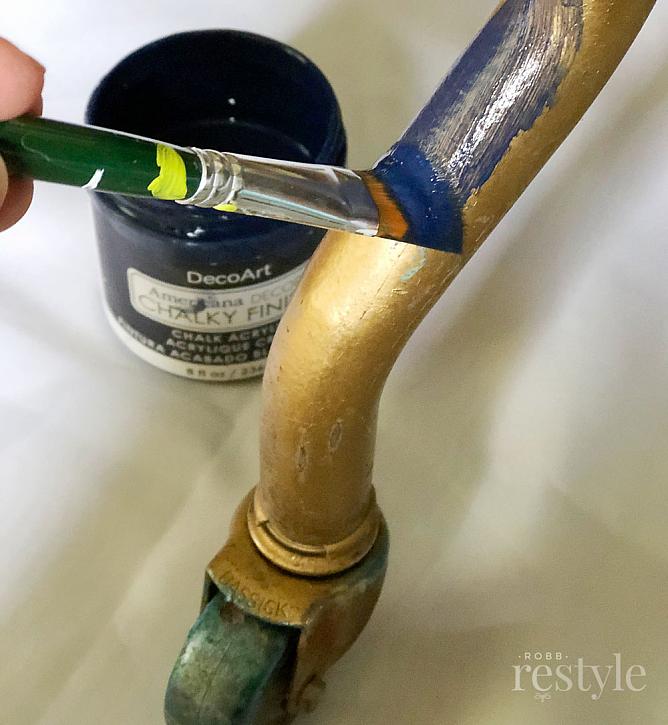 Take it from me… pouring your paint on and swirling it around is a whole lot more fun than using a brush!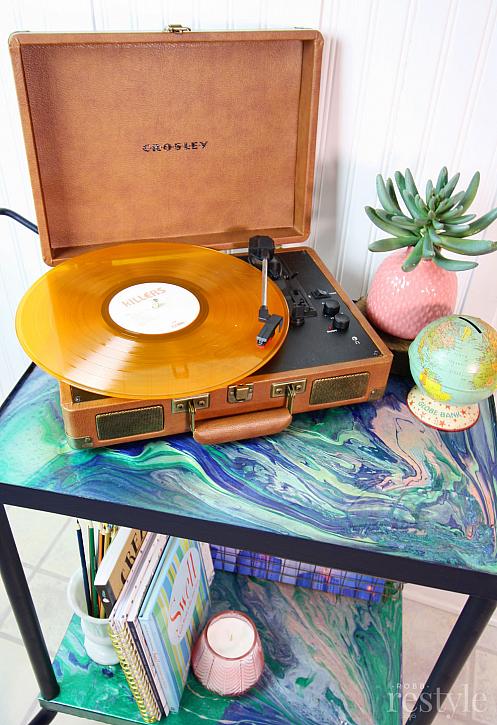 The combination of paint pouring with these amazing extreme sheen metallic colors really pumps up the volume on this boring metal cart. Oh, and I love music puns almost as much as paint pouring! Ha!