Posted by DecoArt on Apr 15th 2015
Create this mini album from corrugated card and a few embellishments.
Items Needed:
Corrugated Card
Old Book Pages
Jute String
Printed Images
Paint Brushes
Rubber Stamps
Stamping Ink
Glue
Embellishments
Stencils
Instructions:
Cut 5 or 6 squares out of corrugated card. You can use any kind, even from an old box. I cut mine to fit with my 6x6 scrapbook papers but you can do this for any size.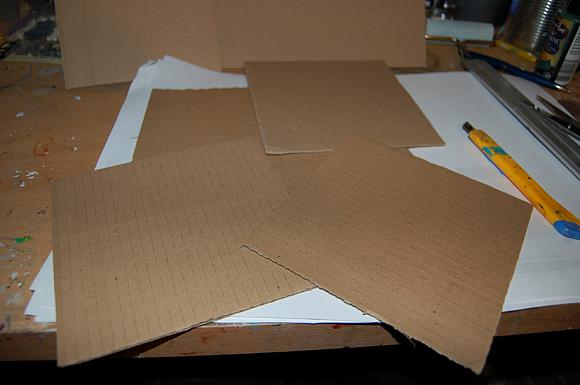 Paint your card with your main base colour. I used a mixture of white and boysenberry pink.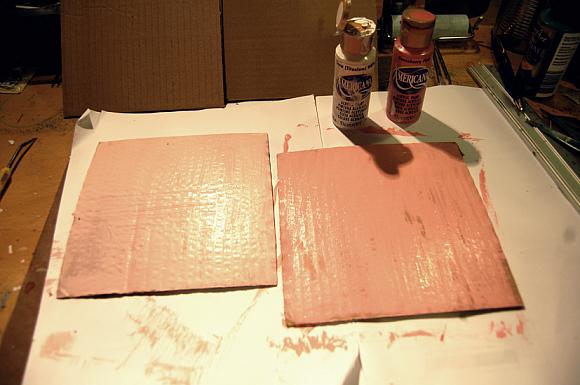 Sparsely spread some white Gesso over the surface. Just lightly and in patches so that most of your base colour still shows through.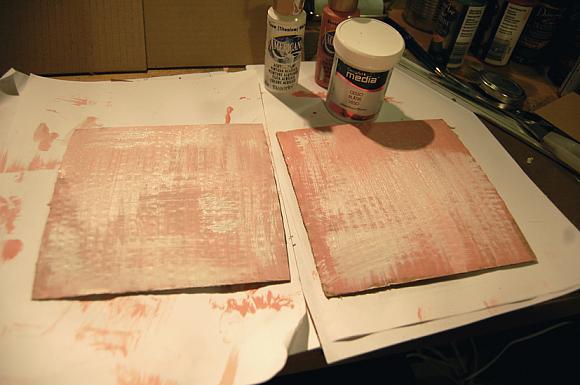 Using a rubber stamp and some ink, stamp some text (or your chosen background pattern) over the surface randomly.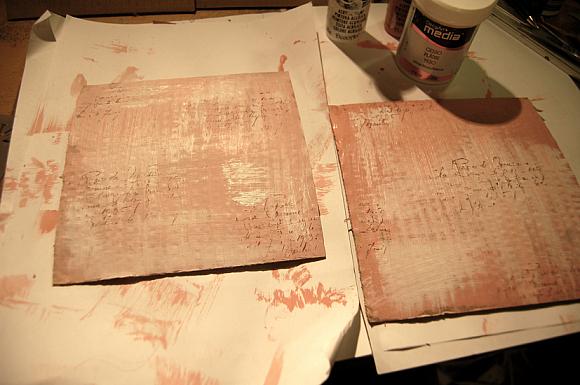 Colour some modeling paste using acrylic paint and pass it through a stencil using a palette knife. I also cleaned my knife across the surface of the page. It added more texture and random interest.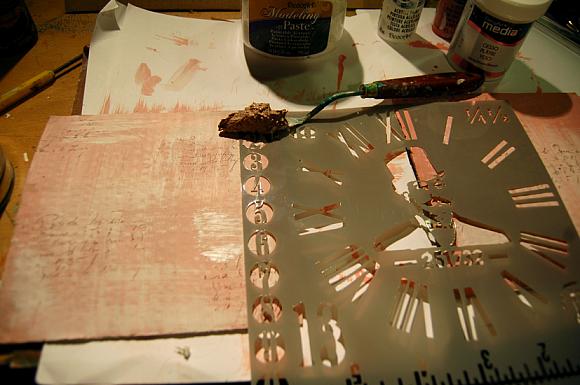 Tear up some old book pages and glue them on using decoupage medium.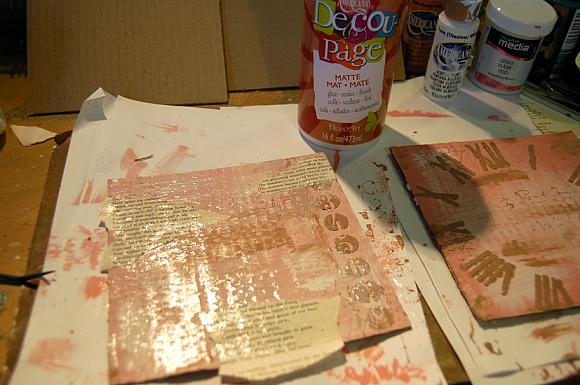 Rip away sections of the top layer from the card.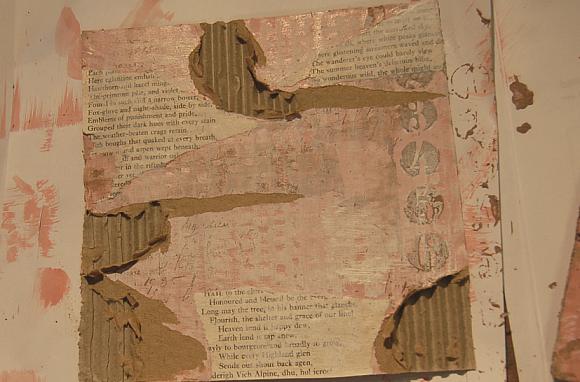 And then give it a dry brush or even a "wash" with white paint.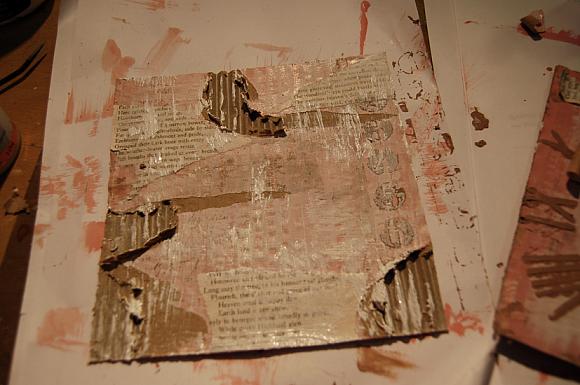 Decide on your layout of images and embellishments. Do not glue anything till you're sure and you have treated all your embellishments with the effects you want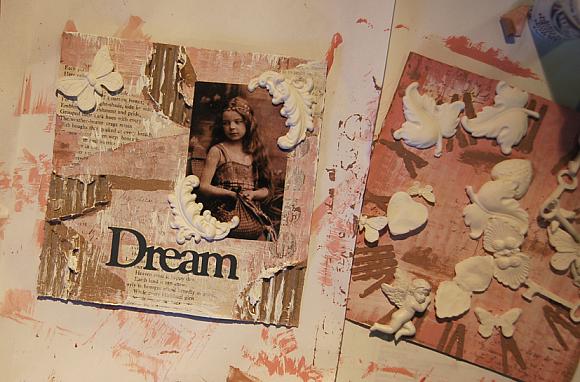 I coated my metal "dream" with gesso and let it dry.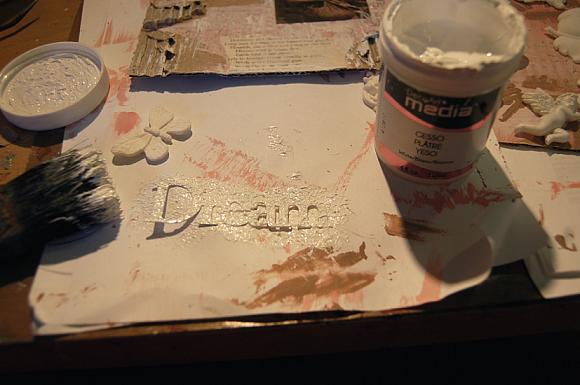 I glued my image in to place and coated it with decoupage medium to protect it. Then I added a light touch of Metallic Lustre to the raised surfaces of all my embellishments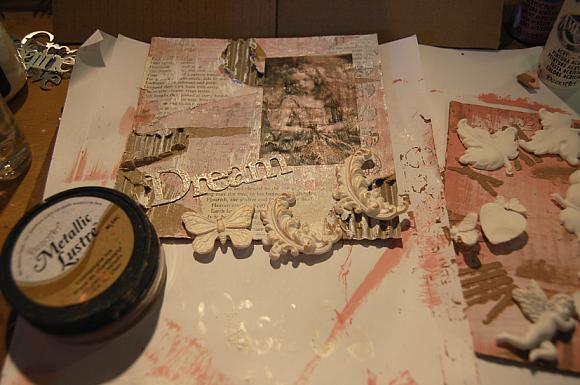 I glued my embellishments in to place and then covered the image with a wet wipe to protect it before adding splashes of paint (using a paintbrush and watery paint) randomly over the surface.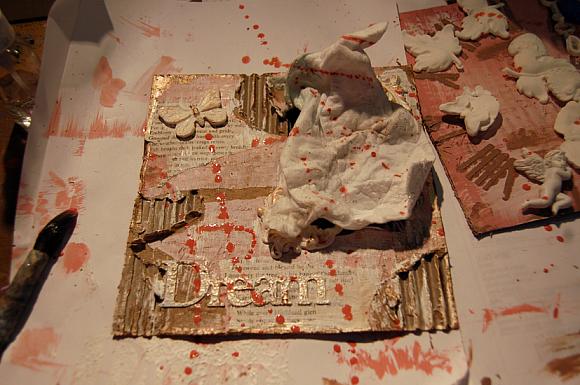 When it was all dry I gave it one final wash of watered white paint to give a chalky muted appearance.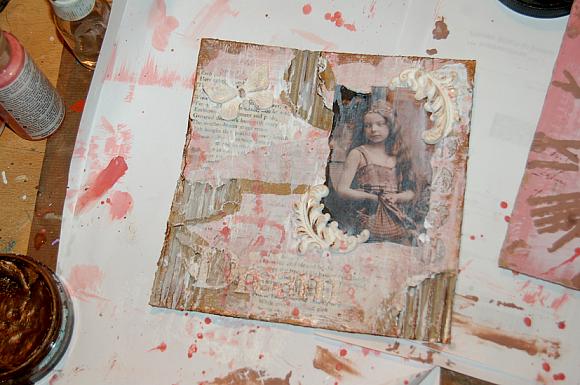 I decorated my remaining pages and tied the book together with jute string for a nice rustic feel.