Posted by DecoArt on Mar 19th 2018
I wanted to create a shabby look to this storage shelf and keep to a vintage feel at the same time, it's often at this point I will look at my paints and get stuck!!!!!!!! The best way out for me is to go to my colour palette Pinterest board and find something I like. I found this (image under "items needed") and it became my inspiration to get started. I also decided to have my first foray into trying out the DecoArt Premium acrylic paint range. 
Items Needed:
Mini Book Storage
Selection Of Paint Brushes
Stamp Sets - Andy Skinner
Heat Gun
Palette Knife
Black Ink
Embellishments
Instructions: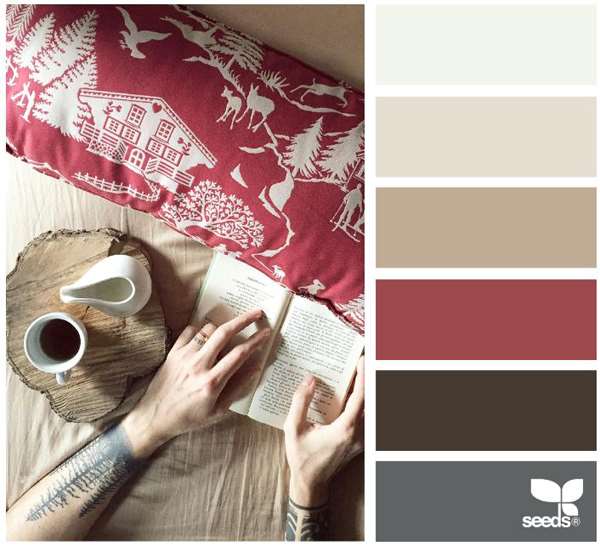 I used the pinks, red, white and buff colours to start the process of adding the layers - this first coat is so important to seal the substrate and to get you a good start but often very little (if any) of it shows through when you have finished but it provides your focus to the colours and ensures full coverage to begin with.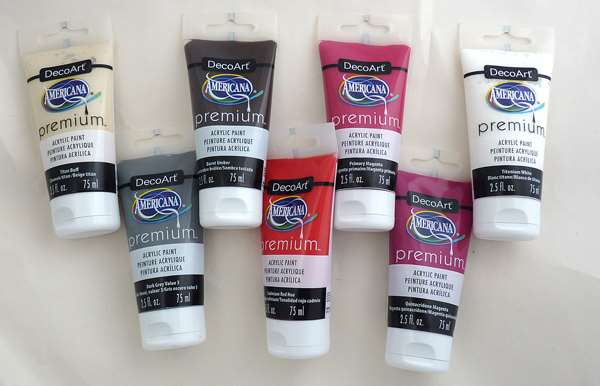 I don't always mix my colours on a palette, for larger spaces I just grab some of the various paints on my brush and mix on the substrate itself as I did here. It's very bright to start with but my next layers will tone it all down.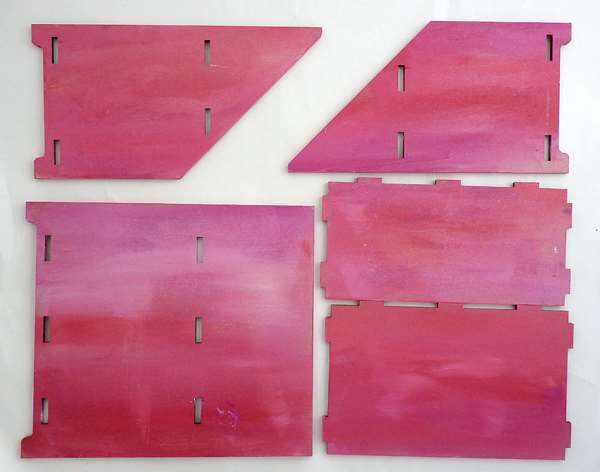 Using some of the stamps from the sets (Skuldoggery, Spook, Tech Trauma Textures and Shabby Chic) I added plenty of stamped texture.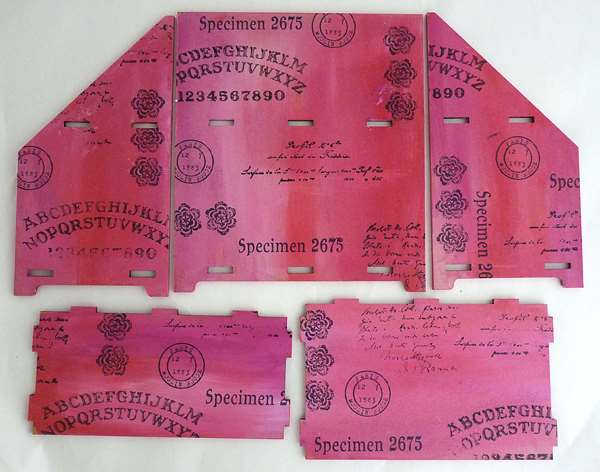 Here I used the monoprinting method of adding random distressed paint. There are three layers using Titan Buff, Dark Grey Value 3 and Burnt Umber - I know it looks really messy but don't worry!!!!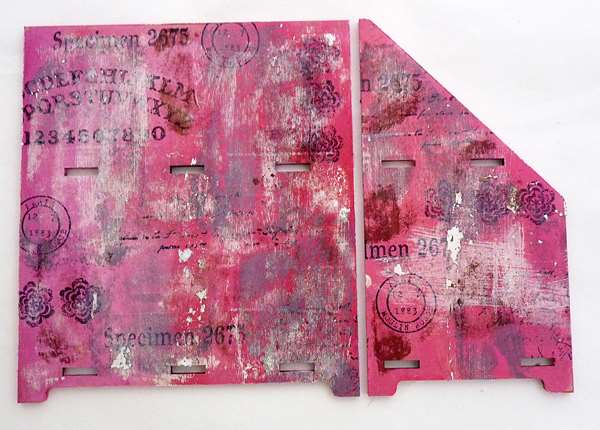 For the next layer I mixed up some Primary Magenta, Burnt Umber and Titan Buff and made a gorgeous deep vintage rose colour. I spritzed it with lots of sprays of water to create a wash and then dipped each piece in separately and dried the pooled paint with a heat gun.
Repeat the last step but this time add some white to make the pink even lighter and dip again. This time my wash was a bit thicker.

Repeat once more with even more white and you can see with each layer you see less and less of that messy background but some of the stamped elements are popping through as are interesting distressed areas of texture and colours.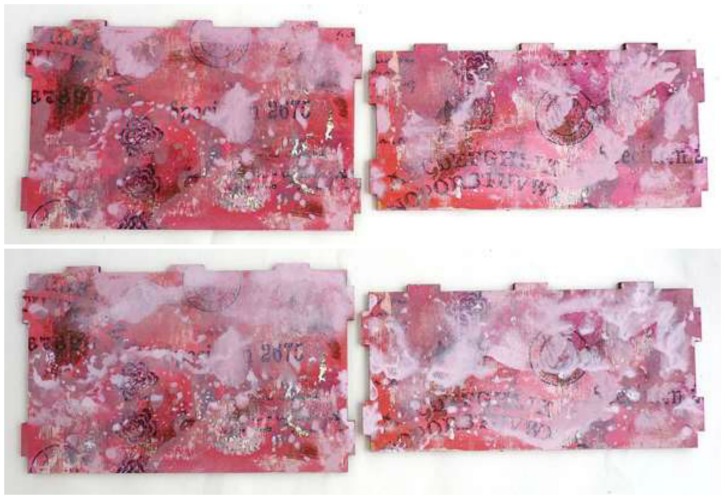 By adding more and more layers your background is getting more depth to it and a more shabby look. Just keep adding until you are happy with the results.

You are probably now at a point where you have lost all definition of the original stamped layer but small areas and ghostly shadows are creating some lovely interest in your background so far. You could just leave it here before going on to the next main step or you can add some random partial stamping back in before moving on.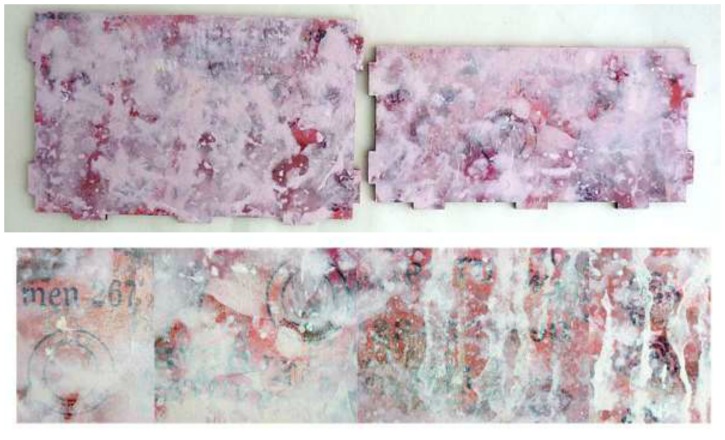 I decided to add just a small amount not mounting the stamps on a block and only partially inking them so they became distressed images and text. I decided to just use the text and the postmark and watering can ink whereas I had used black in the original.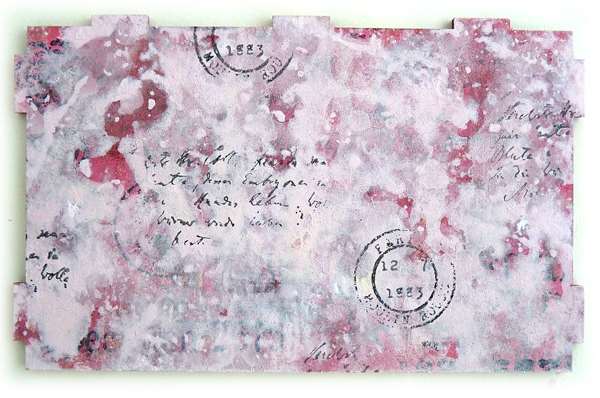 OK now onto the next layer and take a little Americana Premium Mediums - White Gesso with a palette knife - flatten it on your paper/foil palette...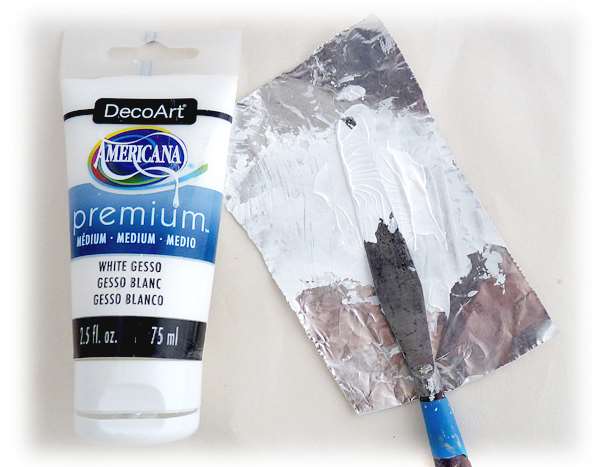 ...and then keeping the knife flat to the surface of the board drag small amounts over the background so you get a distressed look. You can see the depth the layers have created and when you look deep into it you can see a little of the original pink, some of the other colour tones where we added the monoprinting and the changes of pins where we added the dip and dry washes. You can also see some of the original stamping as well as the text and postmark we added on the last layer. Neat!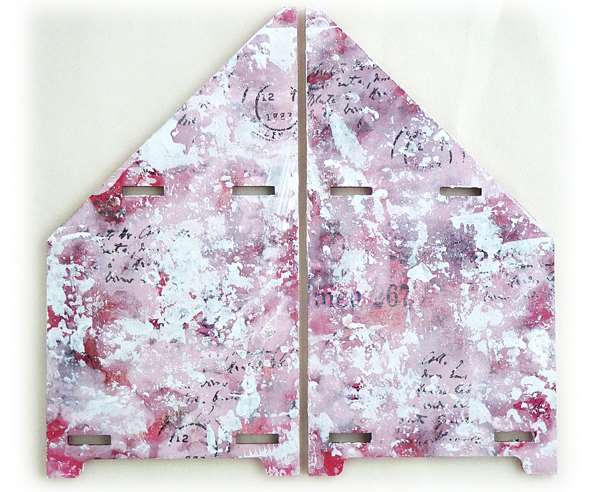 Before I vintaged it up I wanted to see what it would look like put together and where I would add some decoration. I had already thought I would add some of the shabby chic stamps but I also realized it really needed a dirty wash to tone it down a bit before I went onto that.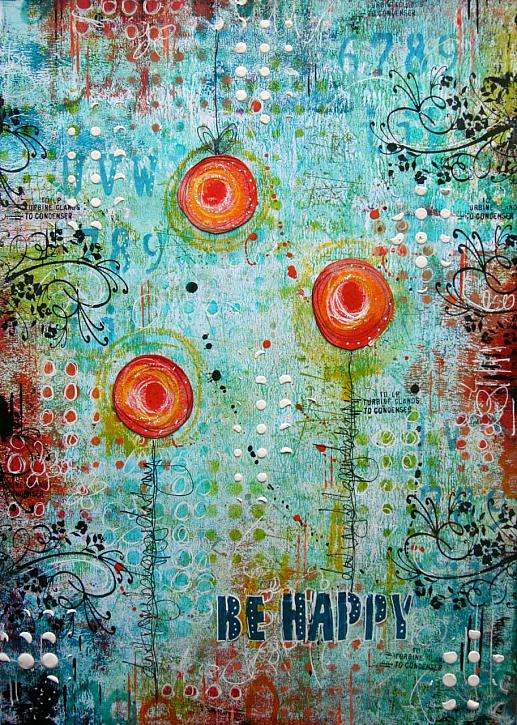 I first stippled all the outside edges with some pink and white paint so they blended well with the overall design and put the storage back together again glueing the inside edges to make sure it all stays together.
Mix together some brown and grey paints with Americana Premium Matte Medium and spritz some water into it to get a dirty wash and paint all over allowing some of it to sit in the crevices.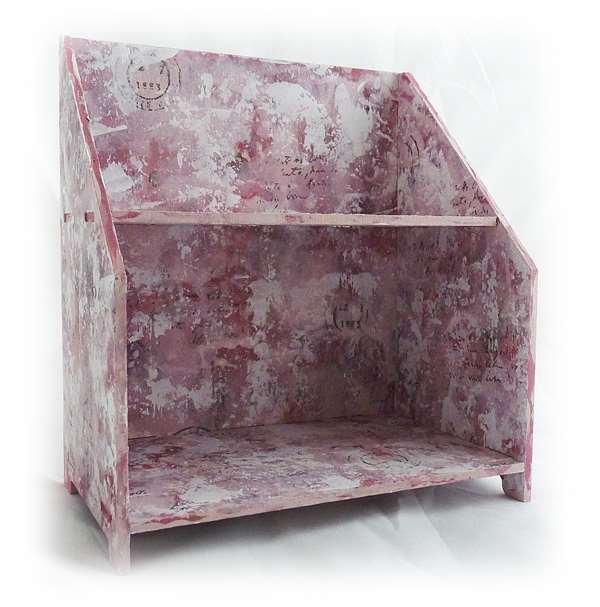 Stamp images onto tissue paper and tear round the edges and adhere using decoupage glue.
Gather some embellishments together, paint chipboard pieces and I also found some flowers and rafia to finish it all off.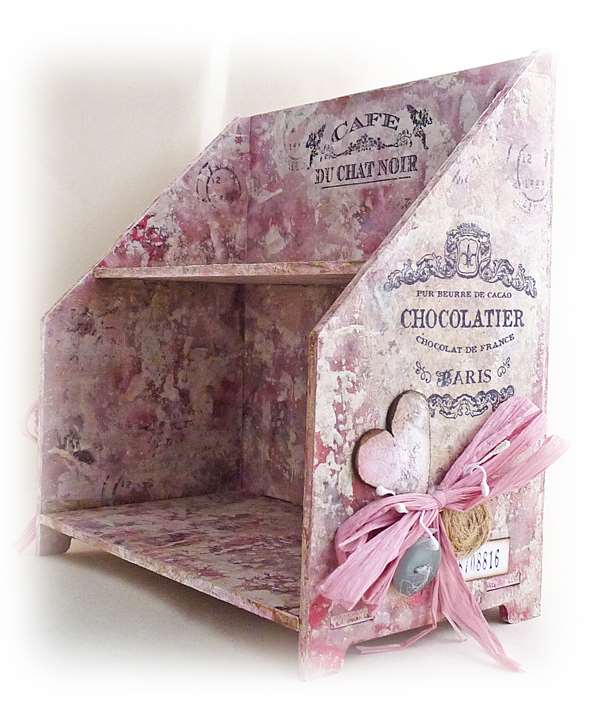 You can never recreate exactly the same background again as it is such a random process. After I've dipped the substrate into a wash I'll just let it settle and pool for a few seconds before I start to dry it, this helps to give more variation in depth of colour. I'll also have a piece of kitchen towel in my hand to dab of some bits of the wet paint which gives me more control over how much is laid down and how much can be seen peeping through. But when the project is finished and, like this one, has the mini albums on it, it looks fabulous.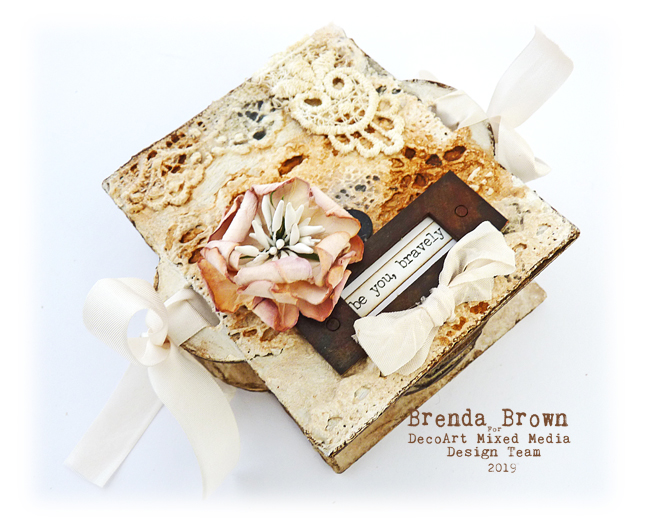 Thanks for stopping by.
Hugs Brenda xxx