Posted by DecoArt on Oct 19th 2017
Using mixed metallic accents are such a pretty way to bring in that touch of brightness and color, when it starts to get cold and gloomy outside. I also think using shimmery and glittery shine as an accent during the holidays never goes out of style, and can be used all season long in all kinds of creative ways! I love mixing metals, and love the combination of copper and gold tones.  Metallic paint is a great option for adding that touch of glitz, without spending a ton of money. I used DecoArt Extreme Sheen Metallic paint, and mini-easels and canvases as a fun (and easy) way to make some mini-monogrammed canvas place cards to not only bring that bright touch of shimmer, but to let everyone know where they should sit at our Thanksgiving holiday table. 
Items Needed:
Mini Canvas And Easels
Paint Brushes
Painters Tape
Instructions:
The thing I love most about this project is that they were so easy and inexpensive to make, and turned out to be a perfect little metallic accent for the table. The Extreme Sheen Metallic paints have a pretty, shimmery quality, come in lots of different colors, and I have painted them on lots of different things. In fact, the metallic pumpkins I used for this table setting were painted in Extreme Sheen last year.
For the project,you can find mini-canvases and wood easel stands from the craft store in packages or in ones. I used DecoArt Extreme Sheen Metallic in Rose Gold, Bronze, and Multi-surface Satin in Paprika on my canvases.
I first painted the easels in Extreme Sheen Metallics Bronze and let them dry. One coat of paint is fine, but Extreme Sheen has a slightly translucent quality, so apply a second coat if you would like it to be a bit denser and richer in color.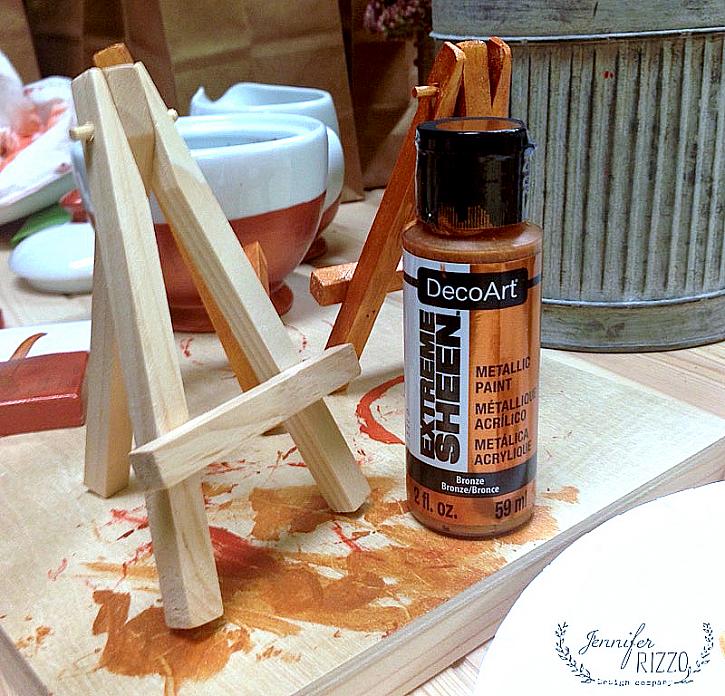 For the canvases, I taped one-half of the canvases in painters tape, and painted the exposed half of it with Multi-Surface Satin in Paprika. I wanted to really get a deep coppery color, and used the Paprika as an undercoating, and the Extreme Sheen more as a shimmery topcoat. I painted the Extreme Machine Metallic in Rose Gold over the top of the Paprika.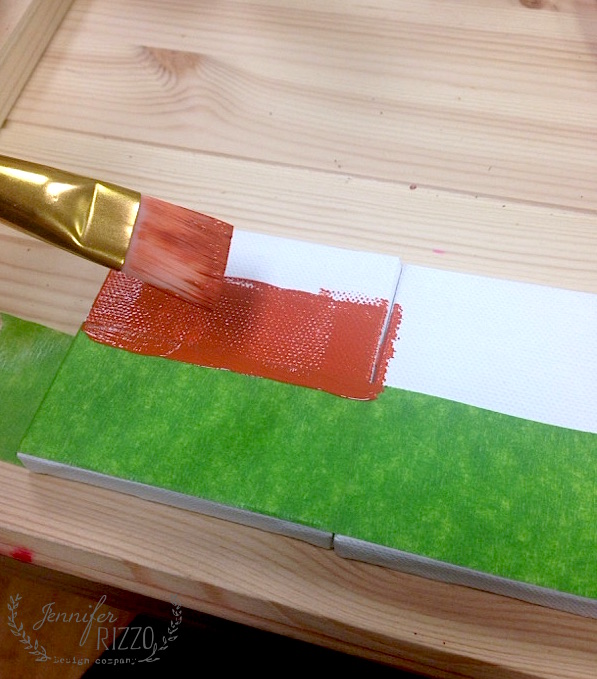 Once the paint is dry, remove the tape, and paint the monogram in the same color Extreme Sheen Metallic paint in Bronze used on the mini-easel.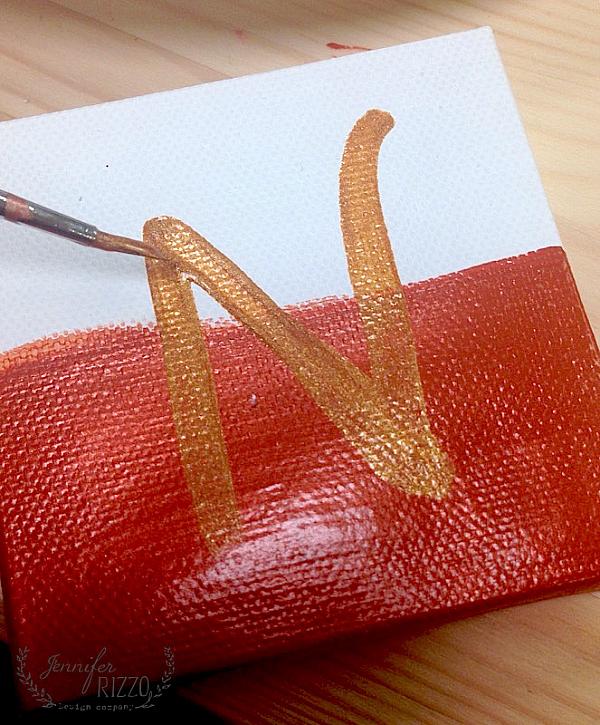 Let both parts dry completely, and decorate your table with pretty, shimmery, metallic mini-canvas monogrammed place cards!