Posted by DecoArt on Sep 19th 2018
Playing in my art journal is absolutely one of my most favourite things to do. This is purely art for art's sake; no pressure, no rules, no reasons. It is such a liberating way to create! I love simply experimenting with layers of colour and pattern and just going wherever the mood takes me, and the Americana Premium Acrylics have such beautiful vibrant colour, I really can go as bold, bright and messy as I like! These paints are perfect for layering due to both their translucency and also their superior pigment which leads to fabulous depth of colour.
Items Needed:
Art Journal
Unexplained Stamp Set By Andy Skinner
Texture Stamps
Coloured Pencils
White Paint Pen
Palette Knife
Variety Of Paintbrushes
Variety Of Stamping Inks
Instructions: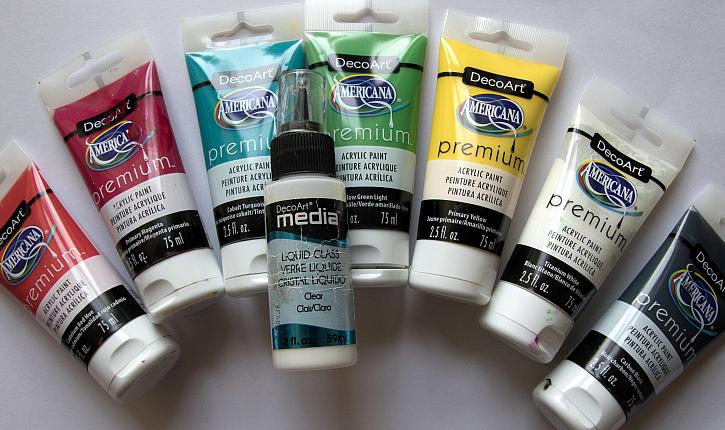 Step 1: I begin every art journal page with a layer of DecoArt Media Gesso to seal the page and also to provide a nice toothy surface to paint on. I also like to scribble into the wet gesso for a bit of texture, and also because it feels like a liberating way to begin creating. I followed this by scribbling and doodling with pencil colours. Much of this will be covered by the following layers but it is a convenient and simple way to overcome the 'blank page'.
I started by adding simple scribbly patches of colour of Americana Premium Acrylics in Primary Magenta and Cobalt Turquoise Hue initially using plenty of white to create pastel layers.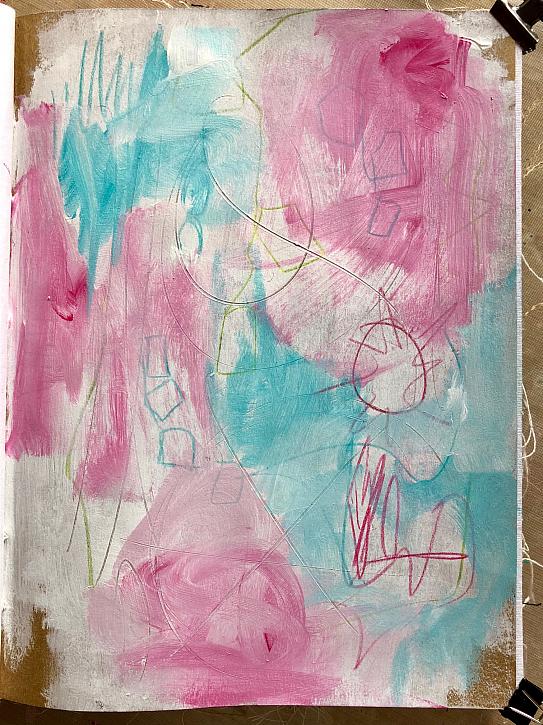 Step 2: Once these initial pastel layers have dried I added Magenta over Magenta, and Turquoise over Turquoise to create much stronger areas of colour.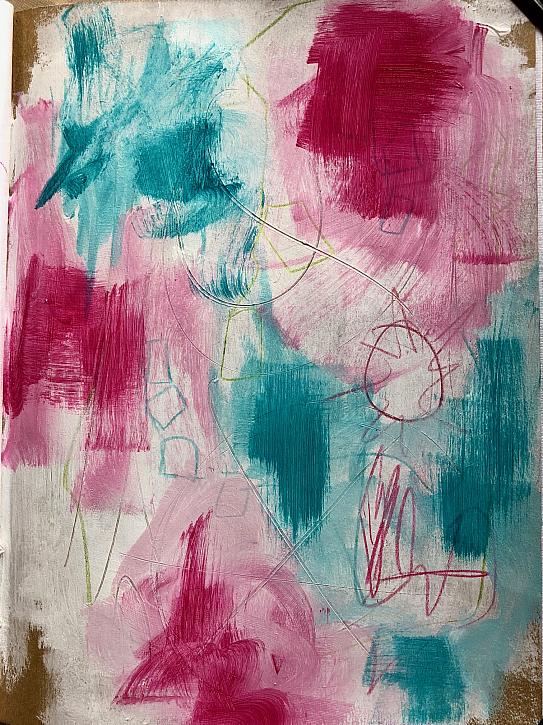 Step 3: I used plenty of patches of Titanium White in between layers firstly to knock the colour back, and then to allow me to add more colour. Here I added Cobalt Turquoise Hue with Titanium White, and then a new colour of Yellow Green Light. I also like to add small areas of Cadmium Red over the Magenta to really make it pop. I find I can build lots of layers this way without it getting too muddy. I also added more scribbly pencil marks, and printed with the edge of a fine paintbrush.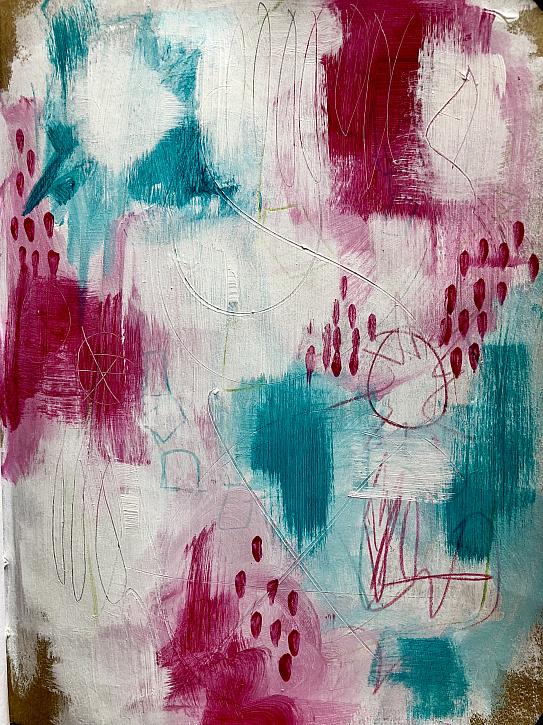 Step 4: Scraping paint with a parallel palette knife is another great way of adding layers, and it works particularly well for adding contrasting colour. The more scraped layers you add the more grungy it begins to look.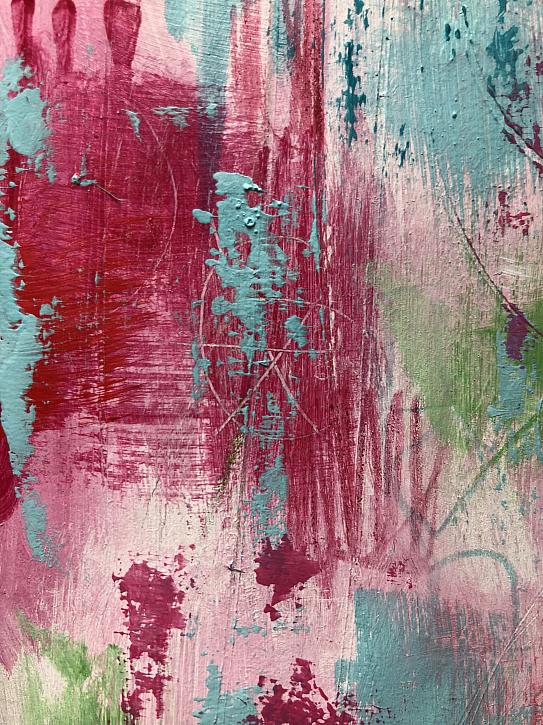 Step 5: Adding black is always such a scary step but without it a page always looks a bit flat. It adds depth and brings the other colours to life. I make sure my paintbrush is very dry for this step and add the black paint gradually. You can always add more but it's not so easy to take it away.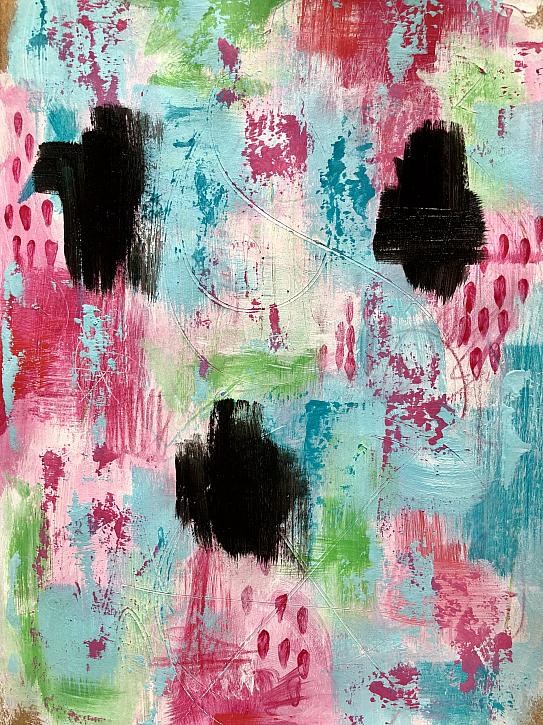 Step 6: I used a black ink pad to stamp the number strip from the Andy Skinner stamp set. By adding it randomly around the edge of the black patches I painted previously it helps to blend the patches into the page. I also added some colour stamping using a coordinating red ink pad and the texture stamp.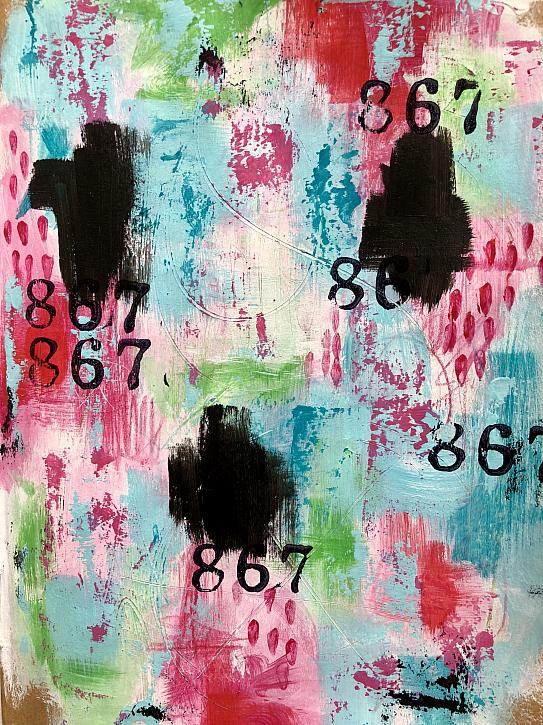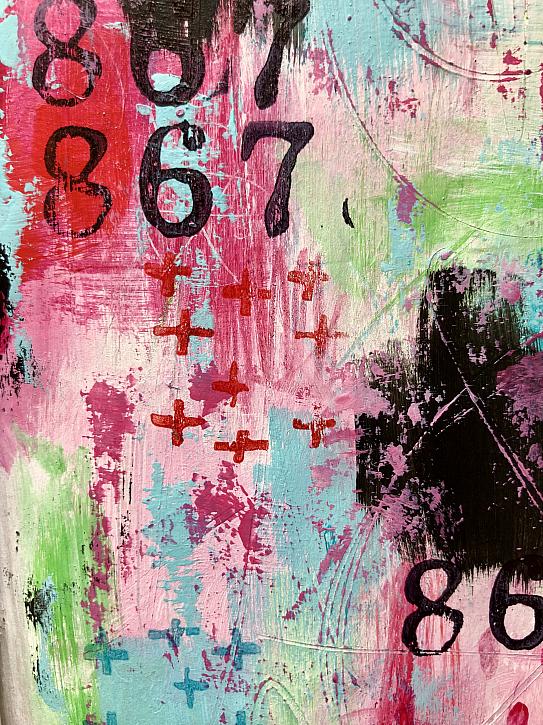 Step 7: For the final top layers I used a white paint pen to doodle and scribble to my heart's content! This is where I add pattern but also secret words and hidden journaling. I also like to look for shapes I can 'pull out' of my backgrounds and highlight, such as this leaf shape.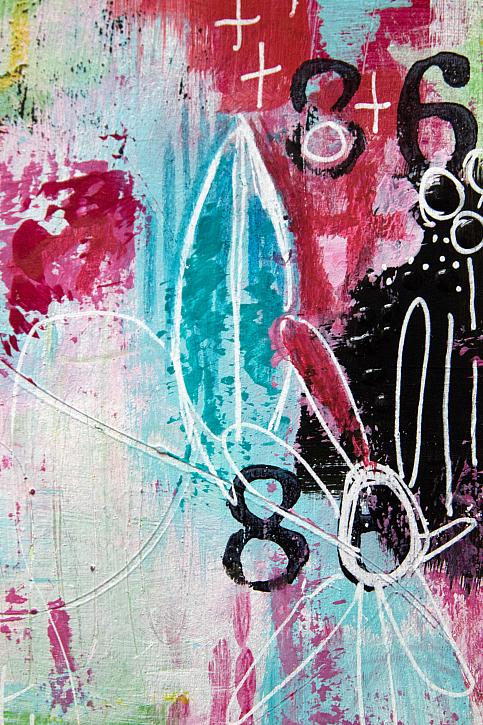 Step 8: Finally I used dots of DecoArt Media Liquid Glass to add dimensional texture and pattern. This dries to create perfect glass-like little raised dots.