Posted by DecoArt on Jun 7th 2017
I love to sometimes using sheet metal with my art. They make great substrates for encaustics, assemblage or altered art jewellery pieces and can take a lot of stress from a wide variety of media and techniques. So when I found these two metal tags in my stash (well hidden away and therefore almost forgotten as always) I knew I wanted to use them as pendants for a necklace or key chain. And some left overs from broken plaster cast ornaments would make the perfect focal elements. All it needed  to turn both into unique wearable pieces of art were some my beloved DecoArt media products!
Items Needed:
Assorted Brushes
Metal Tags
Cast Ornaments
Word Stickers
Old Dictionary Page
Palette Knife
Leather Cord
Ball Chain
Jump Ring
Instructions:
Using matte Decou-Page glue the metal tag(s) face down onto an old dictionary page and let dry before you cut off the excess paper.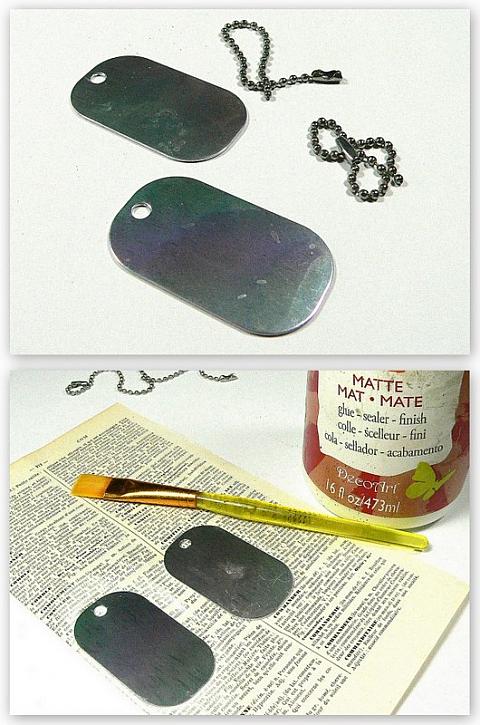 Add a wash of Raw Sienna. Once that is dry seal with Antique Decou-Page.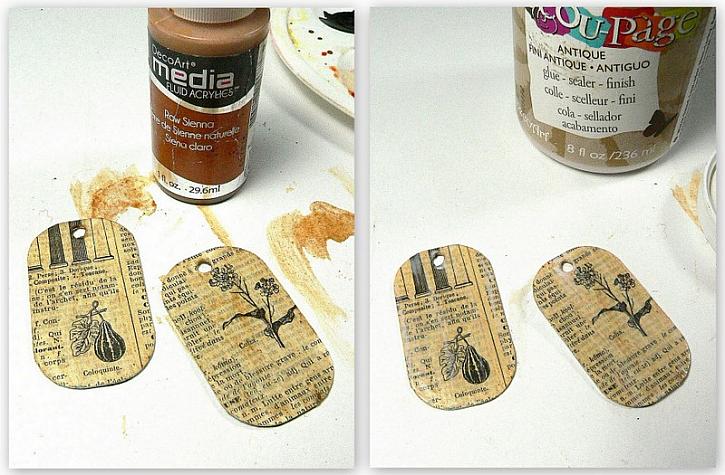 Apply a thin outline of Raw Umber media fluid acrylic with a soft fine tip brush and use water to create a fading effect towards the center. Let dry.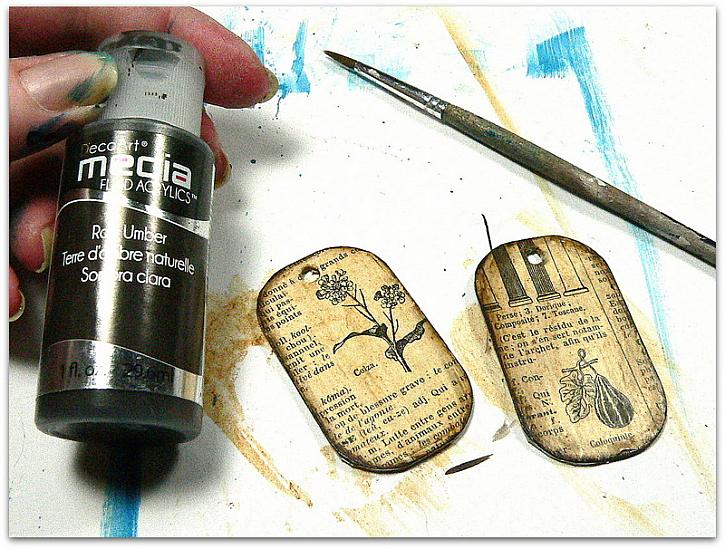 Sprinkle on some white media Shimmer Mister by unscrewing the bottle and using the nozzle's tube for sprinkling. Let dry.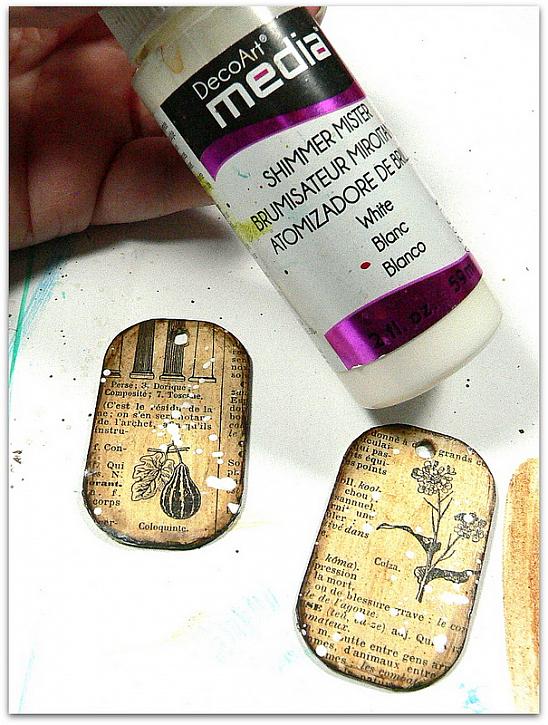 Play around with left overs from broken cast ornaments to find the perfect piece(s) for your pendant(s). Glue them to the tag(s) using matte Decou-Page.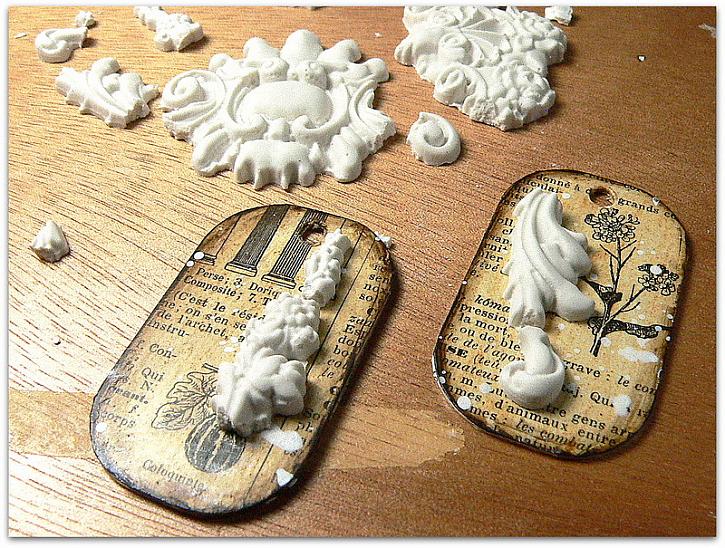 Also seal the glued on ornament(s) with a thin coat of matte Decou-Page. Let dry.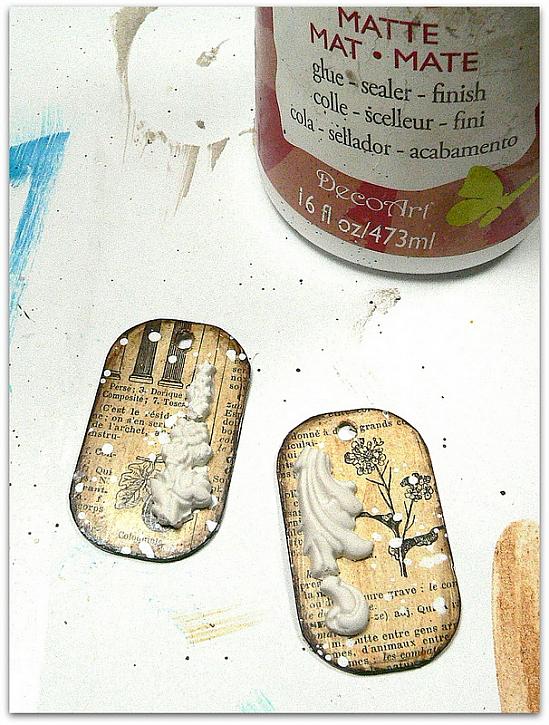 Thinly apply some white media Crackle Paint around the ornament(s) using a palette knife. Add a thin coat of clear Crackle Glaze to the ornament(s) using a soft brush. Let both dry naturally.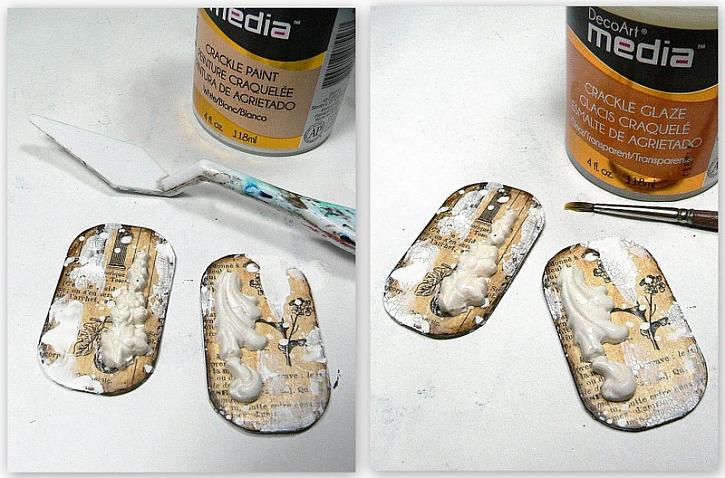 Create a mix of a few drops of Carbon Black and Raw Umber Antiquing Creams and apply a thorough coat to the tag(s) and ornament(s) using a soft brush. Make sure to work it well into all the crevices. Heat dry and wipe off the excess using a damp soft cloth until you are content with the look.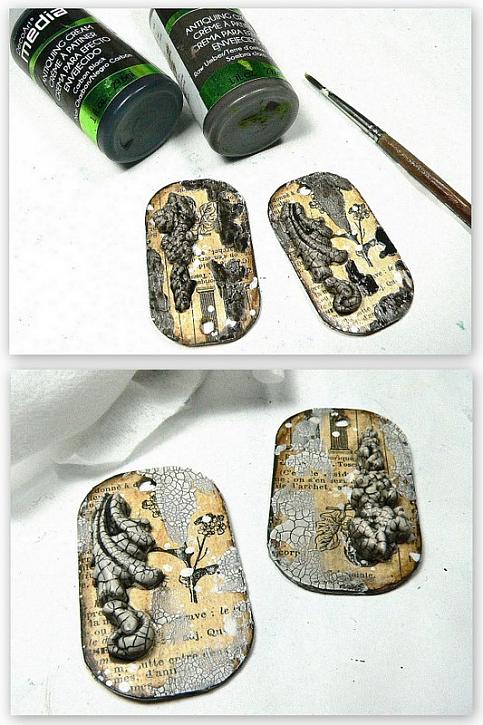 Using your fingertip apply some Gold Rush Metallic Lustre to the tags' edges and ornament(s). Buff to a sheen with a soft cloth.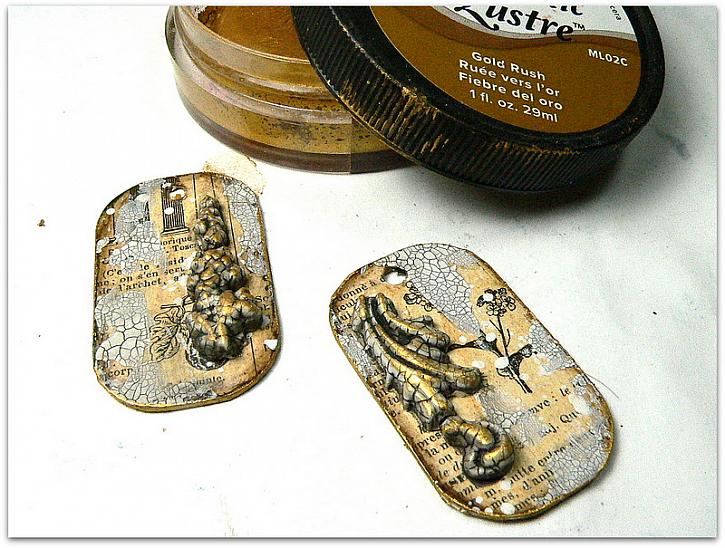 Glue on some word stickers and apply a generous amount of Liquid Glass to them directly from the bottle. Let air dry (at least for half a day to avoid any fingerprints from trying too early). Use a jump ring and leather cord to turn your tag into a necklace or a ball chain with closure for making a key chain.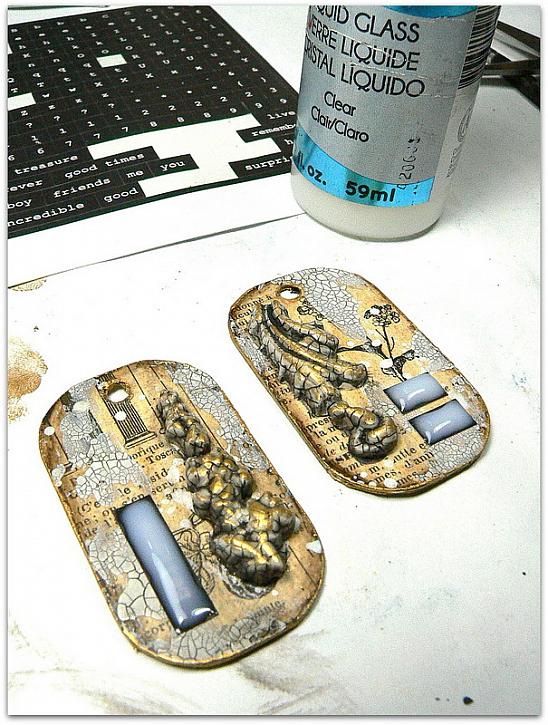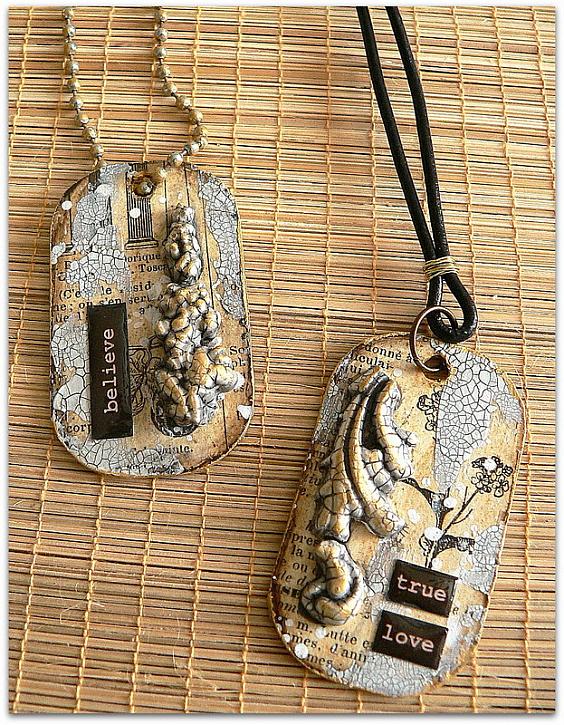 I hope you like the design and the short and easy tutorial and will enjoy making your own!
Thanks everyone for stopping by!
xxx