Posted by DecoArt on May 11th 2016
I think many of us need a daily reminder to do the things that may take us out of our daily routine simply because it is something we enjoy doing.
There are simply never enough hours in a day, but I would like mine filled with the most happiness as possible. So, I created a simple and colorful reminder for myself to enjoy life.  
Items Needed:
Wood Board
Flat Brush
Patterned Scrapbook Paper
Scissors
Cosmetic Sponge
Round Pouncer
Assorted Brushes
Sandpaper
Pencil
Palette Knife
Ribbon
Hot Glue Gun
Instructions:
Thoroughly sand down an old wooden board, cut into a pennant shape. Lightly brush on White
Gesso with a flat brush.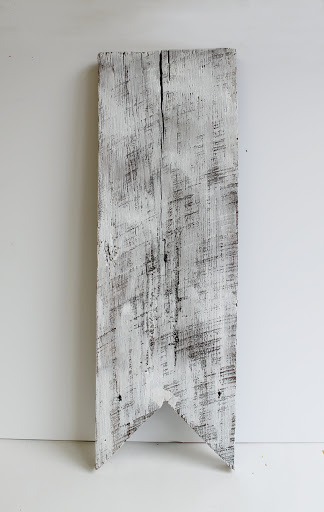 Randomly tear pieces of the patterned scrapbook paper. Apply randomly to the board with Matte Medium and the flat brush. Let dry. Once dry, apply Cobalt Teal Hue, green, yellow, magenta, and orange to the background. Use white to lighten any areas. Allow the paper to show through.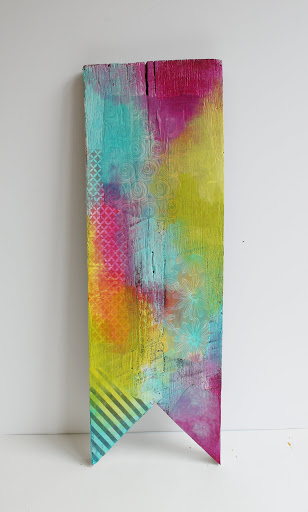 Cut scallops from the same patterned scrapbook paper and use Matte Medium to adhere them to the top of the pennant. Roughly outline scallops with a liner brush and black. Stencil the Burning Rubber and Snake's Web stencils randomly in white, Phthalo Turquoise, and violet. Add random circles using pouncers and freehanded circles.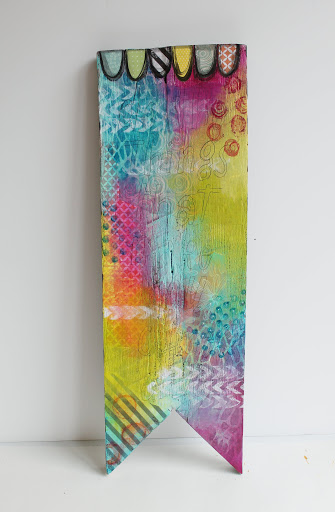 Water down white and use a fan brush to flick onto the board. Pencil in wording of choice and use a round brush to paint in black.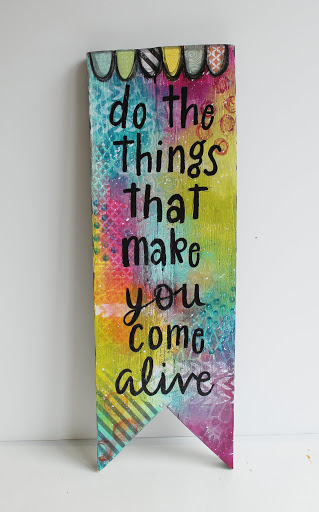 Mix Texture Sand, Phthalo Turquoise, and violet. Use a palette knife to lightly apply around the edges. When dry, add the Whirlpool stencil in white randomly on the pennant. Use hot glue to apply ribbon on the top and bottom. Staple the ribbon onto the top for a hanger.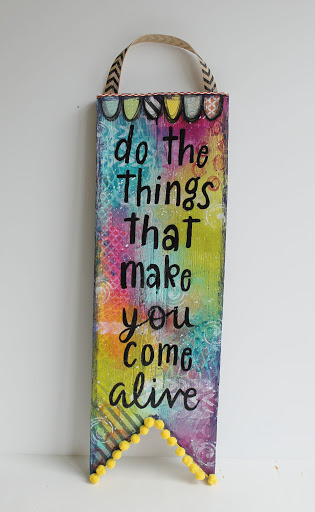 Enjoy your creation!