Posted by DecoArt on Jun 2nd 2020
We have had a glorious stretch of spring weather here (finally!) and I decided this was the time to create a mindful project, and work outside as much as possible.  During these difficult times, meditation, mindfulness, creativity and nature have been keeping me balanced. I hope you are finding the things you need to keep you balanced and healthy too!
Items Needed:
Gel Plate 8 X10
Brayer
Water Color Paper
Cosmetic Sponges
Craft Mat
Baby Wipes
Bubble Wrap
Simon Says Stamp Intense Black Ink
Ranger Archival Jet Black Ink
Scissors
Flat Brush
Stamp Platform Or Acrylic Blocks
Stamps (your Favorite Theme)
Adhesive Tape Or Glue
Old Catalog (newsprint)
Instructions:
Step 1: If you can, set up a workspace outdoors and enjoy some lovely weather. I covered my table on the deck with paper then craft mats, and set up two gel plates for printing. I'm making a set of twelve cards in a yoga and meditation theme, with an image on one side and the thoughts on the other. I started off printing my papers in cool colors, Primary Cyan, Cobalt Teal Hue, Quinacridone Magenta and Green Gold. I varied the amount of paint on the gel plate to get different backgrounds for the first layer. I used watercolor paper for the base, and always have some copy, deli paper or card stock handy to make extra prints.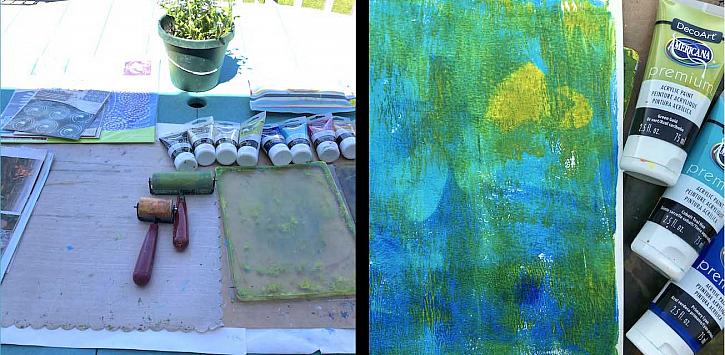 Step 2: Now, let's add another layer with bubblewrap and stencils. I love using bubblewrap for the wonderful designs it makes. You can press it into the paint on the plate, lift it and "stamp" it onto your paper, or press your paper into the design on the plate. You should be able to pull several prints. Stencils also add lovely layers, and I toned down the colors a bit with Titanium White or Titan Buff to change the tint. I'm using a variety of stencils like the DecoArt Mandala and Segmented Swirls.
Step 3: Repeat Steps 1 and 2 with warm colors. I used Quinacridone Magenta, Diarylide Yellow, Cadmium Red Hue and Cadmium Orange Hue. (I used the Magenta to create some pinks.) Here I also used the Garden Bloom stencil.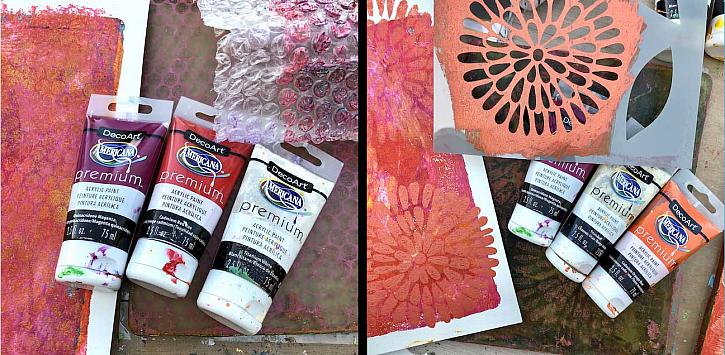 Step 4: I love to add some metallic into my designs, so I used the Metallic Peacock Pearl on the "cool" papers and Glorious Gold on the "warm" papers. Here, I am using the Whirlpool, Garden Bloom, and Doily stencils. I like to apply my paint with a cosmetic sponge when I am stenciling. Always be sure to dab most of the paint off, so that it will give a clean image.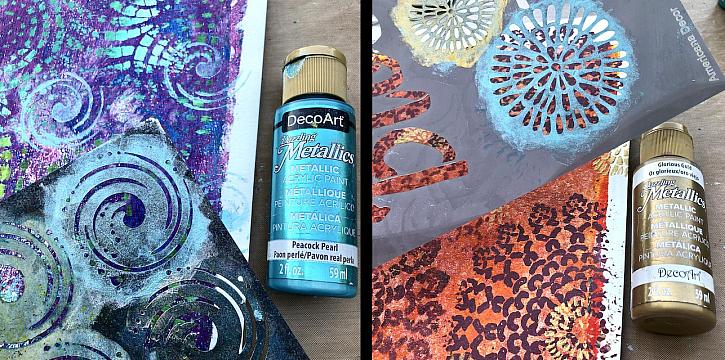 Step 5: Now the papers are ready to use for the cards. The first set are the extras I made and can be stamped and cut out. The second set are the watercolor papers, which I cut into 4"x5" cards with a paper trimmer. (You will have 12 cards each of the warm and cool papers.) The third shows you some of the details of the layers. I had to share the array of beautiful colors, both in papers and paints, as well as my inspiring view while I worked.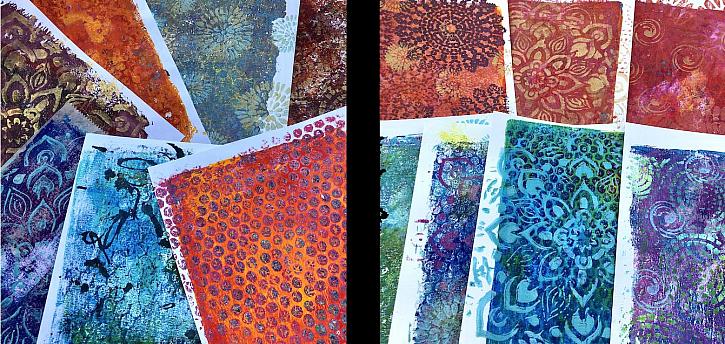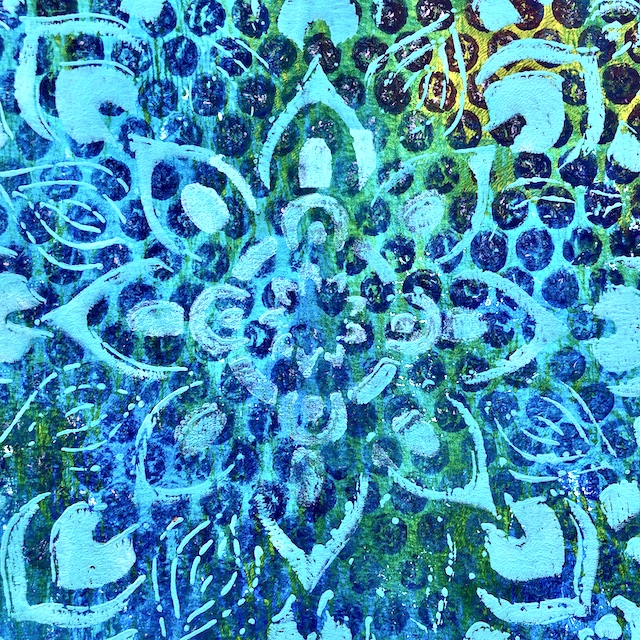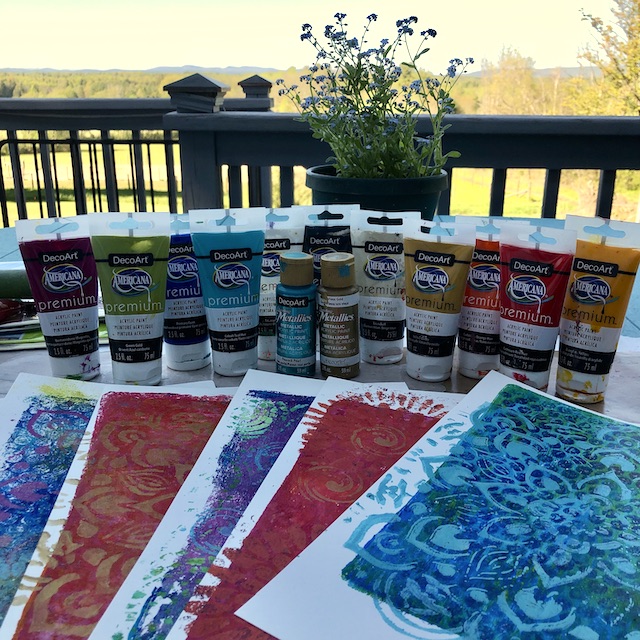 Step 6: Stamp the images onto the printed watercolor papers with black ink. I printed images on the cool papers and thoughts on the warm, using various stamps. I like to use a stamp platform because I often have to stamp several times in order to get a crisp image. The stamp platform keeps it in place so there is no fuzziness. It is also harder to stamp on the watercolor paper because of the texture, so this method works well.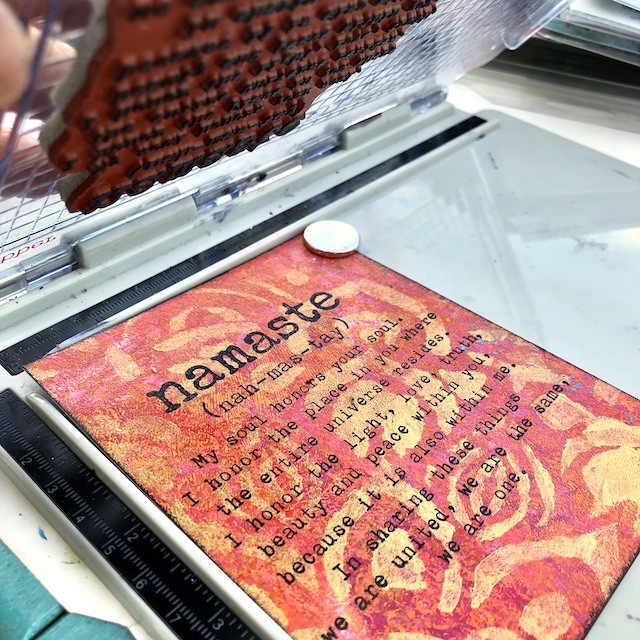 Step 7: I added some detail to the stamped images with white and gold pens. then, adhere a warm card to a cool card and edge the cards with black ink. (I used my tape gun, but glue would work too)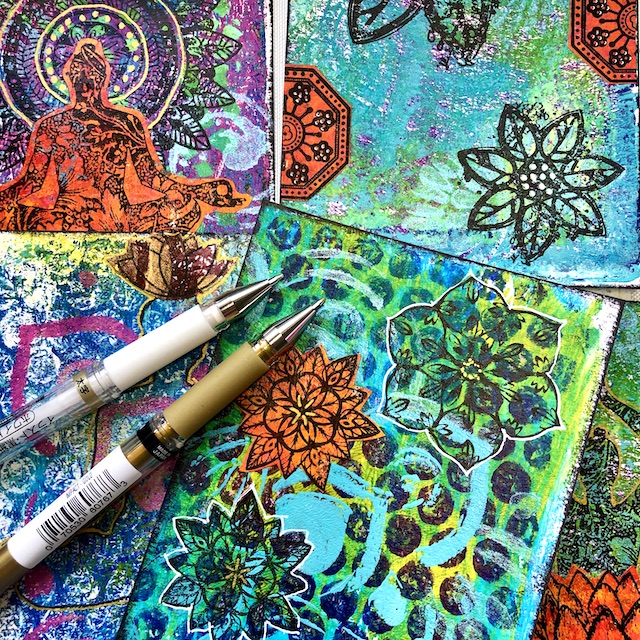 You never know when you might need a few words of comfort or a bit of wisdom to lift your spirits, and that is what this card set is designed for. Pick one at random to reflect on, or view them all. Find a pretty bag to put your cards in, and hopefully the bright colors, images and words will inspire you when you most need it! Take care, be well, Maura