Posted by DecoArt on Jun 10th 2019
Lately, I've been on the hunt for vintage paint-by-number artwork. This cultural phenomenon made popular in the 1950s seems to be popping up everywhere again. My favorites versions are the outdoor scenes with nonrealistic and vivid (almost neon) color schemes. There's just something very iconic about this mid-century art that I adore.

My paint-by-number treasure hunt inspired me to come up with my own version. For this project, I mixed modern imagery with this emblematic American pastime to create artwork for my boho-themed bedroom. I used a free printable and a free app to create a monstera plant image that I could paint by number on canvas.

It was a lot of fun and I learned a few paint-by-number tips that I'll share with you so you can try this at home too!

Check out this video for some tips and tricks: 
Items Needed:
Printable Canvas
Small Paintbrushes
Paper Cups For Mixing Paints
Large Tray Or Paper Plate
Dry-erase Marker
Clipboard
Instructions:
I started by finding a free printable online with a monstera plant that was isolated on white. I used this free website to turn the picture into a printable paint-by-number pattern. (You can turn any picture you want into a paint-by-number pattern.) I've already created the monstera pattern for you, and it's linked in the supply list above. TIP: Photos or pictures that are isolated on white or have pale/faded backgrounds work best.

When I got the pattern how I wanted it, I used my inkjet printer to print the pattern onto my sheet of printable canvas. (The pattern doesn't go all the way to the edge, but that's ok because I am using an 8" x 10" frame, which is just a bit smaller than the canvas size. )TIP: I also printed off the color palette onto a regular piece of paper and the paint-by-number example for reference.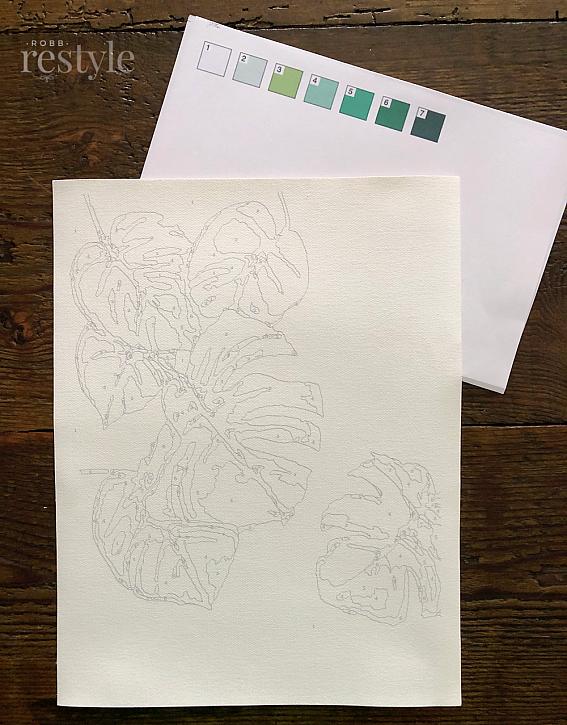 Then I used some paper cups to mix my colors together until I achieved the shades of green to match the color palette I printed off. (It's a little trial and error to get the colors you desire here.) TIP: I always add Americana Premium Acrylics Matte Medium to each color for better blending and paint flow...plus I like the look of a matte finish for paint-by-number art.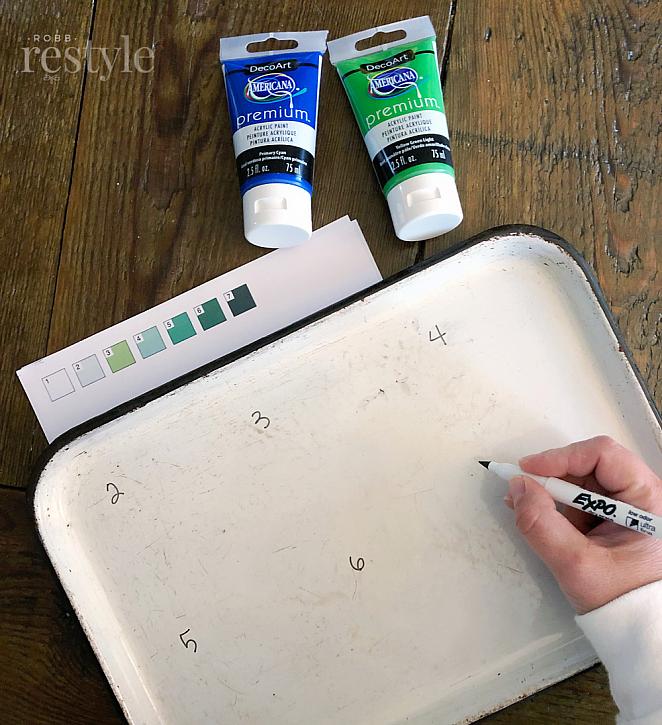 Use a dry-erase marker to write your color numbers on a tray or paper plate. Place your blended color next to the corresponding number. (You could also use little paint pots for this, but I like having a full palette in front of me.) TIP: The lightest color (#1) is white, but I wanted to create a different background color to make the green pop on the canvas and look more like the neon. So I saved color #1 for the very last step.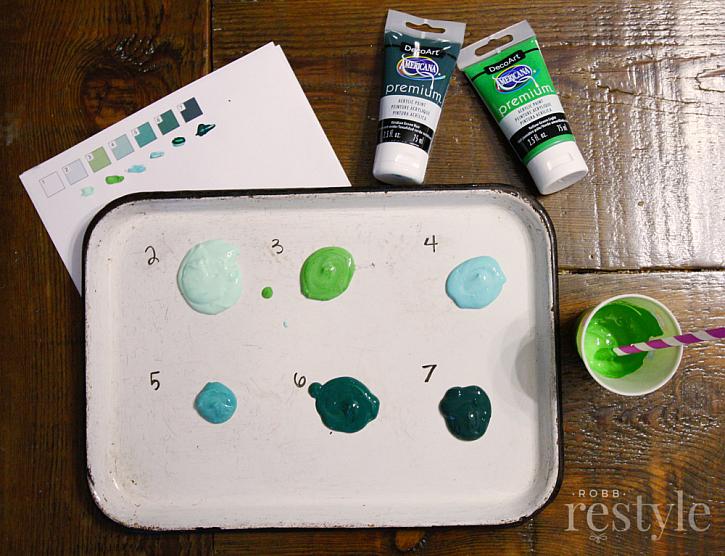 I started by painting the lightest shade first and so on. In this particular paint-by-number pattern, the lightest green happened to be the most predominant color. TIP: I use a clipboard to hold my printable canvas in place. It makes it easy to rotate as necessary when filling in small patterns.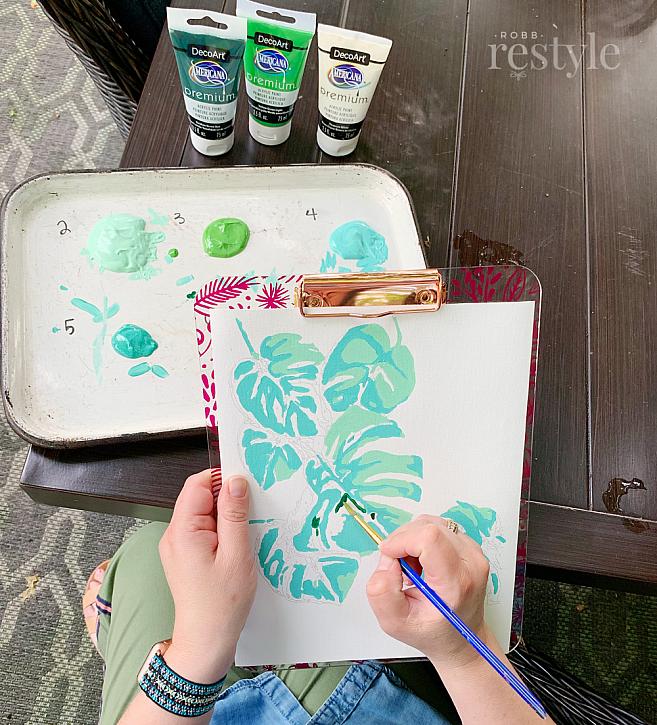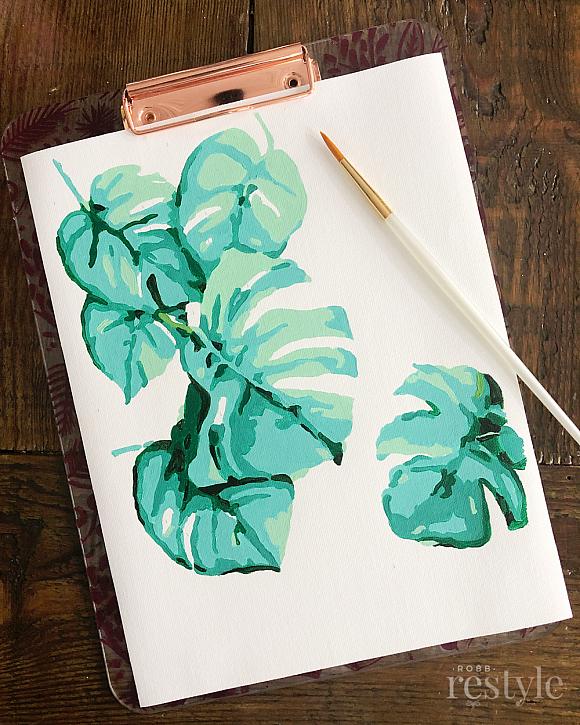 This is what the art looked like when all the shades of green were complete. (You could paint the background white or mix another color.) I love the combination of pink and green so I decided to mix a bright shade of pink here using Americana Premium Acrylic in Quinacridone Magenta and Titanium White.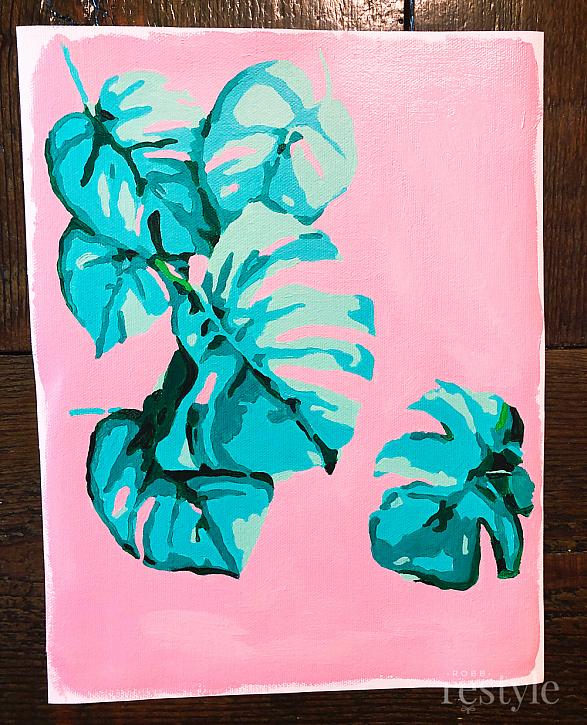 The pink background gives this paint-by-number art the perfect mid-century radiant pop! I love mixing a contemporary image like a monstera plant with the retro vibes of a paint-by-number process. This is a great art project to take to the patio or even the beach this summer!