Posted by DecoArt on Dec 27th 2016
We have many old fashioned lanterns hanging at the ranch. This lantern scene was painted from a photo taken by a guest. The "monolith" is a piece of gnarly tree root found at the ranch. It seemed the perfect palette for a DecoArt Media painting design!
Items Needed:
Assorted Brushes
Paper Towels
Mister Of Water
Wood Surface
Instructions:
Gather your supplies.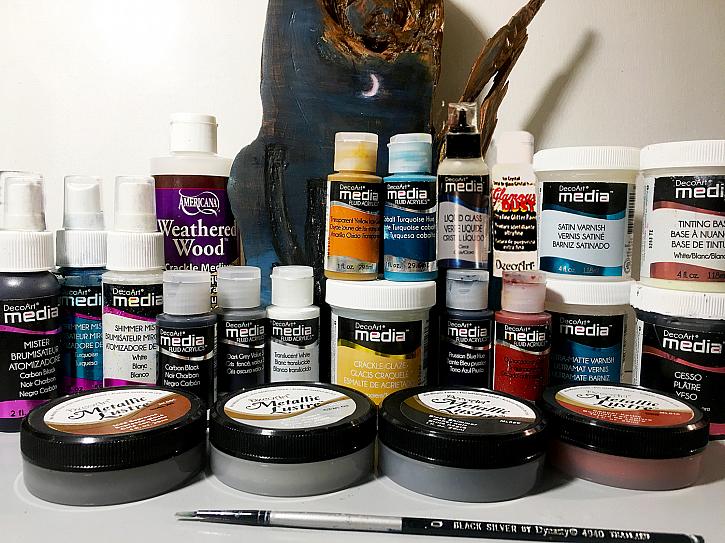 Choose your substrate. My wood piece was approx. 7" by 11".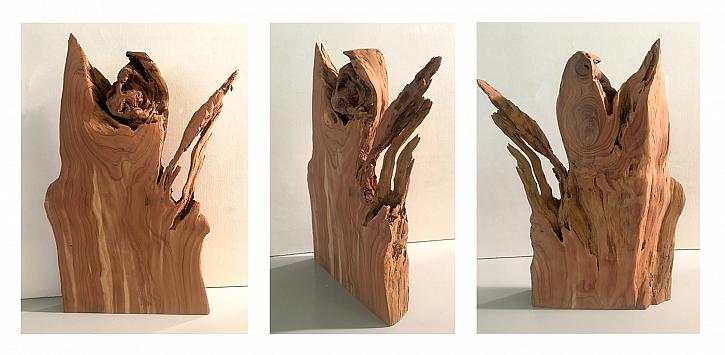 Prepare your substrate. I used DecoArt Media Black Gesso on the front of my wood only.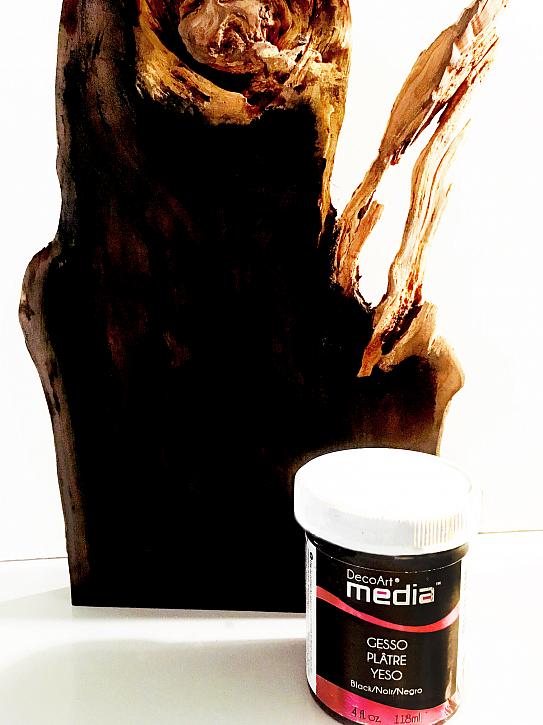 Begin adding colors for your background. I used DecoArt Media Tinting Base - mixing it with the blue - to give various hues of the Prussian Blue Hue. This color was perfect for going from the dark blue at the top to the light blue at the bottom of this background.
I also used a bit of this color here and there on the back and side.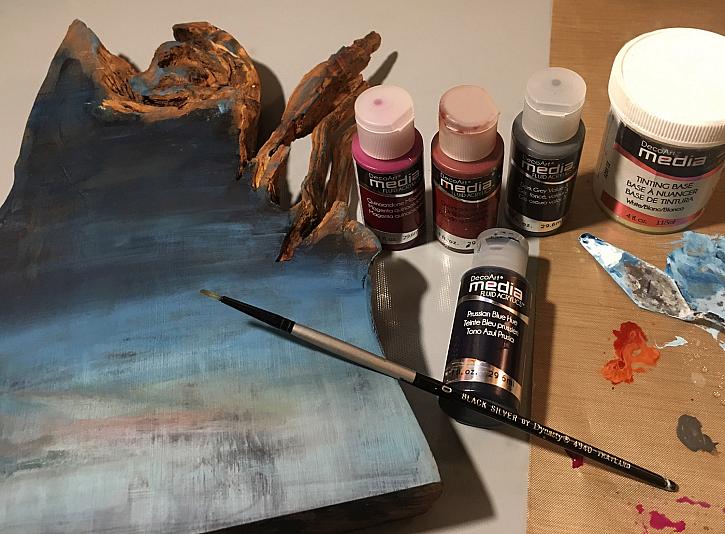 Then using Quinacridone Magenta, Quinacridone Gold and Dark Grey Value 3, add a bit to your dry background for the setting sun.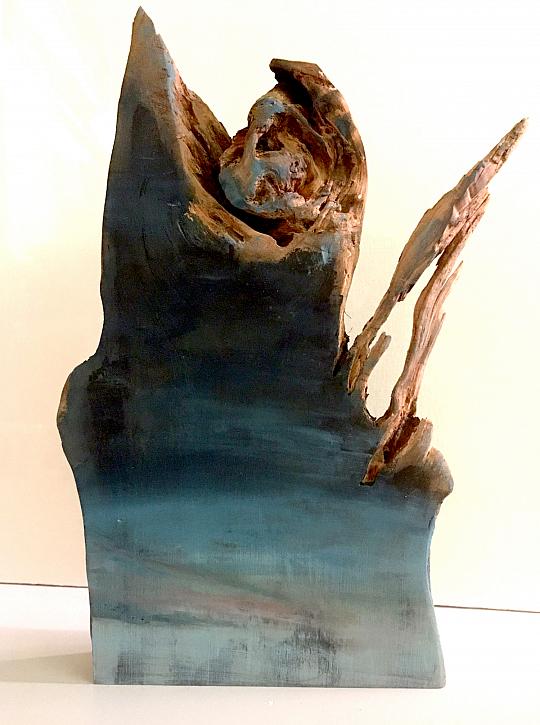 Next, paint your image onto your background with DecoArt Media Black Gesso.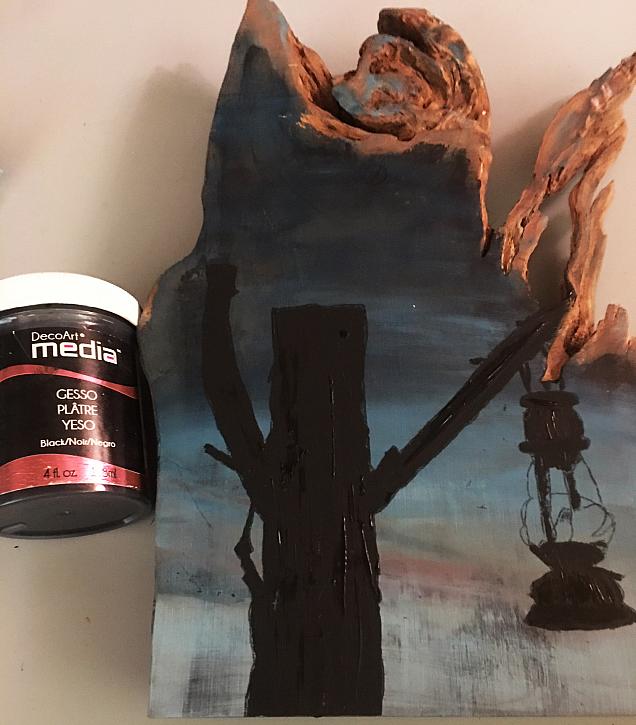 After dry, add your choice of another color of DecoArt Media Fluid Acrylic color for layering texture. I added Translucent White.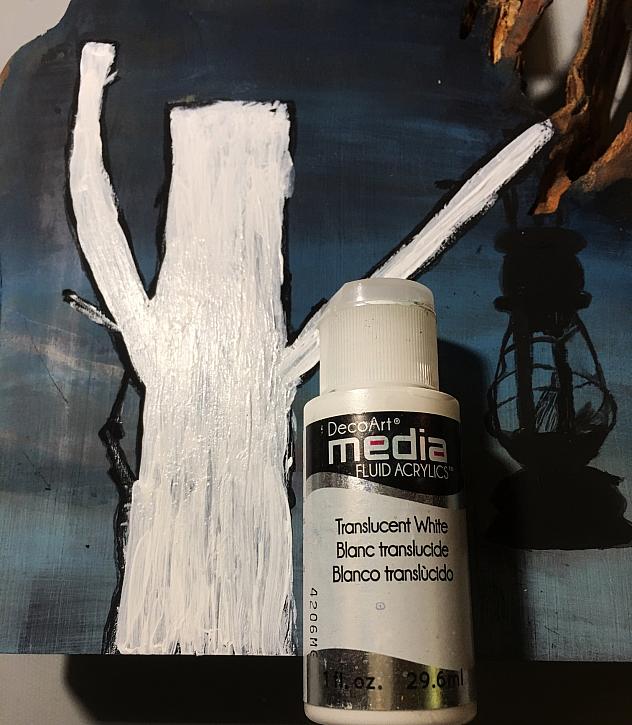 Choose one of the many types of DecoArt crackle mediums to enhance your texture. I chose DecoArt Americana Weathered Wood for my tree stump.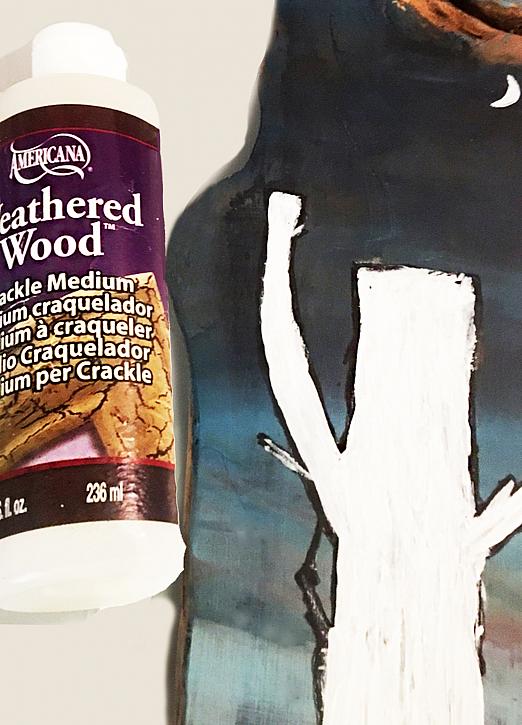 Working on the tree stump, it was quite fun adding the DecoArt Metallic Lustre in various colors. I love watching these metallics come to life with glitzy shimmer as I apply them to my projects.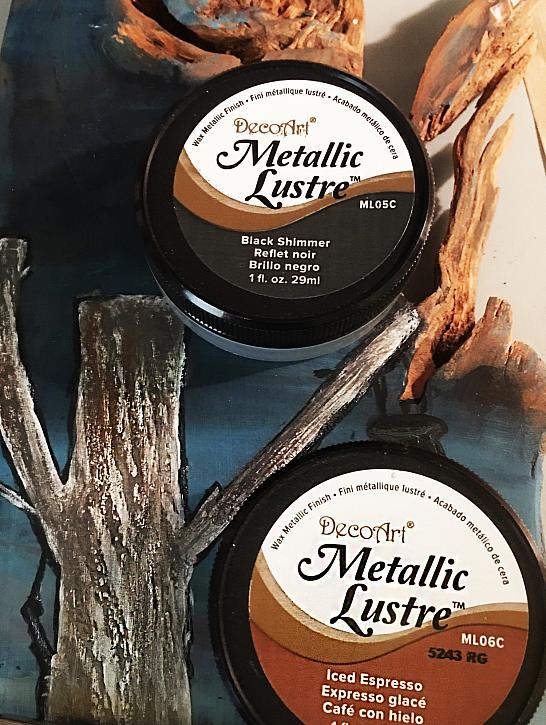 Let's move on to the lantern. Since our lanterns are all vintage, adding DecoArt Media Crackle Glaze was the way to achieve that rustic flare!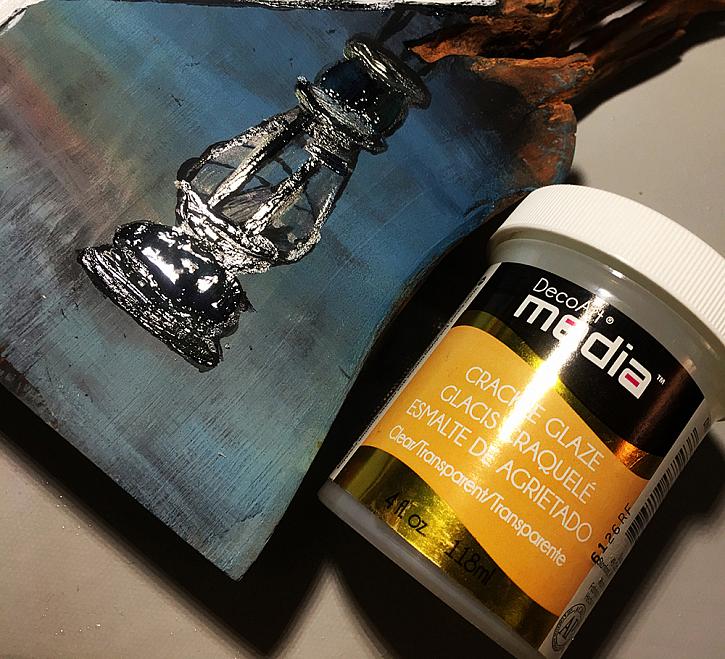 When the crackle glaze was dry, I began adding DecoArt Media Fluid Acrylic colors: Transparent Yellow Iron Oxide, Dark Grey Value 3, Cobalt Turquoise Hue.
For the lantern glass, add DecoArt Liquid Glass and DecoArt Iced Crystal Glamour Dust for a super dimensional look.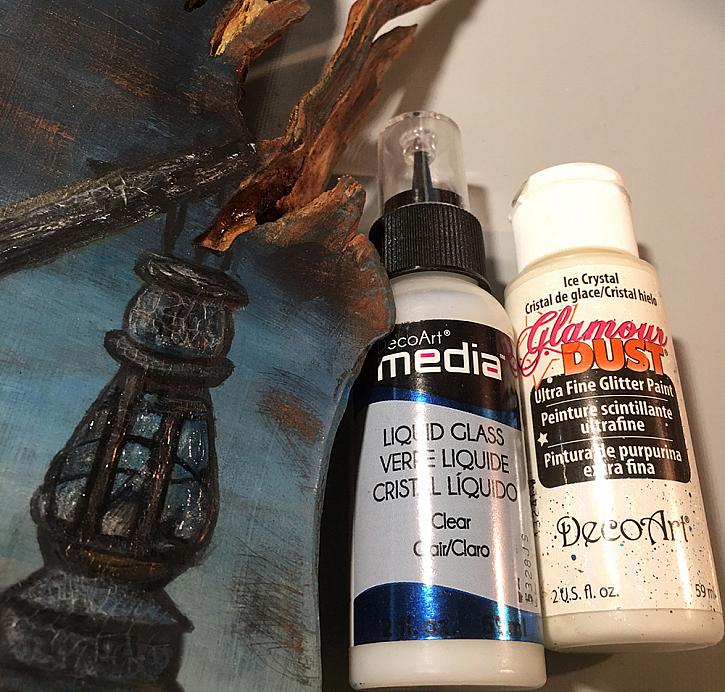 Draw in the moon with DecoArt Media White Gesso and a liner brush. Add a bit of DecoArt Media White Shimmer Mister to enhance the moon's glow as well as some Iced Crystal Glamour Dust.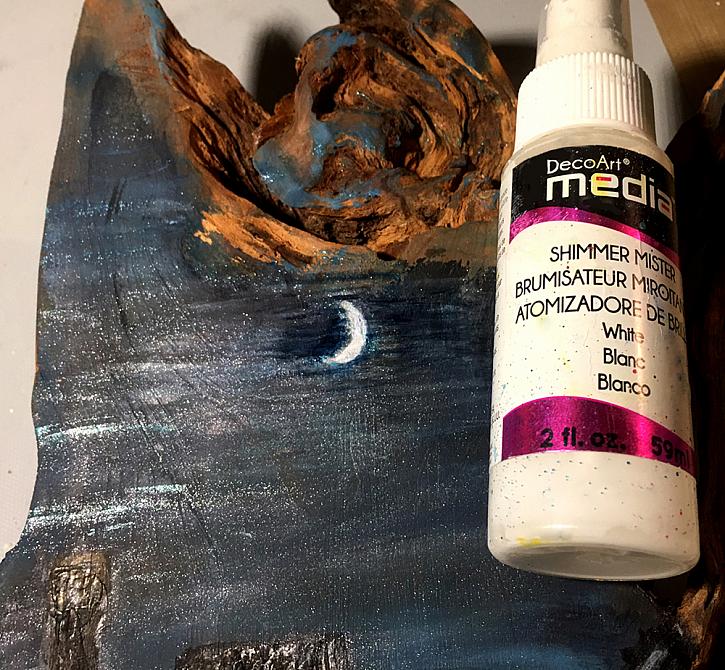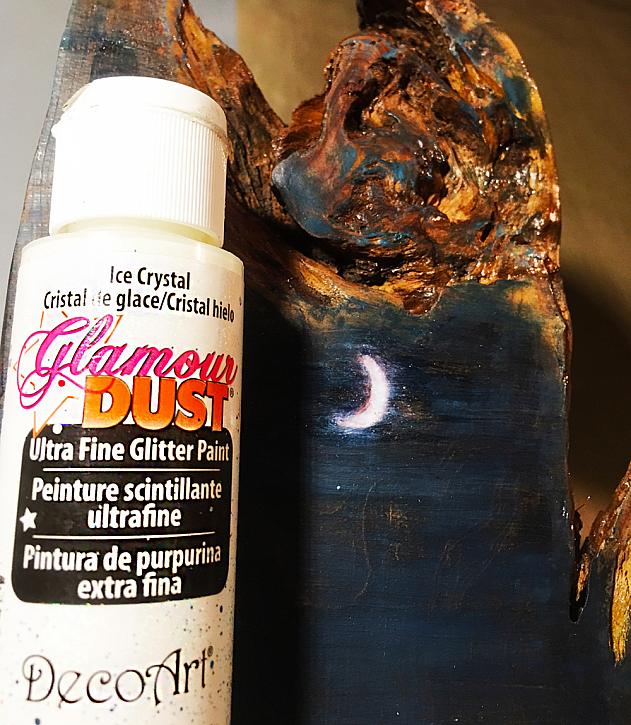 And here are a few close-ups!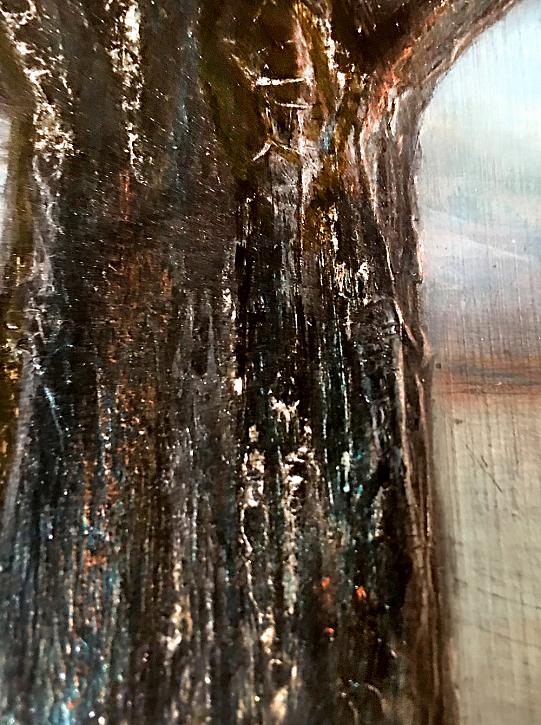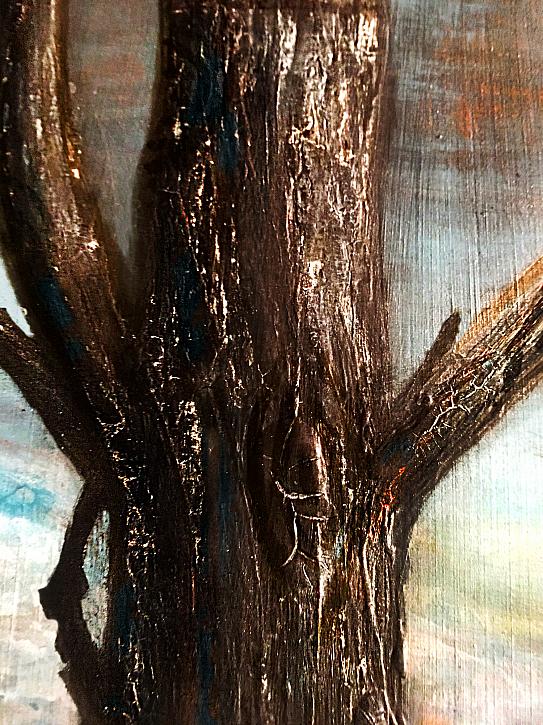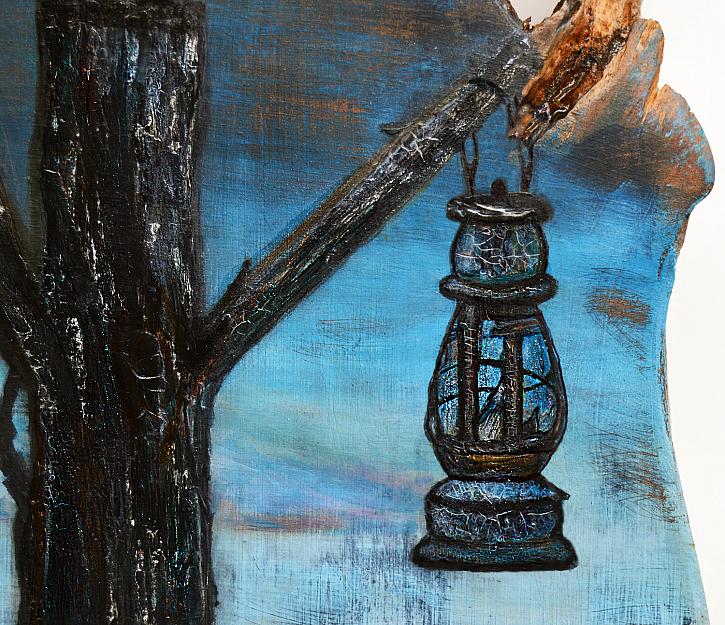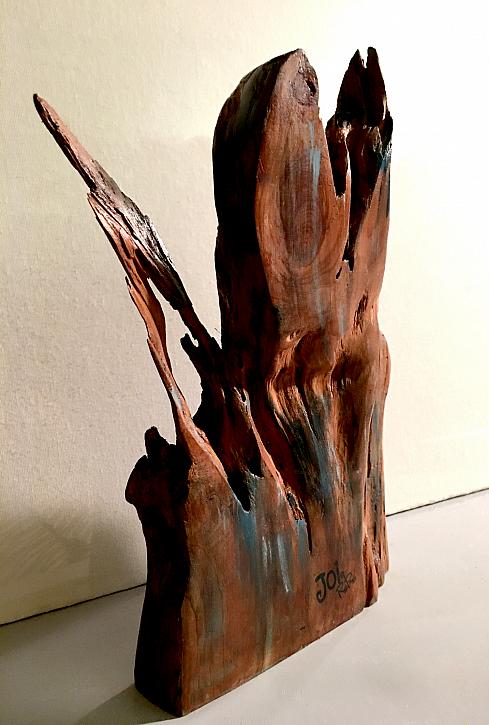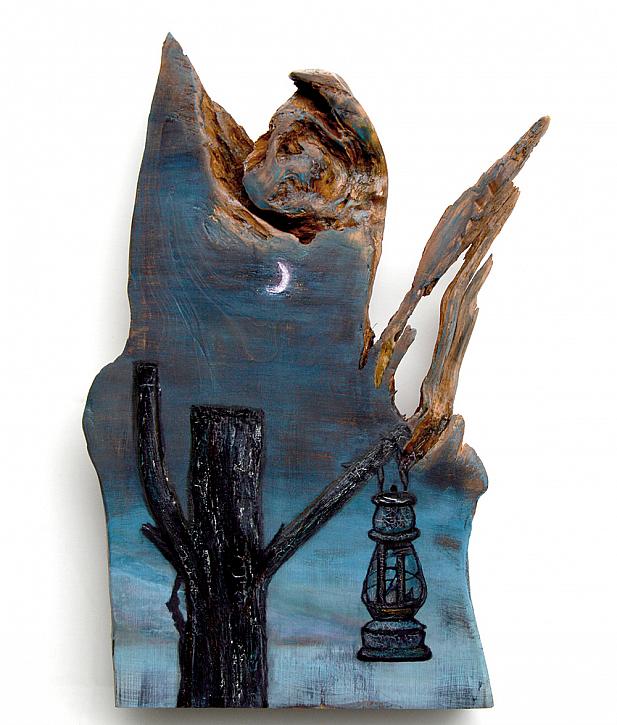 Thanks bunches for the opportunity to share my project with you today.
I can truly say that using DecoArt Media products makes such a different in the "look" of my endeavors as well as in the ease of the challenge of painting!