Posted by DecoArt on Apr 18th 2016
I love doing photo transfer projects, so for my Mother's Day bangle bracelet project, I thought it would be fun to try a photo transfer bracelet! I paired my wooden bangles with a colored stain and a pretty floral design.
I really love the way these bracelets turned out, and there are so many possibilities for customizing them! I love the look I got with pretty florals from adult coloring pages, but any printed image would work.
Items Needed:
Sponge
Assorted Brushes
Wooden Bangle - DIY Bangles
Printed Coloring Pages
Instructions:
Gather your supplies.
Start by mixing a drop or two of transparent or semi-transparent fluid acrylic into a little bit of matte medium. The matte medium is transparent and the fluid acrylic gives it a tint, which creates a nice colored stain effect on the wooden bracelet.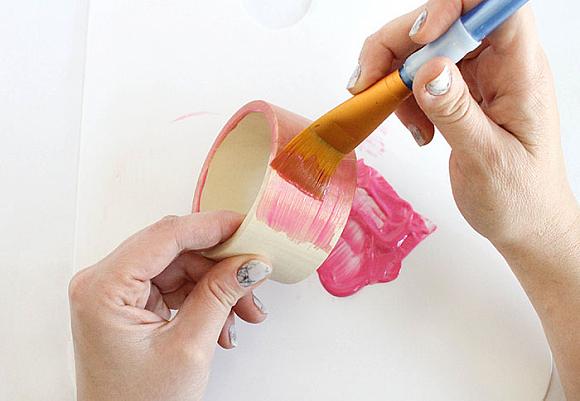 When you are done staining staining your bangles, set them aside to dry.
In the meantime, your coloring pages into strips about the same width and length as your bangle bracelets. I found that coloring pages on thinner copy paper work best, so if you are using pages from a coloring book with thick paper, you may want to make a copy of the image on thinner paper.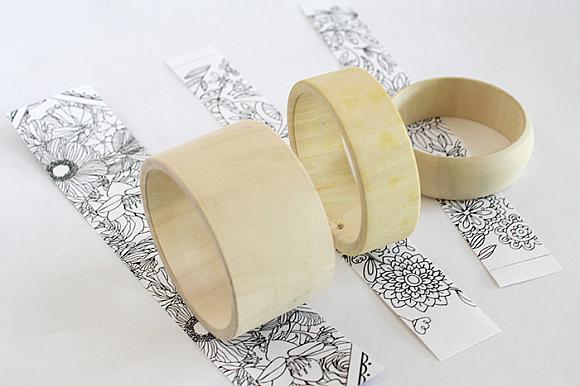 Paint a thin layer of matte medium on top of the coloring page strips.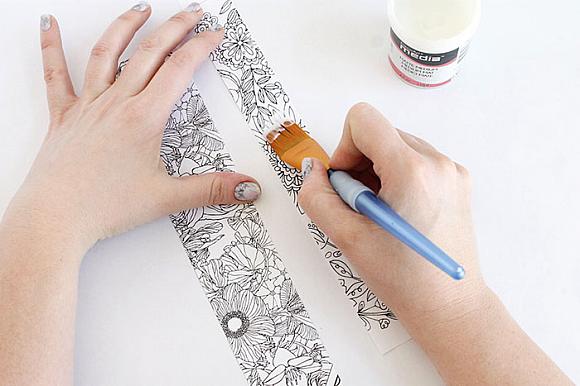 Once both the paper strips and the bangles have dried, it's time to transfer those pretty floral designs to our bracelets!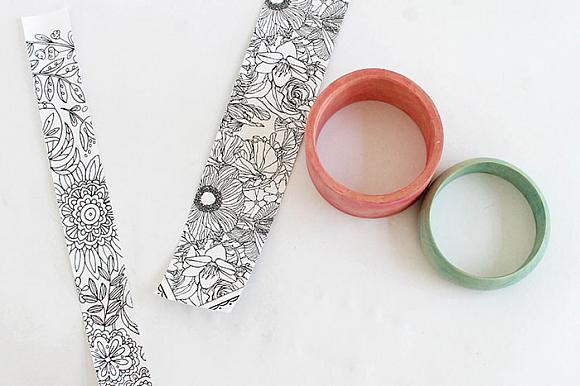 Paint a thin layer of matte medium to cover the outside of the bangle bracelet, and then firmly press the paper onto the bangle with your fingers print side down. Use your fingers to rub the paper onto the bangle, covering the entire surface and working out any bubbles.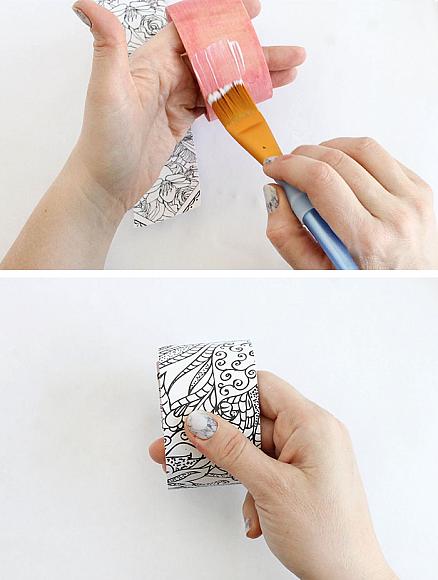 If your bangle has a curved shape, you will need to press the paper down around the curve. Try to eliminate as many wrinkles as possible.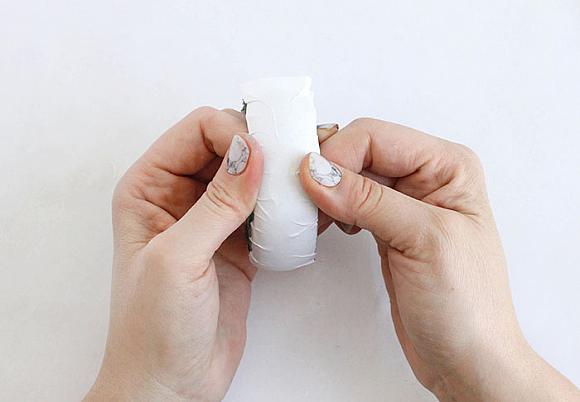 Once the paper has been rubbed on really well, set the bangles aside to dry for several hours or overnight if possible. Next, use a wet sponge to gently remove the paper from your bracelet and reveal your pretty floral design.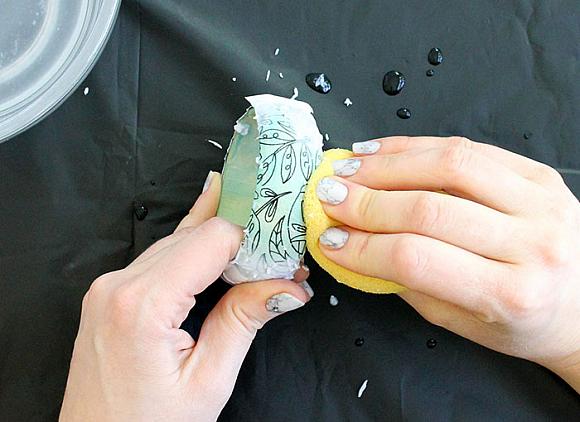 Rub your sponge in small circular motions. (Be careful not to rub to vigorously or you may remove the design along with your paper. I lost quite a bit of my design on the pink bracelet I think because the paper was much thicker.)
Once you have all the paper removed and the bracelet is dry, finish up with a coat of ultra matte varnish to seal the bracelets.
These were a lot of fun to make. I love the way the wood grain shines through the color and the floral design.