Posted by DecoArt on Oct 1st 2015
Thanks for joining us as we team up with Spellbinders for a wonderful, Whimsical Woodland Blog Fest! After you've been completely inspired by this adorable card, enter the giveaway and visit the other partner links (found at the end of this post).

We had a BLAST using the NEW Spellbinders Woodland Collection dies. These will be available later this month and you're going to love them! Keep watch over on the Spellbinders website so you don't miss the announcement that they now available.

Here's a little bit more about the new Woodland Collection: Let your imagination wander through an imaginary, whimsical world with Spellbinders new Woodland Collection. This collection features a Forest Fox, a Woodland Owl, Stylized Flowers, Pinecones, and Mushrooms. You may be surprised by what you create!

Now... let's get started!


Fall is my favorite time of the year - it ushers in crisp air, delicious food, family time, and best of all - fall crafts!! I have a great fall, woodland card for you to send to a special friend. When was the last time you sent a card 'just because'? Now's the time! Let's get started.
Items Needed:
Crafter's Acrylic 2oz - Sandstone
Crafter's Acrylic 2oz - Turquoise
Crafter's Acrylic 2oz - Spun Gold
Spellbinders (Woodland Dies)
2in Circle Craft Punch
Embossing Folders (three Different Patterns)
Vellum
White Card Stock
Brown Card Stock
Green Card Stock (three Colors)
Double Sided Adhesive Tape
Scissors
Instructions:
Cut a piece of white card stock to 11in x 4.5in, fold in half. Cut a brown piece of card stock 5.25in x 4.25in.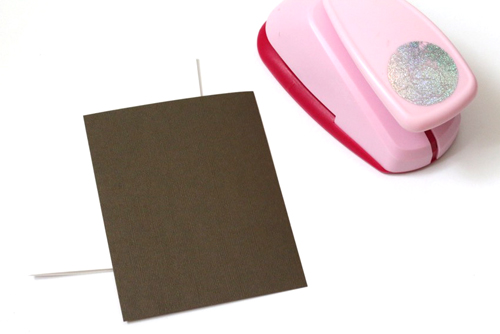 Use the circle craft punch to punch two circles out of the brown card stock.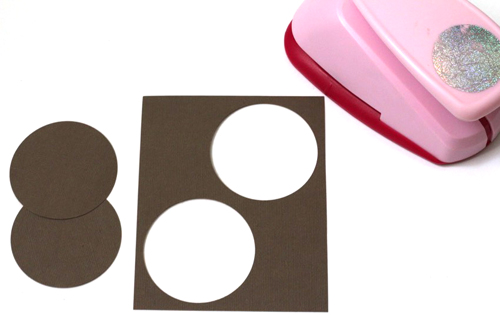 Cut six scraps of green paper in multiple colors and sizes - the width needs to be just slightly bigger than the circles you punched.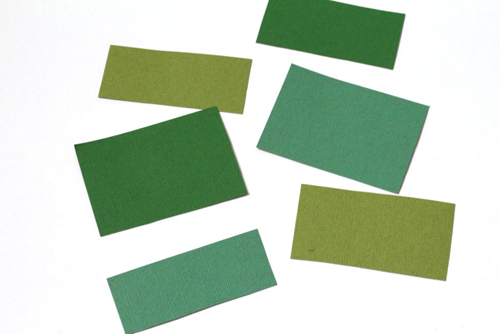 Emboss the green papers with various patterns using your embossing machine and folders.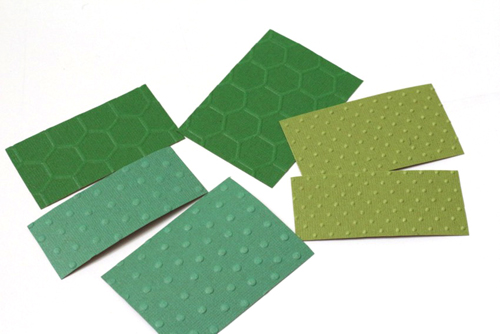 Cut the green papers with freeform waves. You want three pieces to be varying heights so you can layer them and it will look like hills.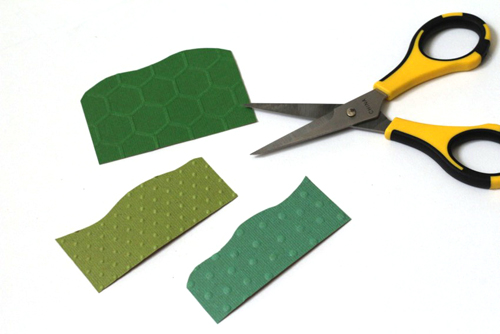 Adhere the pieces together with adhesive tape runner.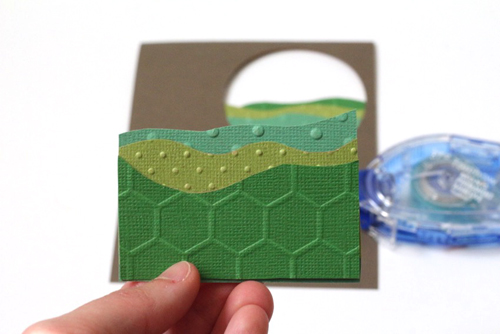 Tape the 'hills' inside the circles.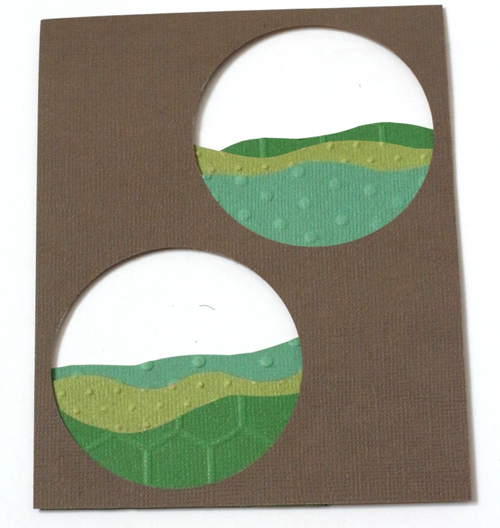 Adhere the brown card stock to your white card base. I decided to use pop dots to create a little depth.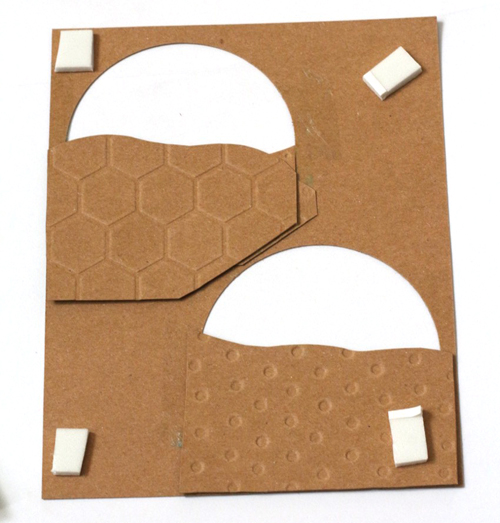 Now you'll cut the mushroom dies out of the vellum by running it through your embossing machine. Make sure that the pretty side of the vellum is facing up and the side of the die with the ridges facing down. (Reminder: This is a brand new Spellbinders die and will be available for purchase in October 2015!)
Apply acrylic paint to a piece of vellum paper. I did this in a random pattern and then buffed it out with a makeup sponge. You could use any sponge, paintbrush or paper towel.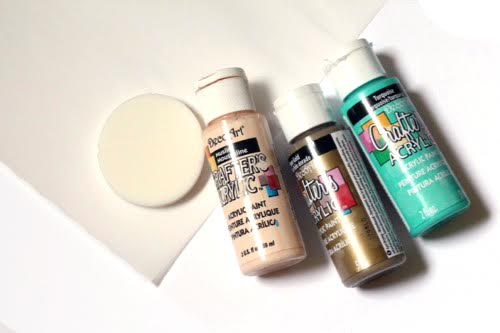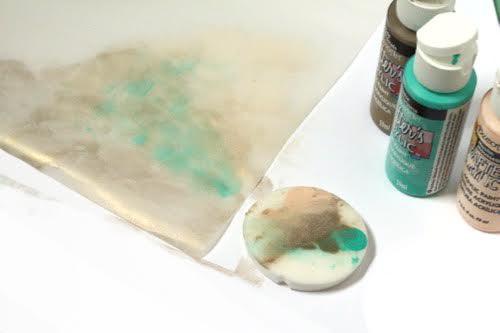 I attached the top and bottom mushroom pieces together with a mini stapler. As you can see in the previous photo, the vellum quickly started curling up so I used an adhesive tape runner to tape the mushroom into the green hills.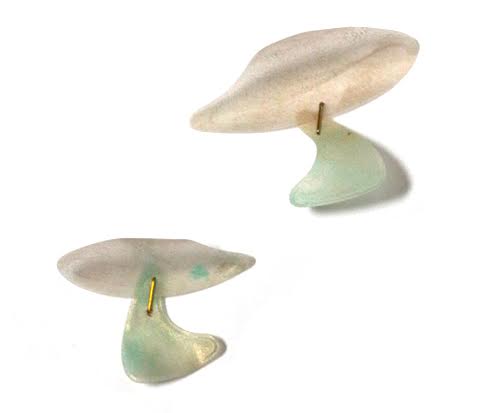 At this point, I was SO happy with how the gold mushrooms turned out! They have a ghost-like quality that I love - kind of magical, like when you stumble upon mushrooms in a forest.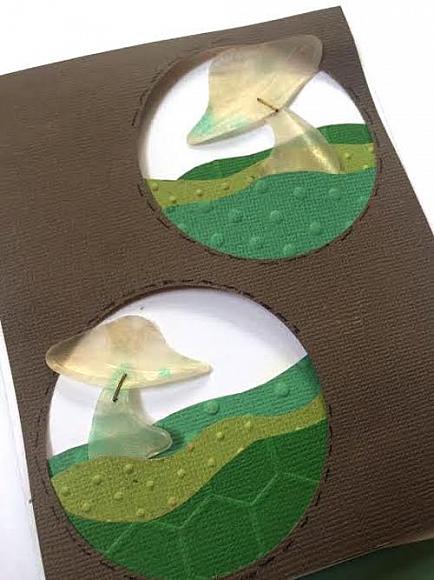 Thanks for stopping by today! We hope you are inspired to create a card just to say "Hi!"

Now it's time for a GIVEAWAY! During this three day hop, there will be four total winners! Three daily winners and one grand prize winner will be chosen. The daily winners will receive the featured product from each of the companies featured on that day. The Grand Prize winner will receive all the featured product for all three days.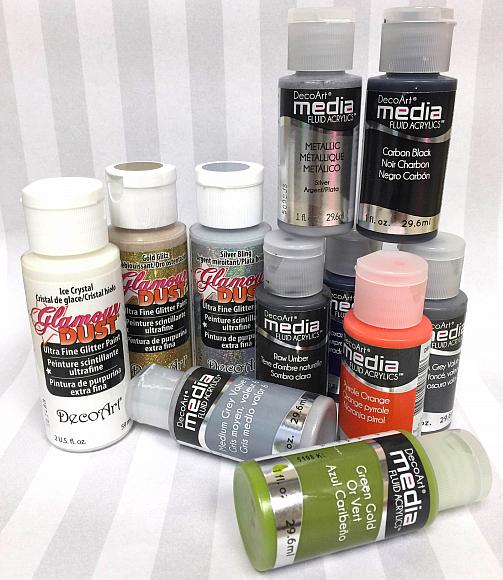 DecoArt's giveaway includes all of the paint necessary to create a cute Owl in a Box Card. That means you'll receive: 8 jars - Media Fluid Acrylics, 3 jars - Glamour Dust Glitter Paint.

Click here to enter the giveaway: http://spellbinders.formstack.com/forms/q42015decoart
Please be sure to visit all the blogs participating in the hop today to enter the generous giveways and see what their teams have created:

Want2Scrap

May Arts

Clearsnap

And if you're curious... click here to read the contest rules.