Posted by DecoArt on Apr 4th 2016
This project is all about creating layers and texture. I love layering transparent paints as that creates a lot of depth and detail you simply do not get by using opaque paints. I love how different tools like palette knives or stipple brushes leave different traces on substrates. I love how a thin and subtle layer of diluted paint can change the nature of a project dramatically without loosing what is underneath.
Items Needed:
Assorted Brushes
White Foam Board
Dictionary Page
Black Archival Stamping Ink
Palette Knife
Rubber Stamps
White Gel Pen
Soft Cloth
Spray Bottle
Instructions:
Cover foam board with cut to size dictionary pages using Matte Medium and a soft brush.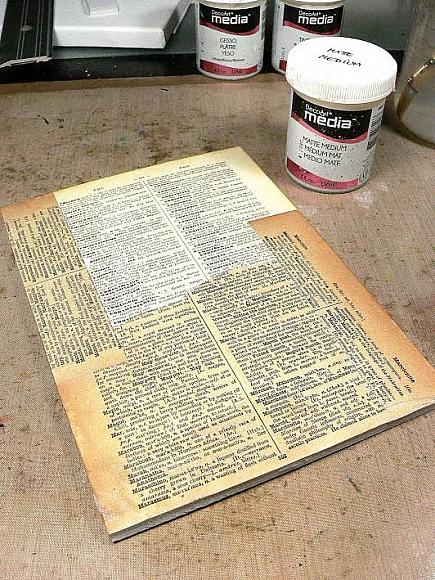 Using a credit card or wide palette knife scrape on white Gesso leaving part of the dictionary pages visible. Let dry.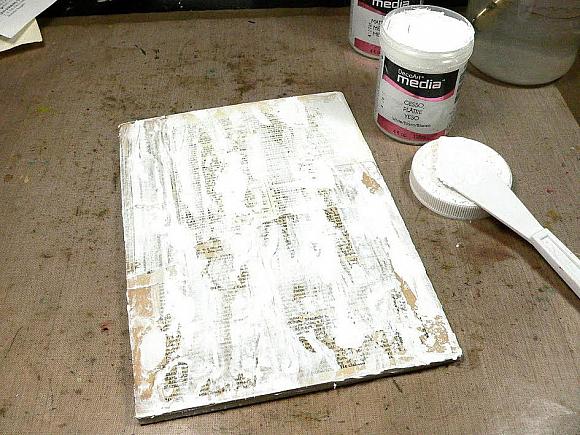 Using a palette or craft sheet mix white Tinting Base with drops of Cobalt Teal Hue and Phtalo Green-Yellow to create two pastel colours.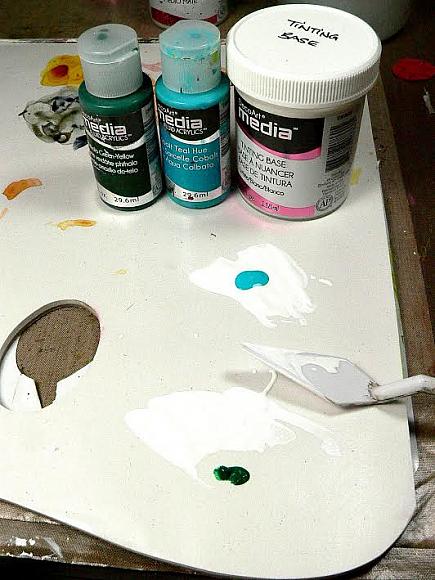 Scrape on both mixes using a palette knife. Let each colour dry before you add the next.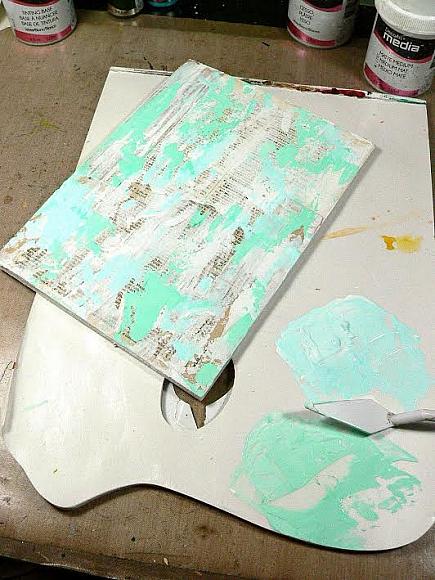 Load only the tip of the palette knife with Diarylide Yellow and scrape around the edges to create a border. Let dry.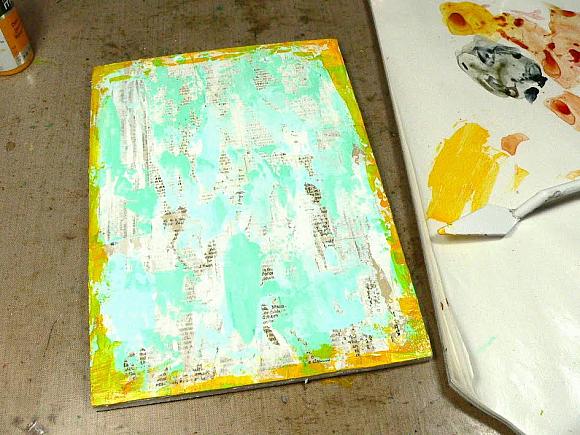 Using your fingertip randomly smudge on some Pyrrole Red around the edges. Make sure you do not cover up all of the yellow.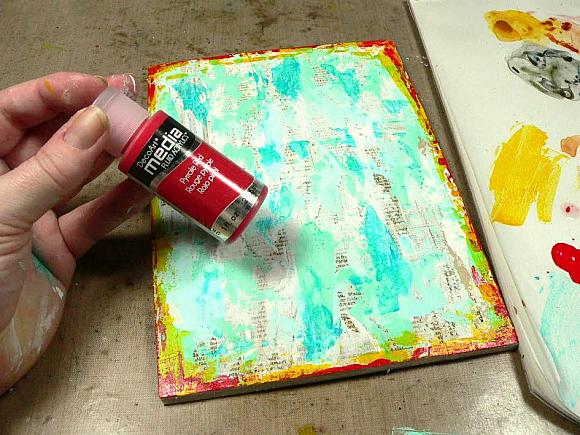 Tone everything down by adding a thin coat of Raw Umber Antiquing Cream.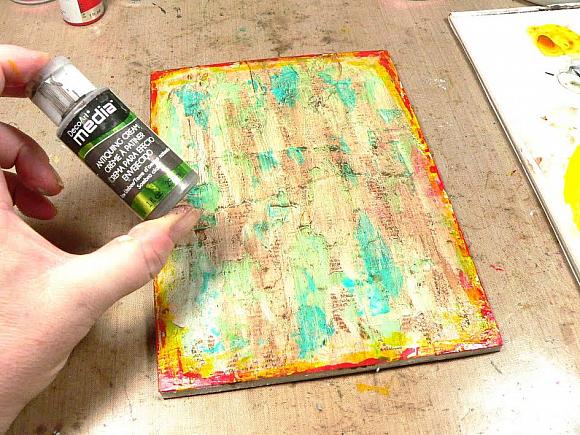 Apply some Carbon Black Antiquing Cream to the outer edges of the piece to create a kind of darkened frame. Let dry.
Spray some soft cloth with water and wipe back the Antiquing Creams until you are content with the look of your project. Make sure to leave enough of the Carbon Black to get a dark border.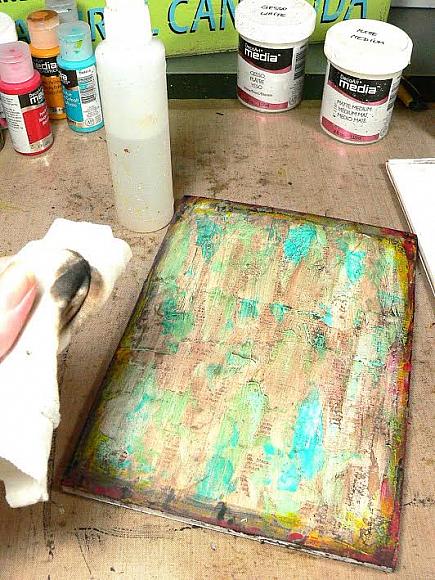 Add the Hippy Chick to your project by stippling black Gesso through the stencil with a stipple - or hard bristle brush. Let dry.
Stencil some scribbly design across the hippy chick image using white Gesso.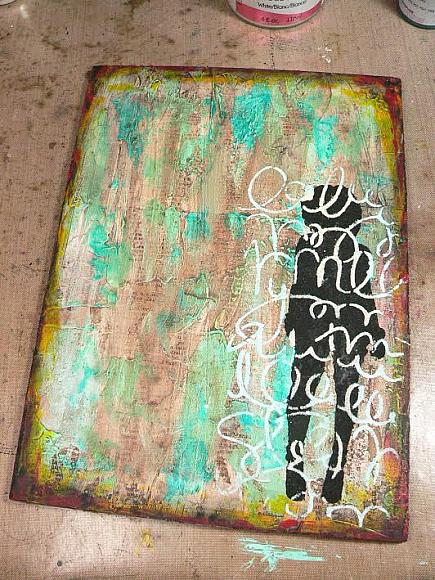 To make the girl's silhouette stand out better paint over it with Quinacridone Burnt Orange and Cobalt Turquoise Hue. This will also help blend in the image with the background.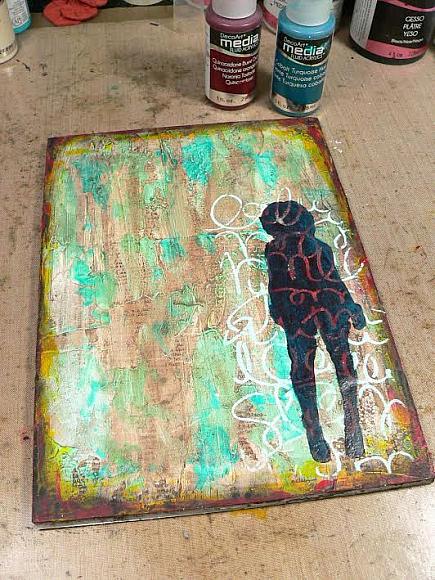 Using the stencil as a mask sprinkle on some dashes of white Shimmer Mister.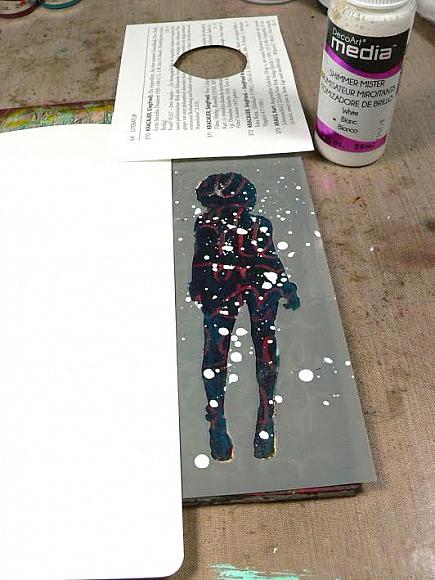 Add a dotty pattern here and there using Quinacridone Burnt Orange through a stencil.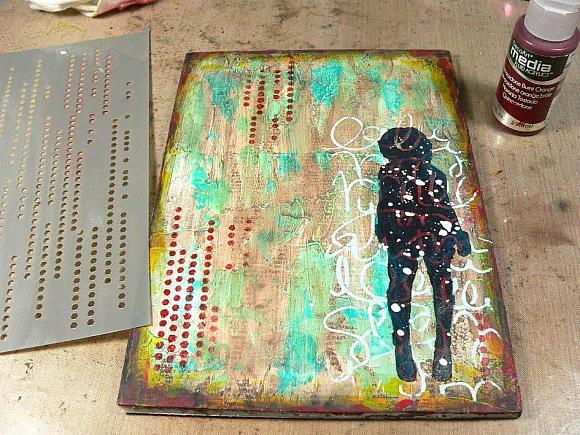 Stamp on some scratch patterns and stars in black archival stamping ink and let dry. Then paint the stars with diluted fluid acrylics Diarylide Yellow, Cobalt Teal Hue and Quinacridone Burnt Orange. Add some detail with a white gel pen once the paint is dry. Tone down with a wash of Raw Sienna.