Posted by DecoArt on Aug 10th 2015
Use a small amount of water on your brush, dab off excess paint with paper towel and think Watercolor!
Items Needed:
Pencil
Black Fine Point Marker
5%22 By 7%22 Watercolor Paper
Paper Doily
8%22 By 10%22 Pre-cut Mat
Assorted Paint Brushes
Instructions:
Begin by sketching out pattern on watercolor paper. Apply a thin layer of gesso around design, onto the background.
Apply a thin layer of Matte Medium to forms, both dress and bust.
This will allow you to move paint around and not sink into the paper. Plus giving more tooth and interest to the background.
When dry, begin to layer background colors with a small amount of water. Proceed with Primary Magenta, followed by Quinacridone Gold.
Patina Antiquing Cream and a small amount of Primary Yellow. While wet, splatter with background colors.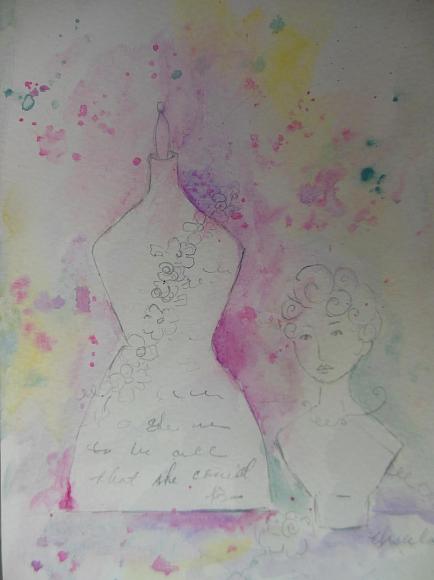 Loosely apply Quinacridone Gold to darkest areas and tint some areas with same. Creating an aged appearance. Follow with Burnt Sienna and Burnt Umber, separately. Layering and drying in between. Finish with tints of Dioxide Purple to darker areas. Wash in tints of Patina Green around flowers and white areas of the form and bust. Add shadows under design with same. If any white is lost to these areas, apply Titianium White. Highlight areas with same.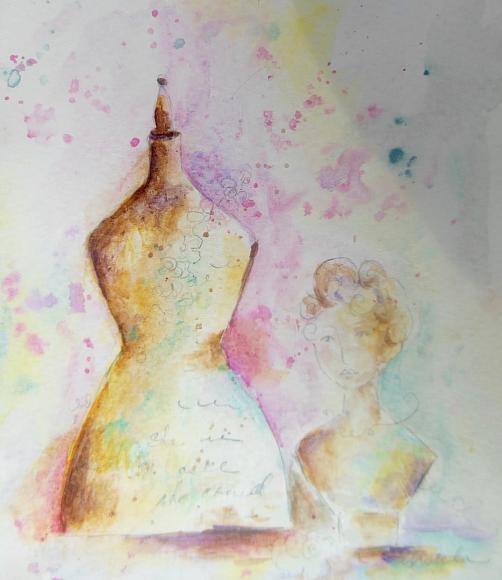 Apply Burnt Sienna to shadow areas, under brows, hair and side of nose. Apply Primary Magenta lips and washes of same to cheeks. Using a liner brush, outline for line work and hair and darker areas of her. Add Primary Yellow tints to hair and darker areas of face. Finish hair with Primary Yellow tints, followed by white highlights.
Simply apply washes of Primary Magenta and Dioxide Purple. Dot Primary Yellow to centers. Apply wash of Virdian to leaf areas and around some of the flowers where it is the darkest. Highlight here and there with Titanium White.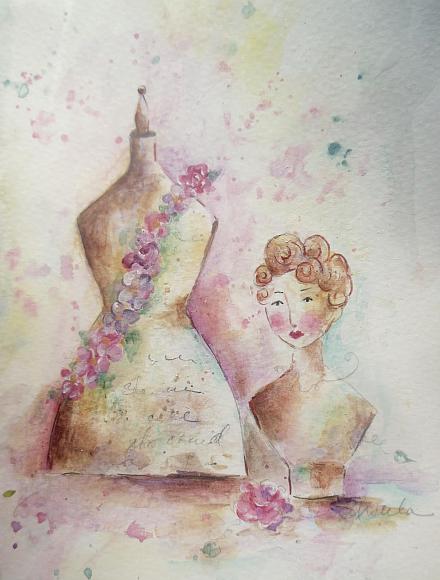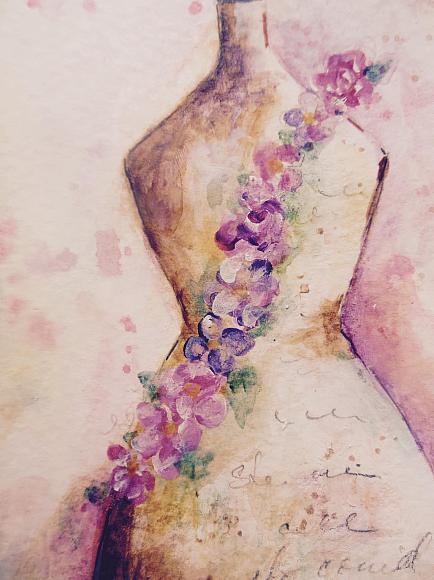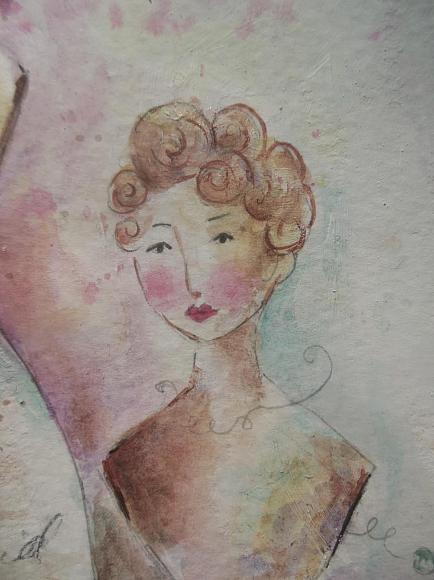 Strengthen background if needed. Using more washes of colors left on the palette. Strengthen drawing with a few pencil lines, here and there. A fine Black marker
for line work of swirls and floral design. Hint: Keep it light and not outlined in appearance.
With a damp brush, apply a thin coat of Antiquing Cream/Raw Umber and quickly wipe off excess with a paper towel. Allow to dry.
Tear a paper doily in any shape you desire. Apply Matte medium to the mat and to the back of the doily. Apply. Finish with a small amount of Antiquing Cream/Raw Umber to doily.
Enjoy!