Posted by DecoArt on May 6th 2018
I love trying new craft techniques and I am obsessed with paint pouring! I wanted to make a home decor piece that I could use in my living room that wasn't a canvas, so I came up with the idea of doing a poured paint planter. This time of year is great for growing plants and flowers but if you are like me and can't grow anything to save your life, then artificial plants will work great too. Plus, there is no maintenance and they look pretty all the time.
Items Needed:
Ceramic Planter
Disposable Cups
Stirrers
Aluminum Baking Tray
Instructions:
Start by gathering your supplies. Last time I did a paint pouring craft I laid paper down to catch the dripping paint. This time I used an aluminum baking tray and it made the cleanup so much easier. I highly recommended using one since they are inexpensive.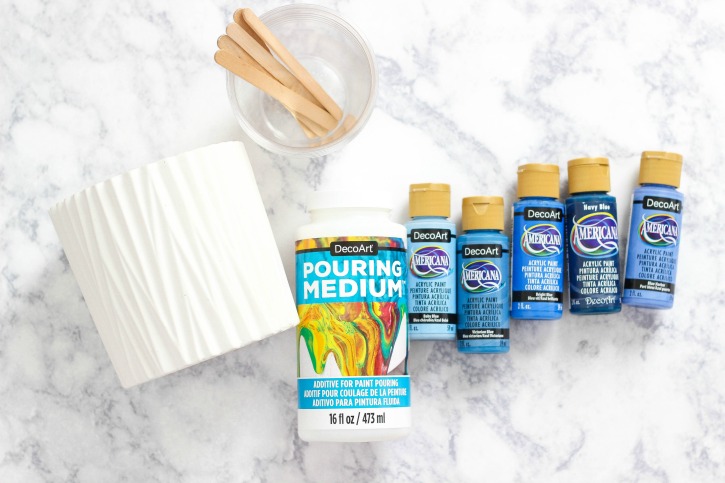 I think the whole paint pouring process is fun including picking out acrylic paint colors to use. For this planter I am using 5 different shades of blue. I pour a good amount of each acrylic paint into separate disposable cups. The ratio is 2:1 paint to pouring medium. Next, I add the pouring medium to each cup. DecoArt Pouring Medium is a fluid additive specially formulated to enable paint to flow easily across a surface. The pouring medium is very thin and watery. Use a stir stick to mix the paint and medium together. I placed the cups inside the lid of the aluminum baking tray for easy cleanup.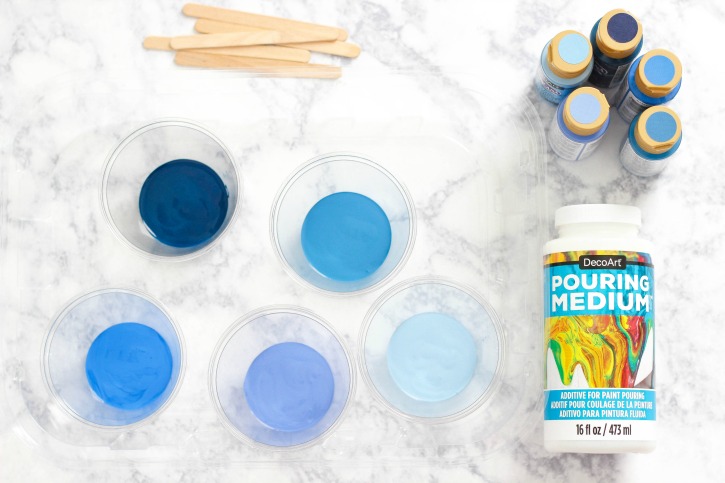 The paint pour technique I am using is a single cup pour or dirty pour. I poured a small amount of each paint color onto the bottom and sides of the planter, overlapping and mixing the colors. Tilt the planter until all the surfaces are covered. Place the planter inside the aluminum baking tray to protect your surface and for easy cleanup.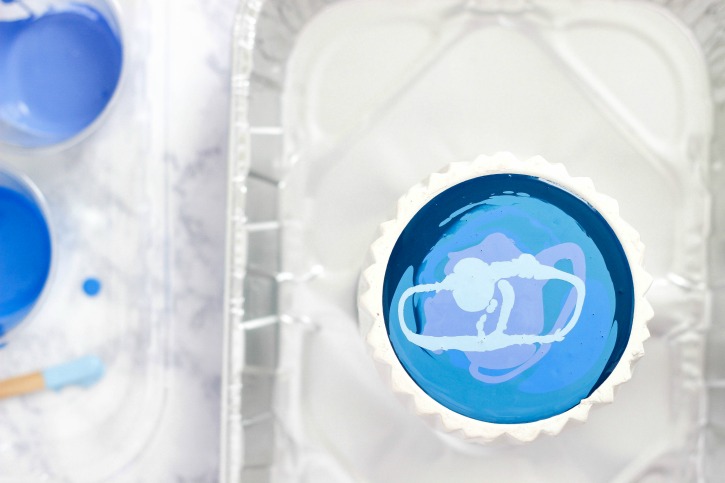 I placed the planter over some disposable cups to allow the paint to drip and dry. Allow the paint to drip and dry overnight. I ran a stir stick along the rim of the planter a few times while the paint is dripping so it doesn't clump up and has a smooth edge.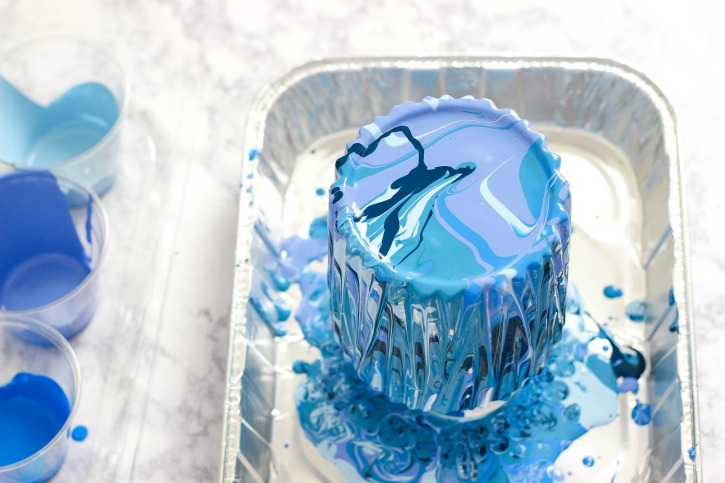 I love how this pouring paint planter turned out! I have it sitting on my tv console in my living room. Just think of all the fun colors you could use!