Posted by DecoArt on Oct 22nd 2015
I just grabbed some DecoArt Chalky Finish paints and a basket. This season fall neutral colors are really big. Add a little pop of color if you like with detailing. Toss in a few natural elements such as pinecones, faux pumpkins, luminaries / candles (*never leave candles unattended). What you end up with is décor that you can add to your table-scape or holiday buffet!
Items Needed:
Basket
Assorted Brushes
Pinecones
Faux Pumpkins
Candles
Craft Wood For Signage
Twine
Hot Glue
Instructions:
Gather Your Supplies. Colors Shown: Lace, Heritage, Inheritance and Timeless. I picked Timeless and Heritage the darker colors of the four. They are all beautiful!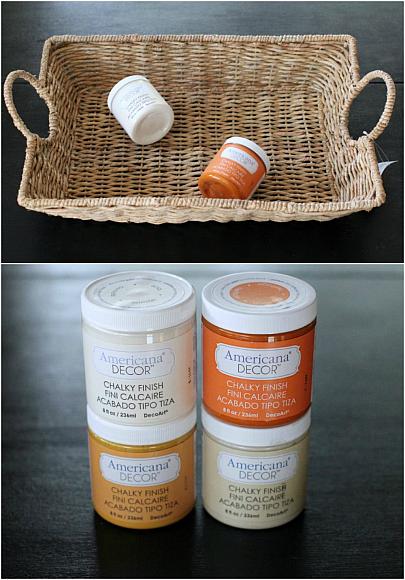 Start by taping off any detailing you wish to do on the basket.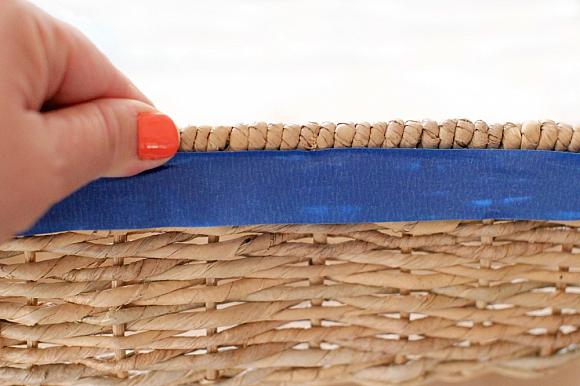 Tape off curves cut in small strips to ensure proper coverage.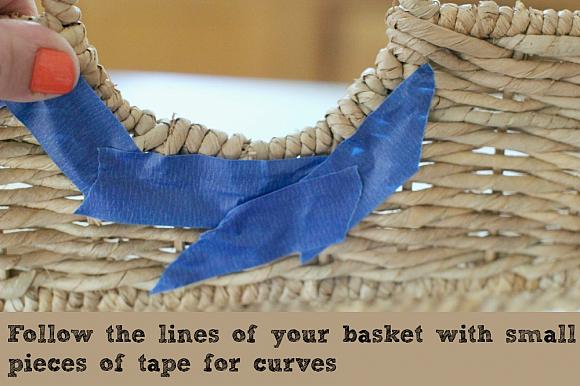 Paint details first with your angle brush. Start by wetting your brush but, pull out all excess water. Add your paint to your brush, don't over load.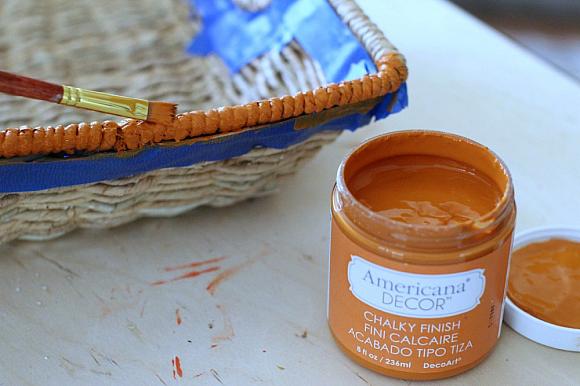 Paint all the way around your basket. Hold and move your basket around to make it easier when applying. This will ensure you get all areas covered.
Next add your neutral to the rest of your basket.
If needed do any touching up. Then let dry completely. Add your seasonal décor items to your basket. Completed in a few hours with dry time. Sealing with a wax or fixative is optional. You can vary what you put in your basket or even use it for dessert dishes, napkins and forks.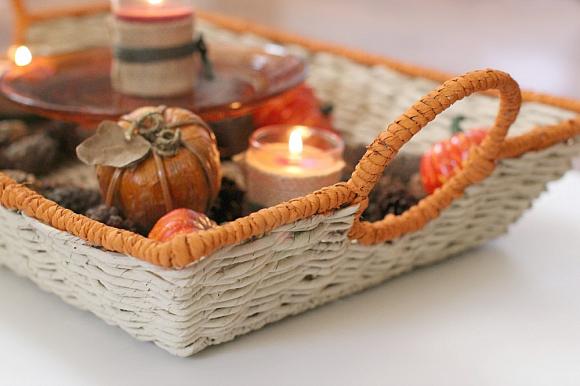 Additionally if you are setting your basket on expensive furniture without a table cloth you can cut and glue a piece of felt to the bottom of your basket.
Another option is adding a small wood plaque with words such as harvest, give thanks, gather. Use a stencil or freehand like I did. I used the same color as the basket then painted the words with Americana Antique Gold paint.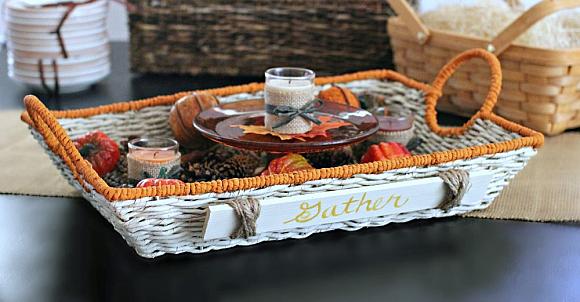 I used straight pins with a head to attach my sign. I pinned through the twine and pushed them into the basket to hold them in place. It worked really well. The pins were short enough not to poke through the other side. If you want to commit to sign staying on hot glue it on or wire around twine and through basket. Now it's ready to display or use.