Posted by DecoArt on May 31st 2016
I am super excited about DecoArt's new line of Outdoor Living paints! There are so many fun, bright colors. And I have so many outdoor things that are in need of a makeover! Patio furniture that we've had for ages that has faded in the sun, a new wooden picnic table, and the countless projects we are always creating for our outdoor space.
I started small with a little plastic table that used to be an umbrella table with matching chairs for my little boys. They have long since outgrown the set and the table was looking pretty sad. I decided to upcycle it into a pretty side table for our patio!
Items Needed:
Americana Decor Outdoor Living 8oz - Turquoise Sky
Americana Decor Outdoor Living 8oz - Succulent
Americana Decor Outdoor Living 8oz - Sand
Assorted Brushes
Painters Tape
Patio Table
Instructions:
This poor little table! At one time the top†was full of bright colored jungle animals. Over the years the sun faded away the pattern and the entire table become covered with algae. It took a LOT of scrubbing with Clorox wipes just to get it looking this good.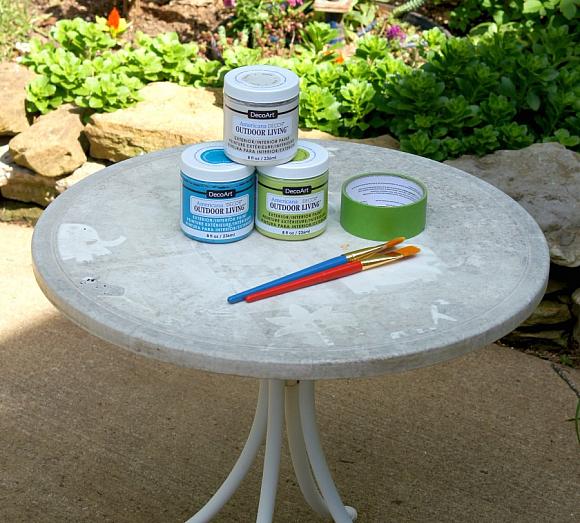 One coat of paint and it's already looking better, don't you think? I applied two coats of Turquoise Sky to the top of the table. The paint directions say that the Outdoor Living paints adhere to some plastics, and it seemed to work well on this table top.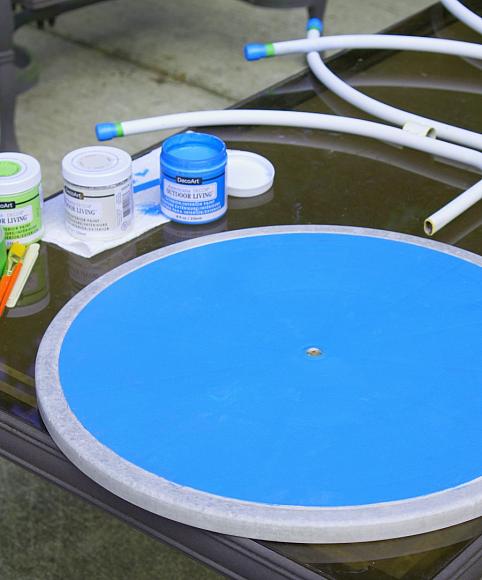 To add a pop of color and make the tabletop more decorative, I applied one of the 12" x 12" doily stencils from the Americana line using the Sand color. Apply the paint with a stencil brush for the best transfer of the pattern. I also applied two coats to ensure a bright color.
I finished off the tabletop by painting the outside ring in 2 coats of Succulent then the little inset ring in 2 coats of Sand.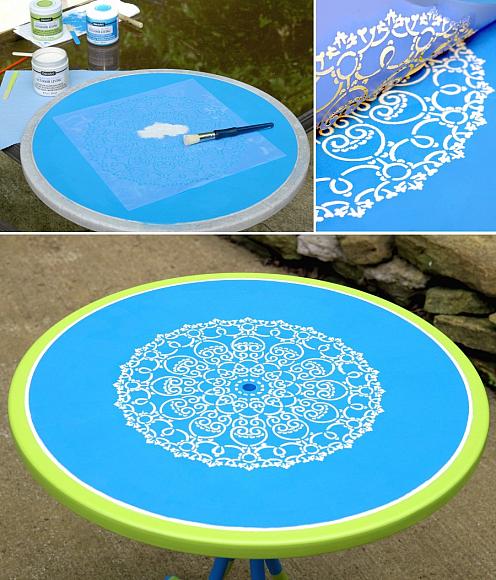 I color blocked the table legs, taping off parts to get the look I wanted to achieve. Two coats of paint on these metal legs was all I needed.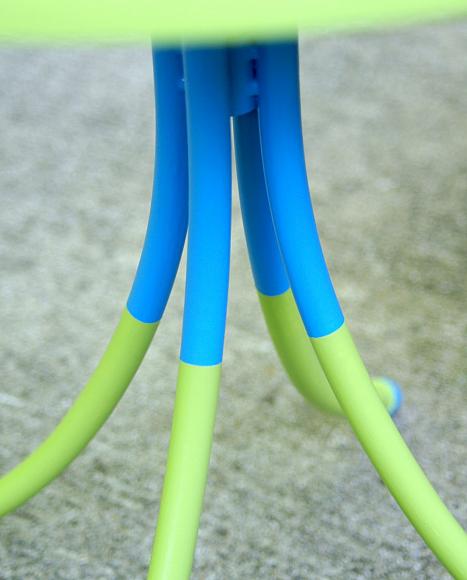 You can never have enough tables on a patio! We're always looking for places to set down drinks, place citronella candles, and a place to show off my flower pots. I am already loving this new, bright addition to our outdoor space! It looks 100x better than it used to, don't you think?