Posted by DecoArt on Sep 25th 2016
I have a thing for handmade produce signs and vintage graphics.
When it was time to add a pop of seasonal color to my front porch, I made this layered pallet wood vintage advertising sign.  Because it's decorated with DecoArt Americana Outdoor Living Paint and the outdoor Decou-Page medium, I'll be able to leave the sign out through Halloween and Thanksgiving.
You'll see below just how easy it is to make a pallet pumpkin sign of your own using DecoArt paint and basic craft supplies!
Items Needed:
Walnut Hollow Pallet Pumpkins - Large And Small Short
Vintage Graphic
Scissors
Sand Paper
Assorted Brushes
Instructions:
To prepare the pallet pumpkins for painting, I sanded lightly to remove any splinters. Because of the design of these wood pumpkins, the surface will remain rough.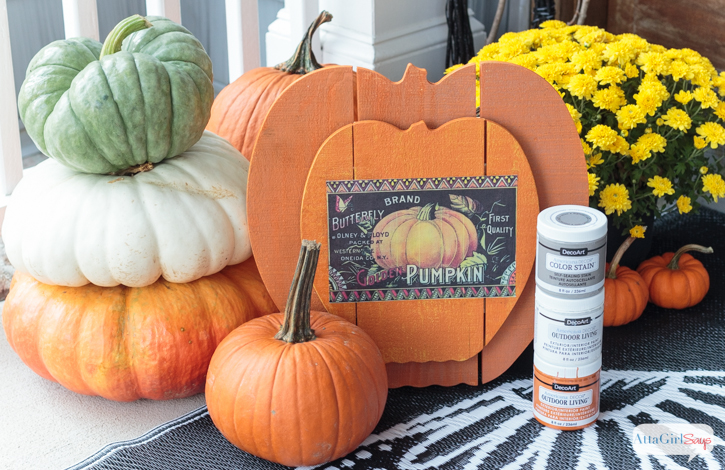 I painted the largest pumpkin with Outdoor Living Paint in Sunset, a gorgeous orange color. When it was dry, I brushed on a light coat of Color Stain in Ash Gray to provide some aging.

For the smaller pumpkin, I started with one coat of Harvest yellow Outdoor Living paint.

Once it was dry, I brushed on a light coat of Weathered Wood crackling medium and allowed it to dry.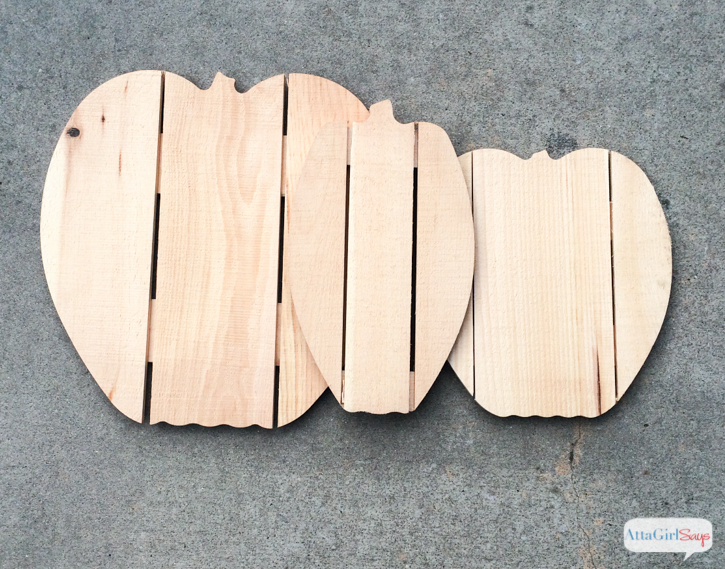 Then I brushed on a light coat of the orange Sunset paint. As it dried, it crackled lightly, allowing some of the yellow basecoat to show through.

When using crackling medium, apply a single, thin topcoat of paint, brushing in one direction for the best results.

Once the orange paint was dry, I used a medium-grit sanding block to distress the pumpkin a bit more to reveal more of the yellow paint.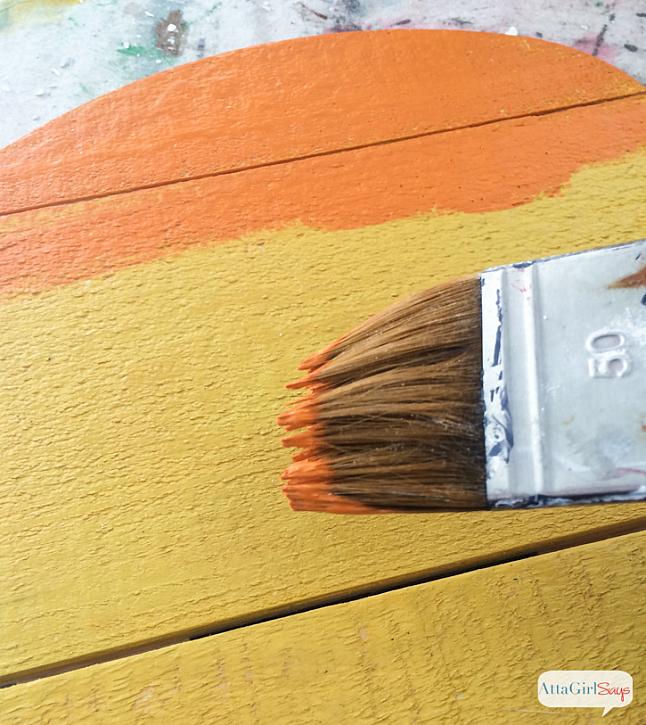 Next, I downloaded some free vintage pumpkin graphics from the Graphics Fairy and used my computer to size them to fit the smallest pallet pumpkin. I printed the graphic on regular paper, using a high-quality setting on my printer.

I used my paper cutter to cut out the pumpkin label. I like using the paper cutter to get the sides even and straight, but scissors also work.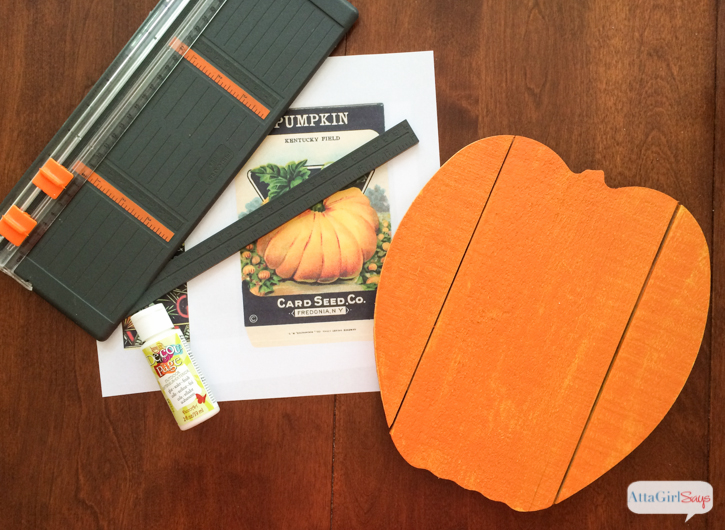 Once I figured out the placement of the vintage graphic on the pumpkin, I coated the back of the paper with a thin layer of outdoor Decou-Page.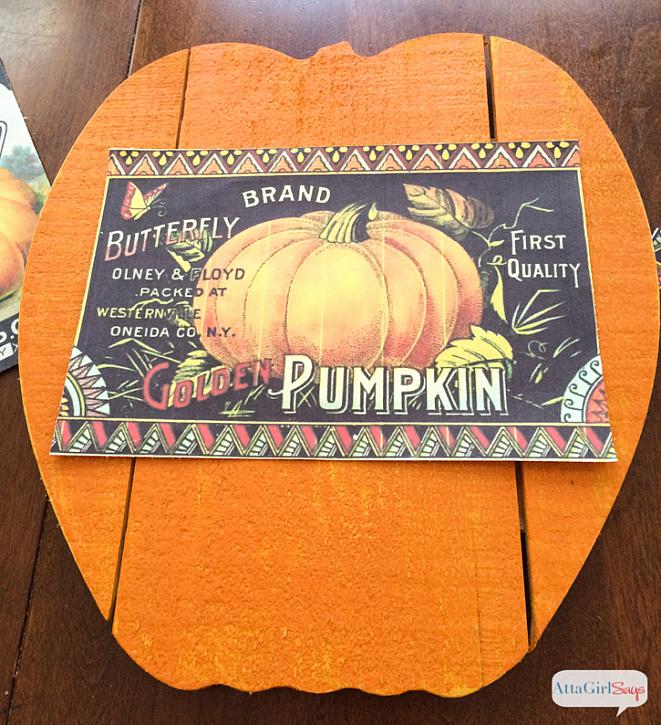 I carefully smoothed out any wrinkles and bubbles and added another thin layer of Decou-Page to the front of the graphic. I added a couple more coats to the label to seal it and allowed it to dry completely before proceeding to the next step.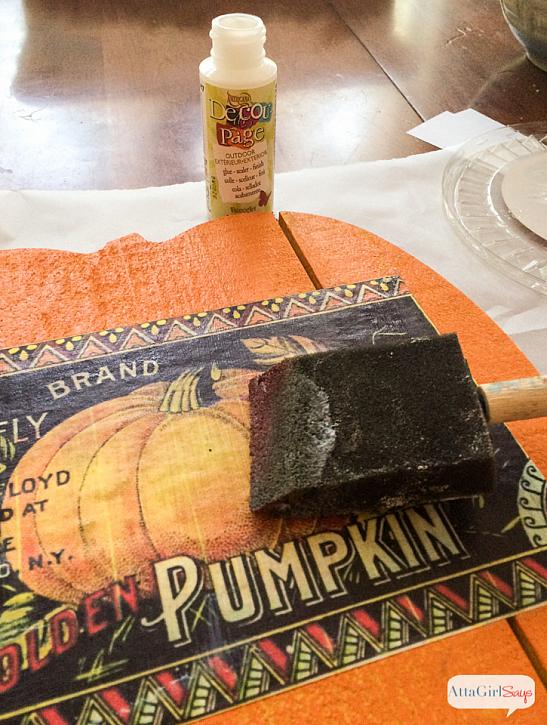 Finally, I added a generous amount of wood glue to the back of the small pumpkin and glued it to the larger one. You may want to use books or another heavy object to weight down the pumpkins while the glue dries.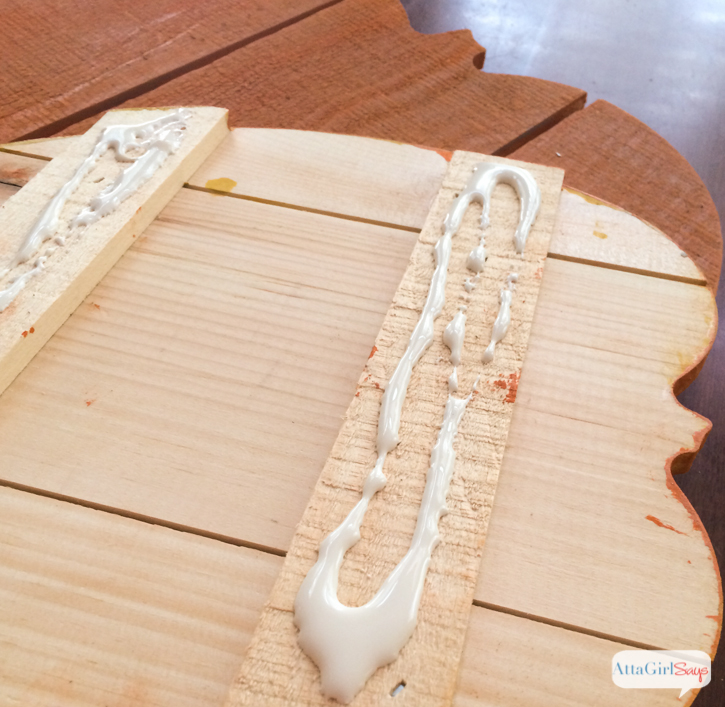 I really like the three-dimensional effect of this pallet sign and the way each pumpkin is a different tone of orange, just like in real life!

I'll be using this pallet sign on my front porch where it won't be exposed to the elements. If you'll be using it in the yard or somewhere where it could get rained on, I do recommend painting the entire surface of both pallets, front and back, with Outdoor Living paint. This will help prevent the wood from getting wet and expanding and contracting from changes in the weather.

Allow Outdoor Living paint to cure for at least seven days before exposing your sign to the elements. The paint will continue to cure and become more durable over time.