Posted by DecoArt on Sep 18th 2018
Halloween has always been a holiday that I've been ambivalent about, mostly because I literally hate anything scary or spooky. Being scared isn't something that I find fun! However, another holiday very close to Halloween, Día de Meurtos, or Day of the Dead, always seemed like a really lovely way to pay homage to the departed. Instead of a somber event, Day of the Dead is a colorful and lively celebration to honor those who have gone on. Real sugar skulls are created as an offering to departed family members to be placed on altars. Sugar skulls have gained a lot of popularity over the last few years and have extended beyond just the Mexican celebration into year-round adoration and also into Halloween décor.
Celebrating those you love (both living and deceased) with a loud, colorful and happy celebration seems like my kind of a holiday! So I decided to create my take on some more permanent pastel sugar skulls. This project is fun to do in an afternoon and makes use of DecoArt's awesome Americana Neon Lights paints. If you use plastic skulls like I did, then you'll need a bottle of the Paint Adhesion Medium to help make sure the paint sticks to the plastic!
Items Needed:
Plastic Skulls (you Could Also Use Clay Or Paper Mache Skulls)
Large Flat Paint Brush
Various Small Liner And Spotter Paint Brushes
Instructions: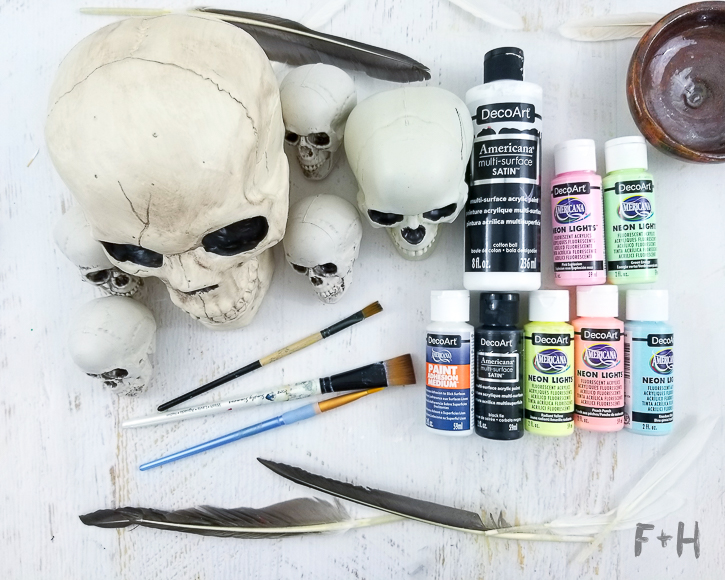 Since these skulls were all plastic and already had some painted effects on them, I decided to apply a primer coat. First I removed all the jaws from the skulls so the pieces were easier to paint. Then I used the Americana Multi-Surface Satin in Cotton Ball mixed with the Paint Adhesion Medium. Once mixed, I applied 2-3 coats of paint to all the various skulls. I skipped the eyes and nose on the larger skull (and could have on some of the smaller ones) since I'll be painting these parts with black anyways.

*Paint Adhesion Medium isn't required when using Americana Multi-Surface Satin Acrylics.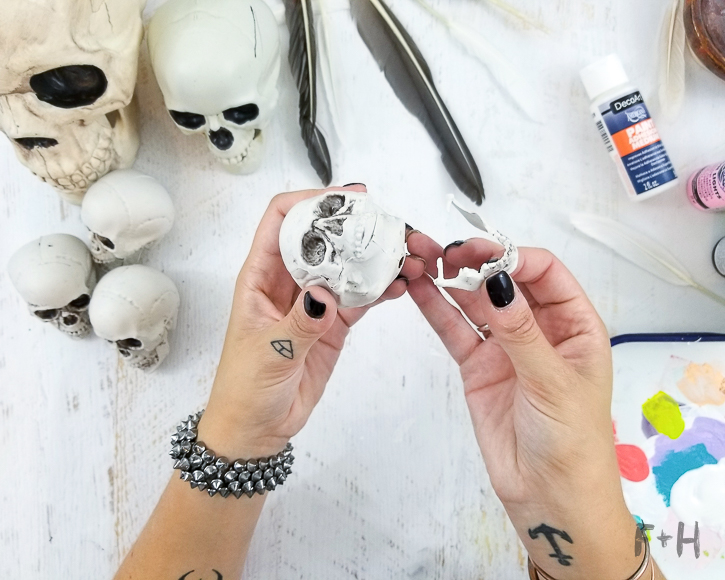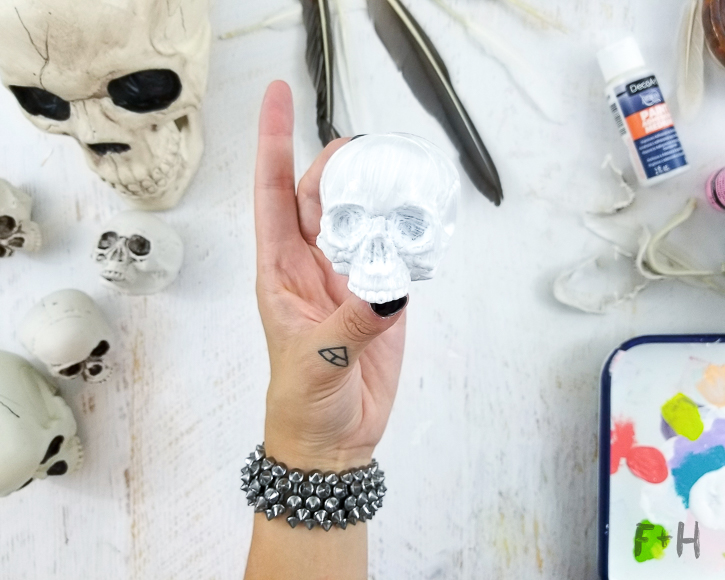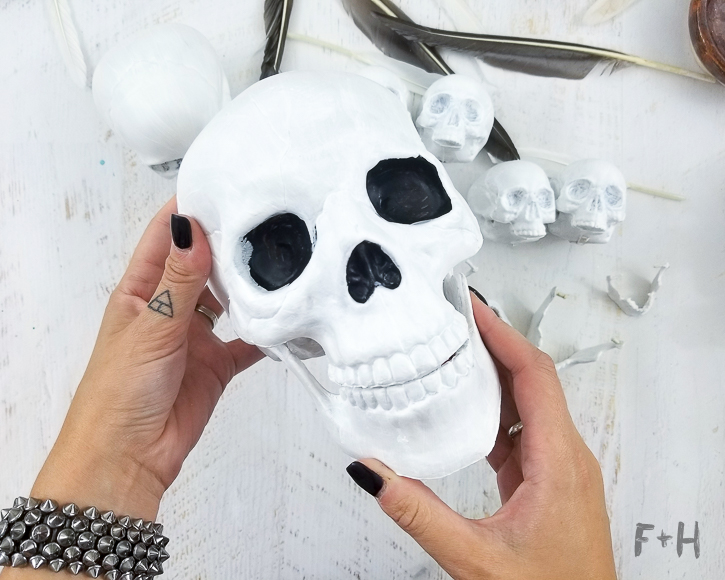 Once I allowed these coats of white paint to fully cure, I then went and painted the skulls all different colors using the Neon Lights. I used 2-3 coats of the Neon Lights as well to get a very opaque and even color.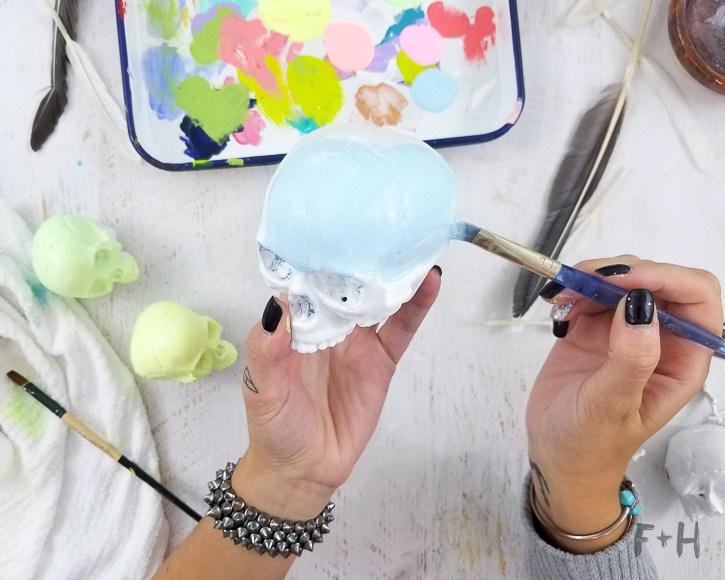 (Also, this large skull just kept reminding me of Red Skull - anyone else??)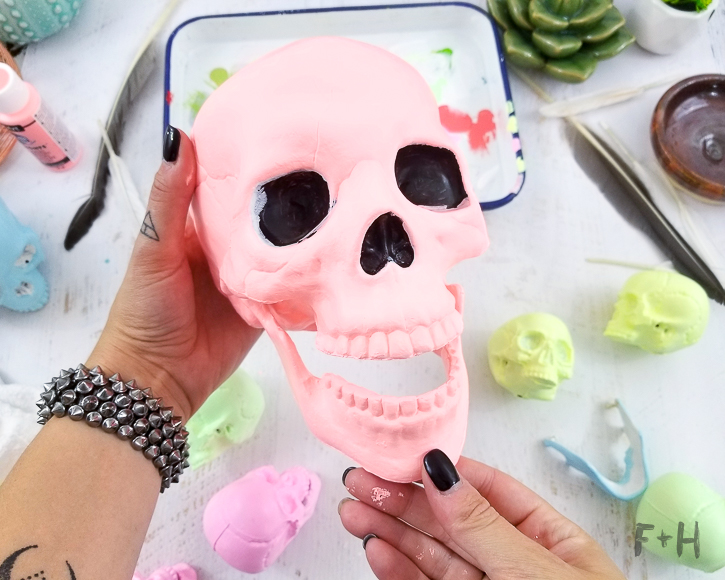 After letting the color cure completely, I then sketched on all my sugar skull designs. I looked online at lots of images to get some inspiration and then used a pencil to draw on my designs. After everything is dry you can erase the pencil, so I definitely recommend sketching out the designs first if you need to!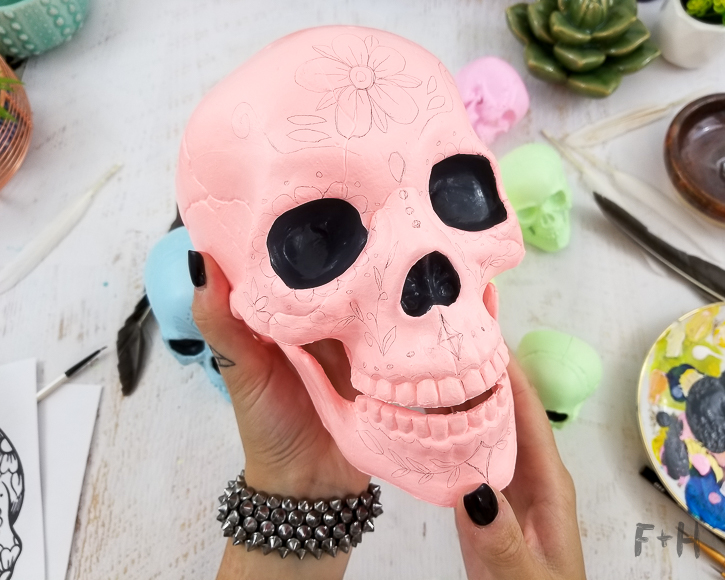 Then I used my various sizes of liner and spotter paint brushes to add in the sugar skull details. Instead of going with just black, which I felt would be too harsh, I mixed the Multi-Surface in Black Tie with a touch of Cotton Ball to get a very dark charcoal grey. Some of the designs I went over twice to ensure the paint was very opaque. I also chose not to do the entire skull as my hand was starting to cramp! Maybe I'll go back to finish them all over. I didn't get many action shots because I had to hold the skulls in all kinds of crazy positions to paint them. So if you find yourself doing the same, you're totally normal!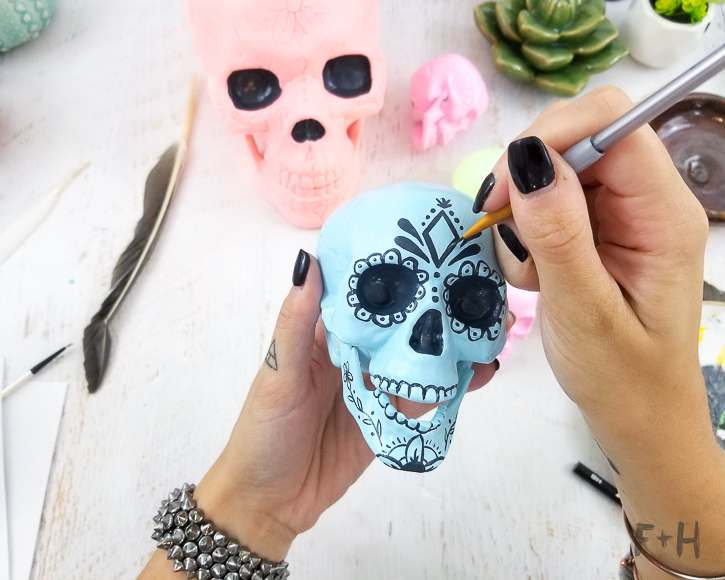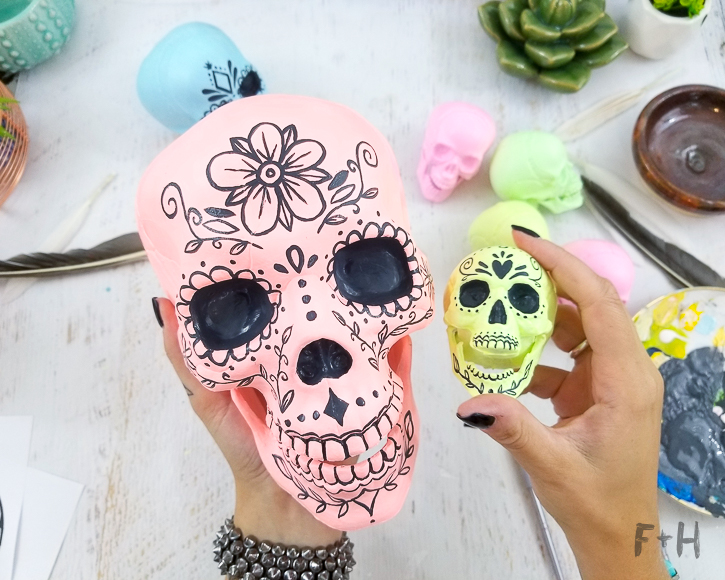 And that is that! They're done! I love how these turned out and love how colorful they are. If Halloween started being less spooky and more colorful like my sugar skulls, I think I could get on board!