Posted by DecoArt on Sep 25th 2018
Halloween has always been one of my favorite seasons. And, activities like competitive pumpkin decorating, costume contests and more are a fun way to celebrate the season. I thought it would be fun to try something different and mix pastel colors into our Halloween decor this year.
Maybe you have a fall carnival at your school or church… or maybe you are hosting a Halloween party with awards for pumpkin carving and costumes and you need a few inexpensive prizes for your event? This easy DIY project is the perfect way to celebrate your winners with adorable (and GLOWING) pastel pumpkin contest prizes! 
Items Needed:
Foam Or Plastic Pumpkins
Scrapbook Pinwheel/fan Stickers
Ribbon
Hot Glue Gun
Paintbrush
Instructions:
I grabbed a few foam pumpkins at the dollar store for this project. It doesn't matter what color you start with, we are going to paint them all with Americana Neon Lights paint, which will fully cover the original color. I love transforming inexpensive pumpkins into craft projects!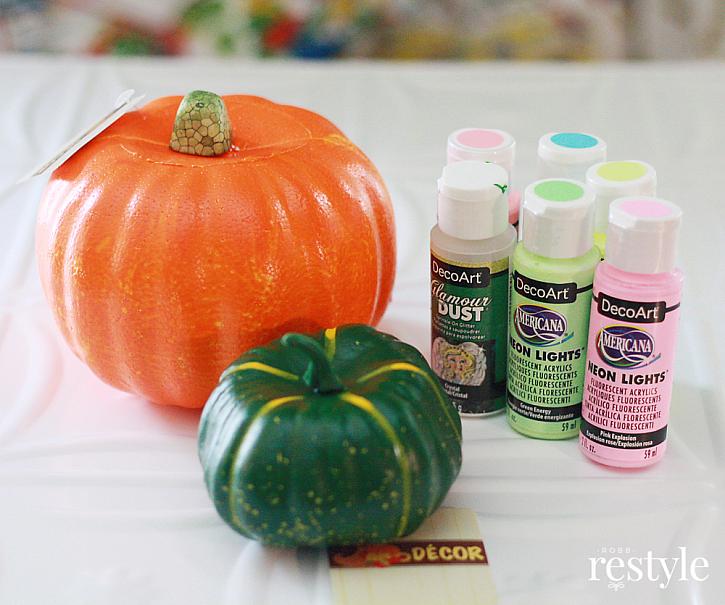 I wanted to create three different prize categories, so I painted my larger pumpkins with Americana Neon Lights in Pink Explosion, Knockout Blue, and Peach Punch. My larger pumpkins were made of styrofoam, so I added three coats of paint to make them super smooth on the outside.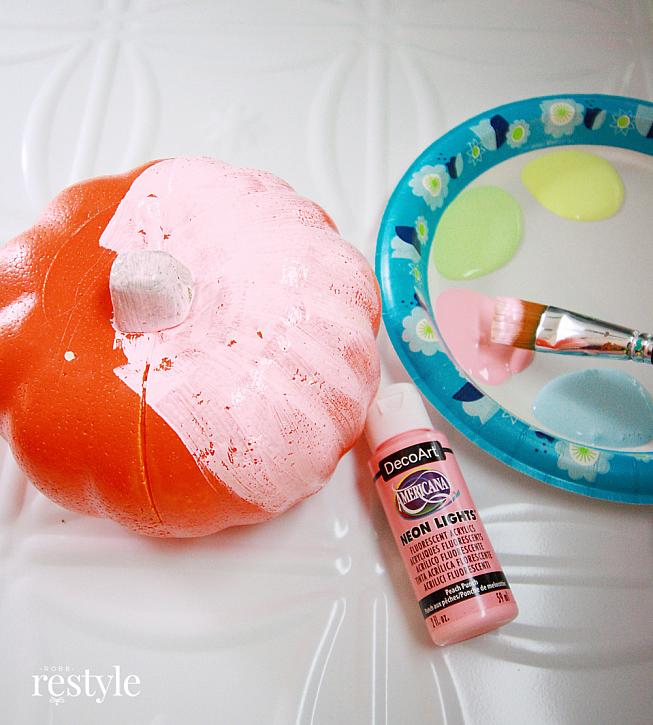 Then I used Americana Neon Lights Green Energy to paint the stems with a pop of green.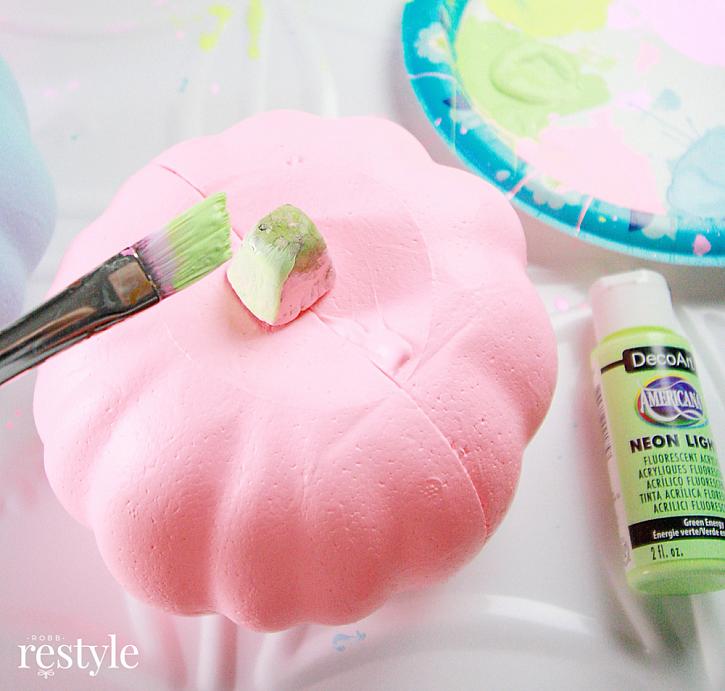 Before my last coat of color fully dried, I sprinkled the top of all of my pumpkins with DecoArt Glamour Dust. I just LOVE this stuff! It's such a delicate and fine glitter that it really adds some glam to your projects. Sprinkle the dust over wet paint and shake off the excess.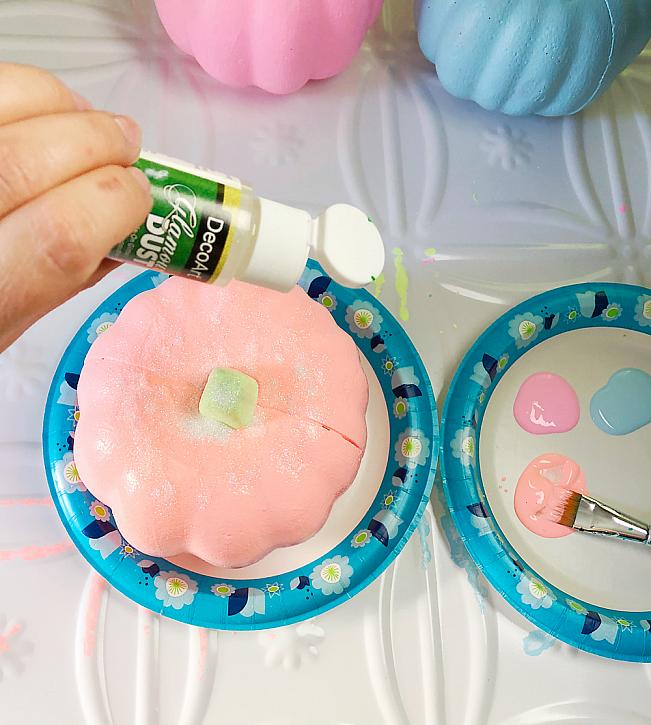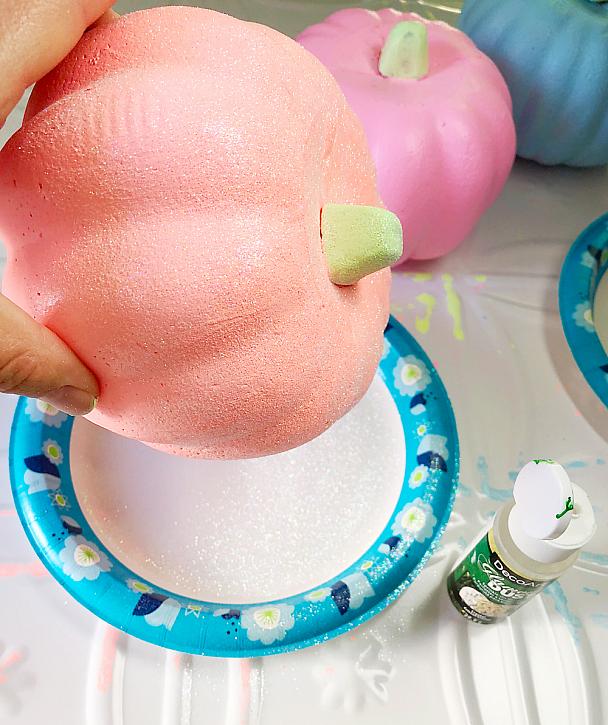 The last thing I added were the prize categories. I found some scrapbook stickers that looked like little paper fans and I glued paper categories that I printed off the computer to the top of the fans. Next, I finished them off with a ribbon that was folded in half and glued to the back. I used a hot glue gun to attach the price ribbons to the pumpkins.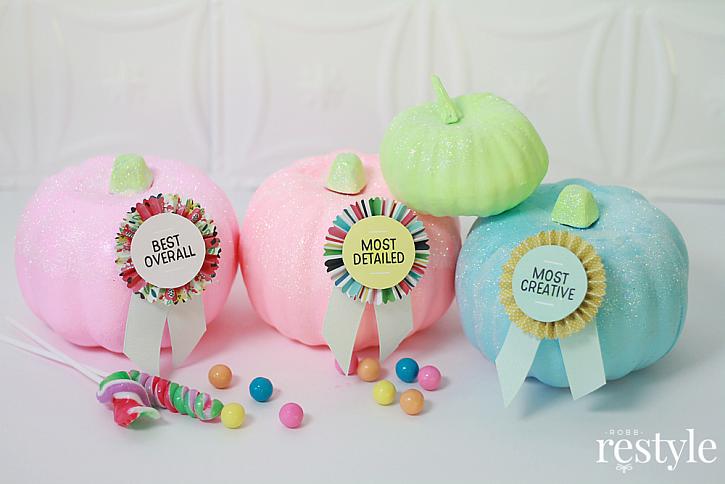 I think something really special happens when you combine neon light paint and glamour dust. All that sparkle really makes the paint seem to glow… and if you have a blacklight at your Halloween event - they actually WILL GLOW! How fun is that??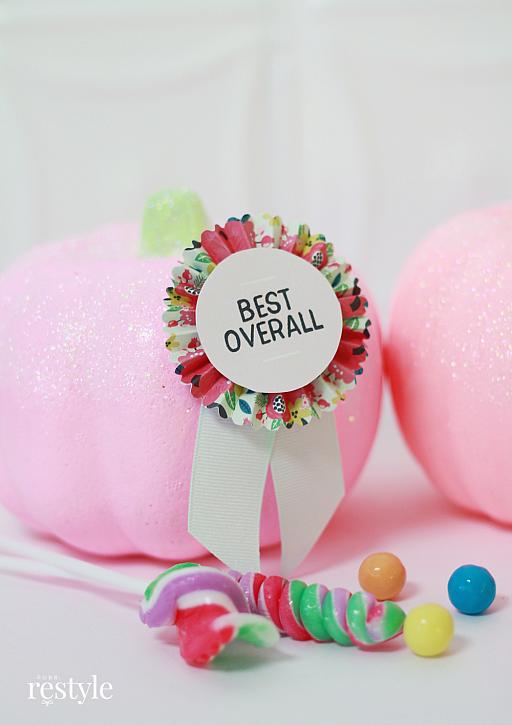 Part of the fun in hosting a creative Halloween contest is using the prizes in your decorations. And these neon bright and sparkly pumpkins will look so adorable on your table!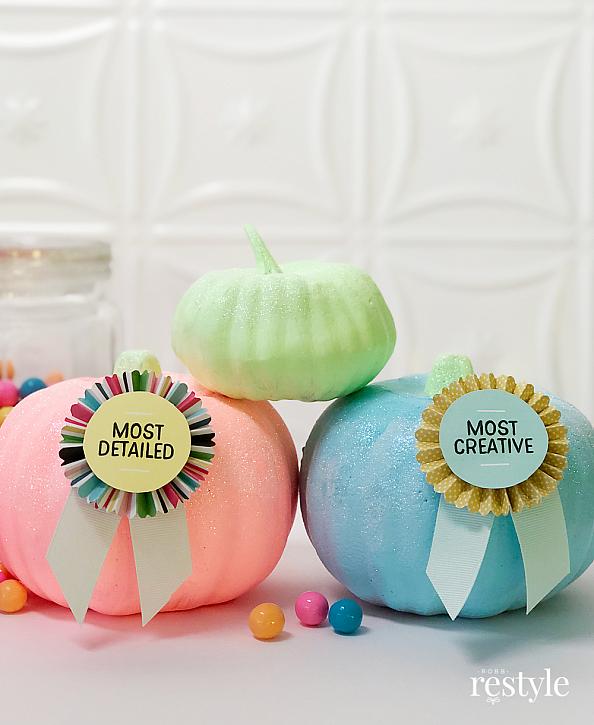 Throw in little candy treats for the kids and adults and you've got the cutest prize station for your Halloween party, fall festival or pumpkin contest.