Posted by DecoArt on Jul 23rd 2019
Each month, we want to introduce you to a person here at DecoArt. You'll learn more about the people behind the magic and even be able to ask them questions. This month, we would like to introduce you to Meredith, DecoArt's Product Development Process Manager. 
Meredith has had many roles in her 7 years at DecoArt assisting and working in various capacities within Product Development. She enjoys her current role since she is able to be hands-on in the creative process of developing new products and expanding existing lines that you know and love like
Americana Acrylics
. In order to be certain our new products are beneficial to the art, craft, and DIY communities, Meredith collaborates with artists and influencers. Moreover, she works with almost every department at DecoArt, from the DecoArt laboratory to production, in order to make new product ideas a reality.
"It's extremely gratifying and brings me tons of pride to see all my hard work finally pay off when our products show up on a shelf at Michaels, Hobby Lobby, JoAnn, AC Moore, etc."
Meredith has the super fun task of picking and naming the new DecoArt colors but says it's a lot harder than you would think since there are only so many ways you can describe a color like green in a line with 257 colors. 
Below are some of the questions our Instagram followers asked Meredith during our "Ask Me Anything" session on
Instagram Stories
. Check them out to learn more about Meredith: 
What's your favorite Americana color?

"Bluegrass Green"
How do you use DecoArt products?

"I enjoy using Americana on canvas and wood panels." 
What is your favorite project you've made personally?
"The double-side wood round below was a gift for a friend and my cat Lana."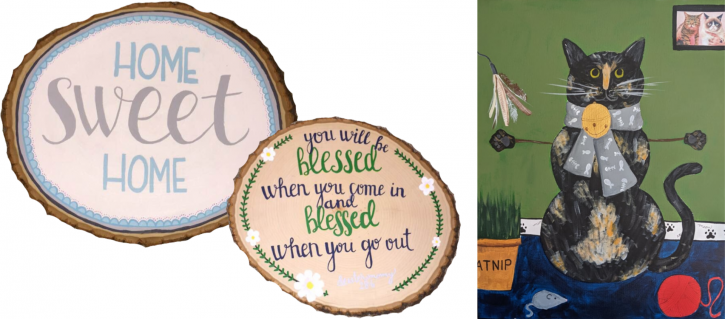 Have you traveled for work?

"Yes, last September I went to Woodstock, New York."
Do you name the paints, too?! If so, what's your favorite color name you've come up with? 

"Americana Mermaid Tail - It's hard to pick just one! But also, any product line that has a theme is fun to name."
What's your favorite product to have worked on?

"Extreme Sheen metallics - They are super bright and fun."
What are you holding in the picture? (shown below)

"Drawdown cards with black and white that we put a layer of paint down to test opacity and to have as a color reference"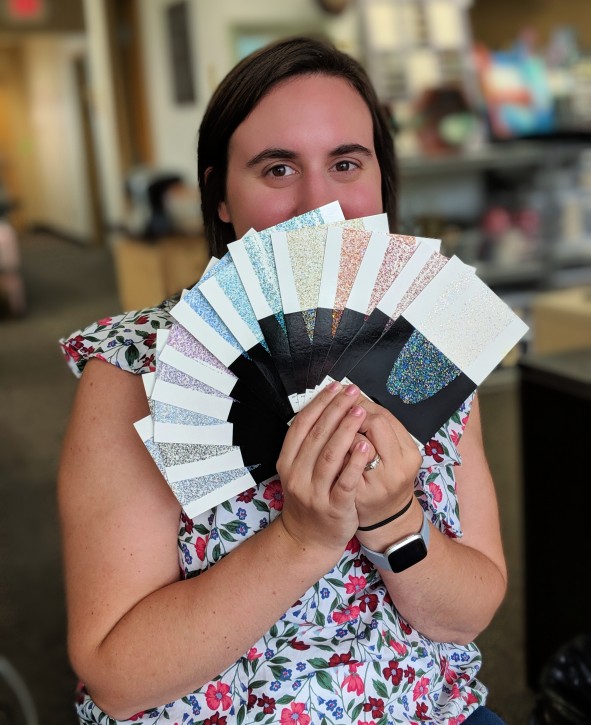 Follow DecoArt on 
Instagram
 to participate in our next "Ask Me Anything" session on Instagram Stories. Leave any questions you have for Meredith in the comment below!