Posted by DecoArt on Feb 27th 2017
Word Art and signs are so popular right now!  You can find them everywhere in stores and people are making them and selling too.  So of course you can totally DIY one to make it fit your home and style.  I am working on setting up and decorating a playroom/girls room in our bonus room and doing lots of fun colors in there.  So I thought it would be fun to make a sign to go in there.
Items Needed:
Wood
1x2 Scrap Wood
Sanding Block
Instructions:
DecoArt has some fun new colors they just released for spring so I grabbed these 5 to create my sign.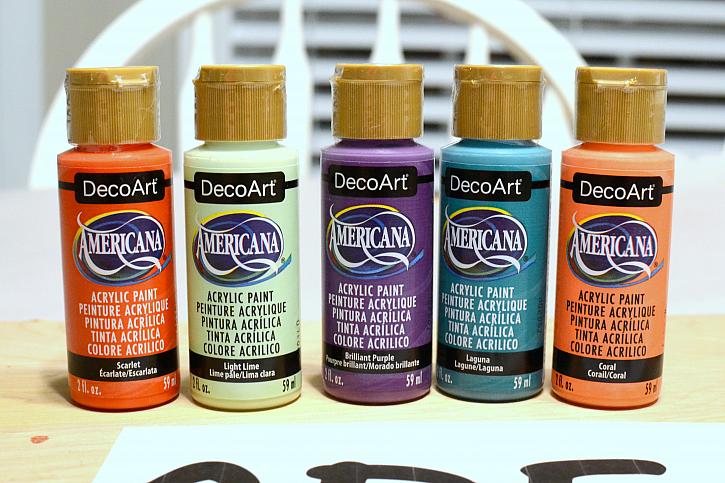 I grabbed a thin project board scrap piece from the garage (it is about 18x22 in size if you are wanting to replicate the dimensions), and printed out some words in a fun font on the computer. Making a sign is so easy using this method – I don't have much artistic abilities but by printing out the words you want in the font you like you can easily replicate it onto a board with paint and I'll show you how.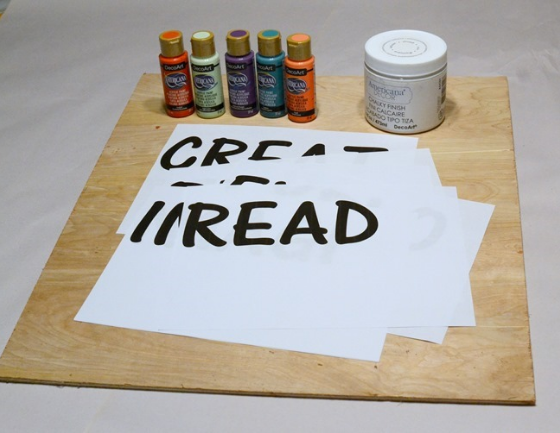 I painted the board with 2 coats of the white Chalky Finish paint and while that was drying I designed my wording in just a basic word processing program. You will need to print the words out in the size you want which means they may stretch to several pieces of paper – so cut those out and get them taped back together how you want them.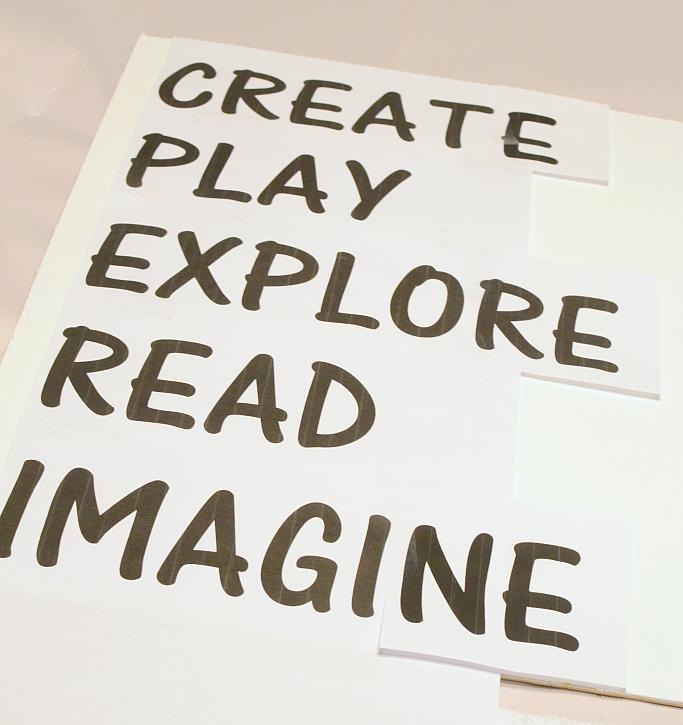 Then grab some of your kids colored sidewalk chalk or any colored chalk and rub it rather thick on the back of the paper. I ended up having to go grab some darker blue chalk because this light green wasn't transferring well – so you want something dark and bright.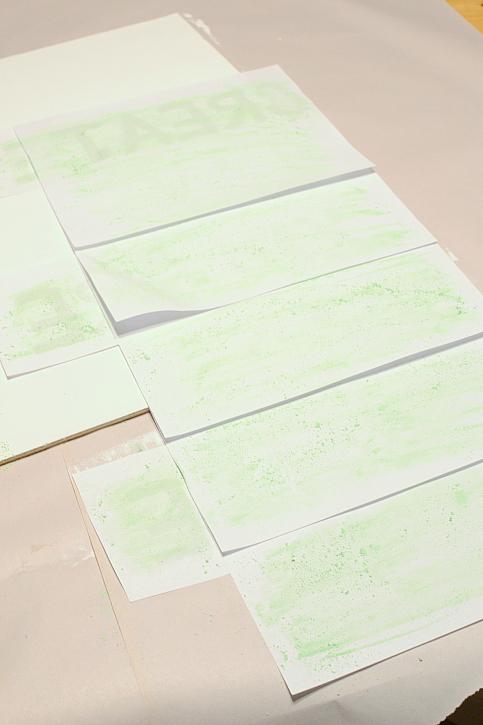 Flip the paper back over and trace with a pencil or a pen pressing down fairly hard on the outside of the letters. This will transfer a chalk line onto the white board which you will be able to use to see to paint your letters. Then paint with a small paint brush! Don't stress about doing this exactly perfect – the beauty of most of these signs is the handmade look that they have. I usually have to do 2 coats of paint on the letters.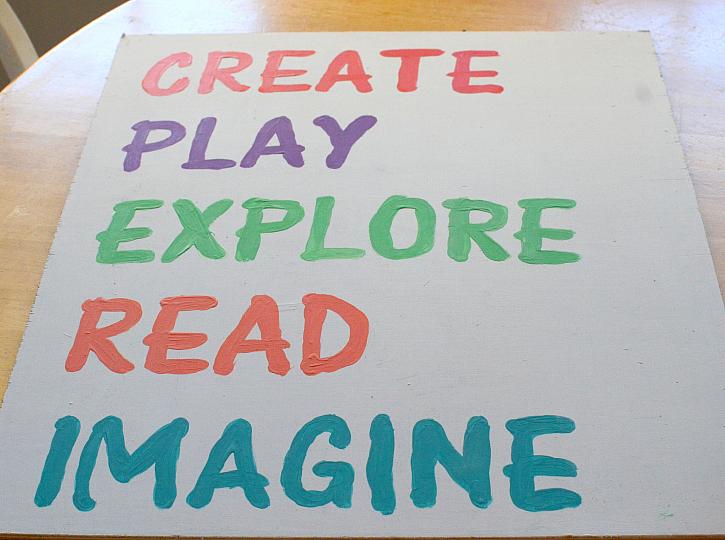 This step is optional but I like to distress mine - lightly or heavily sanding across the letters and on the white paint just to give it a more worn/weathered look. It takes away any unevenness of the paint that I created by using a small brush and gives it a fun look. I also like to frame my boards with some scrap wood – either a 1x2 that I have stained or some pallet wood. I just grabbed some pallet wood, cut it in half longwise to make them thinner and then secured with wood glue around the edge of the sign.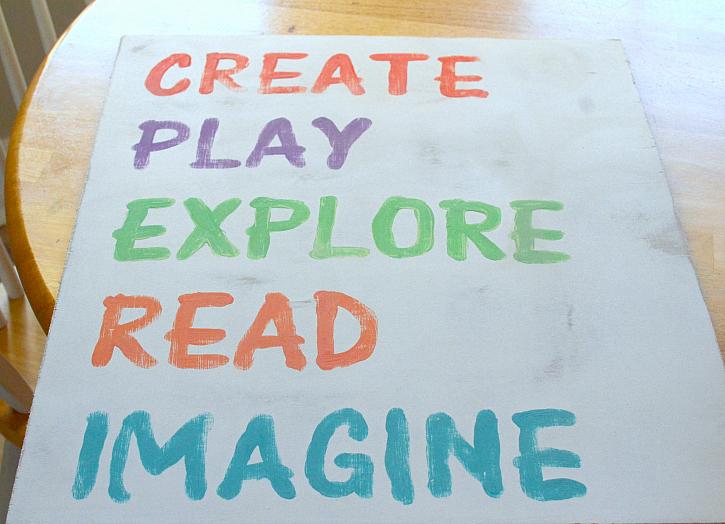 I just love it! It turned out so cute and is perfect for a playroom/kids room!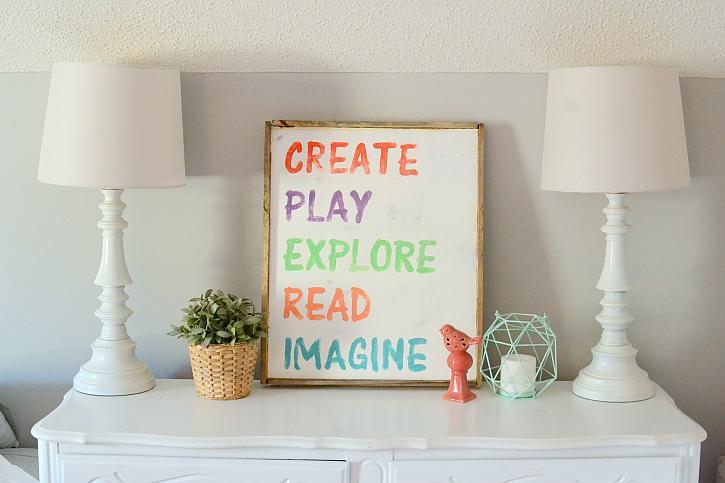 The beauty of this is you can create any kind of word art or sign you want – make it say anything in any color scheme you want using this method!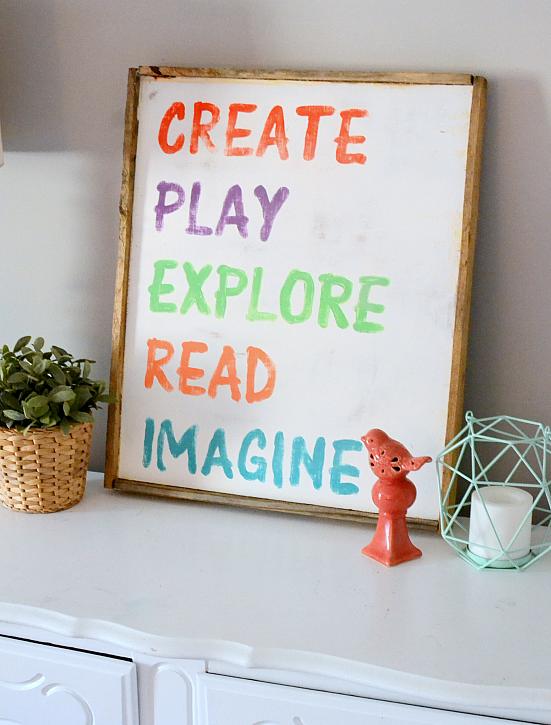 What word art would you create?