Posted by DecoArt on Mar 9th 2017
My colleagues on the DecoArt team produce some beautiful art but I am unfortunately no fine artist! So for this piece I've cheated and used rubber stamps to create a painterly effect! I wanted my background to be soft, so I used my Fluid Acrylics with lots and lots of water to mimic the effect of watercolour paints. You can do this with the Media paints as they are so highly pigmented you still get bags of colour even when you use them as a thin wash. I applied the paint to my background by dabbing it on with pieces of ordinary kitchen sponge – an economical and easy way to create a multi-tonal look. My flower 'stems' are simply drips of paint. See – no painting skills whatsoever required!!!
When stamping with paint, the key thing is not to get too much paint onto the stamp – otherwise you get a blob rather than a stamped impression. I spread my paint very thinly onto a palette and press the stamp into it, much as I would if using an inkpad. I find this method (as opposed to trying to apply the paint onto the stamp) gives me a thin, even coverage of paint. Also, don't aim for perfection when stamping with paint – you won't achieve it! And worst case scenario you can fill any gaps by painting them in with a fine brush.
Items Needed:
Canvas Board
Poppies Stamp
Background/Text Stamps
Jet Black Archival Ink
Leaf Green Archival Ink
Black Posca Pen
White Gel Pen
Sponge
Instructions:
Use very dilute Fluid Acrylics in green and yellow tones and apply to the background with pieces of sponge (I use ordinary kitchen or bathroom sponges). Overlap and blend the colours.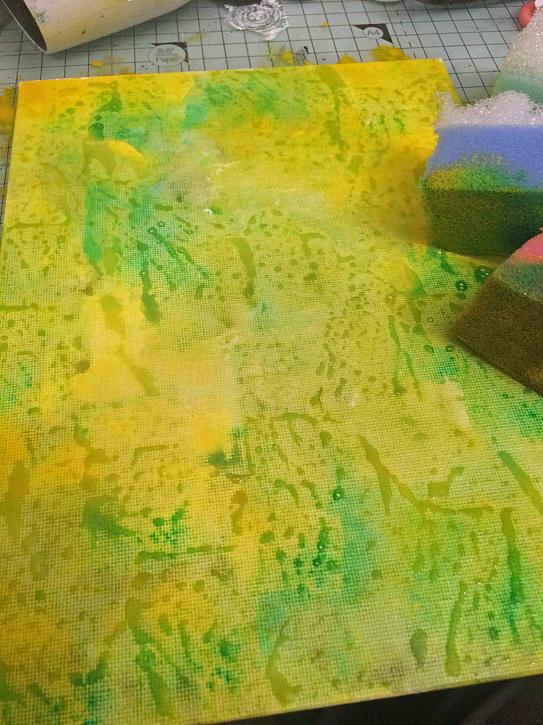 Mix some Pyrrole Red paint with a little tiny bit of Tinting Base to make it opaque and spread it out thinly onto a palette.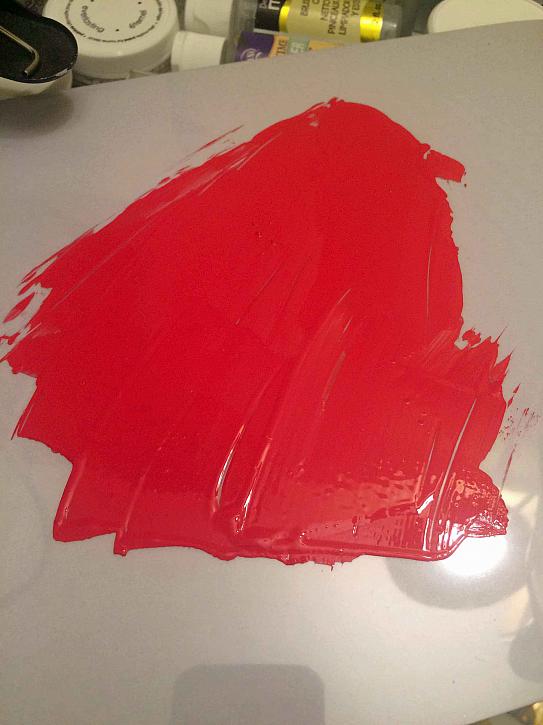 Press the solid poppy stamp (the set has a solid layer and an outline layer for each flower) into the paint and then make an impression onto the canvas.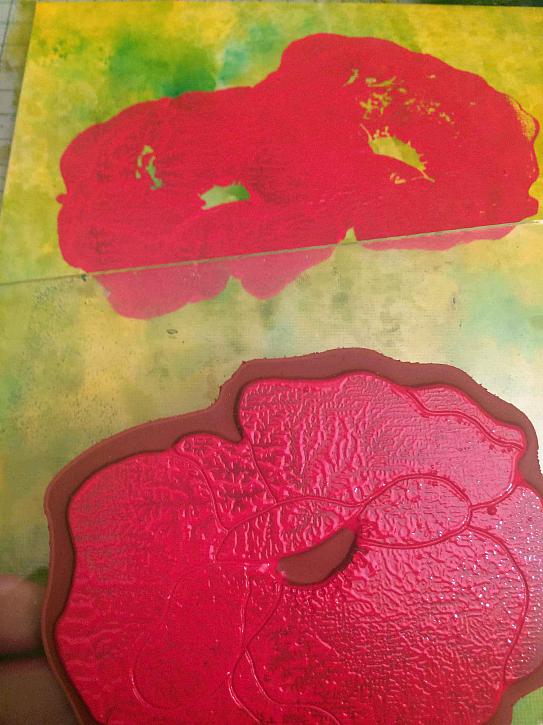 Repeat the stamping to print three flowers.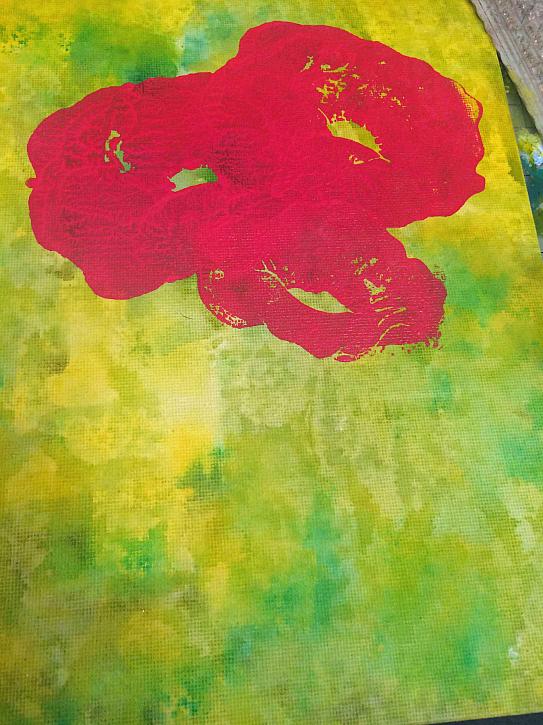 Stamp a script image repeatedly over the canvas in permanent green ink. Water down some Viridian paint and load a round brush well with the paint. Create drip stems by pressing the brush onto the canvas and letting the paint run. Add a little more paint to the top of each stem where it meets the flower head.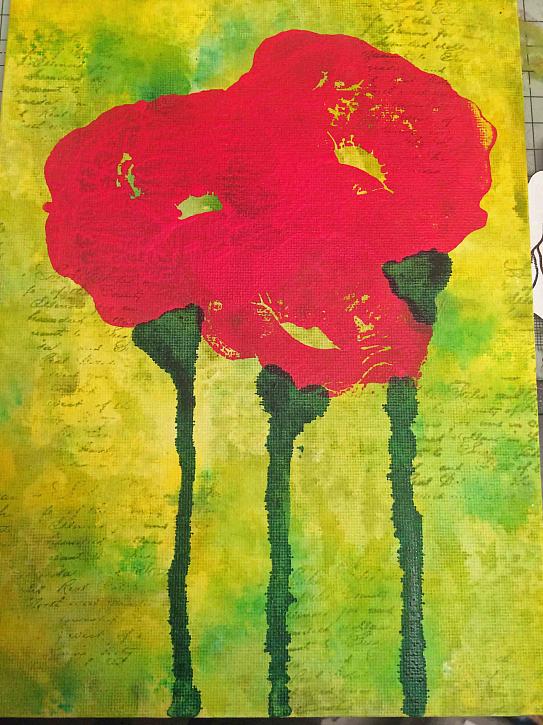 Make masks from the outline poppy stamps from copy paper.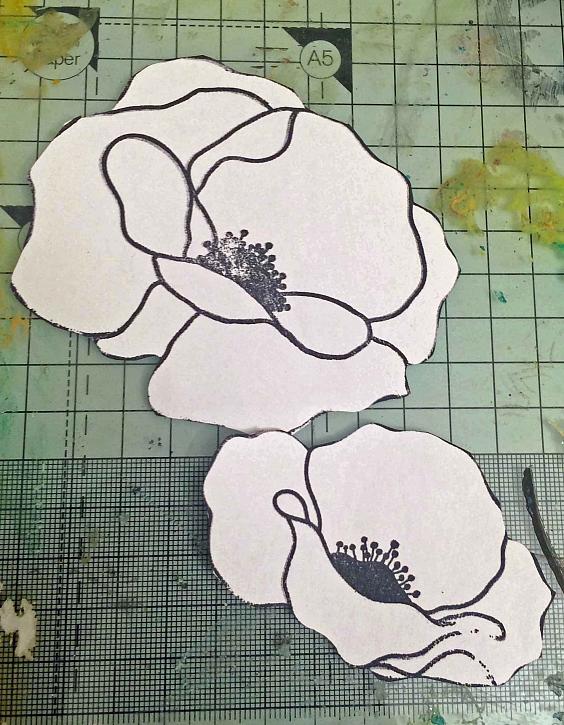 Place the masks and stamp the outline poppies onto the canvas with permanent black ink.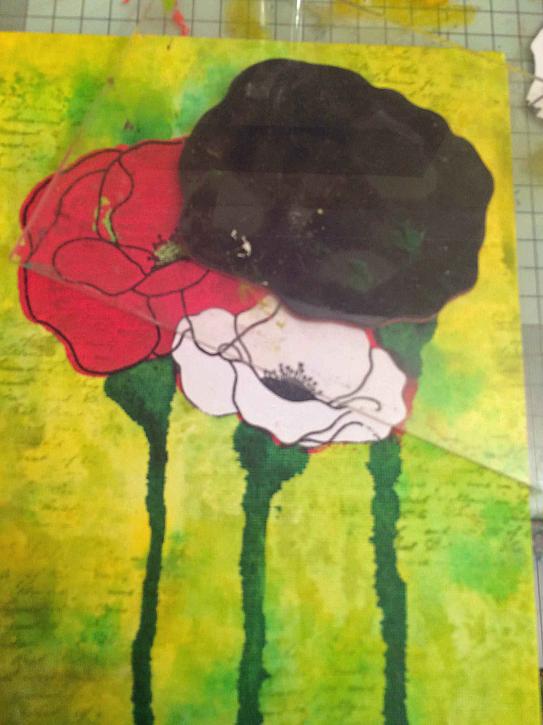 When dry, go over the outline of the stems with a Posca paint pen to give them definition. Fill in the flower centres with black paint if necessary (these solid areas likely won't stamp too well on the textured canvas) and add some dots of white with a gel pen.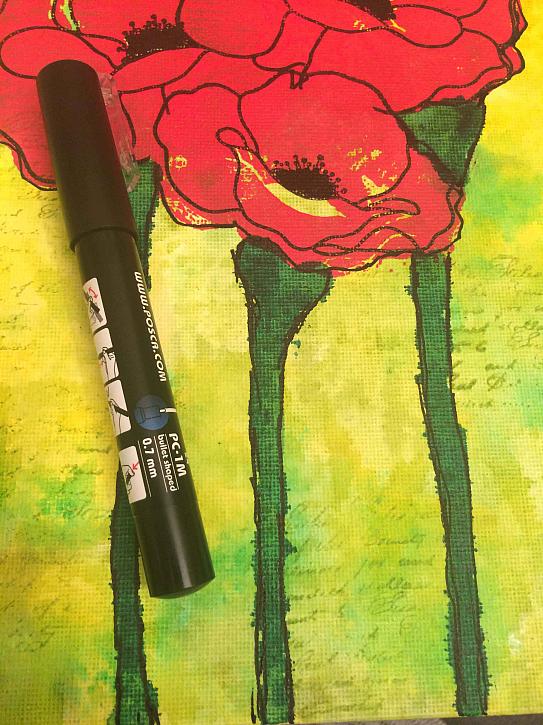 Stencil a word in the same permanent green ink you used for the background stamping using the Creativity stencil.