Posted by DecoArt on Sep 11th 2019
I do not only (as most of you will already know about me) love to collect shells and fossils but my husband, our friends and I are also heavily into playing board games. Most of these come with a lot of tokens (because many of the board games we play are resource management games) and these tokens mostly come in the form of chipboard pieces, the pieces still being in the frames for safer transport, so you have to punch them out before you can use them for play. I like to keep these frames (especially when the openings are square or rectangular shapes) as this chipboard is very sturdy - which makes them the ideal material to create beautiful display trays from. I also found a small animal's bone in the woods this summer (maybe from a fox) that I used with this project. I think bones, fossils and shells go together quite well. You can definitely dare combine these in one beautifully textured and weathered looking tray. If you shy away from using real bones, you could also use a piece of lovely driftwood instead.
Items Needed:
Small Shells, Fossils, Or Other Found Objects
Leftover Game Token Chipboard Frame
Small Long Bone Or Driftwood
Canvas Board (same Size Or Bigger Than Chipboard Frame)
Rusty Wire
Awl
Cutting Pliers
Palette Knife
Assorted Brushes
Old Dictionary
Cutting Knife And Mat
Crafting Clamps Or Clothes Pins
Instructions:
Preparing the project: Browse your found objects, fossils or other tiny treasures you want to combine on the tray and see if they match the chipboard frame openings. Then arrange the chosen objects the way you want them and take a photo for later reference (just in case you – like me – tend to forget the arrangement you have chosen).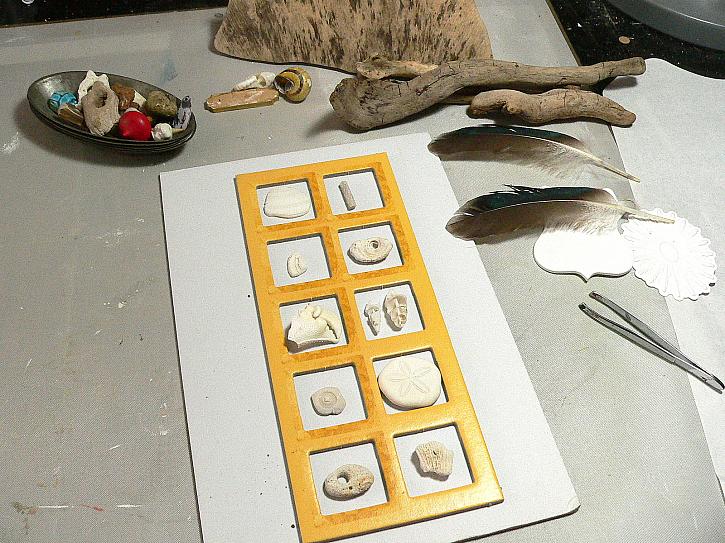 Step One: Place the token frame on top of the canvas board and outline its shape. Then cut the canvas board to size using a precision knife and a cutting mat. Cover the cut to size panel and chipboard frame with media black Gesso using a wide flat brush. Use media fluid acrylic Carbon Black and a small flat brush to also paint the inner and outer edges of the chipboard frame black. As the fluid acrylic is a lot more liquid than the black Gesso it makes painting the thin edges much easier.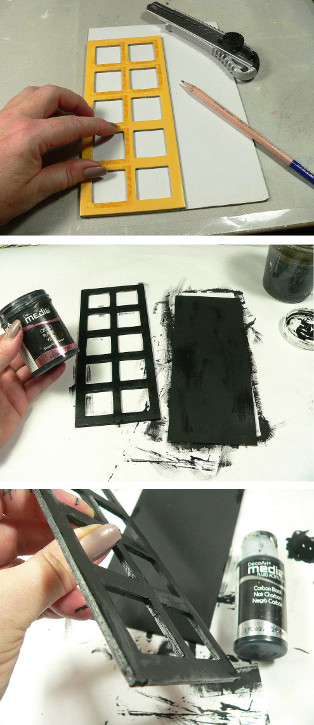 Step Two: Once the black Gesso on the canvas board panel has dried, cover the whole surface with loosely scraped on white media Crackle Paint. Change directions while you spread the Crackle Paint and also leave little spots untreated – this will add to the weathered look and also create different crackle patterns. Set the panel aside to let the Crackle Paint dry naturally.
In the meantime use media Black Modeling Paste, a palette knife and the Americana "Dandelion" stencil to add some texture to the frame. Leave some smalller areas untreated (as these will be covered with Crackle Paint later)! Go for random patterns and let the first layer dry before you go over some areas a second time, this time placing the stencil differently on top of the already added pattern. This will create a lovely random criss-cross pattern – see bottom image. Don't forget to either immediately clean your stencil with clear water or to put it in a container with water, so you can clean it later.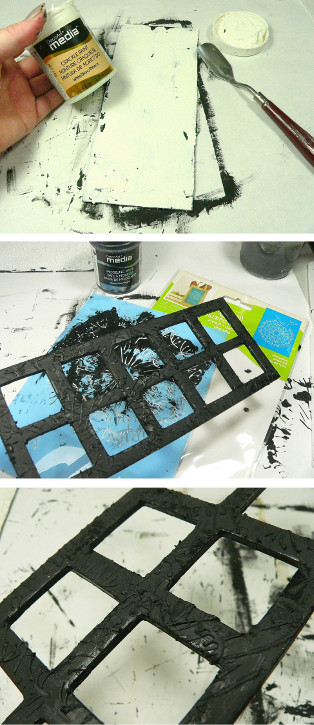 Step Three: Add really thin washes of media fluid acrylics Transparent Yellow Iron Oxide and English Red Oxide to the dried and beautifully crackled base panel. I like to prepare the washes on my palette and use a wide soft flat brush for this.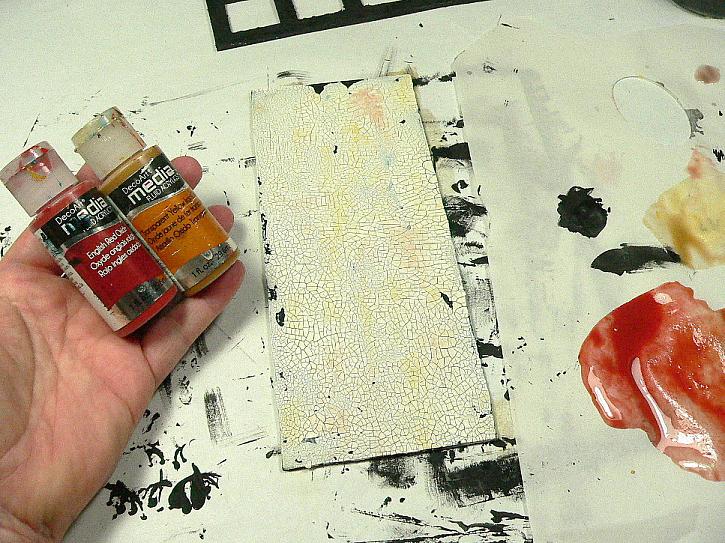 Step Four: Now apply media white Crackle Paint with the very tip of the palette knife to those areas on the chipboard frame that have been left unstencilled and let dry naturally.
You may already have asked yourself why I am starting with a black Gesso layer if later the project will be (almost) all white. I am going from black to white on this piece because the black will still shine through here and there and this adds a totally different effect as if we added some black later on top of clean white in dry brushing technique! As it shines through with the flat areas instead of the edges of raised patterns it gives a subtle worn and aged feel to the finished white frame that adds a lot of depth. And on the canvas board the black Gesso layer underneath the white Crackle Paint beautifully reveals all the cracks – so there is no need to add a wash or some Antiquing Cream afterward in this case to make these more visible.
As the middle and bottom pictures in this step show, I used a mix of Titanium White and Titan Buff premium paints to dry brush the frame with to get it to become shabbily white. I added several layers until I got as close to the white from the Crackle Paint as possible. The final layer was done in pure Titanium White though to highlight some of the raised texture.
Finally, I dry brushed the frame with premium Transparent Yellow Iron Oxide acrylic paint and also added a light wash of media fluid acrylic English Red Oxide here and there so the frame matched the panel underneath.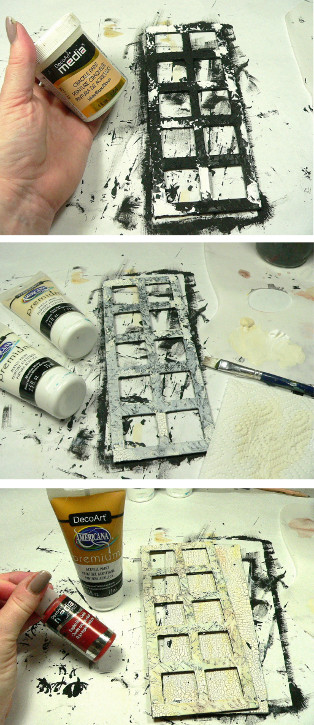 Step Five: Once everything is dry, go in with a very small flat soft brush and media Raw Umber fluid acrylic paint to darken all the openings' and panel's edges. Only do one small area or edge at a time as the paint otherwise dries too fast to drag it with a wet brush away from the edge to create a subtle shading. The pictures in the middle and at the bottom show how I first apply a thin line of Raw Umber paint and then use the water loaded brush to drag the pigment away from the edge to create a kind of smudged effect. It may seem a subtle effect at first, but it makes a huge impact on the project!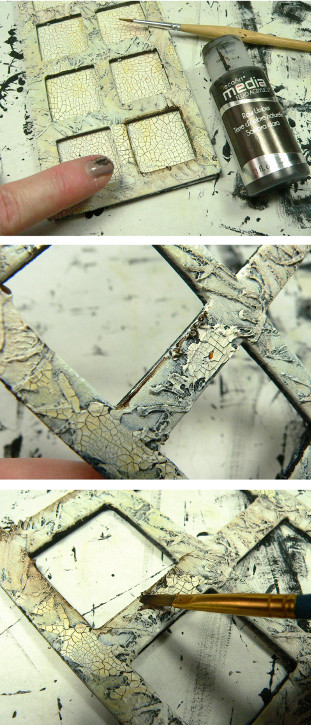 Step Six: To make the bone or driftwood match the colour scheme of the tray also gently dry brush it with Titanium White first and then add some washes of Transparent Yellow Iron Oxide here and there. If you find you have added too much paint, dab it off with a dry cloth while it is still wet.
Browse an old dictionary or book for some matching definition or text, cut it out and glue it onto the bone/driftwood using matte Decou-Page underneath (as glue) and on top (as a sealant).
Step Seven: Use matte Decou-Page to glue the frame onto the back panel and use crafting clamps or clothes pins to apply some pressure and keep everything from moving. Only THEN glue your found objects in place using matte Decou-Page again. It works beautifully for securing even heavier objects in place!
Later go in with a detail brush and media fluid acrylics English Red Oxide and Prussian Blue Hue to add tiny touches of colour here and there. I added tiny dots of English Red Oxide and subtle washes of Prussian Blue Hue were I felt I needed a little something to break the monotony of the shabby white.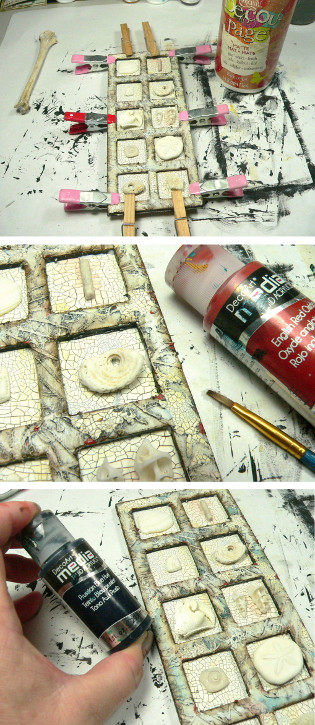 Step Eight: Using an awl I added small holes to the tray's upper and bottom edges to fix a rusty wire loop as a hanging device to the top and the bone to the bottom as an additional focal element that contrasts the rigid rectangle shape of the tray and at the same time repeats the natural shapes of the little objects in the tray's compartments.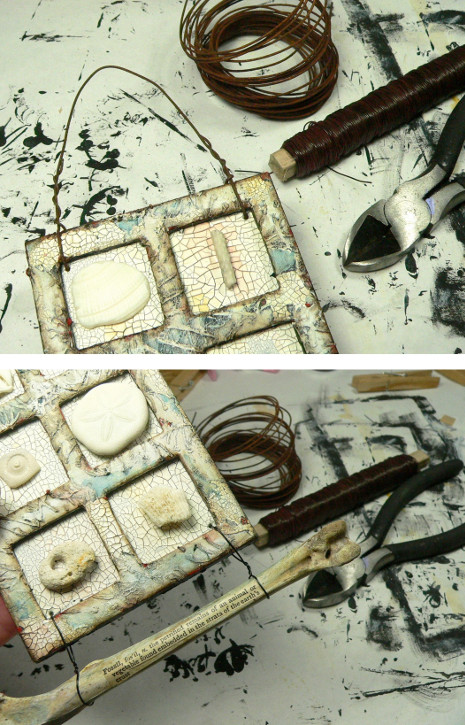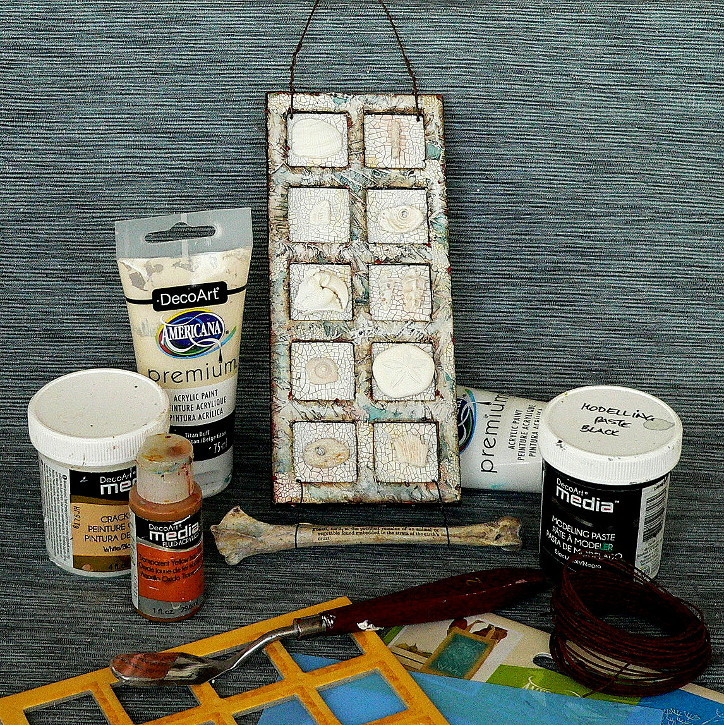 From trash to treasure...who would have guessed just by looking at the finished project? I just love recycling leftovers to turn them into beautiful and inspiring objects and give them a new life and meaning! It's such a rewarding thing to do! Are you a collector of found objects and leftover packaging materials and other precious junk too? So show us your found objects collections on your self made displays!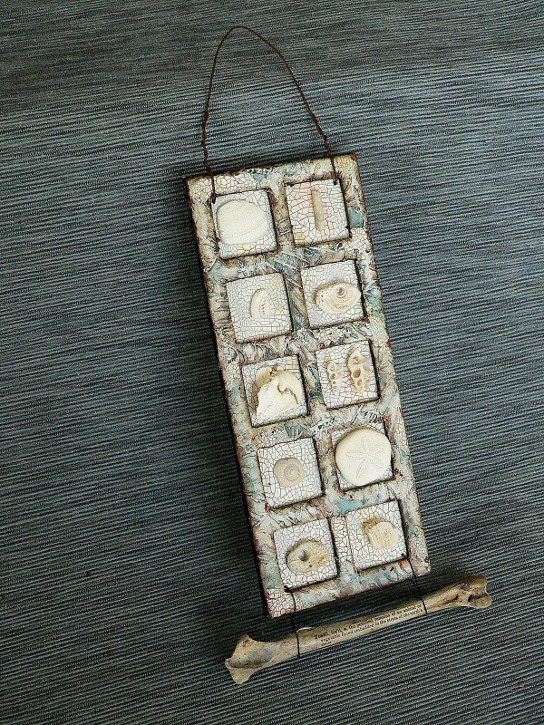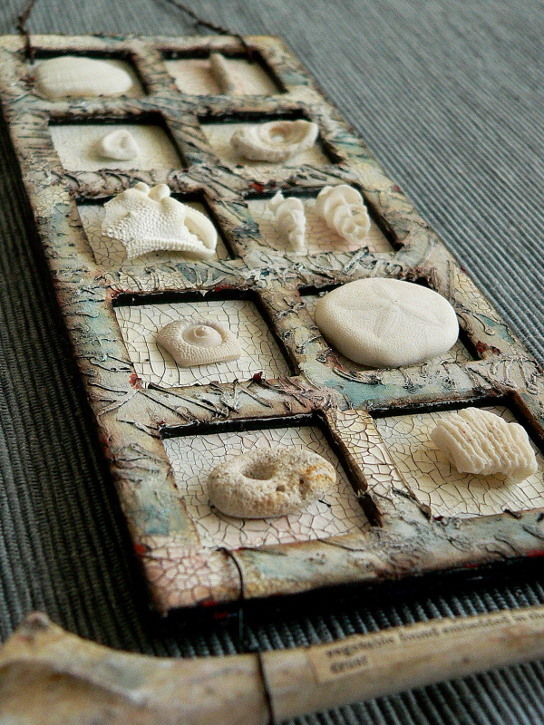 Thanks for stopping by! And as always hugs and happy crafting!
Claudia
xxx