Posted by DecoArt on Dec 9th 2015
I love creating and making and crafting for the holidays is one of my all-time favorite things to do!  Typically I create decor or gifts, but this year I wanted to try my hand at hand-making Christmas Tree Ornaments!  I know, it felt a bit ambitious to me too, but this ended up being quite simple and I really think they turned out so super cute!  So today I am sharing my Rustic Gold Dipped Ornament tutorial with you!
Items Needed:
Painters Tape
2 Foam Brushes
Cardboard Disks
Instructions:
After you gather all your supplies, you will want to remove any tags from your cardboard disks. I found these cardboard disks in the wood cut out and cardboard shape area of Michaels, but I am sure you can find something similar at any craft store! Wood disks would also work! So use what you can find! And if they already have a hanger on them, you are in even better luck!
You will begin by painting the entire disk with a foam brush using the White Birch colored paint. You can use 1-3 coats depending on how rustic and worn you want this to look! Let this paint dry completely before moving on!
Then you will want to tape off a portion of your disk. I decided to tape mine off at an angle to give it a fun, modern feel to it!
After one portion is taped off, you will want to paint the other portion of the disk using a foam brush and the Yellow Gold paint.
Again, you can do 1-3 coats of paint, your preference. But I suggest to use a similar number of coats for both paints to keep the look consistent. Because I wanted a more rustic look I left my paint a bit thinner and wasn't worried about getting a perfectly even coat or look.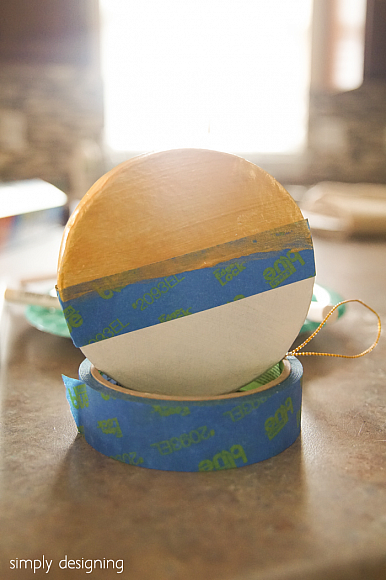 Once the gold paint is dry, remove your painters tape.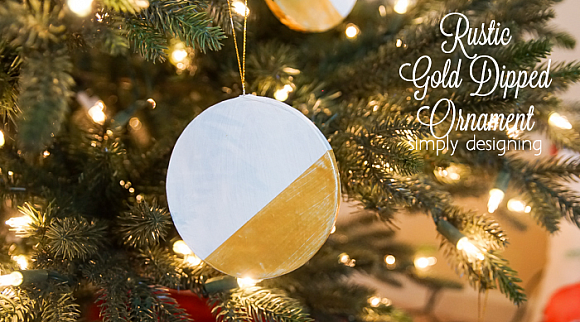 If there are areas where the paint is too thick or you want to make it a bit more rustic, you can always use a piece of fine grit sandpaper to remove a bit of the paint if you like.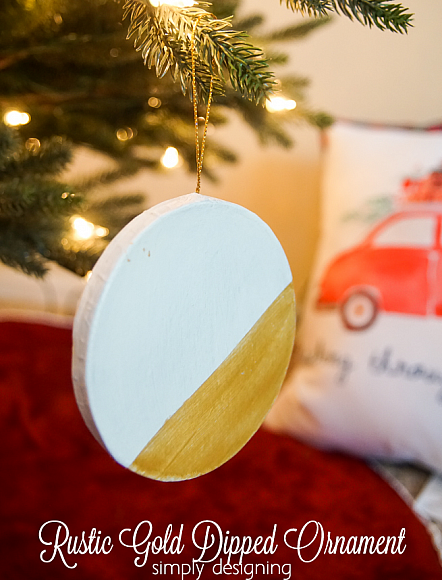 And then you are ready to hang your homemade ornaments on your tree! I love how pretty these are and can't wait to finish decorating my Christmas tree to see the full effect!