Posted by DecoArt on Oct 17th 2016
I love shadow boxes and the 3D effects you can achieve when embellishing them so I thought I would try my hand at designing my own. Using just greyboard and my simple template you can make up a very sturdy box and by giving it a 'false' bottom you can make it as dimensional as you want. When you look at the photos below I could have used a depth of 1.5 cm or 2.5 cm for my project (I actually used the 1.5 cm) and because you are making it yourself you can vary the depth to whatever you want.
I also love mixing my own custom colours from the fluid acrylics and have included a colour mixing grid to show you how I achieved them.
Items Needed:
Assorted Brushes
Cream Cardstock
Patterned Tissue Paper
Sizzix Cameo Frame Die
Resin Plater And Mould
Ornate Border Strip Die
Assorted Embellishments
Instructions:
Cut two pieces of greyboard 18 x 4 cms and cut another two 13 1/2 x 4 cms to make up the sides.
Cut two more pieces 17 1/2 x 1 1/2 cms and another two 13 x 1 1/2 cms to provide the inside 'step' on which to place the base.
Use artist tape or another thin tape to hold the four sides of the box together, add one layer of tape on the top inside of the box as well as the whole of the outside, layering it if necessary.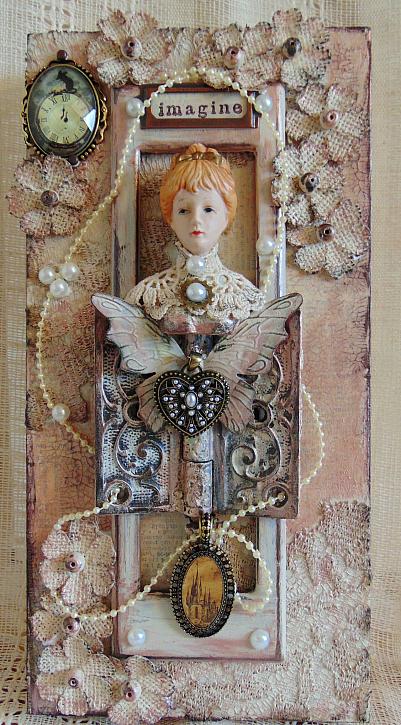 Adhere the four thin strips to the inside of the box on the bottom edge (these will form the ridges underneath for the background to sit on).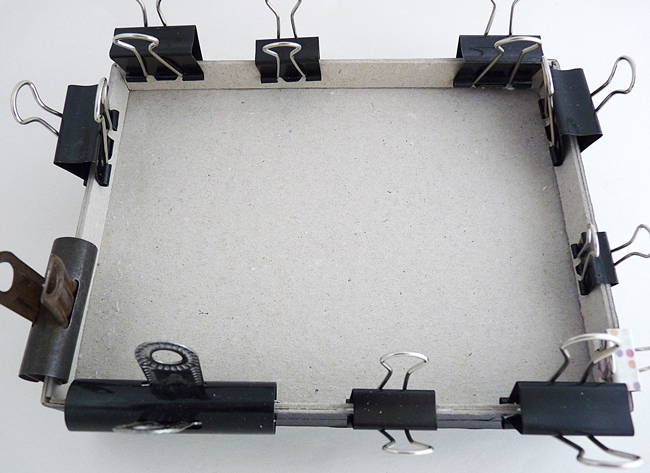 When they are dry, place the base onto the strips to form the background of your box.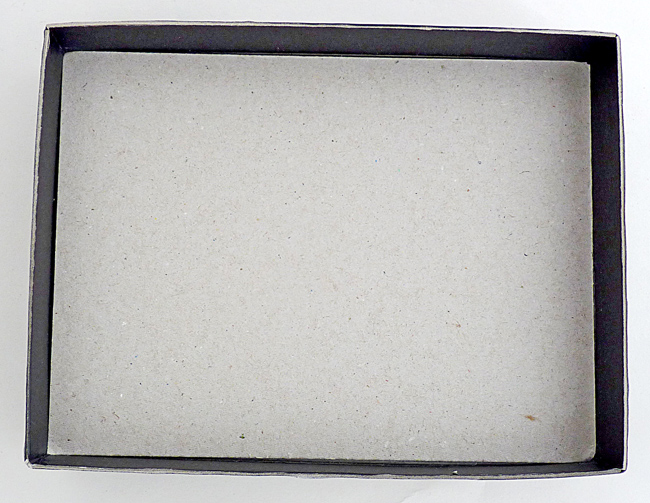 Cover the outside and inner panels with tissue wrap and here you can see the dimensions of the base top and bottom.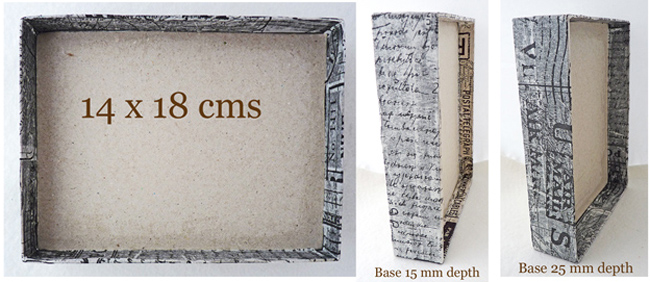 Usually I just have drops of paint on my craft mat and blend colours as I go along but there are times when I want a specific colour palette and I will do myself a colour mixing chart. Pinterest is a great place to find new palettes to use and then I create one of these. The soft weathered blue that just happened on the alabaster technique below was my starting point.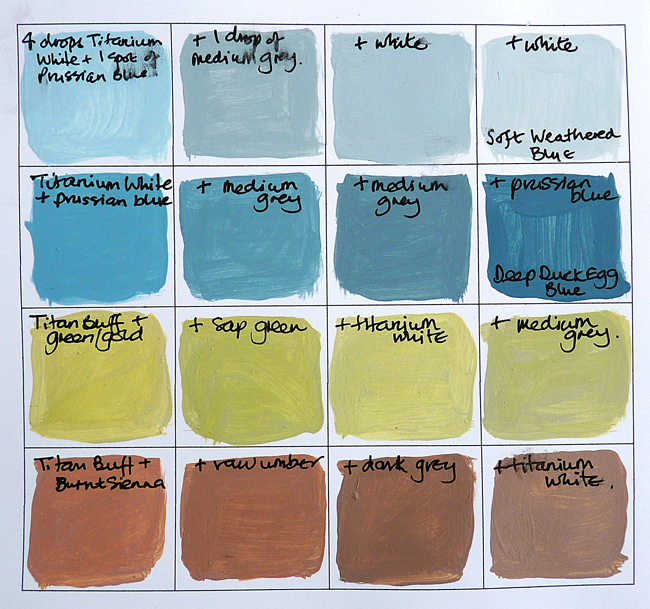 Cut a piece of card to fit the base (the size will differ according to which depth you choose to use).
Cover it with tissue wrap to fit in with the sides of the box and then use modeling paste and stencils to add texture.
Choose your paints, mix the blends of colours one at a time and then spritz, drip and dribble them through the texture drying before you add the next colour.
Lightly brayer some white back over the texture.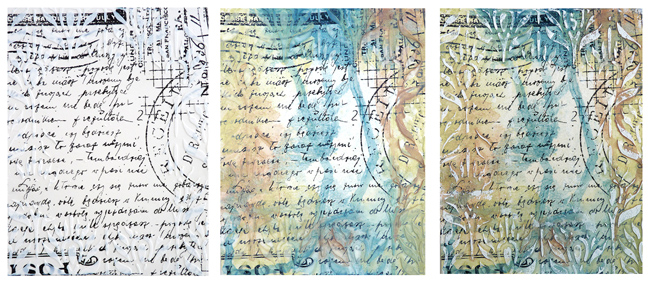 Whilst completing this step and having mixed each of the colours I finger painted some on the outside and inner lip of the box frame.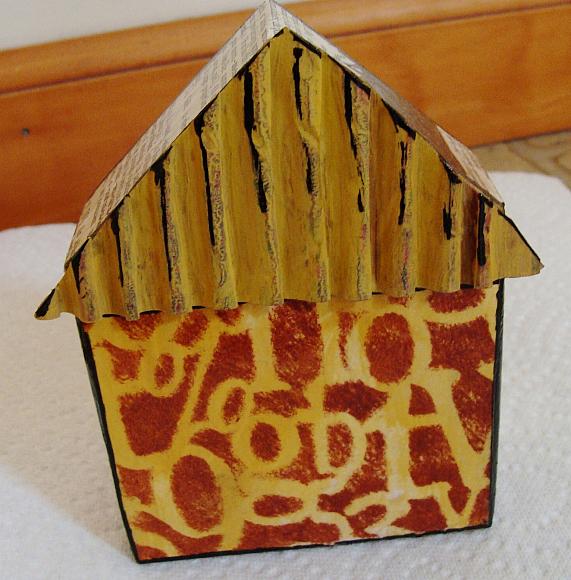 Die-cut the frame from grey board and give it a coat of white gesso painting in all directions to get it as smooth as possible.

Drag some texture sand paste over and dry.

Use a wet sea sponge with Titan Buff and medium grey V6 and sponge on random areas of both colours.
Mix three parts resin plaster with one part water and a little titan buff to colour it, pour on frame and drag over 90% of it pressing in with a palette knife and quickly add the smallest spot of prussian blue hue, a drop of the medium grey and a few drops of titanium white, mix together and also drag that across to create an alabaster background.
When dry, rub off any loose surface material and seal with ultra-matte varnish, which gets soaked up by the plaster very quickly. Repeat with a second coat when the first has dried out.
On a piece of card paint prussian blue and titan buff, dry it and then layer on a watery wash of prussian blue and dry.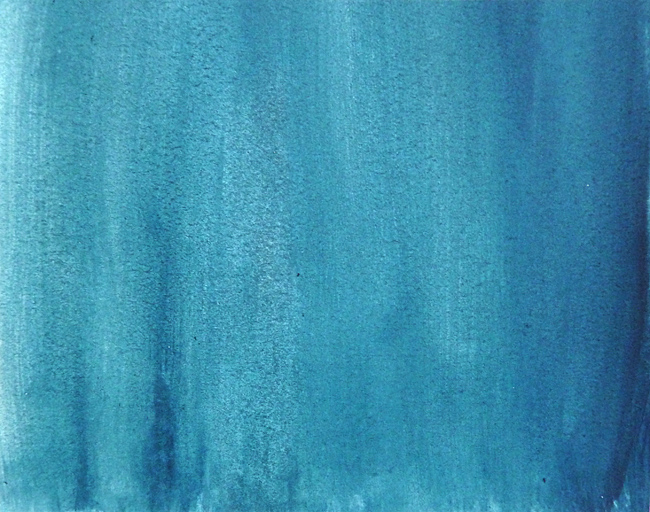 Die cut an ornate border, ink the edges with ground espresso and adhere to the sides with decou-page.

This is a free image from the internet, printed on photo paper and adhered to an mdf circle. I like to sand the edges and blend brown inks around it.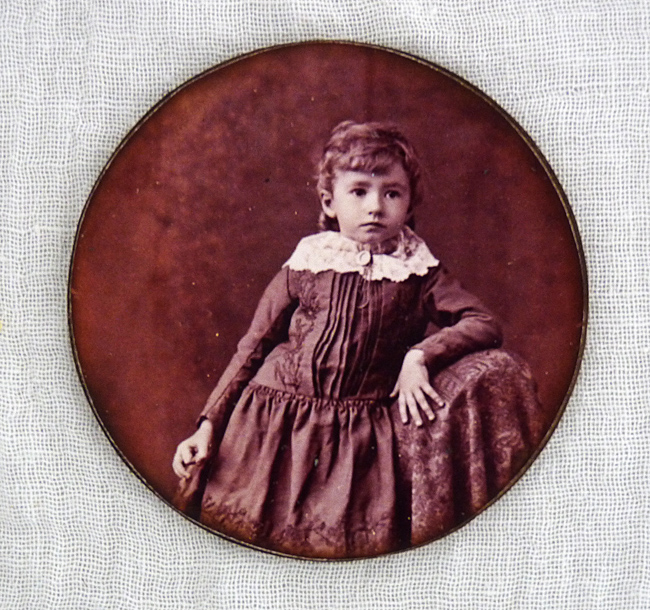 This is a resin cast from a mould, painted with the prussian blue and titan buff mixed together and when dry I spritzed it with water and dripped some titanium white over it. Again when dry I highlighted the raised parts by rubbing on some iced espresso Metallic Lustre.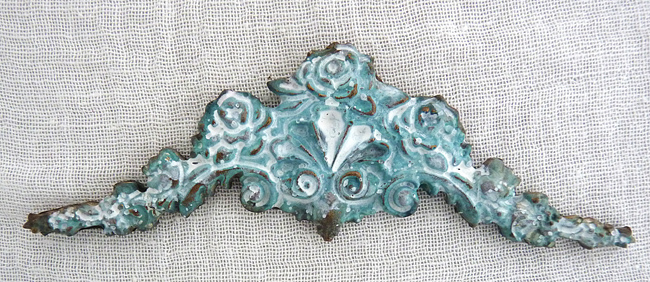 These metal corners and handle were just spritzed with water with some titanium white dripped and dried. Again I highlighted with iced espresso Metallic Lustre.

The metallic book plate and nib were given dabs of titanium white, paynes grey and quinacridone gold in separate layers, drying between each and highlighted with champagne ice Metallic Lustre.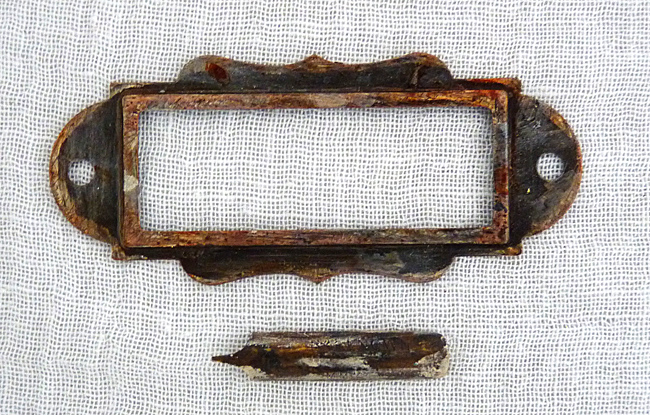 This is a number cut from card that had been embossed. I spritzed it with water, dribbled Paynes Grey and Prussian Blue over it. Once dry I blended titanium white over the raised areas using the back of a piece of cut and dry foam, dried it, then gave it a watery wash of quinacridone gold.

First glue the number onto the metal plate, then adhere it to the bottom of the cameo frame.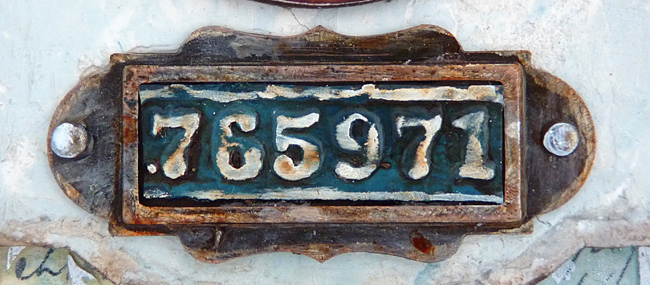 Glue to photo onto the frame and make sure both are dry before the next step. (otherwise they might move a fraction while you are gluing other pieces on - said with experience!).

Attach the mould to the top of the cameo frame.
When these three are all completely dry use foam pads behind the frame and the part of the mould that is sticking over the edge and fix to the back of the box. The foam pads add great dimension.
Use modeling paste behind the nib to attach it to the background.
Glue the corners on and again leave it all to dry.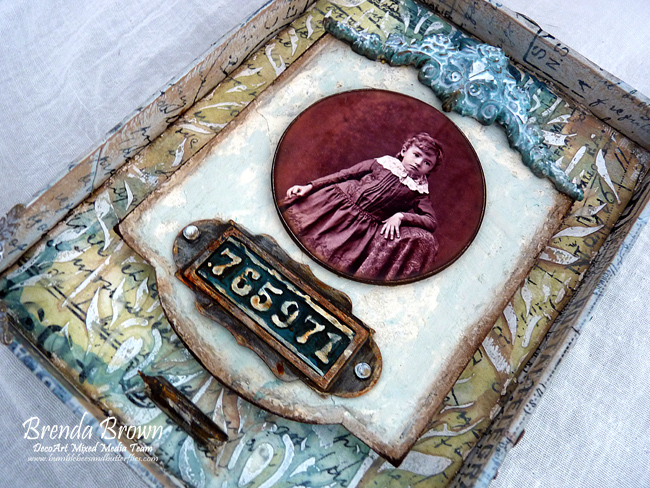 Lastly, you can put the frame upright and glue the handle to the top.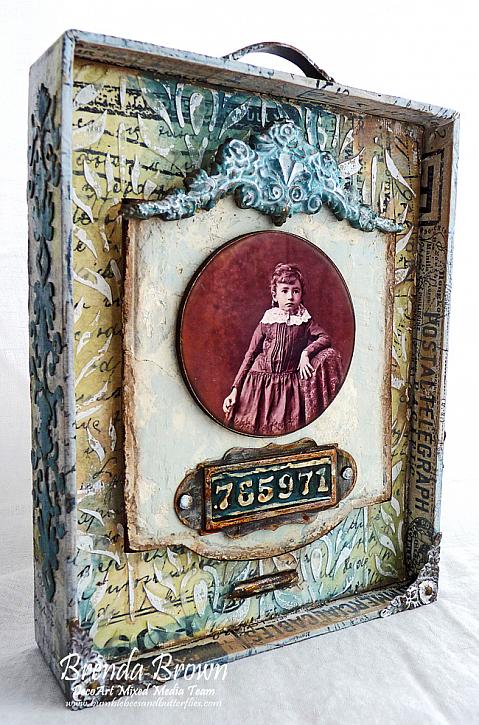 Thanks for joining me today I hope you like the handmade shadow box and shabby vintage style.