Posted by DecoArt on Jun 11th 2017
Everyone wants to stand out on their special day and it's no different when it comes to decor. You want it to be unique and to show off your personality. However, you don't want to spend a ton of money, nor do you want your projects to take too much time. Here are a couple of SIMPLE projects that will help make your wedding or garden party truly stand out. The best part, they won't break the money OR the time bank.
Items Needed:
Garden Marker
Chalk Pencil
Clean Cloth
Greenery Stems
Instructions:
Table Number Centerpiece
When it comes to decorating, I LOVE to stick with nature. I love plants and my favorite place to go for inspiration is my local garden center. I know that may sound funny when it comes time to plan for your wedding but, hear me out here. Flowers are beautiful but, many of us don't have the budget to fill our reception or party space the way we would like. Why not use some of your flower budget to purchase some inexpensive greenery like my favorite Elfin Thyme. Plant your Elfin Thyme in some fun pots, teapots or small vintage items and then use them as not only part of your table centerpiece but, it can double as your table marker as well.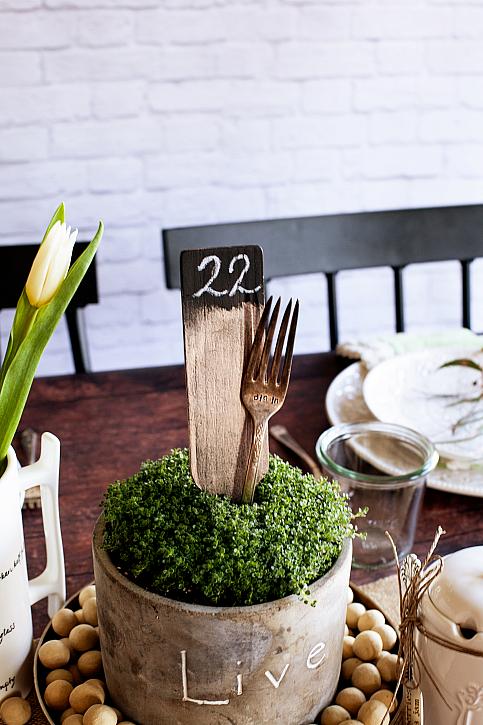 For this center piece, I am using my pot of Elfin Thyme in plate surrounded by some clay beads. I love the way it looks. Here's a little secret for you, I found the clay beads at the garden center as well. They are actually bird bath filler but, they add a fun texture to the table.
Now, for the table number marker, I found some black Garden Herb Markers at my local Target that would work perfect to create our table marker. You can find these markers anywhere and if they aren't black, no worries, just paint them with the DecoArt Chalkboard paint first. For my tablescape, I wanted to add a little bit of Rose Gold to add some metallic flair to the table. I grabbed some DecoArt Metallic Lustre™ to guild the marker a bit.
DecoArt has all kinds of fun ways to add some of that metallic pizzazz to almost anything. Here are just a few of my favorite products:
- DecoArt Metallic Lustre
- DecoArt Extreme Sheen
- DecoArt Americana Decor Metallics
Bonus, they all come in my favorite Rose Gold. To tie the Rose Gold from the table marker into the rest of the table, I again used the Metallic Lustre to add some of the same Rose Gold to some greenery stems that I used to decorate the plates.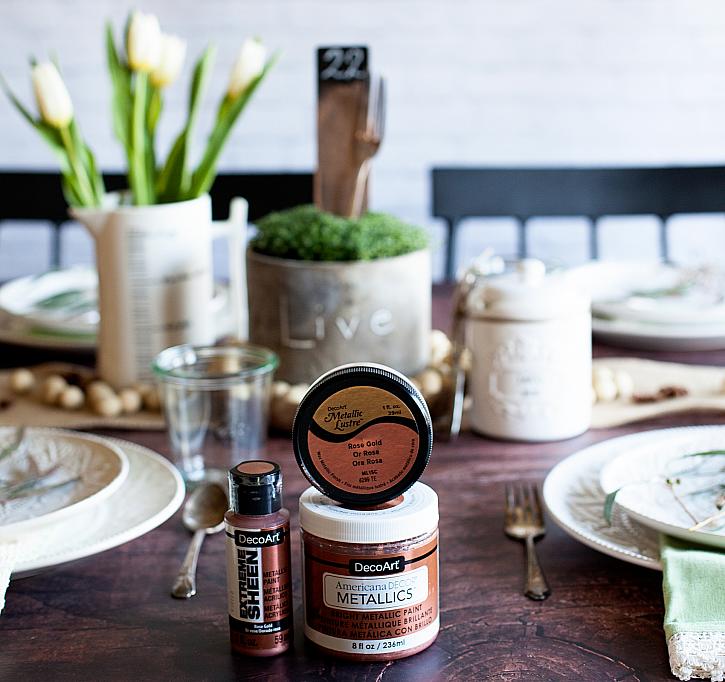 It's simple and elegant. This tablescape brings a little nature into your decor with some metallic flair that makes your decor stand out yet, it's beautifully understated.
Now, I'm sure you're wondering how long this is going to take? No time at all. The DecoArt Metallic Lustre is not paint, it's a finishing wax. Many people use it to add depth and dimension to picture frames or wood furniture but, it's perfect to add that special touch to your wedding or party decor as well.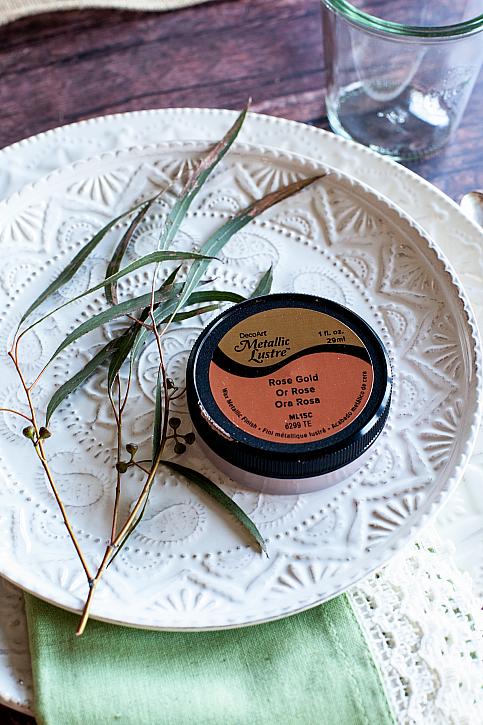 Because it's not paint, it's super easy to apply and it takes no time to dry. It's perfect for an afternoon of wedding or party prep with your friends. Here's a quick little video to show you how I dressed up my wedding tablescape with these two simple projects.