Posted by DecoArt on May 23rd 2018
On my strolls through the Vienna Woods, the city and the famous Vienna Naschmarkt flea market I always stumble across a lot of junk and tiny bits and pieces that I regard as treasures to use on later projects. These can be old books with awesome vintage covers, rusty old clock parts, keys and plaques as well as found objects like feathers or bones from forest animals or worn branches and beautifully textured pieces of bark from old trees. To me they all tell a story – mostly that of beauty in decay – and by using them on assemblage pieces I try to re-tell their stories and also add new ones from a new, additional life after the first.
Items Needed:
Stampendous Quest Texture Cube
Chipboard Pieces (Circle Mesh)
Assorted Brushes
Small Brayer
Palette Sheet
Small Piece Of Foam Board (3x3 Inch)
Canvas (7x9.5 Inch)
Old Book Cover (4x7 Inch)
Old Book Pages
Vintage Postage Stamp
Designer Papers
Used, Emptied And Dried Tea Bags
Rusty Key, Animal Bones And Other Found Objects
Rusty Wire
Cutting Pliers
Poking Tool
Kitchen Roll
Letter And Word Stickers
Rough Fabric Or Linen Ribbon
Dresden Trim
Instructions:
Step One: Gather your supplies. Make sure the book cover is significantly smaller than the canvas, so there's enough space for beautiful background textures on the canvas. This project is also perfect for re-using an old painted on canvas that you do not like, as it will be covered up with collaged on book pages and designer papers.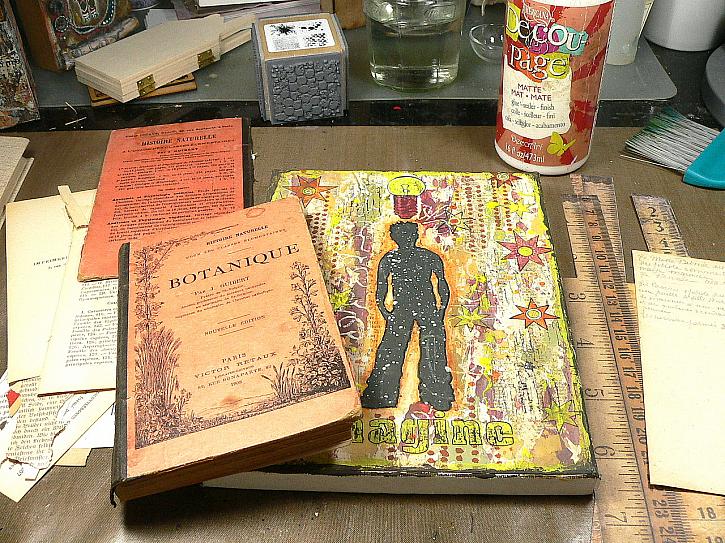 Step Two: Use matte Decou-Page to glue torn old dictionary pages, tea bags, designer papers and other ephemera to the canvas. Don't overthink this step. Simply tear and glue until you have covered up the whole surface. Do NOT seal the glued on papers, but use the Decou-Page to glue down edges where necessary. The mix of sealed and unsealed areas will later beautifully add to the random and distressed look of your project! BUT SEAL THE COVER and put it to the side!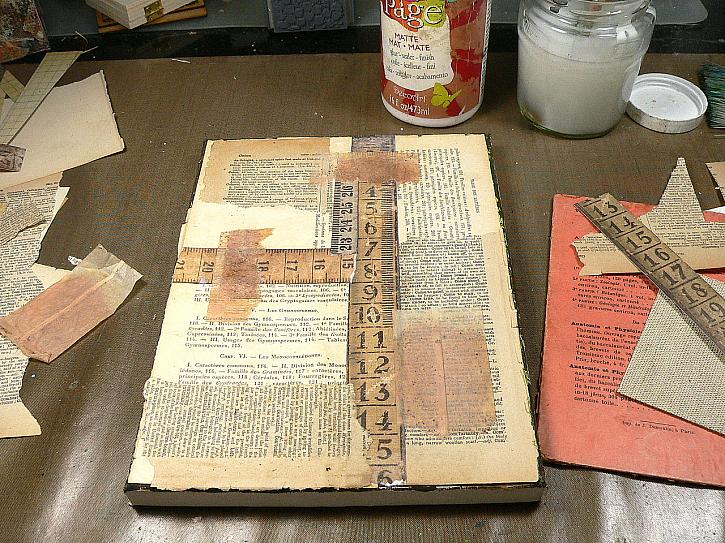 Step Three: Use a small brayer to thinly spread some Carbon Black premium acrylic paint on a palette sheet. Dip the Texture Cube stamp into the paint and randomly stamp around the canvas' edges. Use all sides of the cube stamp to produce a lot of random layers of stamped on texture.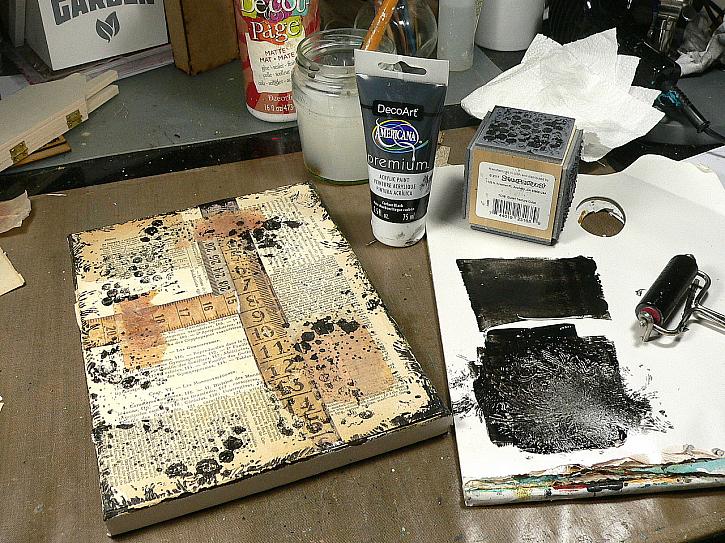 Step Four: If you have a texture tool like a splatter brush or comb, use it to add some scratch like texture here and there. This is also a great way to use up the left overs from the black premium paint on your palette.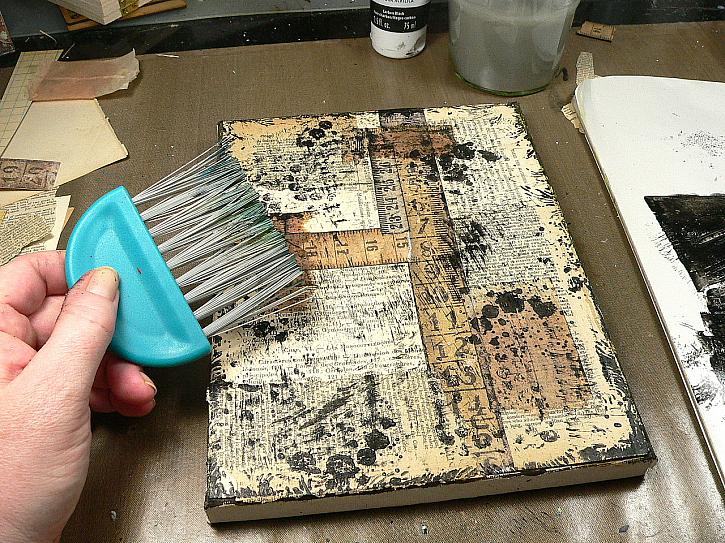 Step Five: Dilute some media English Red Oxide fluid acrylic with water and spread across the dry canvas with a wide flat brush. Dab off with a piece of kitchen roll. Spots where no Decou-Page has been brushed on during Step Two will take on more paint than the sealed spots, which creates a wonderful random look.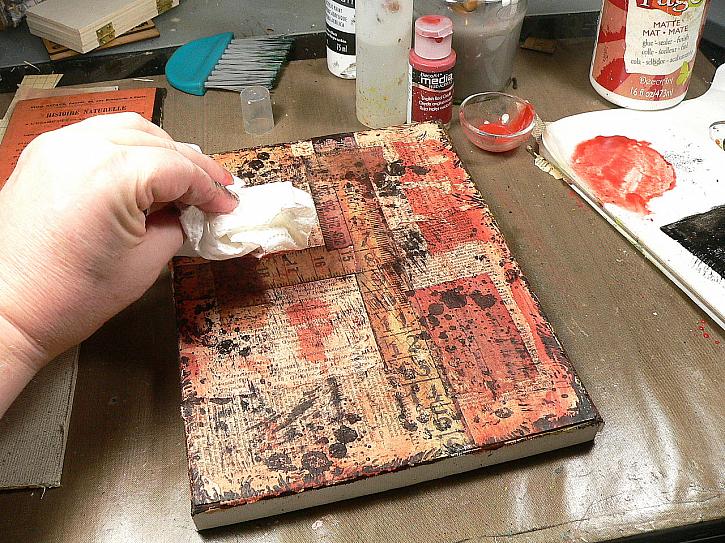 Step Six: Repeat Step Five using Yellow Oxide media fluid acrylic.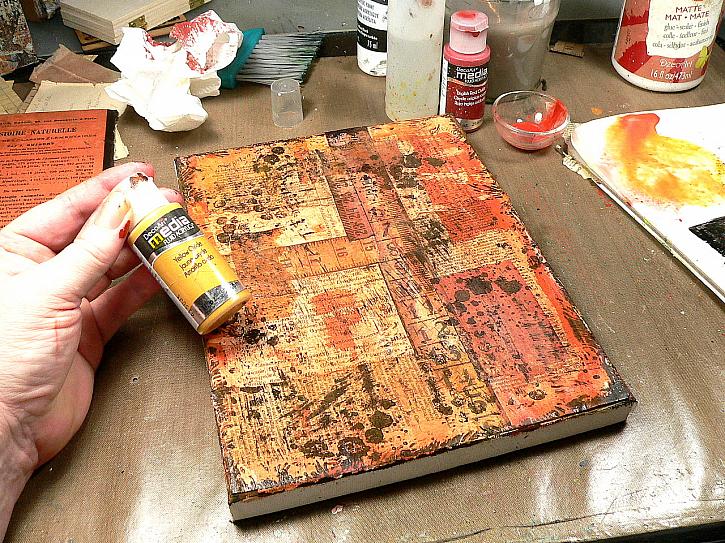 Step Seven: Mix a few drops of the Yellow Oxide with about half a teaspoon of white media Crackle Paint on your palette. Then scrape the mix randomly onto the canvas and book cover using a palette knife. Let air dry.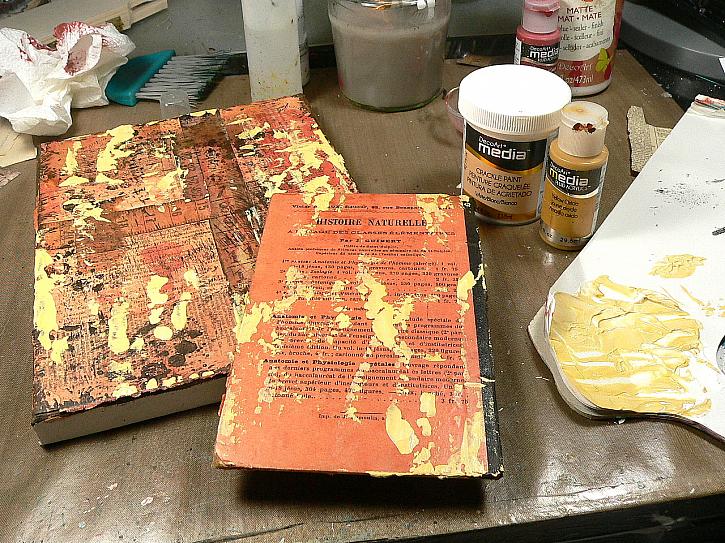 Step Eight: Brush on a mix of Carbon Black and Raw Umber media Antiquing Creams around the edges and let set. Then wipe back with a soft damp cloth until you have created a dark edge that fades towards the center.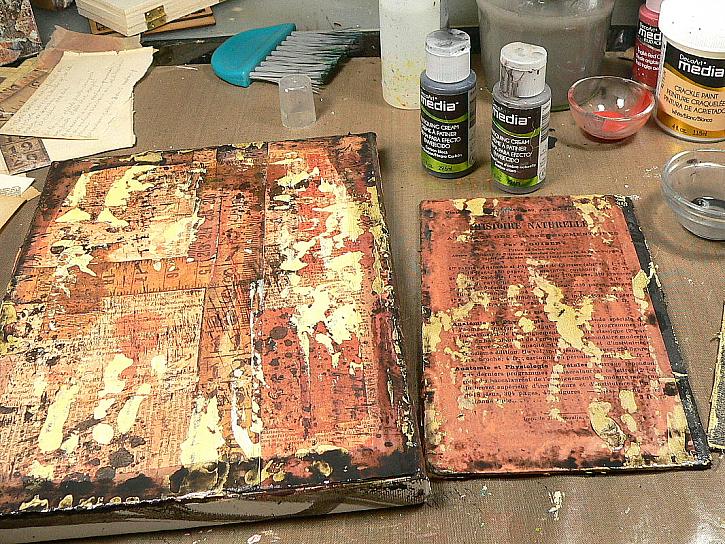 Step Nine: Time to play with all your gathered treasures until you have found the perfect new homes for them on your canvas and book cover. Pay attention to text on the cover that you do not want to cover up! Maybe take a picture before you remove all the parts to glue them in place with the matte Decou-Page later (I found I tend to forget where I wanted the pieces to go).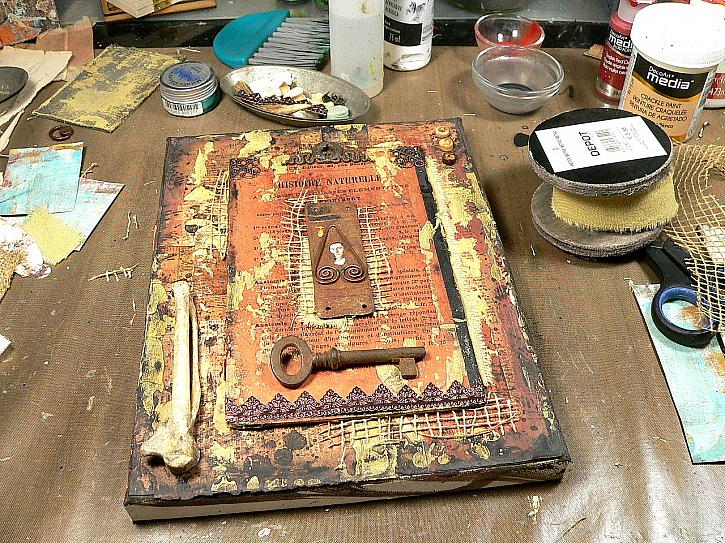 Step Ten: If you find you have any chipboard pieces that would match the design, simply turn them into metal looking parts by painting on a thorough coat of Dazzling Metallics paint.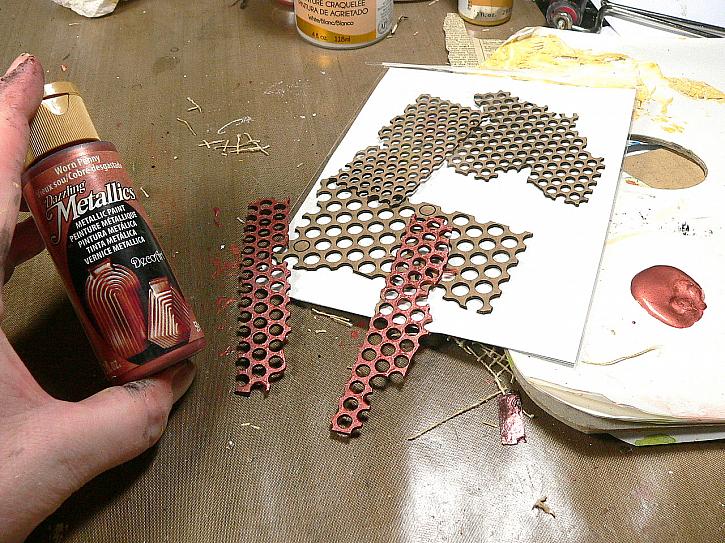 Step Eleven: To add additional interest fix the heavier metal bits (like the key and the key hole plate) to the book cover (or canvas) with rusty wire. Poke holes to thread the wire ends through, then bend these on the back so all is flat and stays in place. If the wire you're using is quite thin, first twist the ends together before you bend them flat. This way you make sure the wire will hold the pieces in place.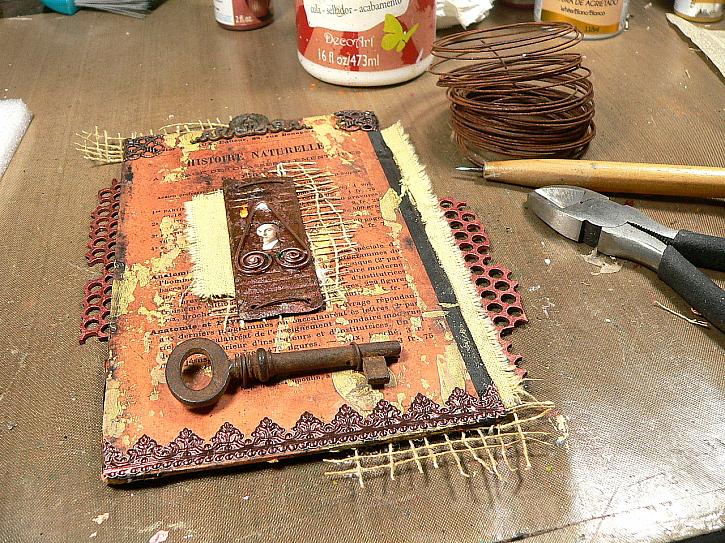 Step Twelve: Use matte Decou-Page for the pieces you don't want to fix with the wire. It will even hold bulkier and heavier bits in place! Add tiny elements like vintage rubber stamps, beads, word and letter stickers to finish up your piece.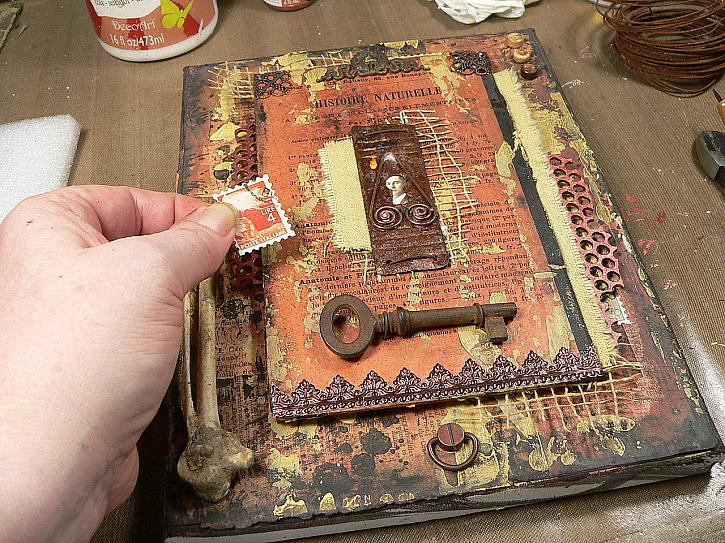 You're done!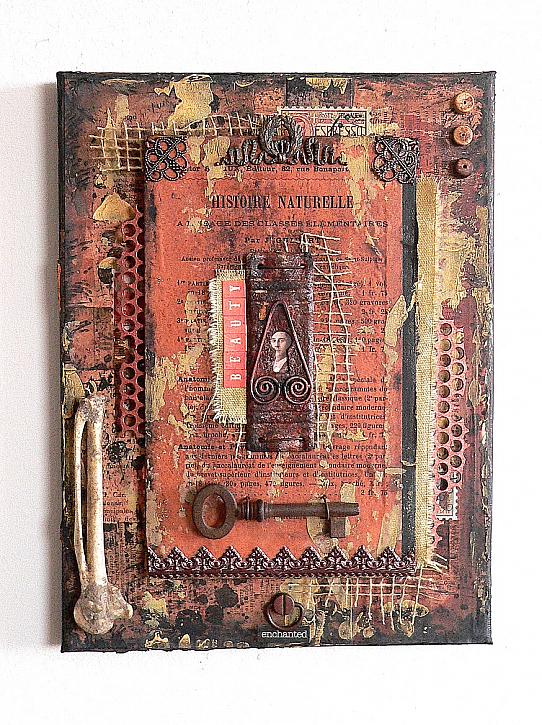 I love assemblage art because it is a perfect way of repurposing old and disposed of objects, incorporating found objects from your nature hikes, honouring ephemera that have meaning to you or simply enjoying putting all these pieces together to form a visually appealing work of art. You can go by the looks, shapes or meaning of the objects you use – or all of that together – however you choose to do it, assemblage art is one of the most rewarding and relaxing things to do! I hope you will give it a try (if you haven't done so already).
Thanks for your visit! See you soon!