Posted by DecoArt on May 15th 2019
We all have our favourite themes when it comes to creating art, haven't we? And I think this is something good because this love guides our creative process and then becomes visible with our creations and makes them so much more than just a neatly done combination of substrate, paint, design, colours and media used. Quite unintendedly we have put some of our love into the piece we have created and that is what makes this piece shine and touch our hearts.
With me, it is my love for the forest and I hope today's project has this shine and touching quality, too. Little shrines are among my favourites and a wonderful way to treasure the things we love. And if we create these from simple paper just by the use of cutting dies, a bit of glue and our favourite mixed media, it becomes an even more rewarding thing to do, because when we find at the end that we have created magic, this sure makes us happy. And isn't that what creating art is all about?
Items Needed:
Assorted Brushes
Heavy White Printer Paper Or Cardstock
Variety Of Die Sets (shadow Box, Fern, Lumber, Mushrooms, Etc.)
Die Cutting Machine
Calico Craft Parts MDF Label Holder
Kitchen Roll (paper Towels)
Water Spray Bottle
Soft Cloth
Ink Pen
Small Sticky Foam Pads Or Leftovers From MDF Cut Pieces
Palette Knife
Instructions:
Step One: Die cut all pieces needed for the shrine from heavy white printer paper or cardstock. These are: the shrine corpus, the two shrine frames, four ferns, mushrooms in a row and a leaf. Then dry emboss the two main shrine pieces using the Lumber 3D Texture Fade embossing folder.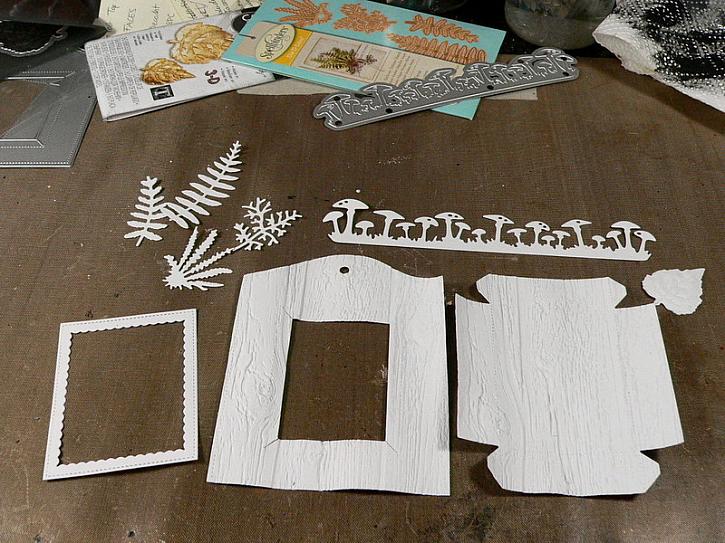 Step Two: Use Americana Premium Raw Umber acrylic paint to add a base layer to the shrine pieces and Americana Reindeer Moss Green and Antique Green to paint the thin frame and some of the ferns with a base layer too. Let dry or heat dry.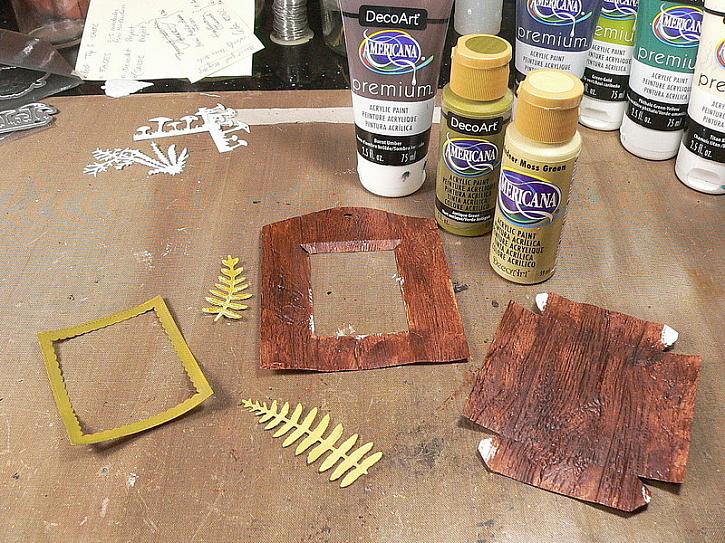 Step Three: Using a soft brush add a thin layer of DecoArt Media Crackle Glaze to the thin frame and one of the painted ferns and let dry naturally.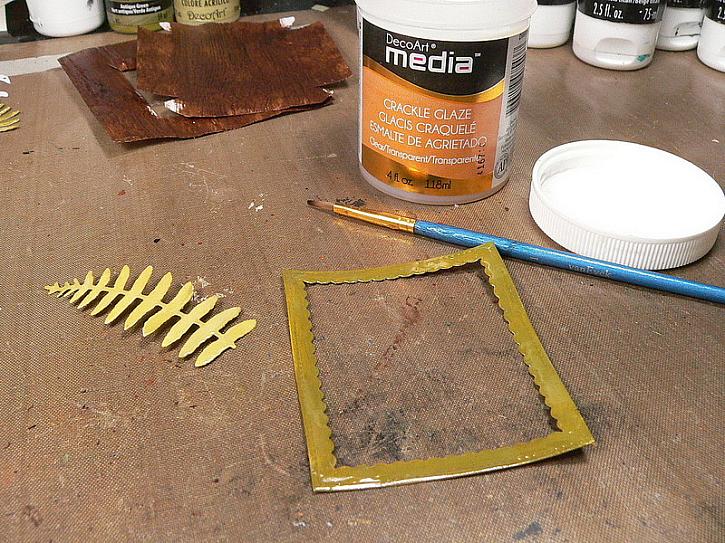 Step Four: Dry brush a mix of premium Titan Buff and Prussian Blue Hue onto the large shrine pieces using a soft flat brush. Dry brushing means you only load the very tip of your brush, then wipe off most of the paint on a dry piece of kitchen roll and just use the very leftovers on your brush to gently highlight the raised areas of a textured surface.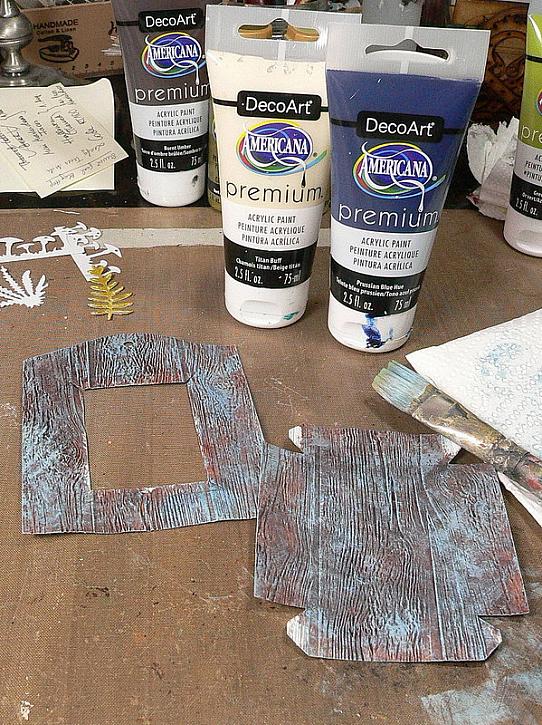 Step Five: Dilute some Premium Raw Sienna acrylic paint with water on your palette to create a wash and add it in some spots on the shrine pieces using a soft flat brush. The picture shows the left part that has already been treated with the wash in comparison to the right untreated shrine part so you can see the difference.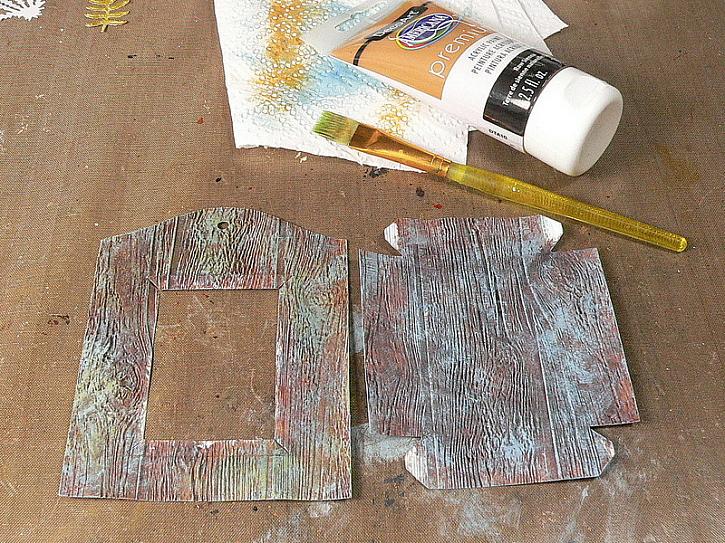 Step Six: Mix Antiquing Creams Raw Umber and Carbon Black and slightly dilute with water. Then cover both shrine pieces with the mix and let dry (or heat dry).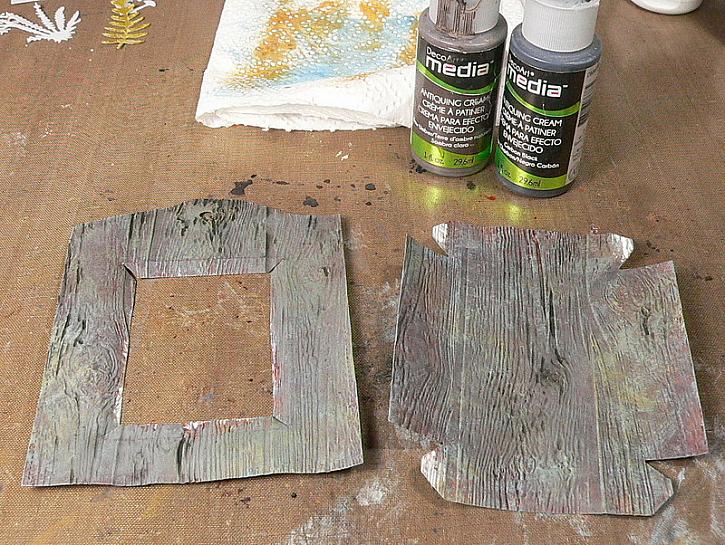 Then take a damp soft cloth and wipe back the Antiquing Cream until you are content with the look. This makes the wood texture even more visible.
Step Seven: Use a fine detail brush and media Raw Umber fluid acrylic paint and water to shade in the shrine's edges. First paint a thin line of pure acrylic paint, then load your brush with clean water and drag the wet paint away from the painted edge to create a shading effect. Only do a short distance at one time so the paint doesn't dry (and it dries really fast). Once again the first image shows the difference of the already treated piece to the left and the untreated to the right.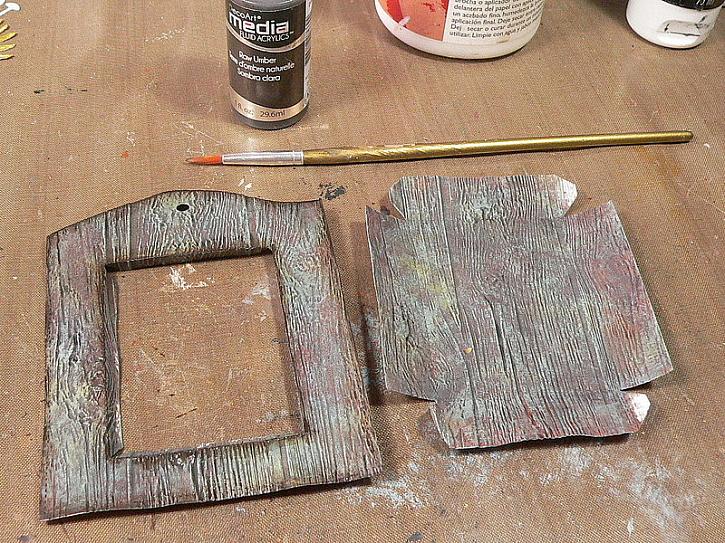 The second image shows the effect when all edges are done.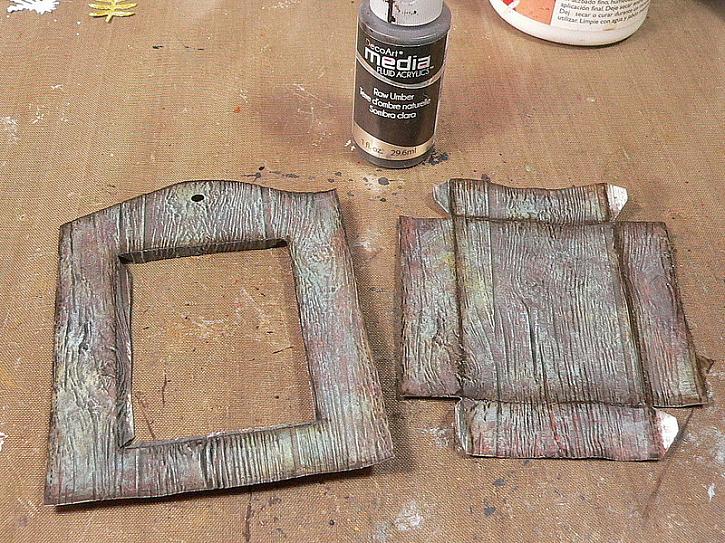 Step Eight: Time to assemble the painted shrine pieces using matte Americana Decou-Page.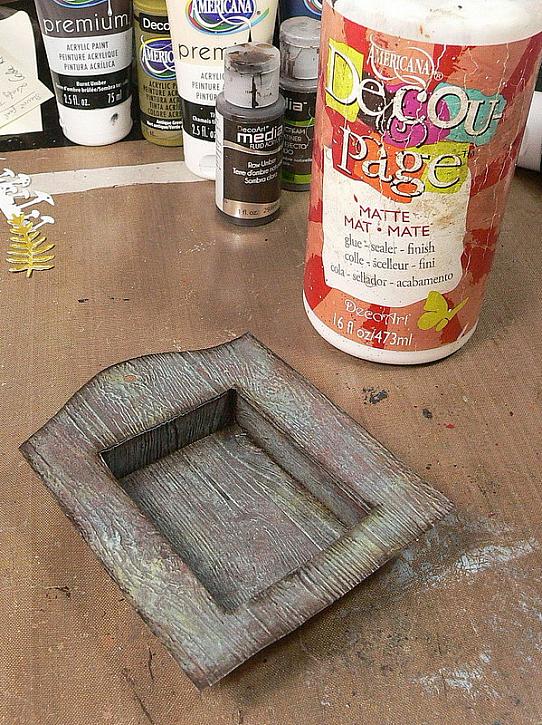 Step Nine: Cut the die cut mushrooms in a row into pieces so you end up with two fitting with the shrine's width. Paint them with media fluid acrylic paints shown, using a fine detail brush. Create mixes of these paints and paint shades to the caps' and stems' right sides for more dimension. Paint the remaining fern die cuts too. Add media Liquid Glass to some of the mushrooms' caps. Let dry naturally.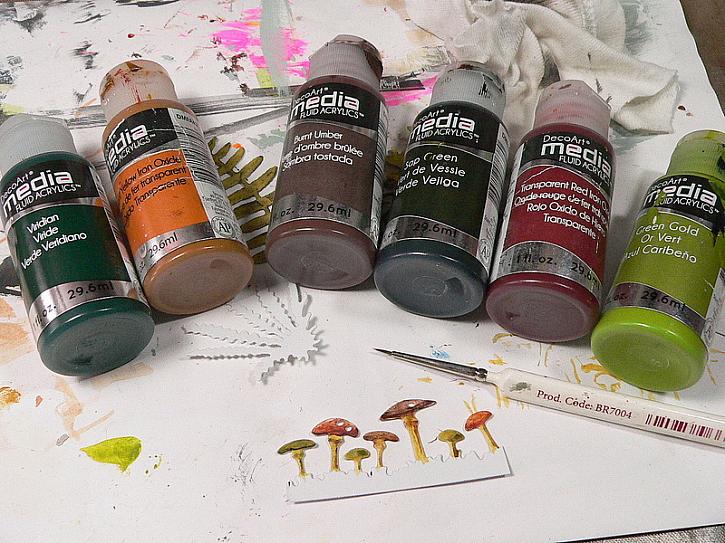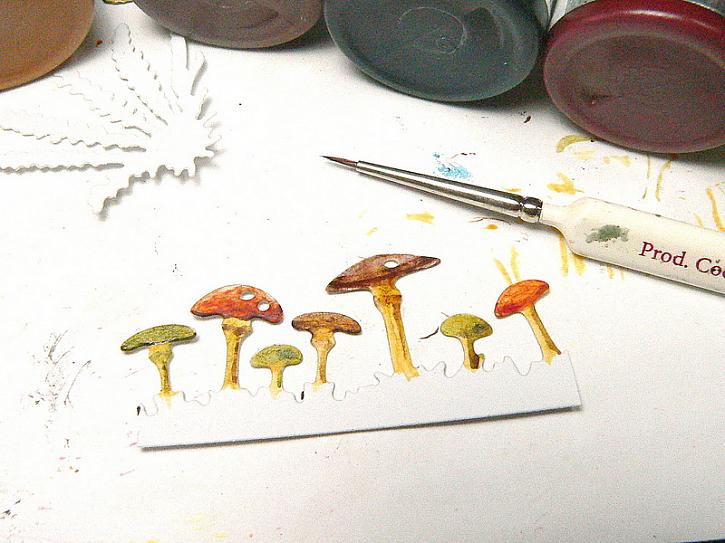 Step Ten: With a palette knife scrape some white Media Crackle Paint here and there onto the shrine. Let dry naturally.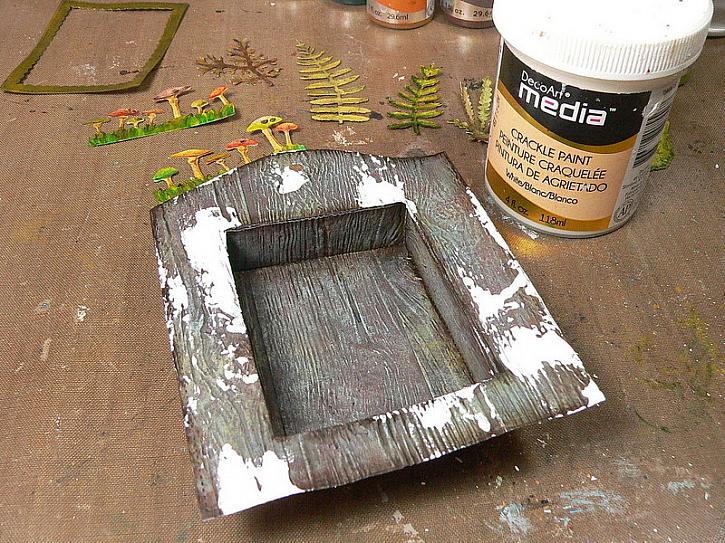 Step Eleven: I like to use tiny snips of leftovers from MDF laser cut pieces and Tacky Glue or matte Decou-Page, but you can use small sticky foam pads as well to layer all the mushrooms and ferns into your shrine.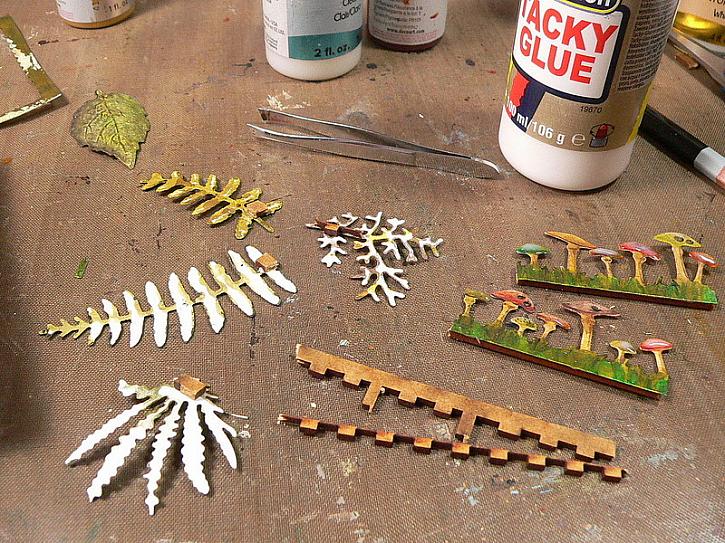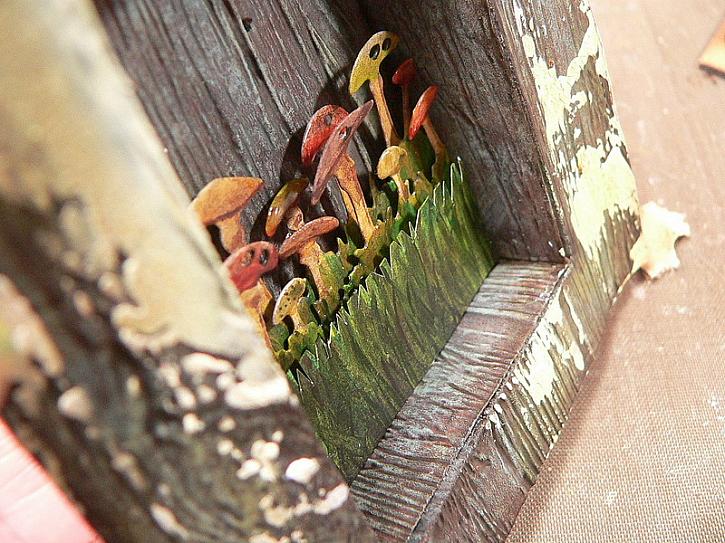 Step Twelve: Write the title for your shrine onto a scrap of paper in permanent ink and paint the MDF label holder in Transparent Red Iron Oxide. Then glue the label behind the label holder. If it is white paper you're using tone it in with a wash of Transparent Yellow Iron Oxide. You can also add a layer of media Liquid Glass on top if you like.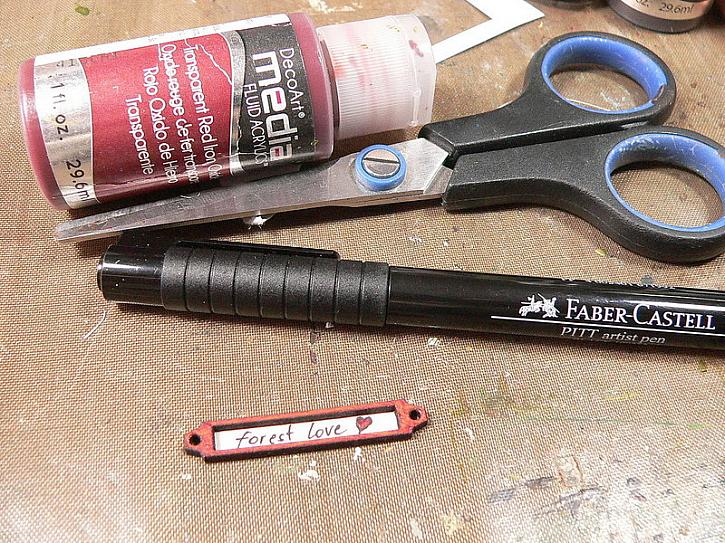 Glue the label in place and you're done!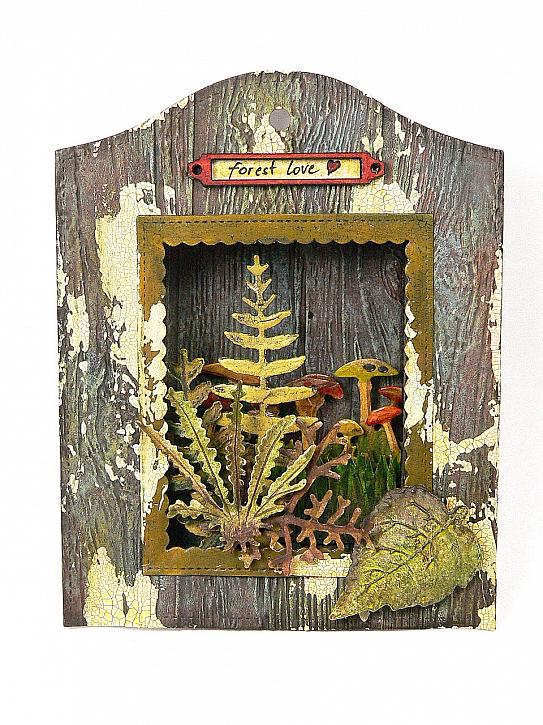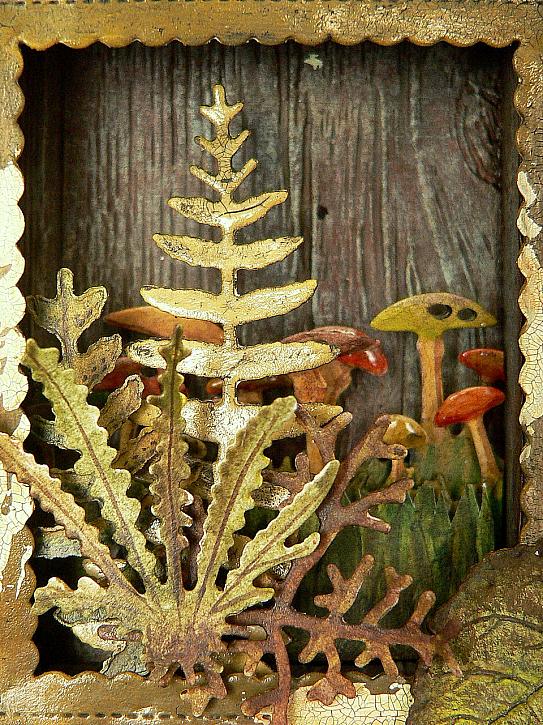 Started out with a piece of white paper and ended with a little piece of enchanted forest in a box! Could have been some kind of magic, couldn't it? But if you follow the tutorial's steps and use the listed DecoArt media and paints and your favourite dies for your personal favourite theme you can do that "magic," too. Have fun!
Claudia
xxx