Posted by DecoArt on Apr 5th 2017
It has been such a dreary rainy winter here in Salem Oregon that I got so excited to see the sun and a few blooms this week and I decided I needed to paint a happy bloom. I hope you enjoy doing this project as much as I did.
Items Needed:
Large Wooden Tag
Assorted Brushes
Misc. Stencil Of Punched Holes
Hemp Twine
Palette Knife
Instructions:
First I cut the rope they had off the tag hanging through the tag hole to make it easier to Gesso and paint. Then I mixed DecoArt Gesso with Phthalo Turquoise, and Carbon Black and painted the tag and set it aside to dry.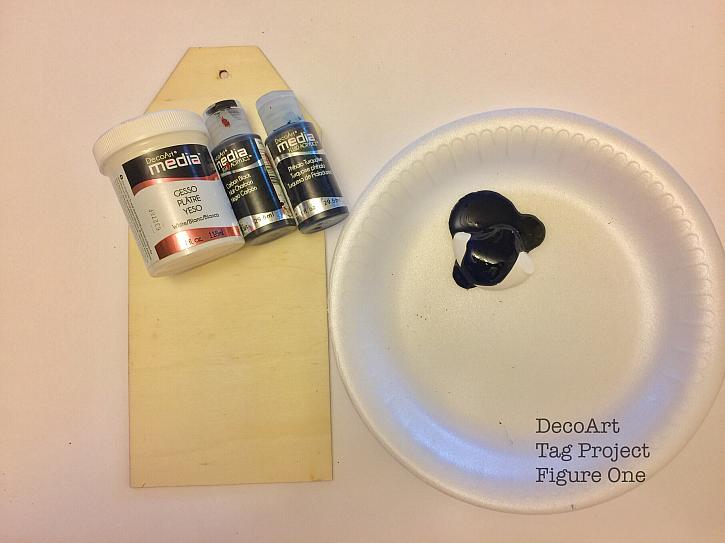 With the 3/4" Flat or Filbert brush make 3-4 petals just on quick swipe with your bush dipped on the Pyrrole orange and the Hansa yellow light together letting it just letting it blend on its own. Don't worry it is just the first layer and you are gonna add more layers including ones with Pyrrole red.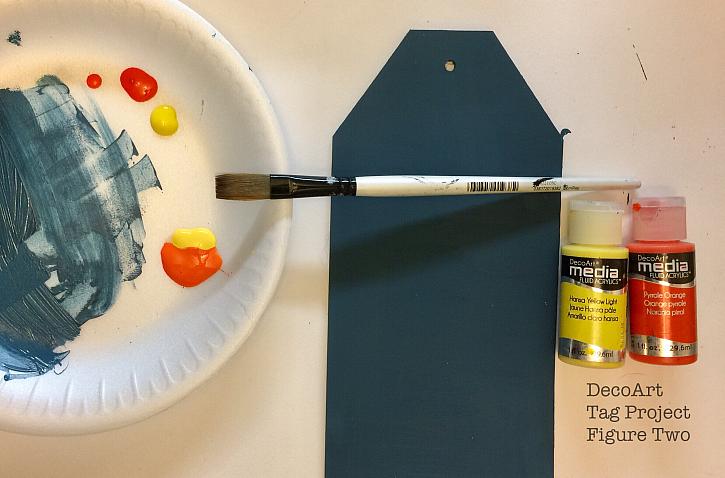 With the 1/4" flat brush and Green Gold, Sap Green and Titanium White mixed to a hue you like paint in the stem and a couple of feathery leaves, you will add to these too so do not be too precious it is your drawing you will paint and paint around.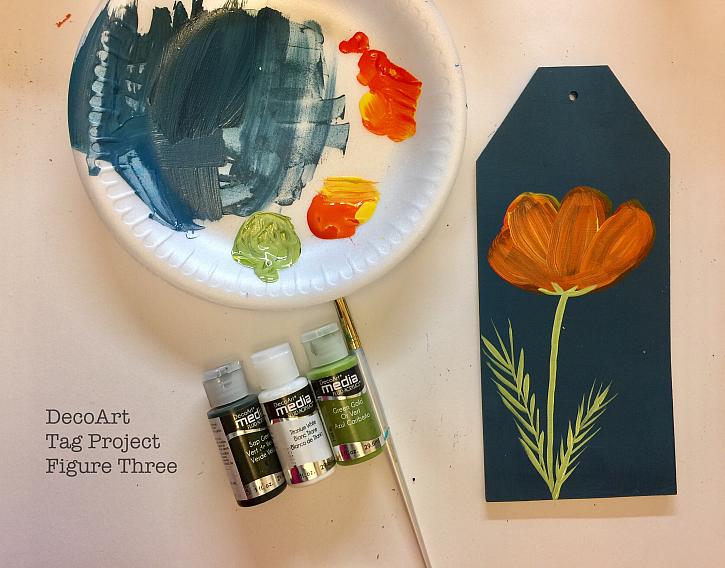 Keep layering on color in your bloom with the 3/4' filbert or flat brush and the Pyrrole Orange, Pyrrole Red and Hansa Yellow Light.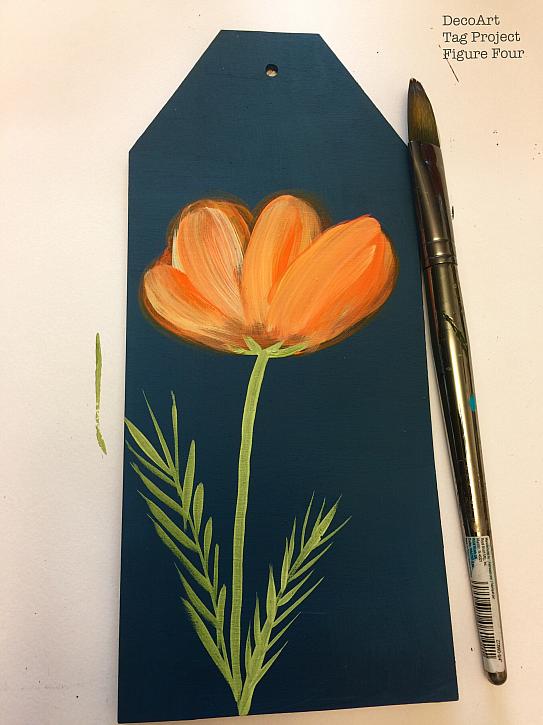 Next take a little of the Gesso paint mixture you first used to paint the tag and mix it with some Cobalt Turquoise Hue and Titanic White on your palette I do not mix it perfectly I mix it as I paint it. Use the 1/4' flat brush and paint around the bloom and foliage not too carefully leave some of the Gesso darker blue showing. Don't be too careful you will paint more foliage back on and still put some more color on your bloom after your background layer dries a bit.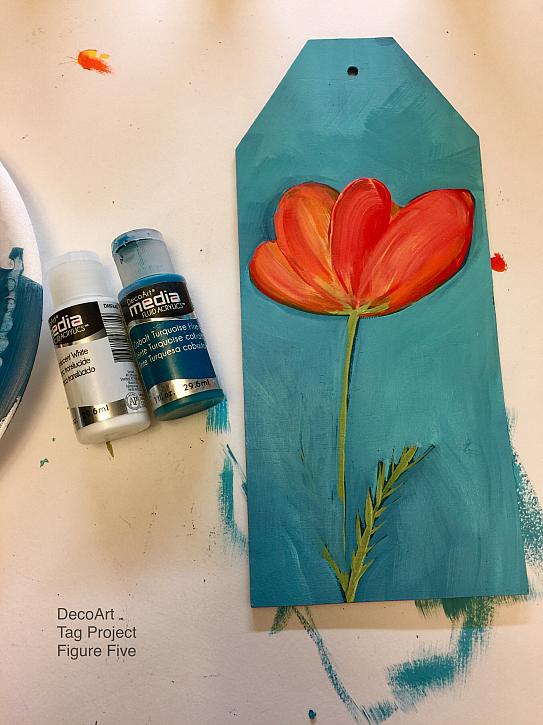 I wanted to start getting the background interesting next so I took the Media Misters in Red and Primary Yellow and unscrewed them and then flicked the tube of the sprayers over the tag randomly getting some on the bloom, foliage and background. Then let that dry before moving onto the next layer.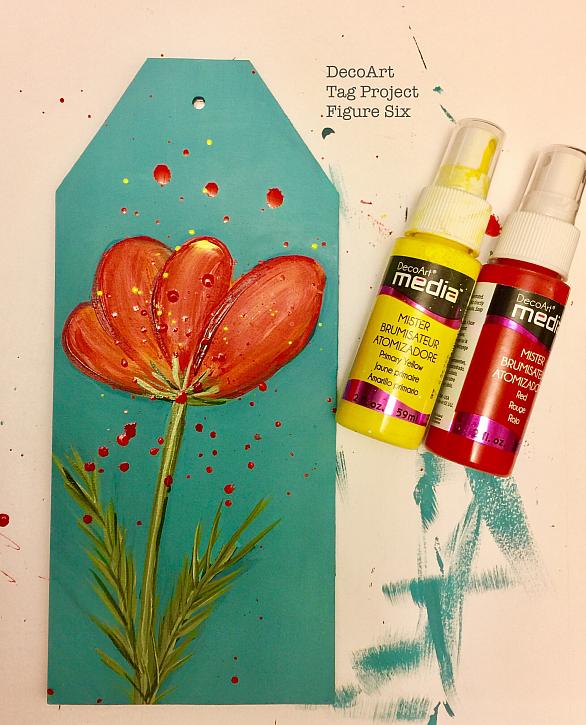 I then splattered the bloom with the red and Primary yellow again and let it dry.
Once that is all dry I took the modeling paste and mixed it with Pyrrole red and applied it with the palette knife through the stencil while holding the stencil down firmly to make the round texture on the blooms, I splattered it with the yellow and red media misters again and let dry.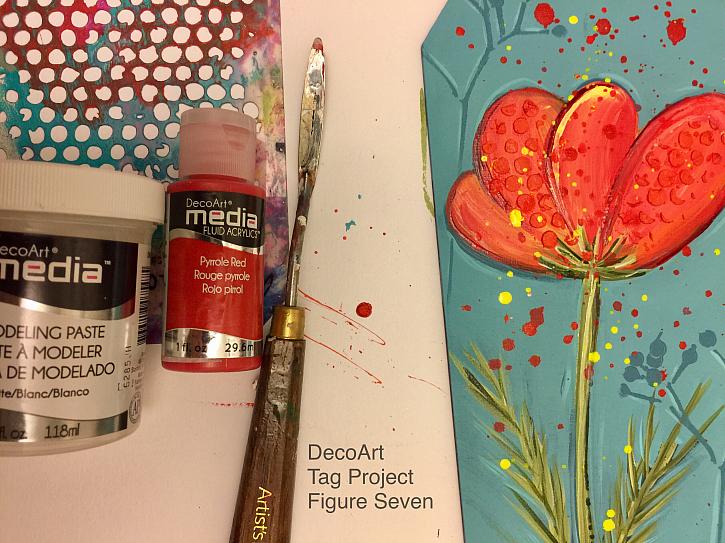 Next I took the DecoArt 8x8 Botanical Stencil and Cobalt turquoise hue and the American Stencil Brush and painted the background branches with the little buds, and then I used the script liner brush and the Colbalt Turquoise Hue mixed with a little Titanium White to highlight them.
(Remember when stenciling do not load too much paint onto the brush, wipe off excess. Less is more! If it is too light you can always go back and apply more paint. Most messy stencils occur when too much paint is used and it gets under the stencil between it and your substrate)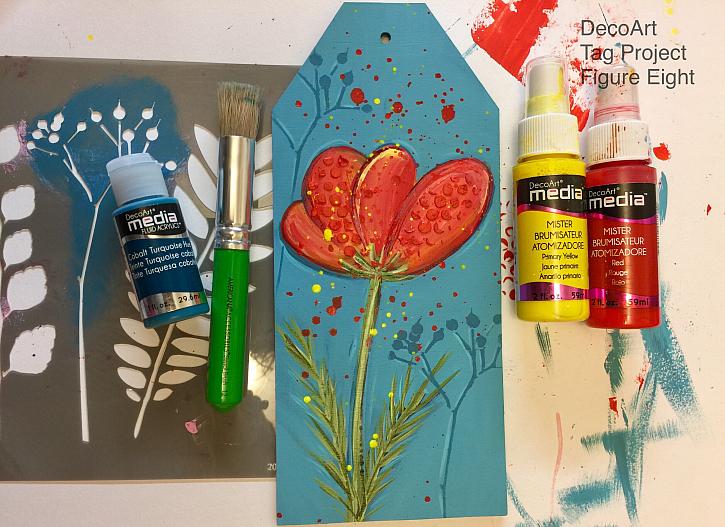 Next I took the Carbon Black and the Script Liner Brush and added detail around the bloom and the foliage in a loose fashion to add contrast and interest. I like to use broken lines, dots and dashes and not try to outline to perfectly with the black.
Next take the DecoArt Urban Ink Beliefs 6x9 stencil, a DecoArt Stencil Brush and the Carbon black and stencil on the wording.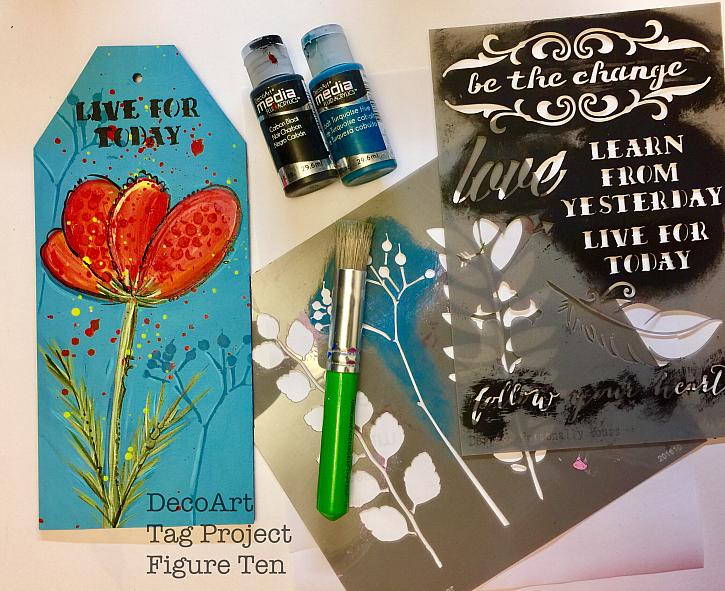 Once all the layers are dry you need to protect them. I like to do that by spraying three to four coats of DecoArt Americana Glossy Spray Sealer as a finish letting it dry between each coat outside in a well-ventilated area with a large plastic container over to keep dust or debris from landing on it while it dries.