Posted by DecoArt on Nov 15th 2018
Have you ever felt like you are that square peg that just won't fit into the round hole? I know I have many times. The idea makes me think of the toddler toy with the different shape openings, and various block shapes, where the toddler learns which shape fits into each opening. I was probably that kid that kept pushing the block in trying to make it fit, until it got stuck.
Items Needed:
Large Art Journal
Stencils And Stamps
Acrylic Block (for Stamping)
Black Dye Ink
Craft Sheet
Palette Knife
Small Flat Brush
Gold And Silver Pens
Baby Wipes
Graphite Pencil
Water Brush
Watercolor Paper
1/2 Inch Tape
Scissors
Heat Tool
Instructions:
Step One: Apply Americana Premium Texture Medium with a palette knife through the stencil onto the art journal page. Dry completely.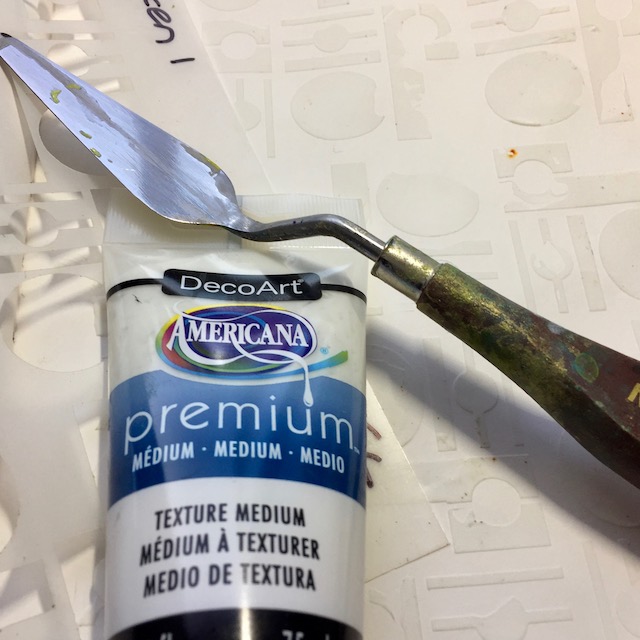 Step Two: Brush the heavy body Americana Premium Acrylic in Ultramarine Blue and Phthalo Green-Yellow onto the sections of the page. Wipe back a bit in areas with a baby wipe.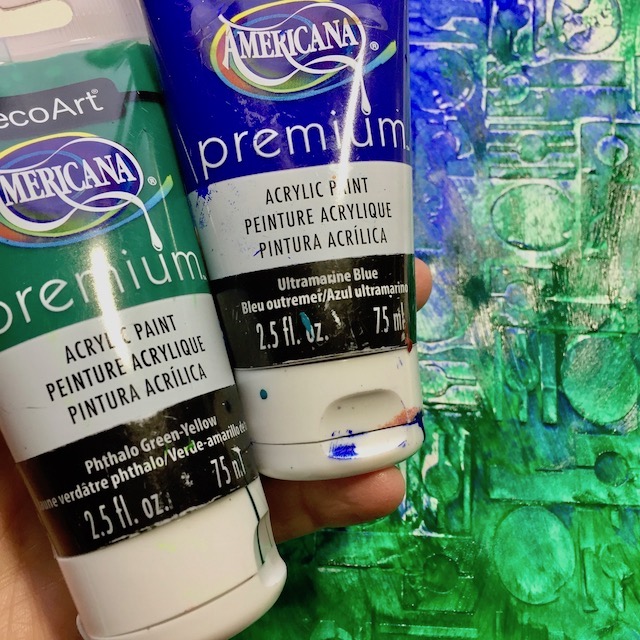 Step Three: Use a palette knife and scrape the heavy body Cobalt Teal Hue and Green Gold over the areas. Wipe back a bit with a baby wipe.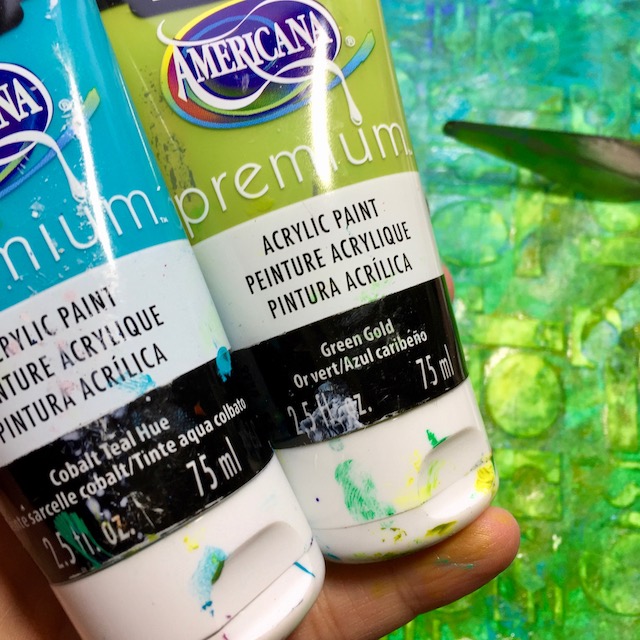 Step Four: Choose random words from the stamp set to adhere to an acrylic block. Stamp the words repeatedly over the page, using black ink.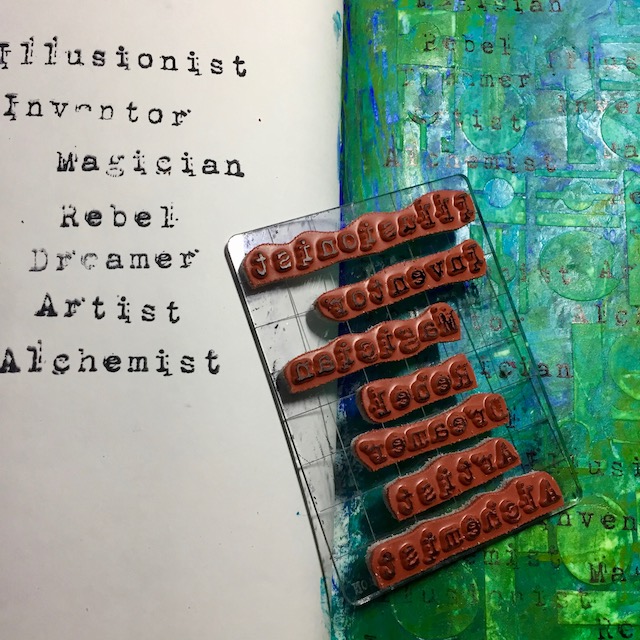 Step Five: Brush on a transparent layer of DecoArt Media Fluid Acrylics using Quinacridone Gold and Quinacridone Violet.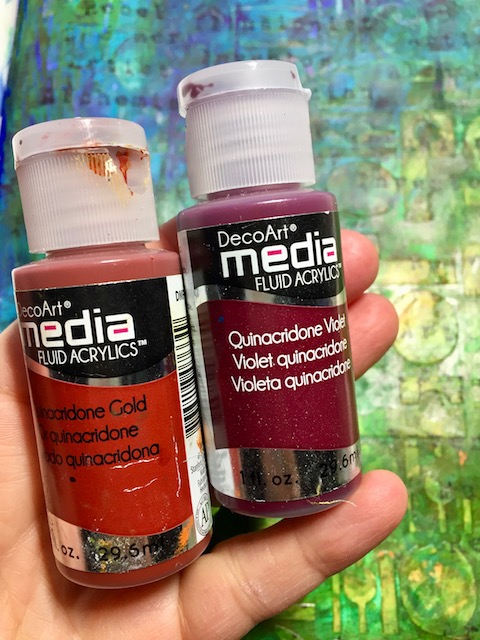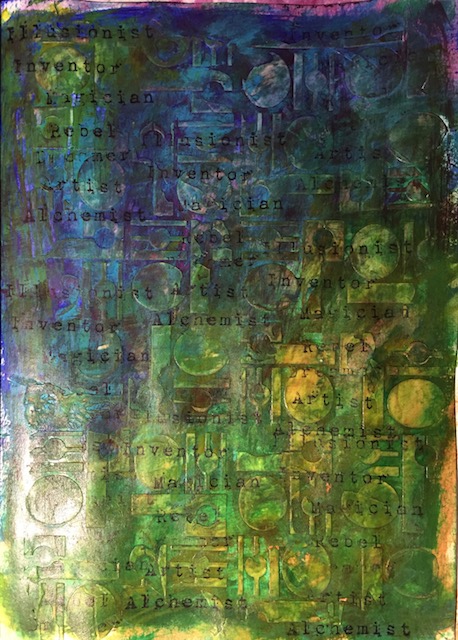 Step Six: Randomly choose some circles in the design and rub the Americana Neon colors onto them using your finger. Dry.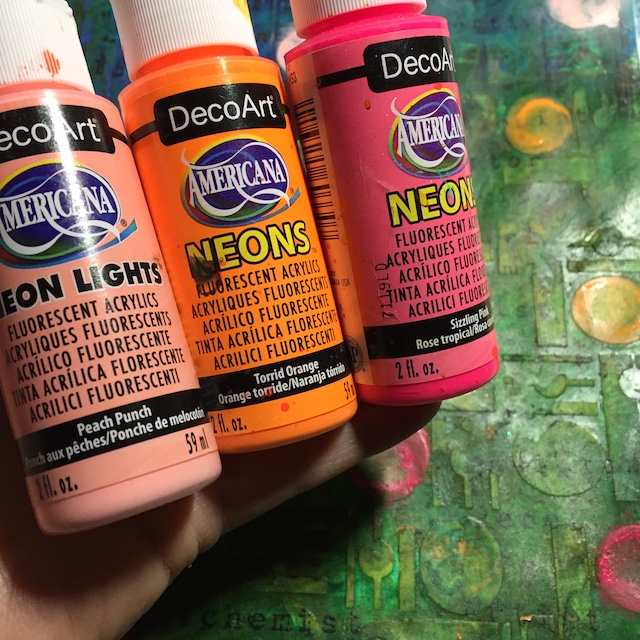 Step Seven: Go around the painted circles with the Stabilo graphite pencil, then go over that with a watercolor brush. Dry. Scribble around the circles with gold and silver pens. Write the quote on watercolor paper with a parallel pen (calligraphy pen), cut out and ink the edges. Adhere to the page with tape.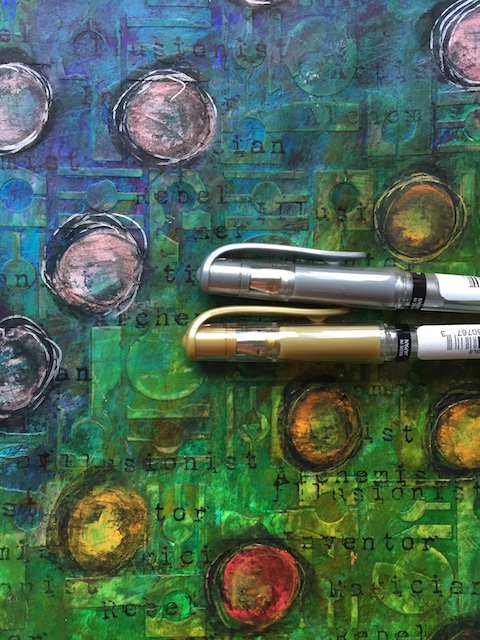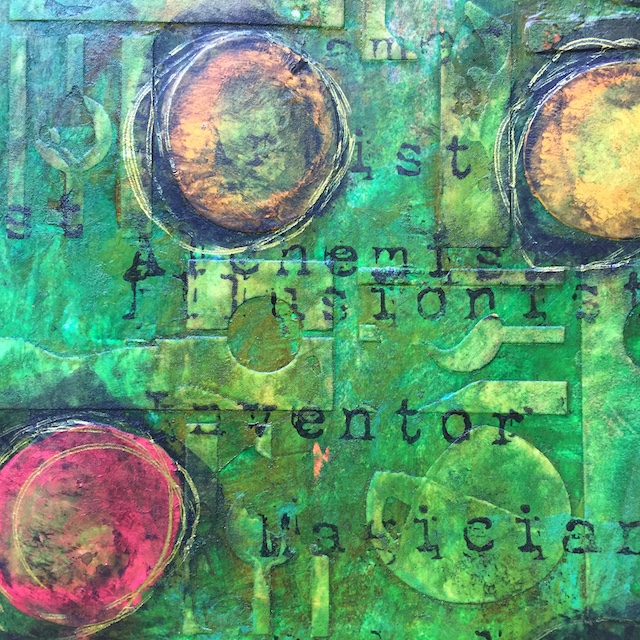 Now, I think of this idea of the square peg like walking my own path or beating my drum to my own wacky rhythm, and I thrive on being a bit different.
Maura