Posted by DecoArt on Aug 31st 2016
Hello my mixed media friends!  Are you one of those people who don't like to throw anything away because there is always SOMETHING you can do with it to give it new life?  I totally understand if you said "yes!"  I was visiting my good friend and also a DecoArt Media artist, Marjie Kemper in New York.  We were having lunch in Central Park when her sunglasses broke.  She threw them away but I retrieved them, knowing that I could steampunk them up and surprise her with them in the future. I finally got around to altering her sunglasses and they will be winging their way to her shortly.  Surprise, Marjie!
These glasses were so fun to transform and super easy to do through the magic of a few DecoArt Media Products and some dry brushing.  You could apply these techniques to transform anything, not just a pair of sunglasses.
Items Needed:
An Old Pair Of Sunglasses Or Whatever Object You Are Going To Alter
Metal Pieces, Half Pearls Or Whatever Dimensional Objects You Will Glue To The Base
A Piece Of Chain Or Something To Dangle Charms From The Sunglasses; Connecting The Popped Out Lens
Fairly Small, Fairly Stiff Paint Brush For Dry Brushing
Blue Paint Tape To Protect The Lens
Instructions:
For this technique to look it's best, it's all about layers, layers and more layers. From the dimensional detailed elements that you glue onto the bare frames, to the layers of DecoArt Fluid Acrylics Colors you use, you will be adding more and more detail and interest with each step. Ready?
Locate a pair of plain sunglasses.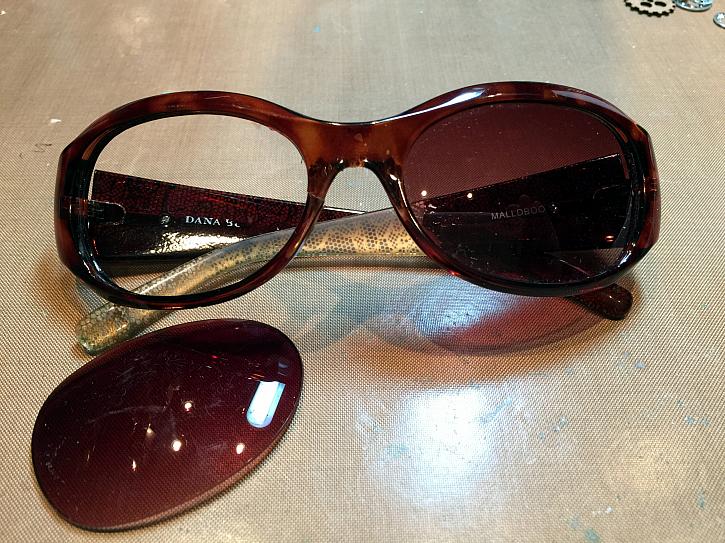 Put painter's tape over the lens to protect it from the mediums to be used. Begin applying DecoArt Media Modeling Paste over all of the frame surface-inside and out. I used an old brush and my fingers to do this. You will need to work in sections and semi smooth out the Modeling Paste. You will be adding elements on top of this so it does not have to be really smooth but wipe away any excess Modeling Paste from the frame. Either gently heat set each section of Modeling Paste as you are working with it or let each air dry before moving to the next section.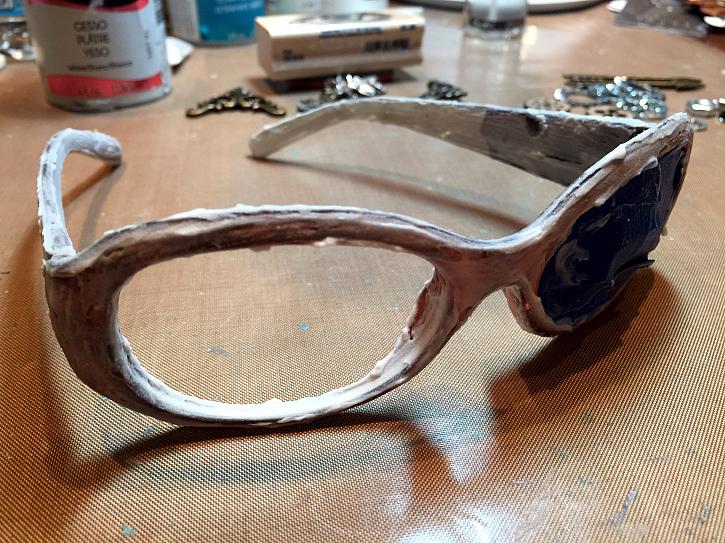 Add more DecoArt Media Modeling Paste to areas where you are going to begin adding dimensional elements. When adding the Modeling Paste, add enough to really capture each element when you push them into place. Wipe away any excess Modeling Paste from underneath and smooth it out.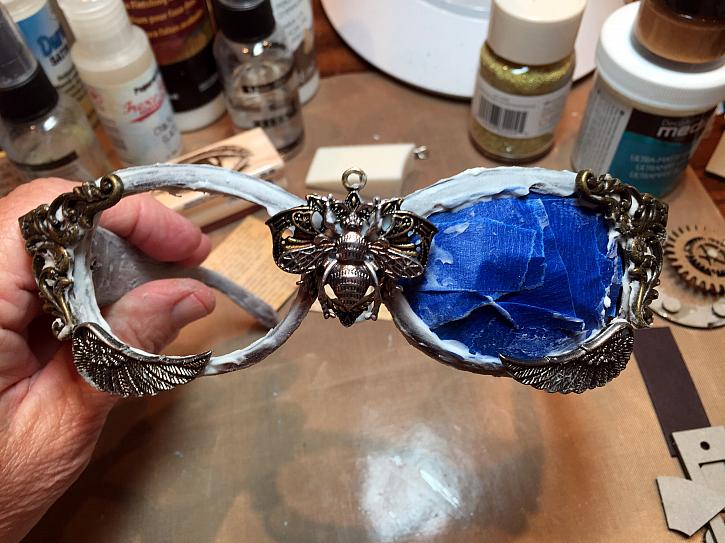 Keep adding the DecoArt Media Modeling Paste, then dimensional elements until you have the frame covered as much as you desire it to be. The Modeling Paste creates wonderful texture and is an excellent glue for doing dimensional work.
Also be sure to add dimensional elements to the sides of your frames. In this case, I have added a metal arrow and half pearls to each side by sticking them into the wet DecoArt Media Modeling Paste and letting them dry thoroughly.
Once the sunglasses are completely dry (as in possibly letting dry overnight), brush the altered sunglasses with a generous amount of DecoArt Media Black Gesso. After it dries, you will probably see little spots here and there that did not get covered. Be sure to cover them before moving to the next step. Let dry or gently heat set.
Time to start adding the dimension and detail back into all of those elements you've glued onto the sunglasses! Using a fairly stiff small paint brush, DRY BRUSH (emphasis on DRY) over the entire surface of the glasses using DecoArt media Fluid Acrylics Medium Grey Value Number 6. It will dry very quickly as you are dry brushing.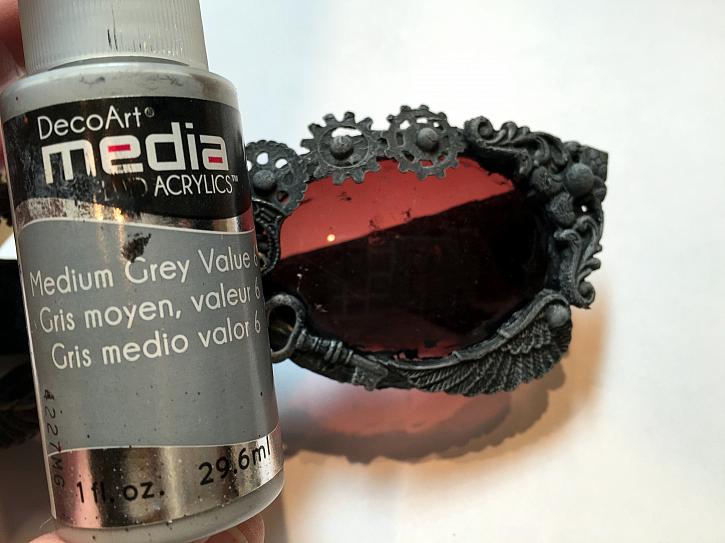 Next add a DRY BRUSH layer of DecoArt Media Fluid Acrylics Metallic Gold in random areas of the sunglasses, brushing over the grey highlights.
To add an entirely new look, begin DRY BRUSHING DecoArt Fluid Acrylics Quinacridone Gold randomly over the elements to give a bit of a rusty look. The Quinacridone Gold color also warms up the other colors and magically blends everything together in such a cool way. To get a bit of a patina look, gently add some DRY BRUSHING strokes of DecoArt Media Fluid Acrylics Cobalt Teal Hue over the elements were you want a patina look. It's an amazing transformation!
I love to go even one step further and try to mimic a bit of a calcified patina look. To do this, I use my fingers to add tiny amounts of DecoArt Media Fluid Acrylics Titan Buff to the surface, randomly tapping the surface of the elements where a normal calcification or patina would form. Then dab a touch of a combination of Titan Buff and Cobalt Teal Hue over the Titan Buff. It gives a bit of dimension and also that beautiful patina look to your weathered metal elements. In this case, I added a bit of a chain to my sunglasses and added charms to the chain. But before I connected them, I used this calcified patina technique on the charms and chain. I glued two gears to the lens that broke away from the sunglasses and then threaded it onto the chain. The other chain was looped around the sunglasses frame to secure it in place.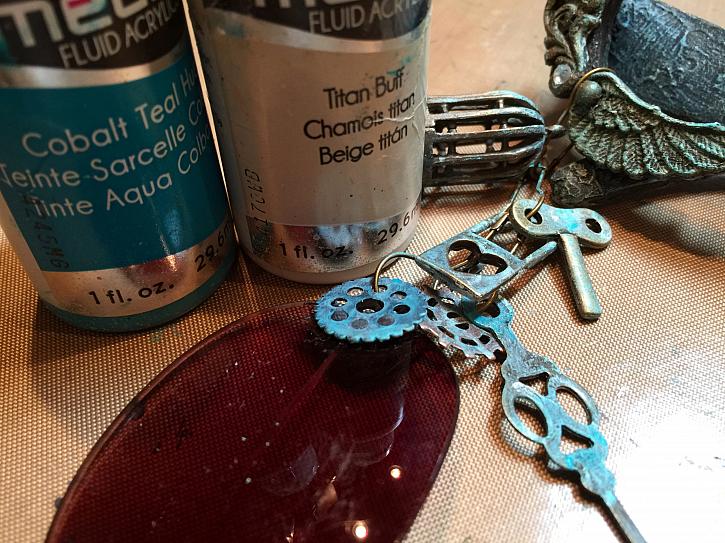 That's all there is to this technique! Seriously easy and so much fun. Now here are some more closeup pictures of the altered steampunk sunglass frames.
A closeup of the sunglass frames.
The sides of the sunglasses.
A closeup of the chain connecting the frames to the wayward lens.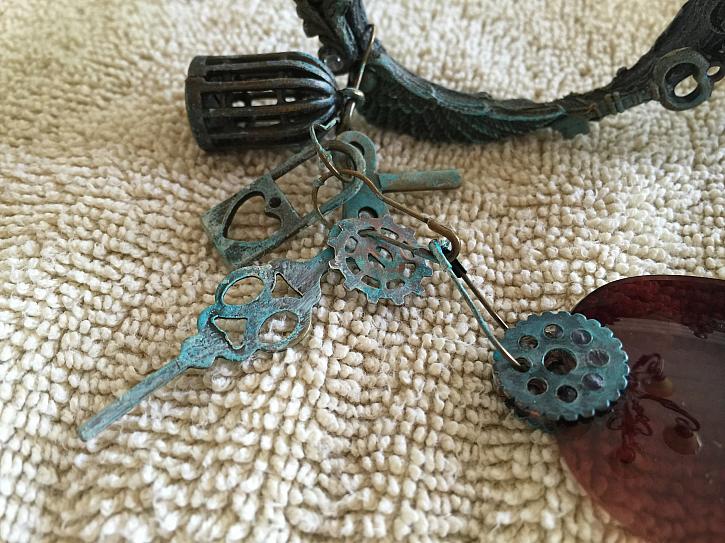 A picture of the original sunglasses on Marjie right before she trashed them!
Enjoy!