Posted by DecoArt on Jul 8th 2014
Spring is in full swing and as we get ready for summer, our garden is coming alive. Besides planting the usual tomatoes, chives and various herbs, it's always nice to add some color with some pretty flowers. My all time favorite flower is the Gerber daisy, and I love how these upcycled concrete block planters turned out. And best of all, they were so easy and inexpensive to make!
Items Needed:
Water Basin
Sponge Brush
Painter's Tape
Concrete Block
Instructions:
I picked out four bright contrasting Patio paint colors and grabbed my geometrically designed stencil. The square block design is the perfect size to embellish the side of a standard size concrete block.
First step is to secure your stencil down on one side of the concrete block with painter's tape. Then, while carefully holding your stencil in place with one hand, use your other hand to apply the Patio paint onto the brick. I used an up-and-down pouncing motion to apply the paint to help alleviate any bleed through from the stencil.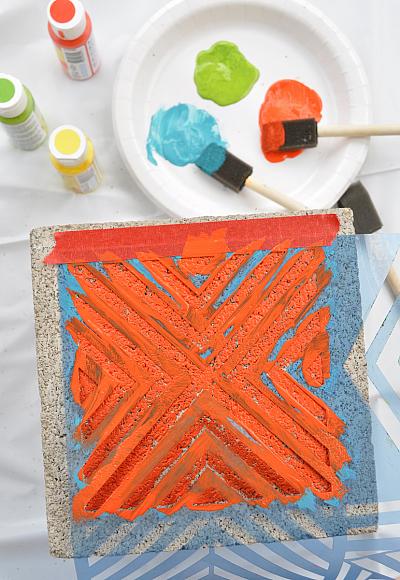 Then carefully remove the stencil and clean it off under running water and paper towel. Dry it off with more paper towels before reusing.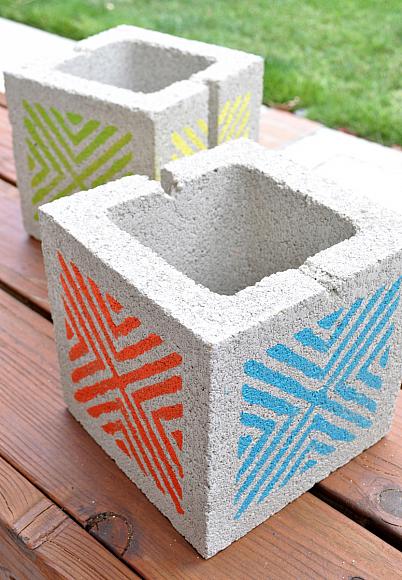 You can then move onto stenciling the other sides. Just make sure the wet side of your concrete block is not on the bottom of your surface so as not to smudge the paint.
I repeated the process above until all four sides of my blocks were painted.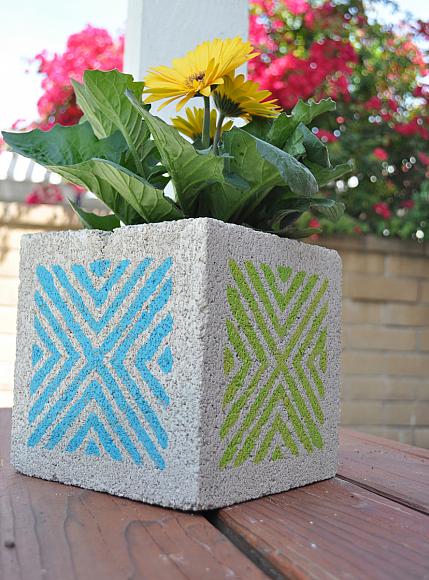 I love how the concrete block has a rustic feel, but the bright graphic stenciled sides give it a cool modern look!