Posted by DecoArt on Jan 6th 2016
Today I am sharing a really fun and simple way to make your office space a little more fun and customized!  I am sharing how to make your own striped pen holder.  This is such a fun and simple project and a great way to add a useful office organizational items plus a fun splash of color to your office or craft space!  Come see how easy it is to make this cute, and totally customizable striped pen holder!
Items Needed:
Cardboard Box
Foam Brush
Painters Tape
Instructions:
I love that this is a fun way to add a pop of color to an office space. I used blue paint, but you can use any color you like to make this fit your style and match your office space! You can even use more than one color if you like! It's completely up to you and there are so many options and ways to make this project completely your own!
I began by taping a portion of the bottom of my box off and painting it with one coat of Americana Decor Chalky Finish paint in Legacy. You can do two coats but I really don't think that you need it.
Once the paint has dried you will remove your painters tape.
If you'd like to do a second stripe, add painters tape to the top and bottom portion of where you want your second stripe to go. Use your foam brush to paint a second stripe using the chalky finish paint.
Again you can do one or two coats of paint, one was enough for me though.
Let the paint dry completely and then remove the painters tape.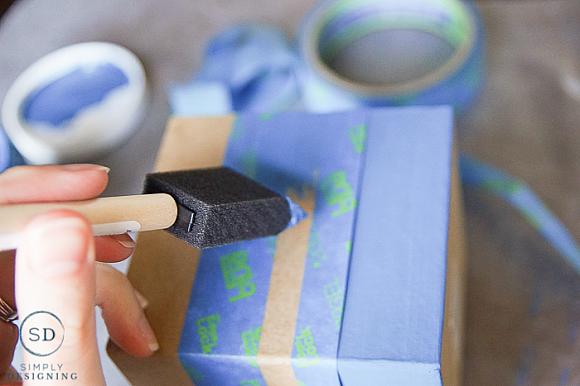 After the paint is dried and the painters tape is removed, your striped pen holder is ready to use!
I filled mine with permanent markers because I use them all the time and have a huge stash of them (this photo only shows a few of them). But you can fill this with pencils, pens, markers, highlighter or anything else you use and want to keep handy in your office space!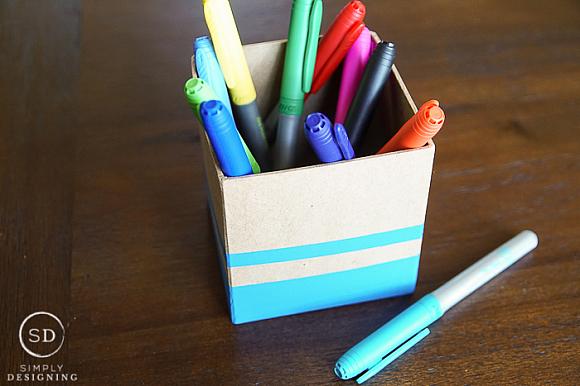 What color would you paint your striped pen holder?