Posted by DecoArt on Mar 27th 2019
For today's project, I played with both DecoArt Media Fluid Acrylics and Americana Premium Acrylics. It is awesome that DecoArt provides the same colors in different mediums and consistencies so that they can be used in different ways.

I like to use the fluid acrylics on the background to make a more flowing, blended, and abstract look. Then I use the Premium acrylics through stencils to add texture and to add a few more layers of color.

Speaking of texture, I found this awesome stash of vintage lace at a second-hand shop here in town, and I could not resist using my mini sewing machine to stitch it onto my page. I have been obsessed with stitching and fabric ever since I bought this little machine (which I love, by the way!)

I hope you enjoy today's project and thank you for watching!!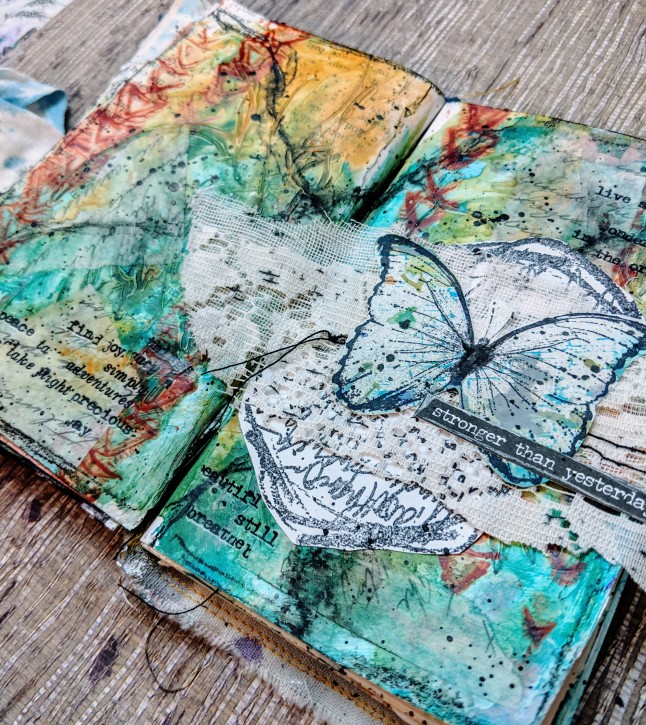 Items needed:
DecoArt Media Gesso
DecoArt Media Matte Medium
DecoArt Media Fluid Acrylics - Cobalt Turquoise Hue
DecoArt Media Fluid Acrylics - Yellow Oxide
DecoArt Media Mister - Carbon Black
Americana Premium Acrylics - Quinacridone Gold
Americana Premium Acrylics - Yellow Oxide 
Americana Premium Acrylics - Cobalt Turquoise Hue 
Black pencil
Palette knife 
Junk journal
Stencils and stamps
Stamping ink
Vintage lace
Cheesecloth 
Black thread
Stickers
White charcoal pencil