Posted by DecoArt on Dec 9th 2015
It's getting close to Christmas and you know what that means--party time! We always love to celebrate with family, friends, and neighbors by getting together and eating goodies. If you're anything like me, I'm sure you must have attended a Christmas cookie exchange at one time or another. They are so fun and easy--everyone just brings a different cookie batch and then you make yourself a plate of cookies from the selection! 
Items Needed:
DecoArt Glamour Dust Sprinkle On Glitter
DecoArt Glistening Snow Writer
Assorted Brushes
Ceramic Ornaments
Instructions:
I decided it would be fun to make sugar cookie ornament favors. You can make these even if you're not hosting a cookie party, just make them for your neighbors as Christmas gifts! Your kids can get involved and have a blast decorating them. The best part is that since they are NOT edible you can enjoy them each year on your tree.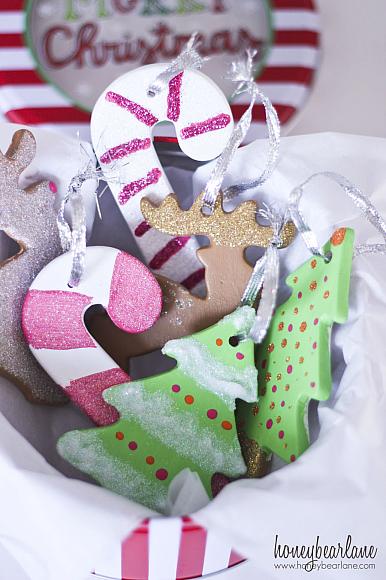 To start, I purchased these plain ceramic cookie cut shapes at my local craft store. However you could easily make your own by whipping up a salt dough and rolling out and using cookie cutter to cut out the shapes.

Dough Recipe:this isn't actually salt dough but it's what I prefer to use. You get a beautiful white dough that turns out really well and smooth.) 1/2 cup cornstarch 1 cup baking soda 3/4 cup water In a saucepan on the stove, combine the three ingredients over medium low heat. It will begin thickening until it reaches the consistency of mashed potatoes. Remove from the heat and then use your hands (careful, it's hot!) to knead it together. Roll to 1/4" thickness and use cookie cutters to cut shapes. Punch a hole at the top. Line a pan with parchment paper and place your shapes on it. Bake at 175 degrees for an hour, flipping over halfway through.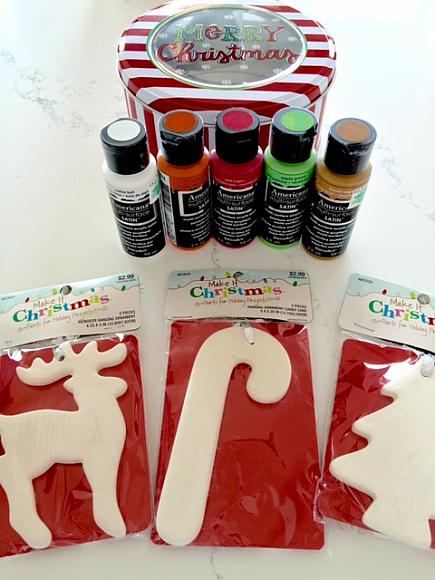 After you have your shapes, you get to decorate! I removed the silver ribbon first, then I painted. I used Americana multi-surface paints in the following colors: Cotton Ball, Pumpkin Patch, Pink Tropics, Apple Green, and Brown Sugar.
I also used the Glistening Snow Writer and Glamour Dust in white and gold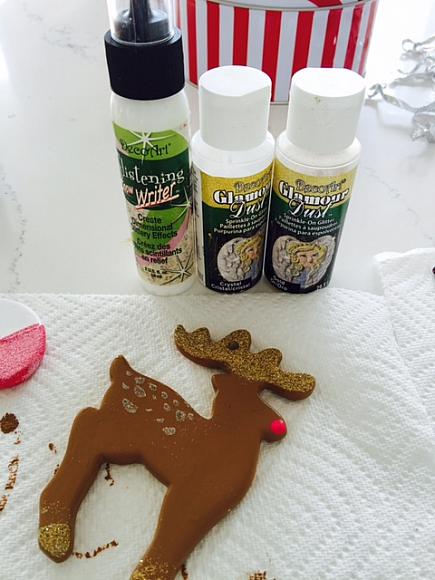 I painted all of them solid in one color first. The candy canes in white, the reindeer in brown, and the trees in green. After that, wherever I wanted to add some glitter, I made sure there was wet paint first.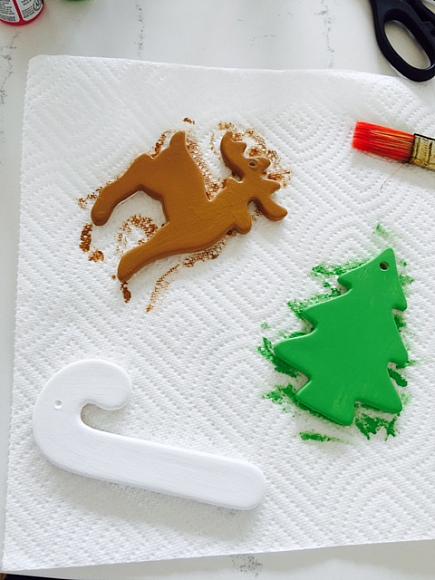 To add the Glamour Dust (I love this stuff!) I poured it on liberally wherever there was wet paint, like on the thick pink stripes of the candy cane. Then I shook the excess off
and was able to pour it back into the bottle. To seal the glitter on, just spray with a poly spray afterwards.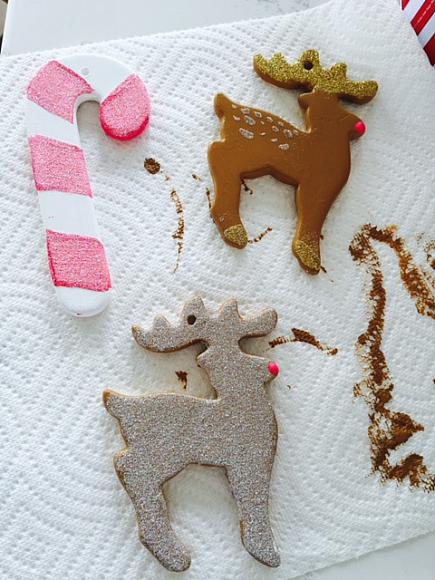 For the fake snow effect, I used a small paintbrush to paint on the Glistening Snow Writer in a thick layer, in places where an evergreen tree would naturally have snow. Then I added some white Glamour Dust and let it dry. It shrinks up a little once it's dry so don't be afraid of adding a lot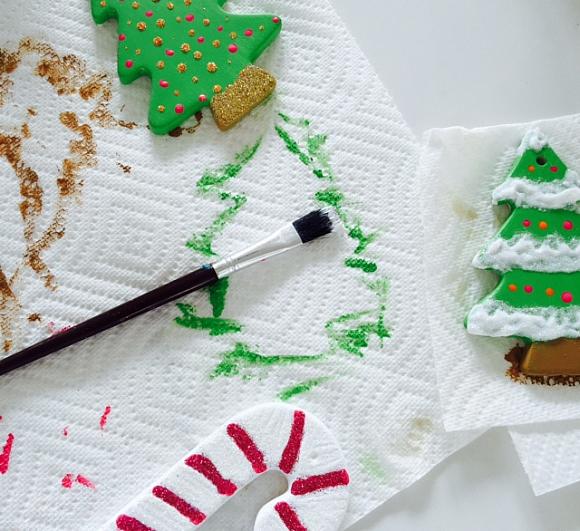 Let them dry for several hours and then you can re-thread the ribbon through the hole. Pack them in a cute Christmas cookie tin with some paper and you have the most adorable little gift for your friends! My kids kept thinking they looked like cookies so make sure no one tries to eat them, haha!