Posted by DecoArt on Feb 21st 2017
Hi, Maura here, with my first project for the DecoArt Media blog, and am I excited to share this with you!
I have always been fascinated with mythology and stories, and I love when I can bring what is in my imagination out in a creative project. The Green Man is closely associated with the Celts and symbolizes nature, rebirth and the coming of spring among other ideas. Living in deep winter right now, the coming of spring sounds wonderful to me!
I love using found objects in my work, and when my son brought in the rusted out clamp from his truck he was working on, I knew I had to create something special to showcase it. It frames my Green Man's face and adds something unusual to my canvas. Why not look around and see what kind of cool, old objects you can repurpose? 
Items Needed:
Canvas Board
Found Object
Assorted Brushes
Palette Knife
Tissue Wrap
Black Archival Ink
Assorted Stamps
Pearls
Wire
Wire Cutters
Baby Wipes
Awl
Scissors
Beacon Craft Glue
Heat Tool
Instructions:
Seal your found object with Ultra Matte Varnish, especially if it is rusty.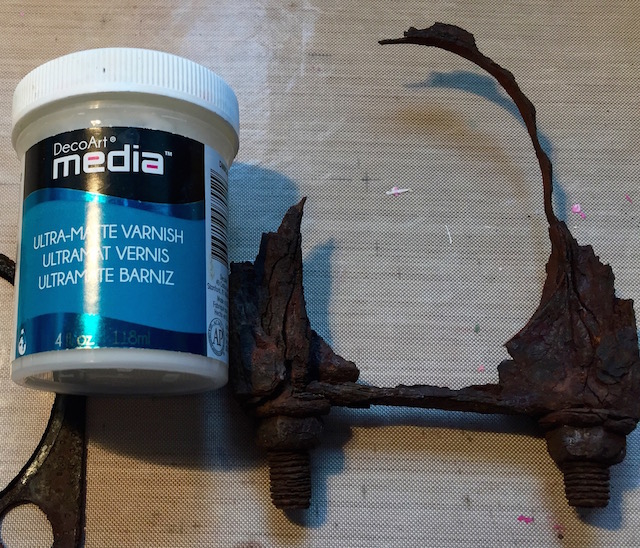 Stamp Leaf and Acorn images with Archival ink onto tissue wrap and canvas.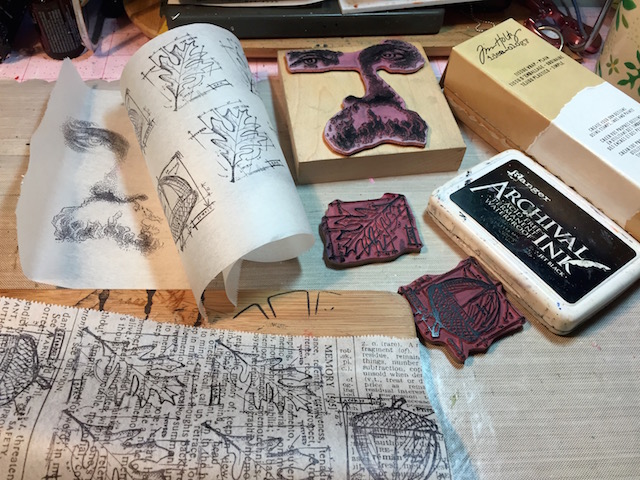 Since my found object is heavy for the canvas, I measured and punched small holes into the canvas with an awl, so that later I can wire my piece into place.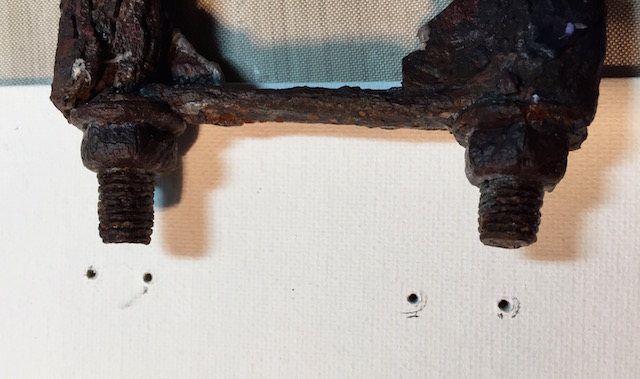 Paint the canvas with black gesso and let dry. Don't worry if it is not completely covered.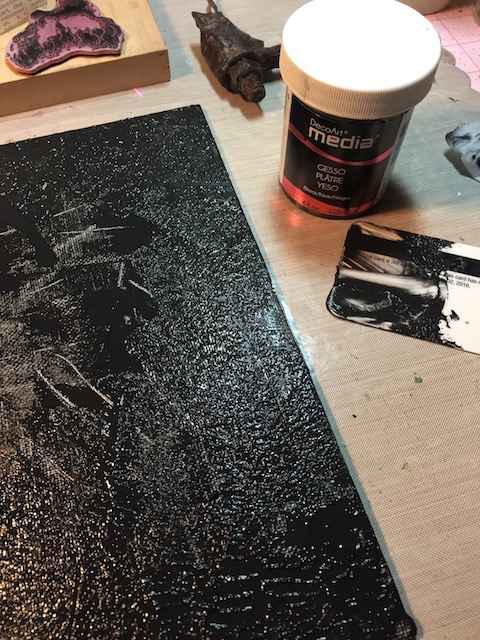 Mix Modeling Paste and Green Gold Fluid Acrylic together with a palette knife. Apply mixture to stencil with palette knife around the area for the face, and let dry completely.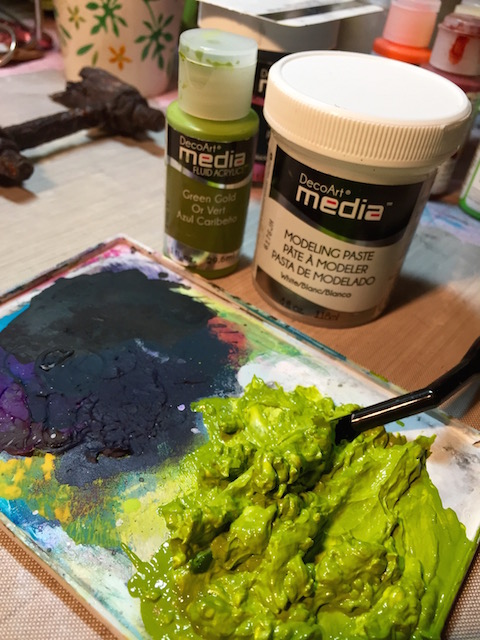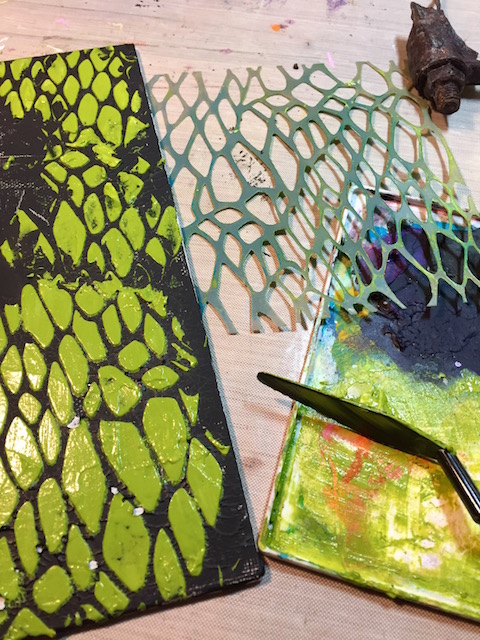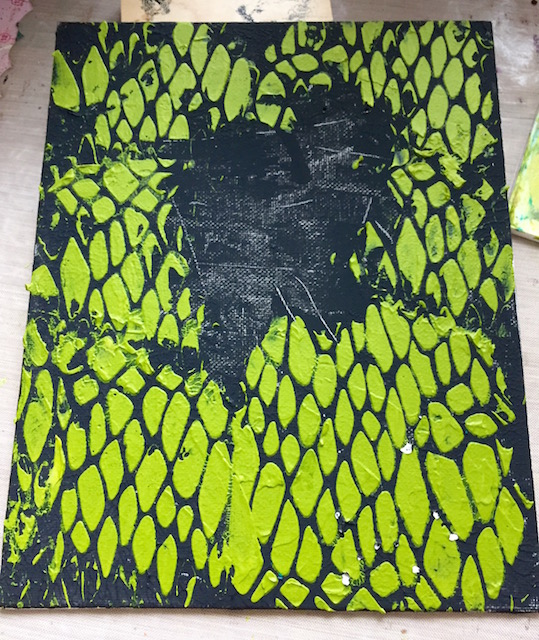 Randomly apply your green paints onto the canvas with a brush and your fingers. Use the baby wipe to smudge paint, as well as lift it from stenciled area if needed.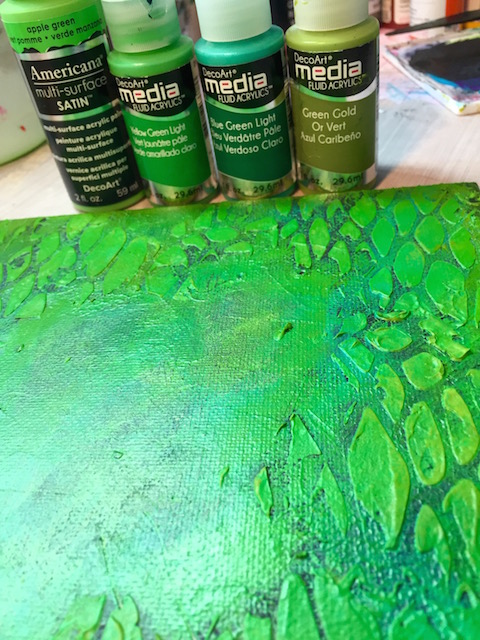 Tear stamped face out of tissue wrap and adhere to canvas with Matte Medium. I like to apply a layer underneath as well as on top. Let dry.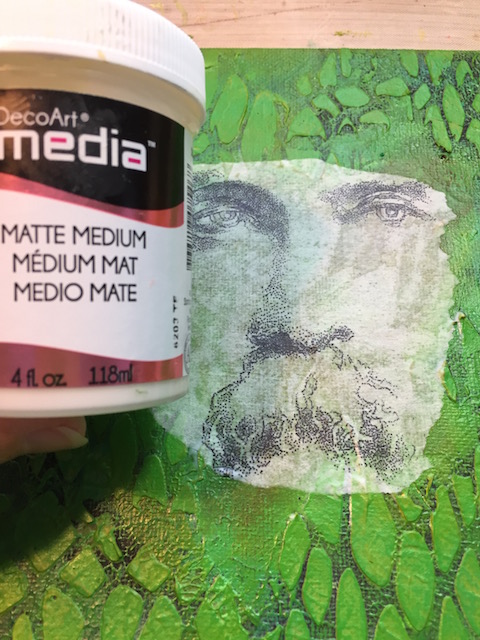 Smudge face with Green Gold, Hansa Yellow Medium, Quinacridone Gold and Burnt Sienna fluid acrylics.
Layer more color onto the main canvas with Green Gold, Metallic Gold, Quinacridone Gold, and Burnt Sienna. I dry brushed some on, and smudged some with my fingers. Again, use the baby wipe to remove any excess. Let dry.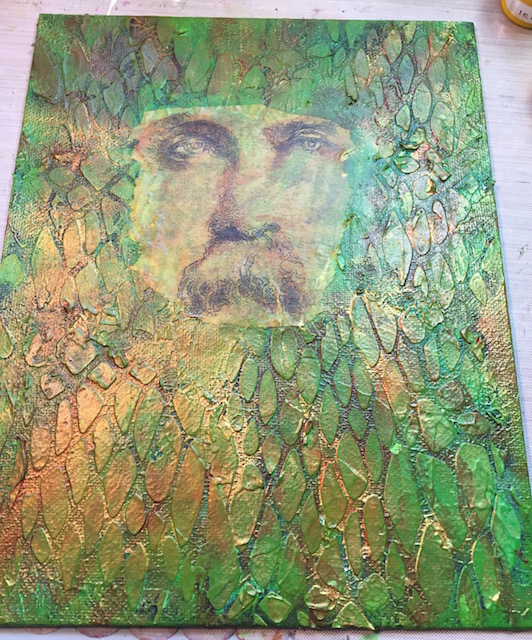 While the canvas is drying, lightly paint in the stamped images with Hansa Yellow Medium, Cadmium Orange Hue, Burnt Sienna, and Quinacridone Gold fluid Acrylics. I like to put a bit of paint on my finger and work it in. Lightly mist images with the Carbon Black mister. Let dry.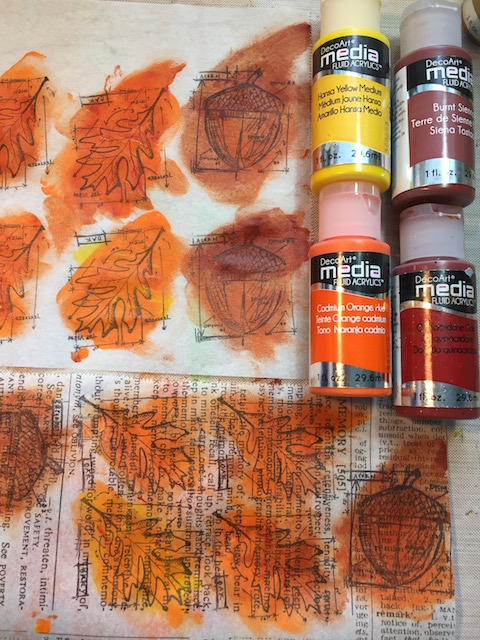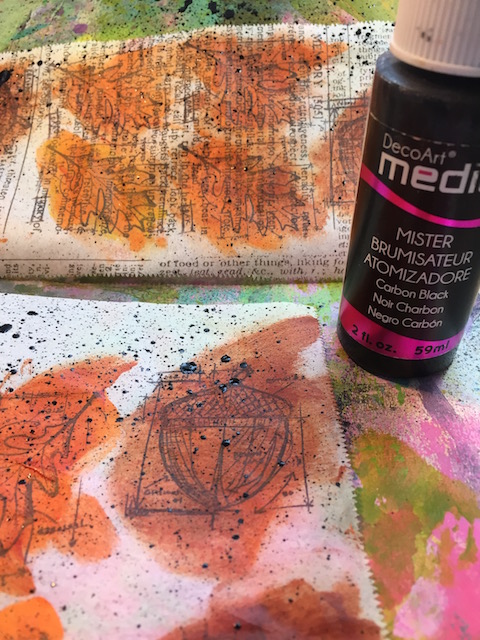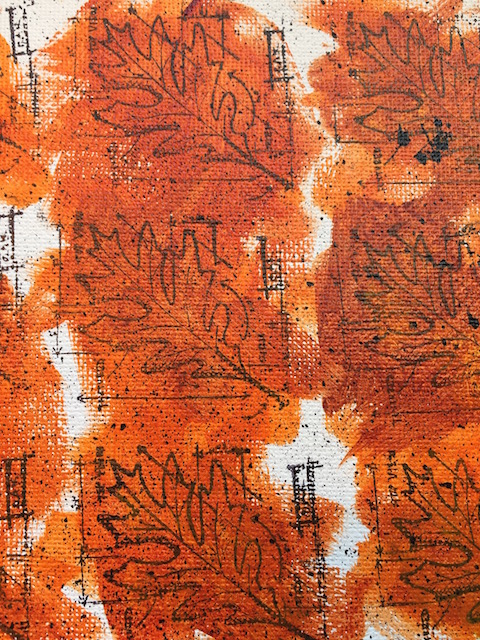 Fussy cut the stamped images. Adhere the stamped tissue wrap with Matte Medium around the face. Use craft glue to attach the stems and base of canvas leaves, so they will slightly lift. Glue the pearls into place. Attach found object (Exhaust clamp in mine) with wire and glue. Wrap wire around awl to create tendrils.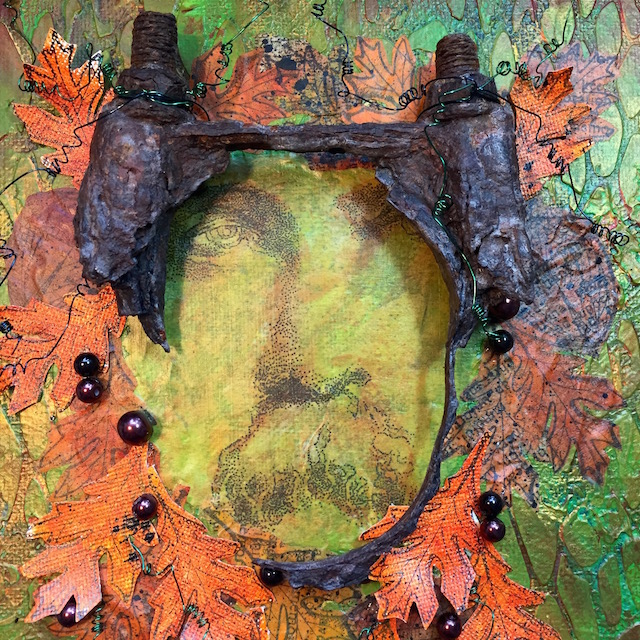 Smudge Burnt Sienna around the edges to "frame" the canvas. Use your finger and smudge a bit of the Metallic Gold onto the found object and pearls.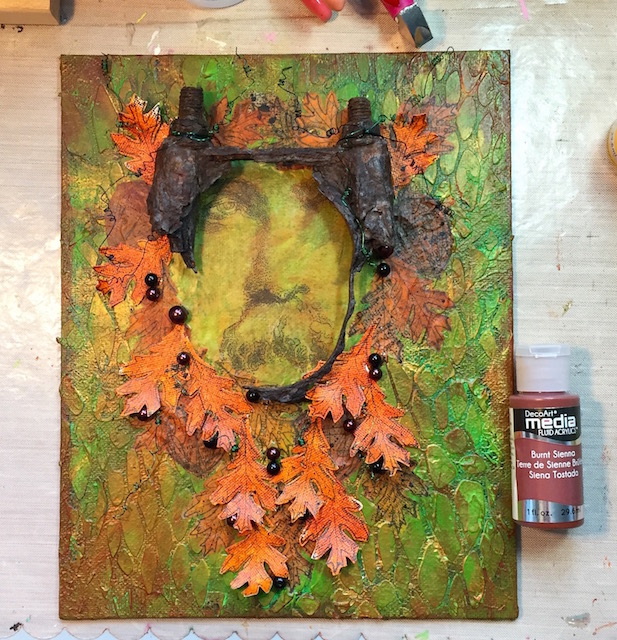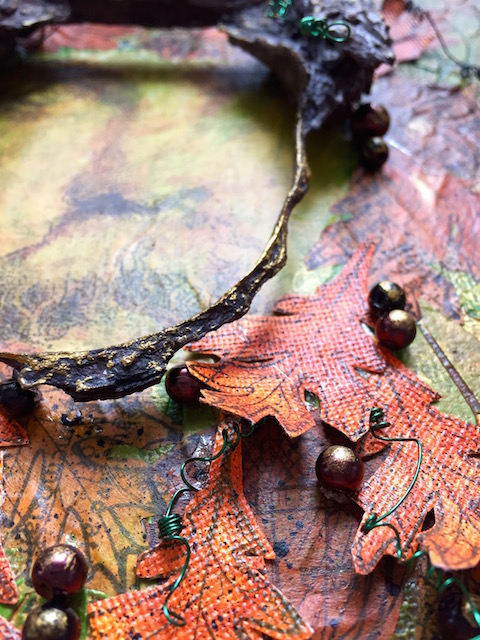 I am honored to share my first project with you, and hope I have inspired you to use your imagination and found objects!