Posted by DecoArt on Jan 4th 2018
I am honored to be back with you this year!
I was thinking about the time between the years, and how we often use this period to reflect on the past year, while we look forward to the new year. The passing of time is certainly a key element to this transition period, as well as setting goals or making resolutions for ourselves. By facing and releasing our fears from the past, we can move on into the new year. For example, I am working on letting go of perfection in my art and in my life, or in other words, my fear of imperfection.
Items Needed:
Art Journal
Andy Skinner Stamps (Stampendous) - Steampunk
Andy Skinner Stamps (Stampendous) - Unexplained
Tim Holtz Stamps (Stampers Anonymous) - Worn Text
Acrylic Stamping Blocks
Brushes
Water Brush
Palette Knife
Sponge
Black Archival Ink
Punchinella (sequin Waste)
Black Waterproof Pen
Gold Waterproof Pen
White Waterproof Pen
Graphite Pencil
Baby Wipes
Heat Tool (optional - For Quick Drying)
Instructions:
Randomly brush art journal pages with white gesso; it's fine if some areas are not covered. Dry. Use Ocean Life stencil and sponge design with black gesso across both pages.
Stencil an uneven number of these. Dry. Cover both pages with a layer of Primary Yellow paint.
Brush Cadmium Orange and Primary Yellow over the base layer on both pages. Let partially dry, and wipe off random areas with a baby wipe or damp cloth.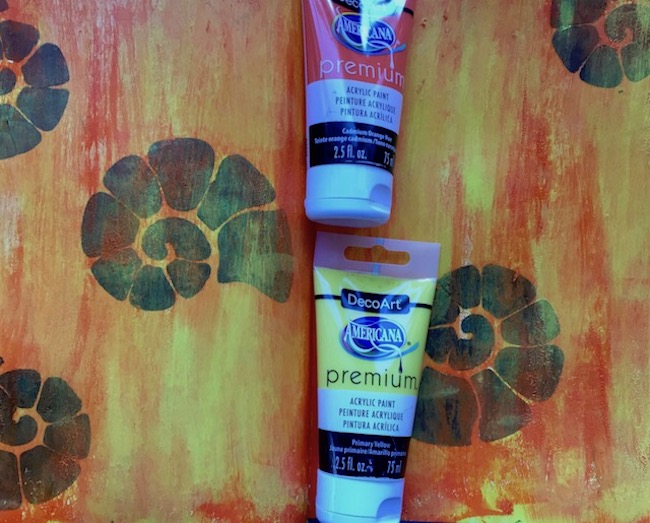 Stencil gears onto both pages with a sponge and Quinacridone Magenta.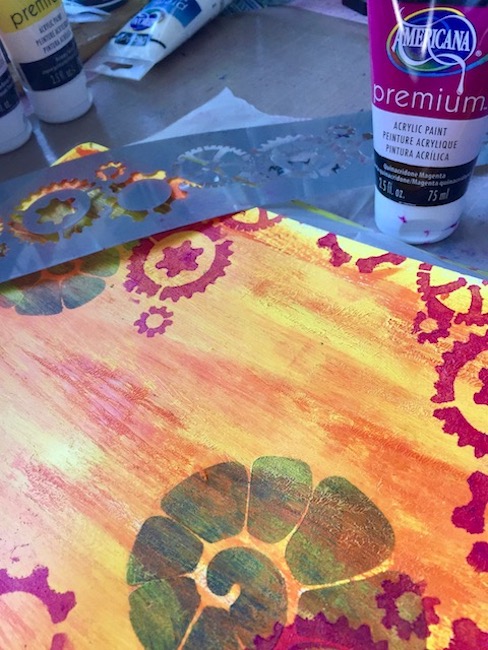 Spritz over the Distressed Digits stencil with Turquoise Mister.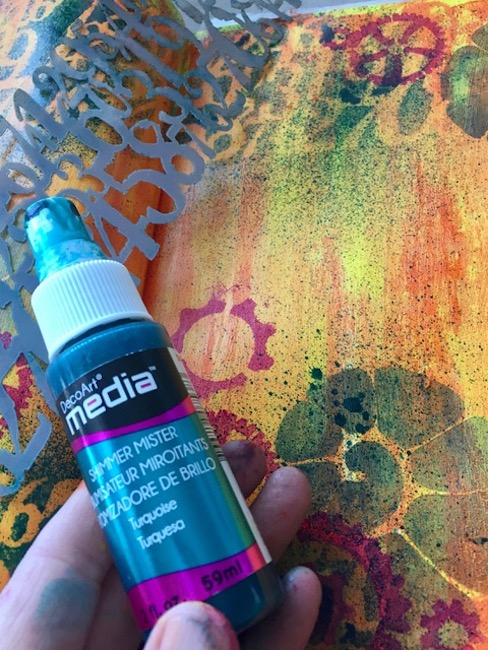 Use the Punchinella as a stencil and sponge with Cobalt Teal Hue, randomly on both pages.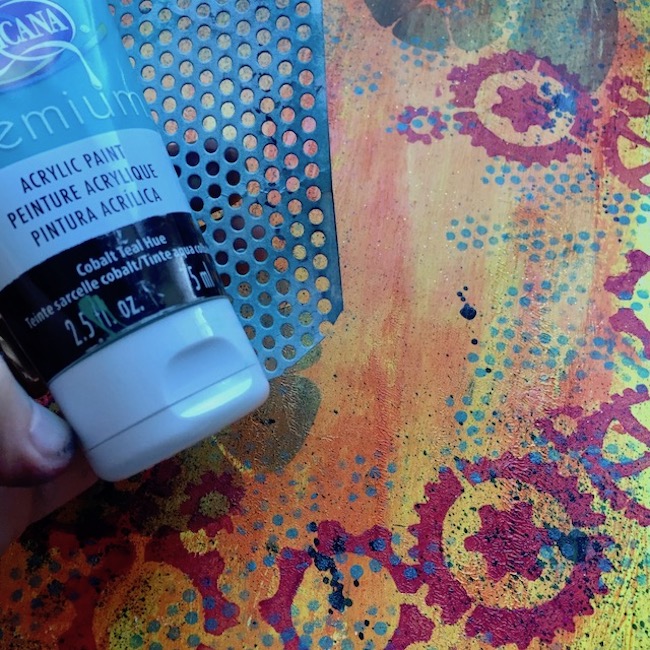 Whitewash the left journal page with Titanium White, wiping off excess with a baby wipe. Dry. Brush both pages with Interference Gold.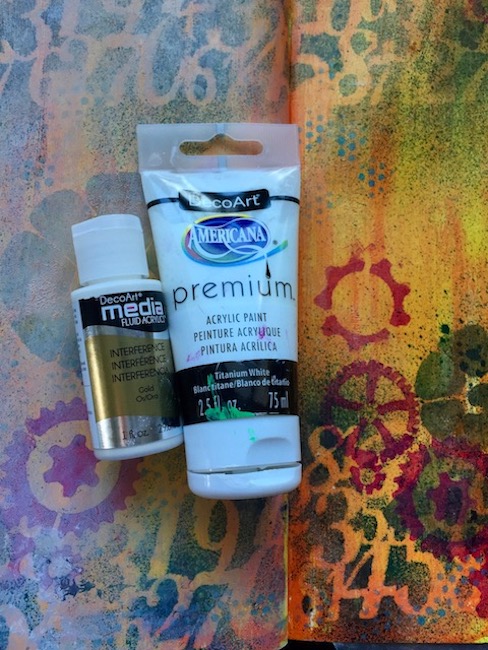 Spritz both pages with White and Black Mister. Vary the pressure on the spray to vary the size of the droplets.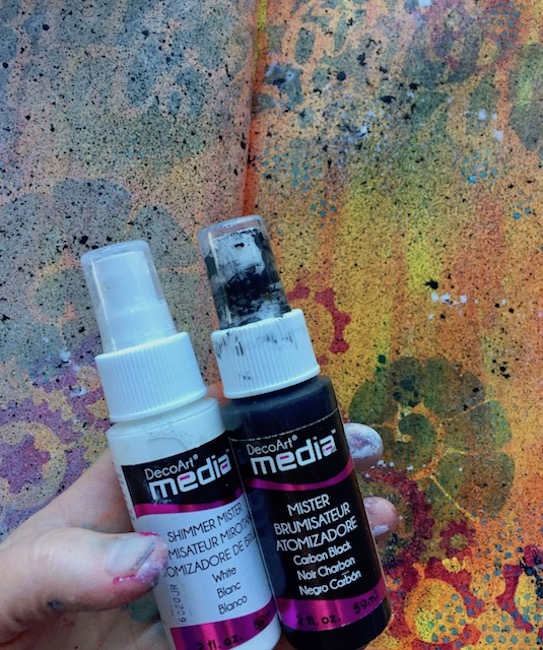 Mix Texture Medium and Cobalt Teal Hue with the palette knife to create a custom color medium. Use the palette knife and Made to Measure stencil and spread the mixture over the stencil to create the raised image. Add leftover mixture to other page using the punchinella. Wash stencils immediately.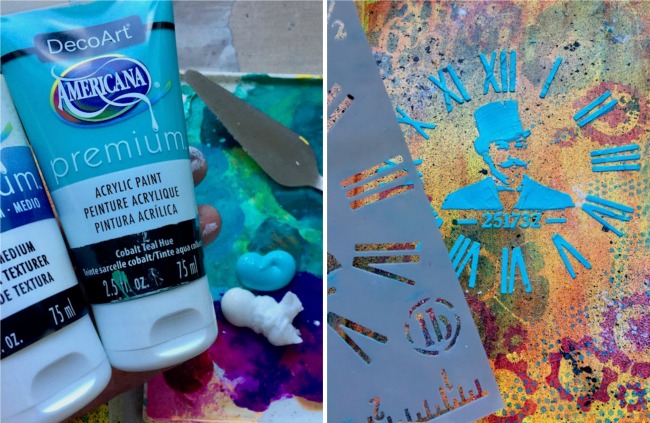 Stamp clock image, words, and numbers to pages with the black archival ink. Outline the words with a gold pen, and the years with a white pen. Add torn strips of Olde World Collage paper and adhere with Matte Medium. Use your own handwriting and a black pen to journal about fears and letting them go; this will also add a design element to your page. Sketch around the raised clock image with a graphite pencil, then go over it with a water brush.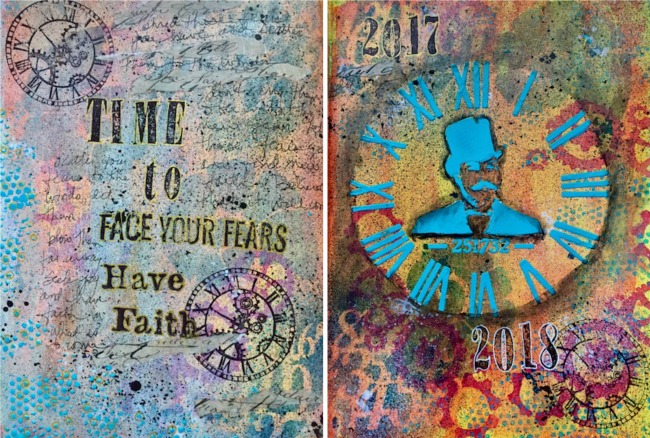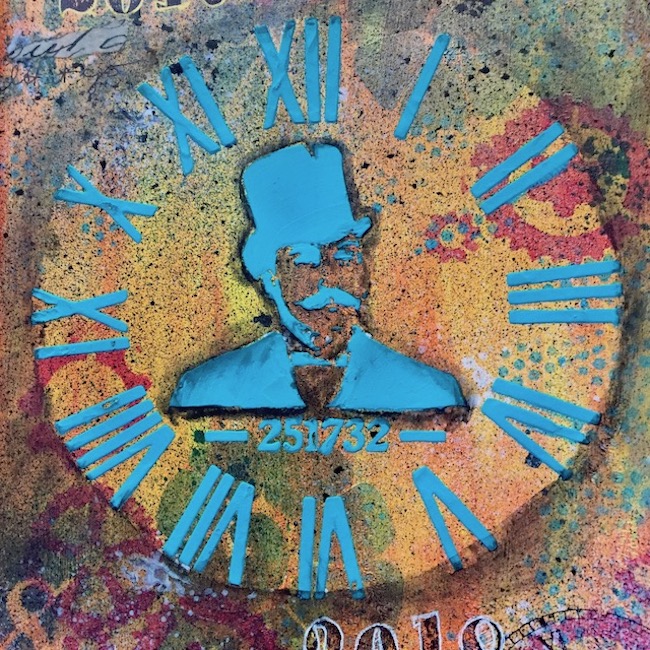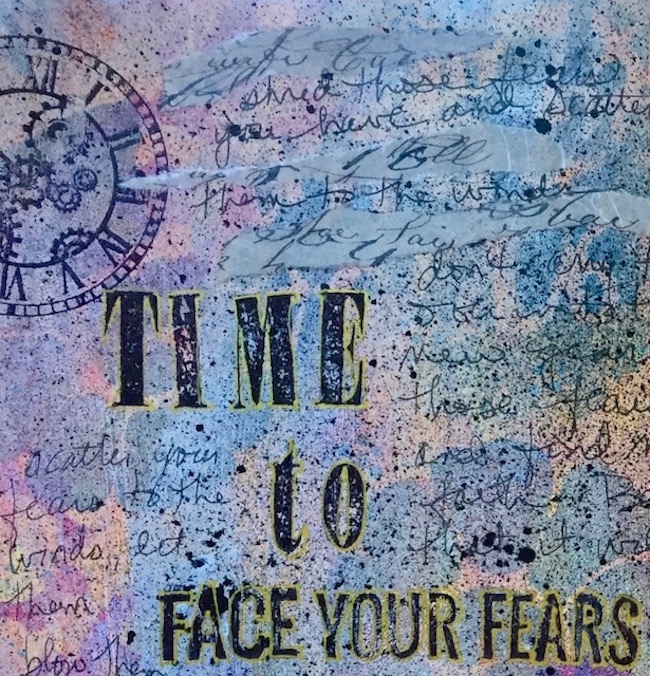 May we move forward together into the new year: wishing you a joyous, healthy and creative 2018!