Posted by DecoArt on Sep 12th 2018
Giving new life to abandoned things is something I just love doing. Upcycling stuff that by most people is considered trash is so rewarding and great fun. My favourite objects to alter and breathe new life into are boxes - they provide a sufficient and wonderfully flat surface to create your heart out on and once finished they become treasured keepsakes for gifts or other small treasures. 
My sister has recently given me two boxes that once held new mobile phones. I love their size and how sturdy they are - perfect for taking loads of yummy mixed media goodness!
Items Needed:
Assorted Brushes
Palette Knife
Plastic Palette
Sturdy Cardboard Box
Die Cutting Machine
Crackle Pattern Rubber Stamp
Black Stamping Ink
Blending Foam
Soft Cloth
Water In Spray Bottle
Sticky Foam Dot
Paper Towel
Embossing Folders
Instructions:
Step One: Prime all the outer sides of the top part of the box with two coats of Americana Decor Chalky Finish paint in Primitive. Only paint the bottom of the lower part of the box.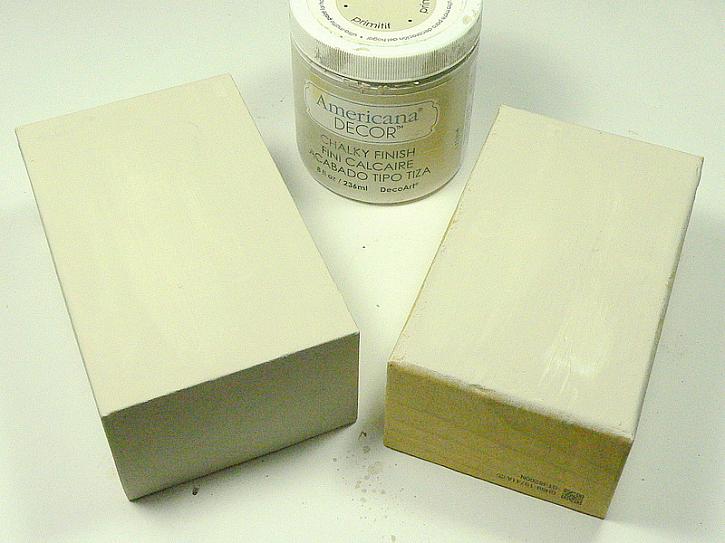 Step Two: Die cut and emboss four strips using an embossing folder of your choice and one focal piece for the top of the box using a different embossing folder.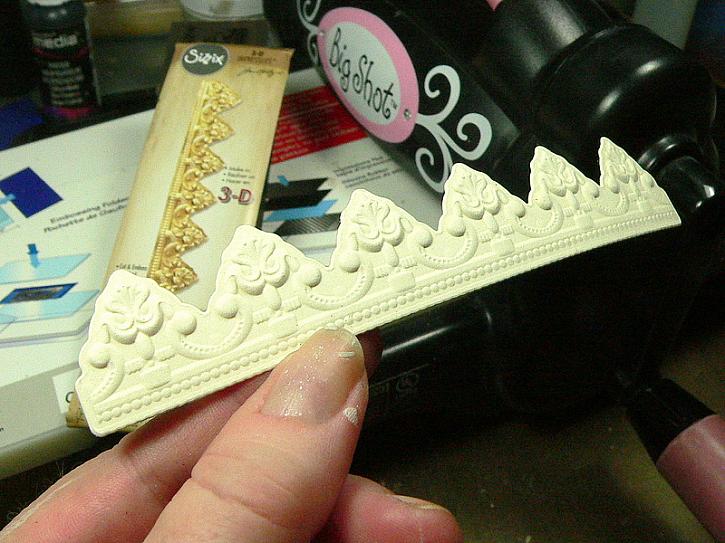 Step Three: Stipple a thin and even layer of Chalky Finish paint in Relic onto the die cut and embossed pieces.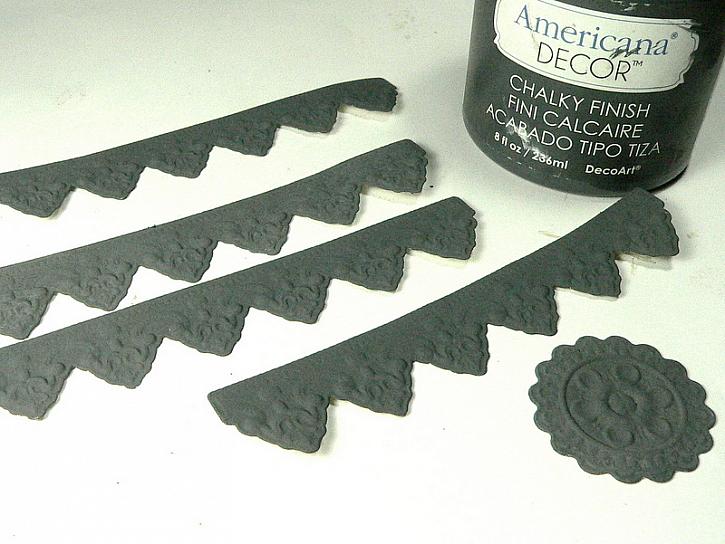 Step Four: Using black stamping ink and a rubber stamp randomly apply a crackle pattern to the five sides of the box lid.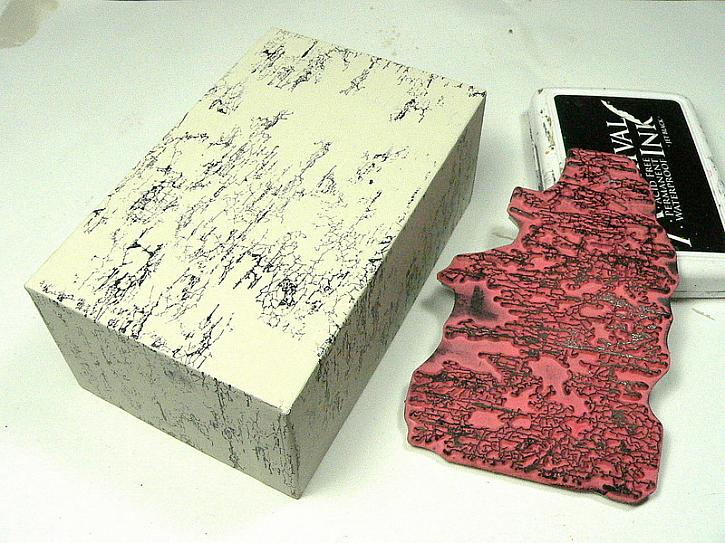 Step Five: Create a wash of DecoArt Media Fluid Acrylic in Translucent White and apply to the primed die cut and embossed pieces with a wide soft brush. Let air dry.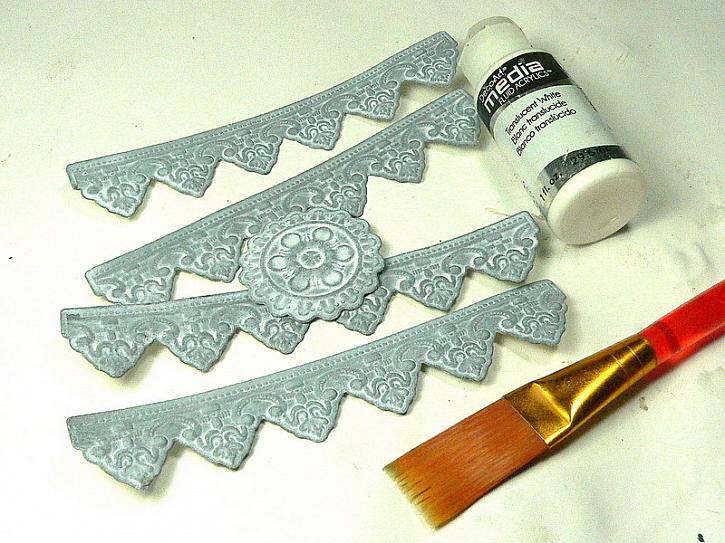 Step Six: Once all is dry, apply a very thin wash of Fluid Acrylic in English Red Oxide to the box lid and the paper embellishments you have created. Let air dry as well.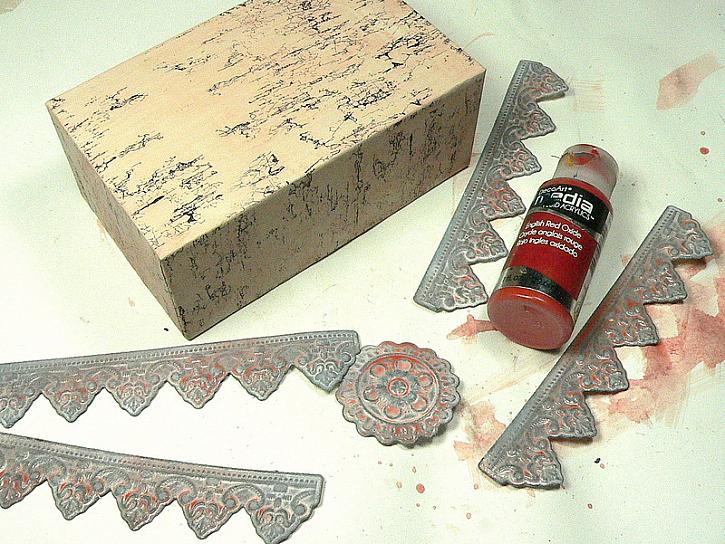 Step Seven: Go in with another wash of Transparent Yellow Iron Oxide, but only apply it loosely here and there.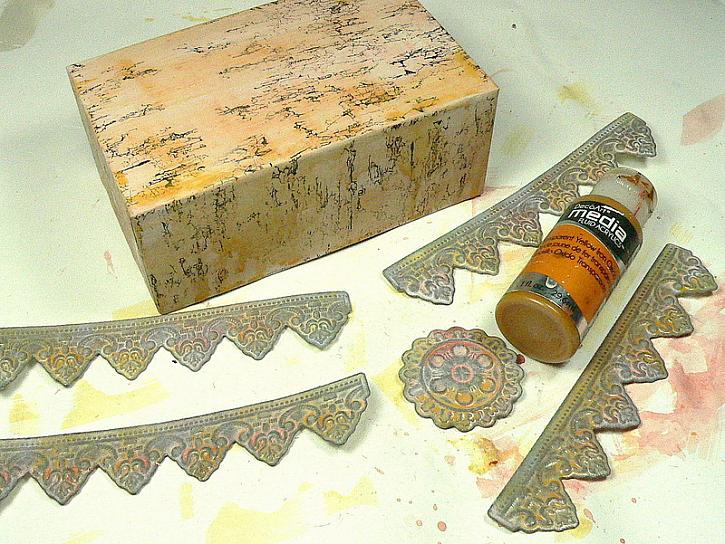 Step Eight: Using the very tip of a palette knife randomly apply a very thin coat of DecoArt Media Clear Crackle Glaze and let dry naturally.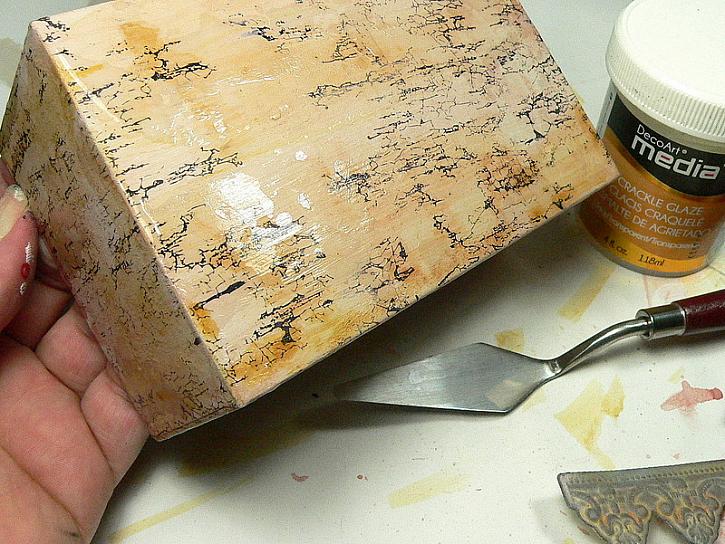 Step Nine: In the meantime gently rub some DecoArt Metallic Lustre in Orange Flicker onto the raised parts of the embossed and painted paper embellishments using your fingertip. Once dry use a soft cloth and buff to a sheen.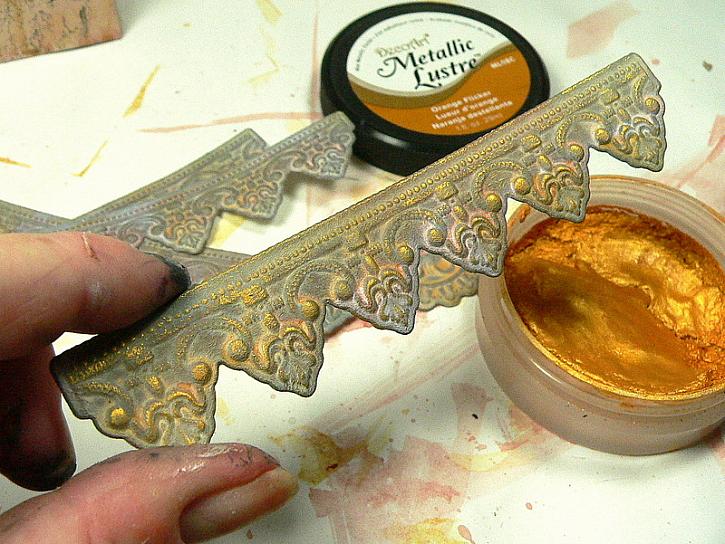 Step Ten: Now add a random layer of loosely applied white DecoArt Media Crackle Paint, just like you did with the Crackle Glaze. Once more set the box lid aside to let everything dry naturally.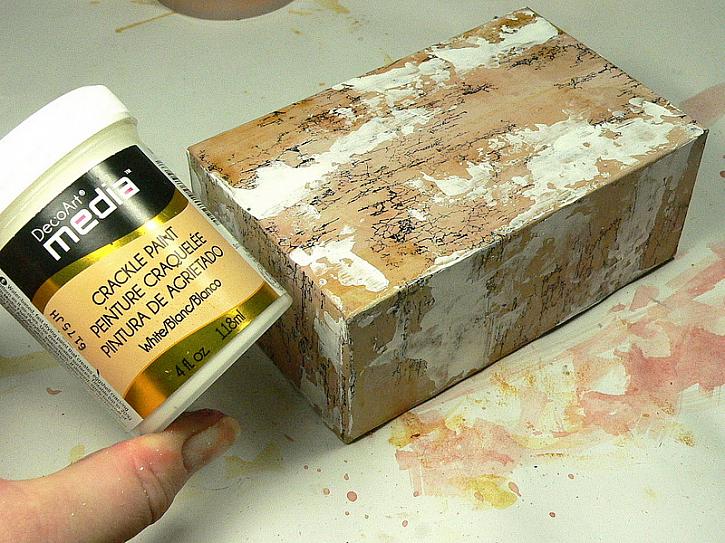 Step Eleven: Once the crackling process has finished and everything is dry, cover everything up with a thinned down 1:1 mix of Raw Umber and Carbon Black Antiquing Cream. You really just need four drops of each tone and a bit of water to cover the whole box lid. You can use a heat tool to speed up drying time.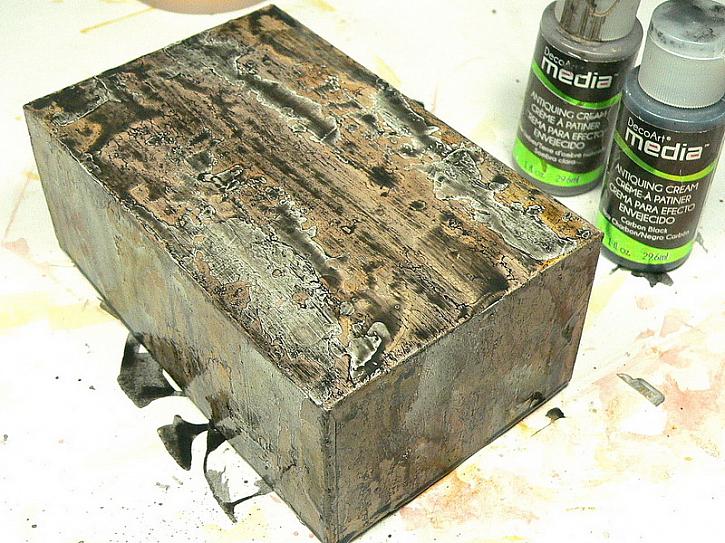 Spray a piece of soft cloth with water and wipe off most of the Antiquing Cream until you are content with the look. You will find that the cracks from the white Crackle Paint have become more visible and that the Crackle Glaze has created a kind of resist so now the original colours from the very first layer with the paint washes have come back to the surface again.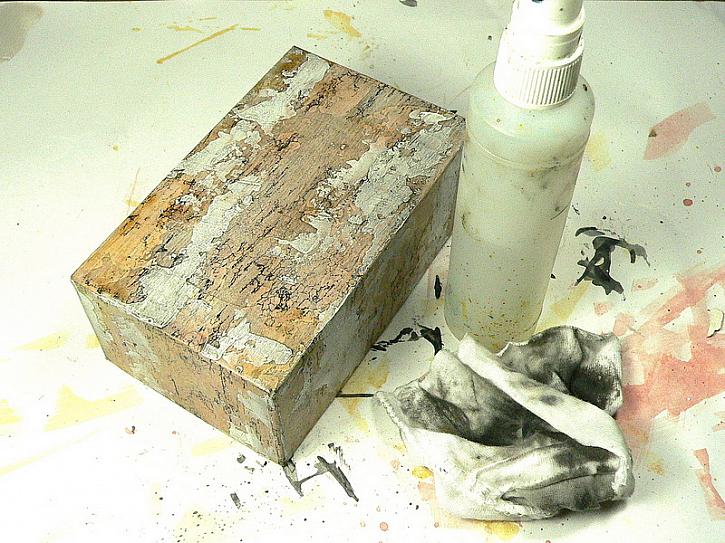 You can always go in with more Antiquing Cream and repeat this step if you find you have removed too much of it.
Step Twelve: Now use some slightly diluted Patina Green Antiquing Cream on the box lid. This time do not wait for it dry but use some crumpled kitchen roll (paper towel) to randomly lift off the still wet Antiquing Cream in various spots. Let dry.
Step Thirteen: Sprinkle on some diluted English Red Oxide and Transparent Yellow Iron Oxide Fluid Acrylics by using the fully loaded brush and lightly tapping it against your other hand's forefinger, aiming towards the box. Cover your workspace or use a large shoe box to shield everything else from getting sprinkled with paint.
Once that has dried, blend the edges of the box lid with black stamping ink.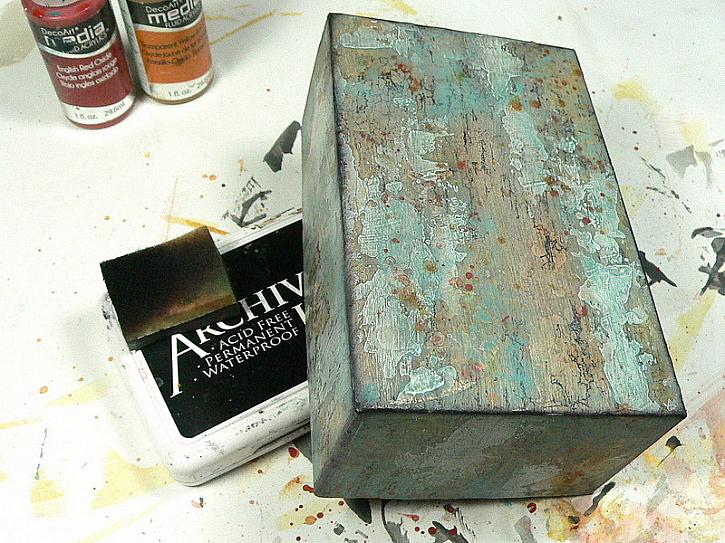 Step Fourteen: Trim the embossed and painted paper strips to the according length. Then use matte Americana Decou-Page and a soft brush to glue the paper embellishments onto the box. Fix the embossed focal piece to the top with a large sticky foam dot. You're done!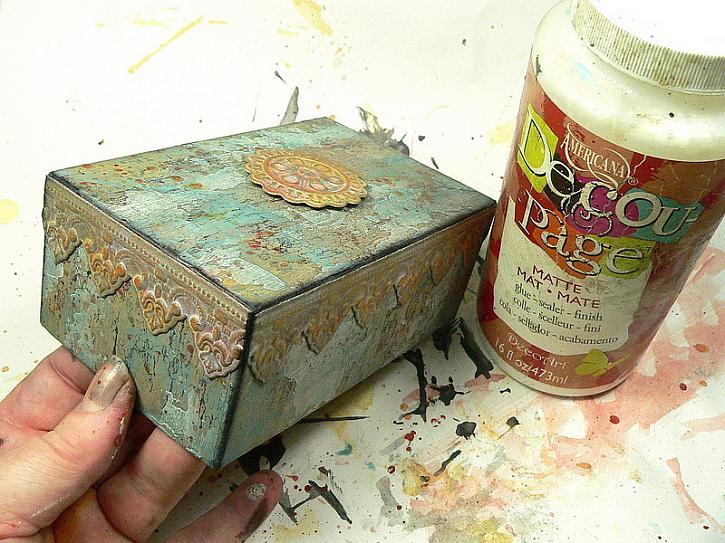 I love the weathered look of the painted sections against the subtle bling from the paper embellishments! The Patina Green in the background forms a great colour contrast against the more orange toned focal paper elements and the orange sprinkles I have added repeat the colours from these – so everything fuses beautifully.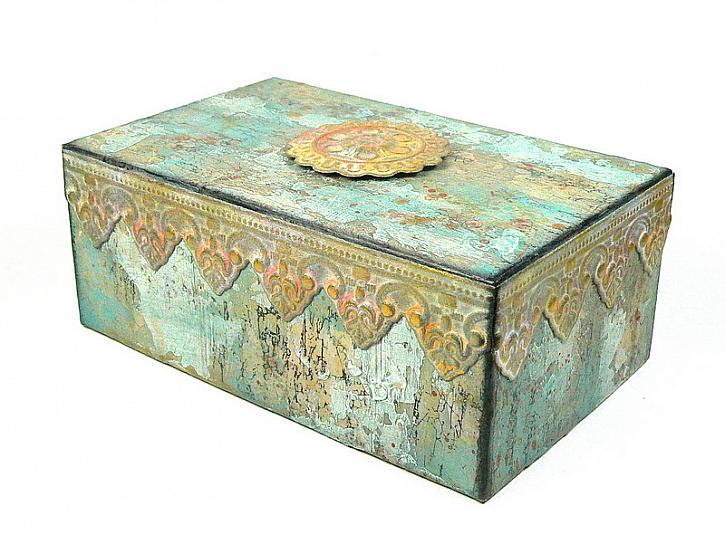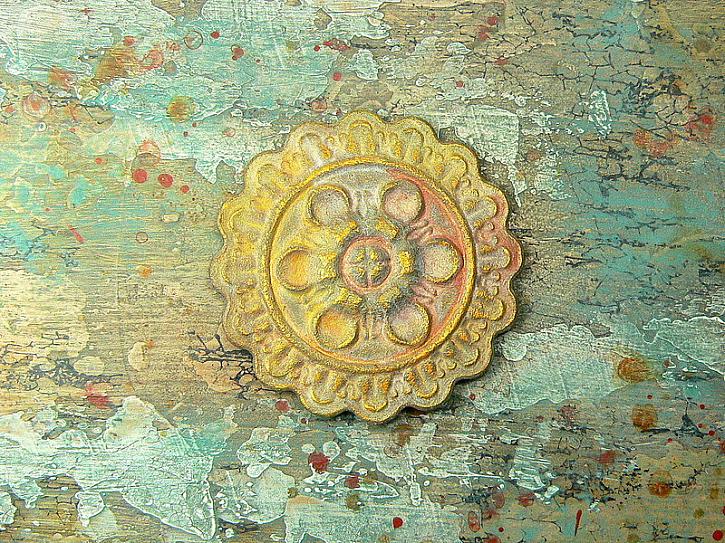 Thanks for stopping by everyone! Hugs and happy crafting!
Claudia
xxx